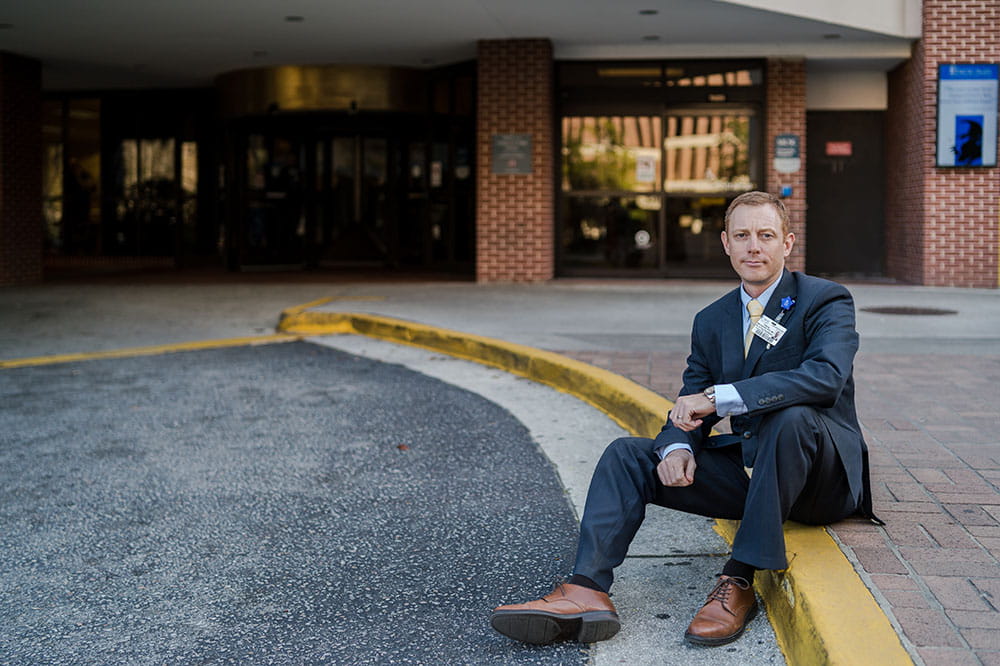 For many, the new year brings the hope of exciting new possibilities. But Patrick MacConnell, MUSC's director of organizational excellence, never could have predicted just how spontaneous those possibilities could be.
While walking to his office, he came face to face with a situation outside his realm of expertise. Nothing could have been further from his mind than delivering a baby just feet from the hospital's doors. But on Jan. 8, during his routine early morning walk across campus, that's exactly what MacConnell would do.
Around 8 a.m., an SUV raced up to the entrance of the hospital, and a woman hopped right out of the passenger's side. MacConnell thought to himself that this woman was obviously distressed and very pregnant, when right before his eyes, her water broke on the sidewalk. She actually had to use her hand to hold the baby from coming. It was clear she would not make it into the hospital, so MacConnell immediately jumped into action.
While his only real experience with childbirth was watching his wife give birth to their two children, he didn't think twice about helping this complete stranger at one of the most important moments of her life. While a crowd of bystanders had gathered, there he was by himself, crouched down on the sidewalk about to bring a baby into this world. It was quite a scene, he said.
The mom gave one push, and seconds later, on the chilly MUSC sidewalk, he was holding a healthy baby boy. Quickly, medical assistance arrived, and they whisked the woman away in a wheelchair, while she hugged her newborn. MacConnell took a deep breath and continued his walk to his office, as if it were any other day.
While the entire experience lasted less than seven minutes, it's not something he will soon forget. MacConnell has lasting impressions, not the least of which was the responsibility that comes with working on such a large medical campus, where anything can happen at any time. This gave him a new perspective of what it means to work at MUSC.
"You have to be ready," he said, "because on a campus this big, where the patient population is so diverse, at any time you could encounter someone who is in need of something. And even if you are not the one to be able to help them, you do have to be ready to point them in the right direction to get the help."
Many hailed MacConnell as a hero for singlehandedly saving the day. He acknowledges his lack of experience, but others saw nothing but commitment. "My background is clinical — I'm a therapist by training — but certainly no obstetrician," he laughed. "As an employee at MUSC, I believe it is my responsibility to help those in need and hope my co-workers and I will be ready to do so in the future."
About the Author
Jenna Lief