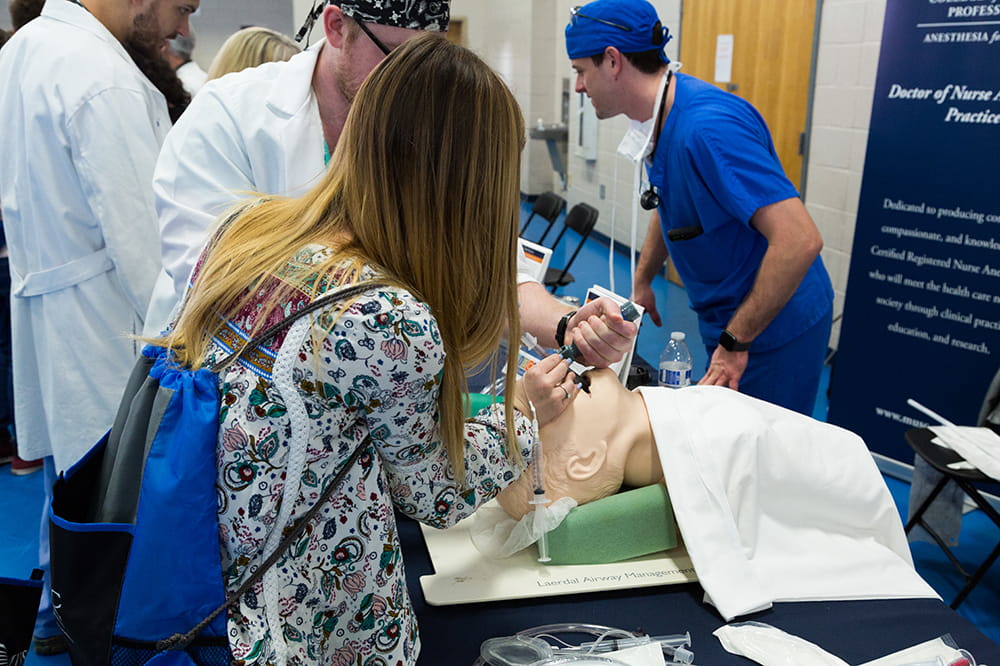 Six hundred middle and high school students are headed this way, and the Office of Student Programs and Student Diversity needs employees' help to show them the wide range of careers at MUSC. 
This year will be the fourth Discover MUSC event and first to expand the program to middle schoolers. 
TaJuan Wilson, Ed.D., executive director of Student Programs and Student Diversity, said the event introduces the idea of studying or working at MUSC to Tri-county students, particularly students from marginalized backgrounds who might not have considered that coming to MUSC could be a possibility. 
The event is spread over two days, with 300 students scheduled on both Feb. 28 and March 1. So many schools quickly enrolled this year that several schools are now on a waiting list, Wilson said. He expects to hold additional smaller events at later dates to accommodate those schools. 
The Charleston Metro Chamber of Commerce and health care academies within local high schools prompted the creation of this program, but organizers soon realized that some students would be interested in professions beyond health care. Wilson said the students will leave campus with a better understanding of the many professions within health care as well as the range of other career fields available at a place like MUSC – whether that's public safety, grounds, human resources, information solutions, fitness or library services.
"Participants leave here with knowledge about careers in health care and opportunities at MUSC that they may have never considered or didn't know were options," Wilson said. 
One notable aspect of the program is the students get to meet and talk with professionals like doctors, nurses and dentists – they don't just walk past offices without getting to speak to people, Wilson said. 
The students will be coming from across Charleston County and from as far as St. George in Dorchester County and Cross in Berkeley County. 
Wilson invites all areas across campus to sign up to run a booth. Last year, there was a drop-off in the number of booths, and Wilson believes it might have been because the event expanded to two days. Although the organizers hope that groups agree to staff a booth on both days, they will work with groups that can commit to only one day.  
Wilson said this kind of exposure to possible career paths makes a big difference to students. "They leave knowing there are great folks who work at MUSC, who care about their holistic future plans, and that they too can be a part of the MUSC experience if they so choose," he said.  
Anyone interested in participating as a volunteer is encouraged to reach out to Wilson at wilsotaj@musc.edu.