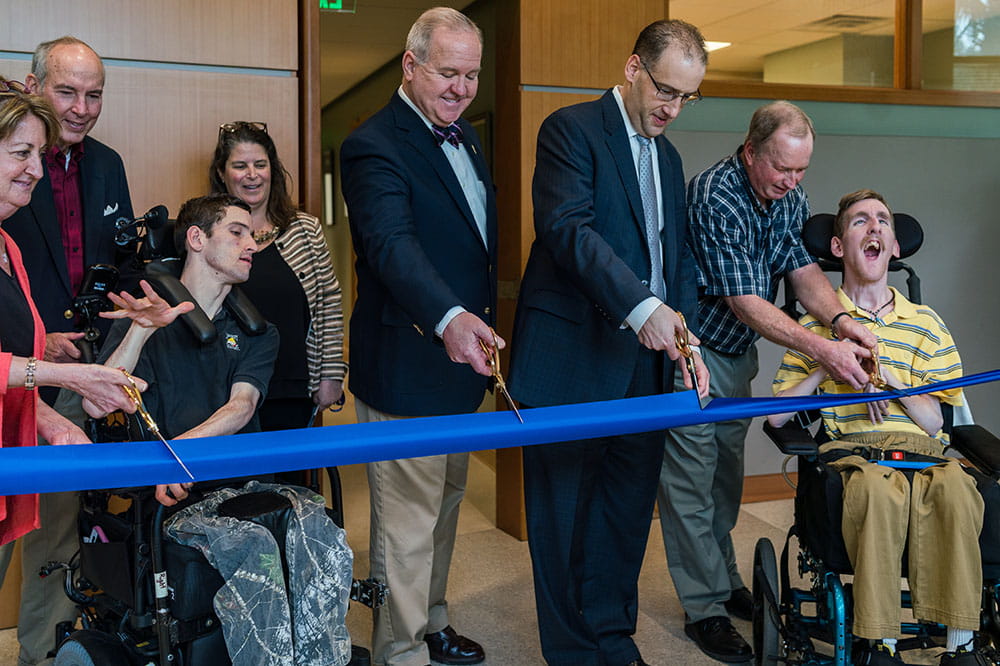 Jack Ray gets emotional when he talks about receiving a phone call asking him and his son William to take part in a ribbon-cutting ceremony for a new special needs area in the dental clinic at the Medical University of South Carolina.
"When we deal with handicapped kids, and we're parents of handicapped kids, we've got to make the best of what we've got. And when MUSC — sorry," he pauses, as tears well up.
On Friday, he and his son helped cut the ribbon to celebrate the opening of the James B. Edwards College of Dental Medicine's Delta Dental of South Carolina Accessible Treatment area. The nonprofit insurance company Delta Dental of Missouri, which also does business as Delta Dental of South Carolina, calls improving oral health part of its mission. It gave the college a $100,000 grant to make the new treatment area possible. 
Michelle Ziegler, a doctor of dental medicine, leads the Pamela Kaminski Center for Adults and Adolescents with Special Health Care Needs at MUSC. The center houses the newly-designed accessible treatment area at 29 Bee Street in Charleston.
"If you see the need and you're a medical professional with an empathetic heart, you do everything you can," she says. "The new treatment area is fully functional with the exception of a dental chair so we can accommodate patients who come in on stretchers or motorized wheelchairs. We can treat them right there without squeezing up against the dental chair, which is what we've been doing in the past."
When she came to MUSC in 2012, the special care dental clinic had about a dozen patients, Ziegler says. By 2015 it was up to more than 100, and the number keeps rising. "Over 450 patients have been seen at MUSC since I arrived and more than 330 now call MUSC their dental home.
Andrew Stubbs, 26, is one of the newer patients. Like William Ray, he has cerebral palsy and uses a power wheelchair to get around. His mother Susan says he used to go to Columbia for treatment. "We've been here maybe the last three years. This is a whole lot better in terms of parking, wheelchair accessibility and a great staff."
The new wheelchair- and stretcher-friendly treatment area is a great next step, she says. Her son won't have to be moved to a dental chair for treatment.
Dental medicine dean Sarandeep Huja says it's rewarding for faculty members and students to see the special needs area grow as well. "I feel like I have a very meaningful day when I engage with special needs patients. It's difficult to describe, but I believe I receive more than I give."
Ziegler agrees. "When we think of diversity and inclusion, we don't always think of this patient population. This is a group that's very underserved."
That's gradually changing, thanks in part to organizations such as Delta Dental and the Duke Endowment, which are funding improvements at MUSC and supporting a statewide database of dentists who treat patients with special needs.
"We have more than half of the dentists in the state registered on this database. So a parent can find the perfect fit for their patient," Ziegler says. "If somebody needs general anesthesia or sedation or maybe they're very cooperative, we have dentists throughout the state willing to see this patient population. Our hope is the more of our students we train, the more that the database will grow. We also were fortunate enough to have the South Carolina licensing board help. When you renew your dental license, it asks if you've updated your information on sandssc.org."
While the two patients at Friday's ceremony have cerebral palsy, that's just one of many conditions the MUSC special needs dental clinic works with, Ziegler says. "We define special needs as anything from adolescents with autism to seniors with Alzheimer's. Patients with traumatic brain injury who may be paralyzed or cerebral palsy who may have physical disabilities to intellectual disabilities, Down syndrome. Anything you can imagine that makes it a little challenging to receive care in a traditional dental office."
Rob Goren, president and CEO of Delta Dental, was on hand for Friday's ceremony. So was dentist Robert Butler, chairman of the board of Delta Dental of Missouri. Goren says Delta Dental gets a lot of requests for financial grants, but MUSC's stood out. "This one certainly touched us because it meets a population that has challenges getting dental care."
Jack Ray and his son William are grateful. William Ray has been an MUSC dental patient since he was 10. "They always took very good care of William. Showed a lot of love, even when we were in tight quarters. It's so much better now."
Suggest a Story
Have an idea for MUSC Catalyst News? Contact our editorial team and let us know.
About the Author