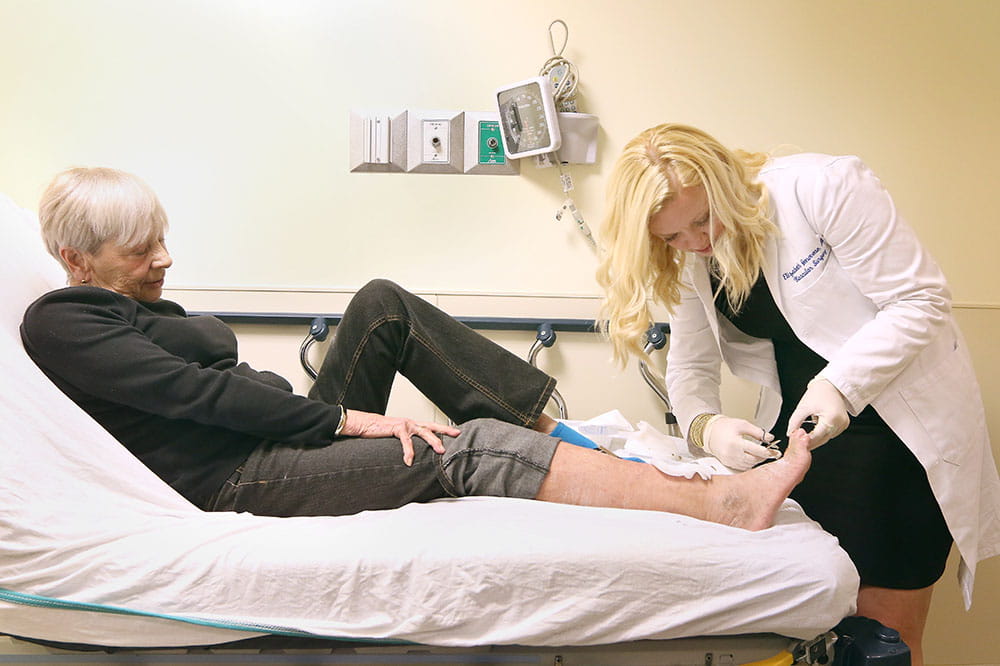 Gloria Mihalenko spent years on her feet as a waitress. She worked in country clubs and restaurants, including a sports bar within walking distance of her home in Little River, South Carolina. But she realized over time that the legs she relied on to help her make a living were in danger. Fifty years of smoking caused severe vein problems and ultimately led to gangrene.
"There was no blood flow," she said. Doctors told her one of her legs would probably need to be amputated.
But technology turned out to be the ingredient that helped save it. Mihalenko had a telehealth visit with Ravi Veeraswamy at MUSC Health in Charleston, which the vascular surgeon described as medical-grade Skype. She showed him her leg and foot, he looked over her records and the next day she had leg-saving surgery.
That kind of care, combining technology, data, devices and know-how, is at the heart of a new five-year agreement between MUSC and the technology, services and devices company Medtronic. This week, leaders from MUSC and Medtronic gathered in Charleston to outline their vision for this collaboration during a panel discussion.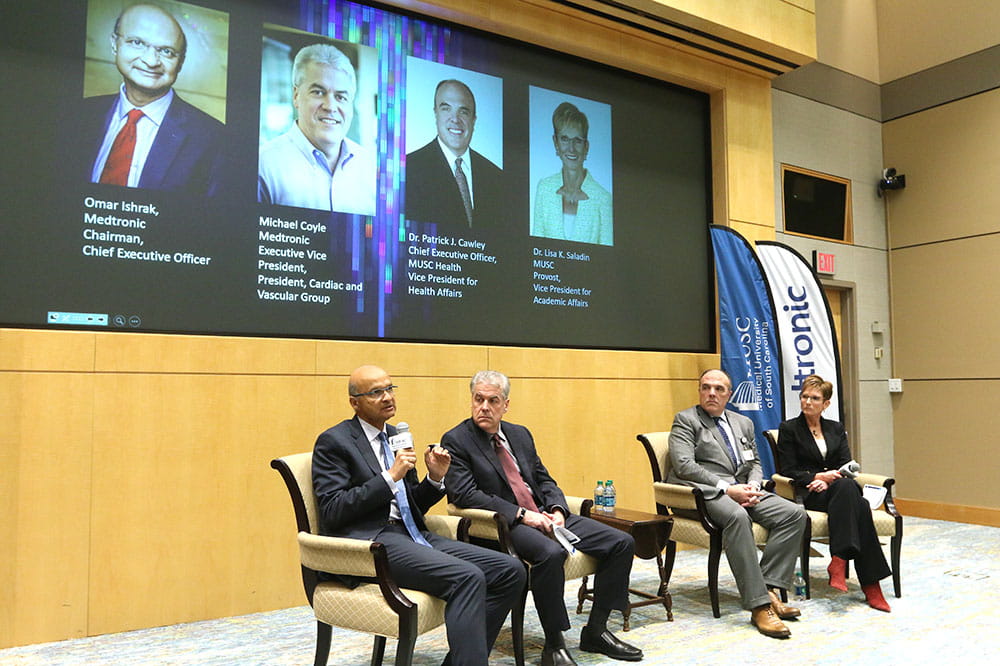 MUSC Health CEO Patrick Cawley said he sees a movement away from volume-based health care, also known as fee-for-service, toward value-based care. "The fee-for-service model isn't working for us in the 21st century," he said.
"Patients, families and payers are all demanding — and I emphasize demanding — that health care provide greater focus on health rather than illness, greater focus on quality, greater focus on reliability, meaning delivering most consistently on health outcomes. And most of all, lowering the cost of care."
Health care businesses need to pool their expertise to transform the system, Cawley said. Medtronic CEO Omar Ishrak agreed. His company, which has about 86,000 employees around the world, makes contributing to human welfare part of its mission of alleviating pain, restoring health and extending life.
"We're not going to change the way health care is delivered without partners — people who think alike, who have aligned views, and who have aligned reward mechanisms," Ishrak said. "The patient is at the center of our activities where measurements of outcomes and measurements of costs associated with those outcomes are critical."
Medtronic can help MUSC in multiple way, the leaders said.
Research and Education
Since MUSC is an academic medical center, a core part of its mission is focused on research that finds new and better ways to improve people's health. Lisa Saladin, MUSC's executive vice-president for academic affairs and provost, outlined how partnering with Medtronic will enhance research at MUSC.
"These new pathways we'll optimize with Medtronic provide opportunities for hypothesis-driven research, grant funding, collaboration and the ability to disseminate this research nationally."
She said when it comes to what MUSC students learn in classrooms and clinics, partnering with Medtronic will teach them important lessons about new ways of developing and delivering health care. "I think we would be remiss if we did not expose every student at this institution to the activities that we're engaging in to move forward with value-based care."
Letting Doctors — and Data — Lead
Ishrak said value-based care needs buy-in from the doctors, nurses and others who take care of patients. They can give feedback on devices and systems to improve them, focusing on data to help heal patients through care that's based on evidence, not just instinct.
"Physicians are professionals who have been trained to improve outcomes, so this is not a foreign concept. It's a concept that simply needs to be scaled in a systematic way.  And physicians are a big part of that journey and are leaders in that journey," Ishrak said.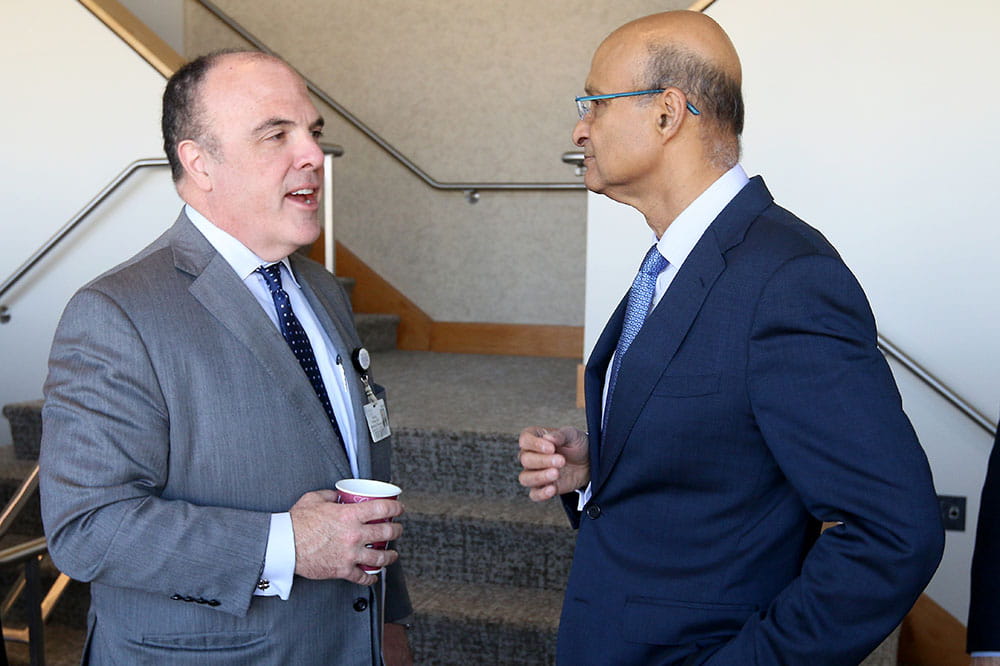 Medtronic executive vice president and president of the company's cardiac and vascular group emphasized the importance of hard numbers. "The idea of optimizing clinical pathways to me is really about taking our evidence generation to the next level, where we're looking at not only optimizing clinical outcomes but also the economic outcomes for patients," Michael Coyle said.
He said longitudinal patient data, meaning research looking at how people are doing over long periods of time, is critically important. That data can lead to insights that can prevent problems and save lives.
Improving Quality and Reducing Hospital and ER Visits
Cawley said a concept called "variation" leads to the biggest health care costs. It includes unnecessary time spent in the hospital and visits to the emergency department. "We fight variation a lot. We can measure that. We can see it."
He hopes that partnering with Medtronic will reduce variation at MUSC. "We, MUSC, can't attack this alone. We need device makers, we need pharmaceutical makers, we need those who work on social determinants of care, we need everybody to be able to set a wide definition of quality in order to narrow it and improve variation."
What's Next
None of this will happen overnight, the leaders said. But there can be big changes during the course of the relationship. One goal is to get new information to doctors almost immediately instead of months later. Another is to give doctors and nurses new tools to help with their work without overburdening them.
Doctors are optimistic, including Ravi Veeraswamy, the vascular surgeon who was part of the team that saved Gloria Mihalenko's leg. He said in a case like hers, Medtronic's tech savviness, systems and therapies would help MUSC build on what it already has in place to streamline care.
"Medtronic is able to use electronic medical records, information technology capabilities and monitoring capabilities as well as their physical devices to bring value to that whole process. In terms of the clinic visit, in terms of the actual intervention and in terms of follow up. So that's how the partnership would benefit the patients and us simultaneously," Veeraswamy said.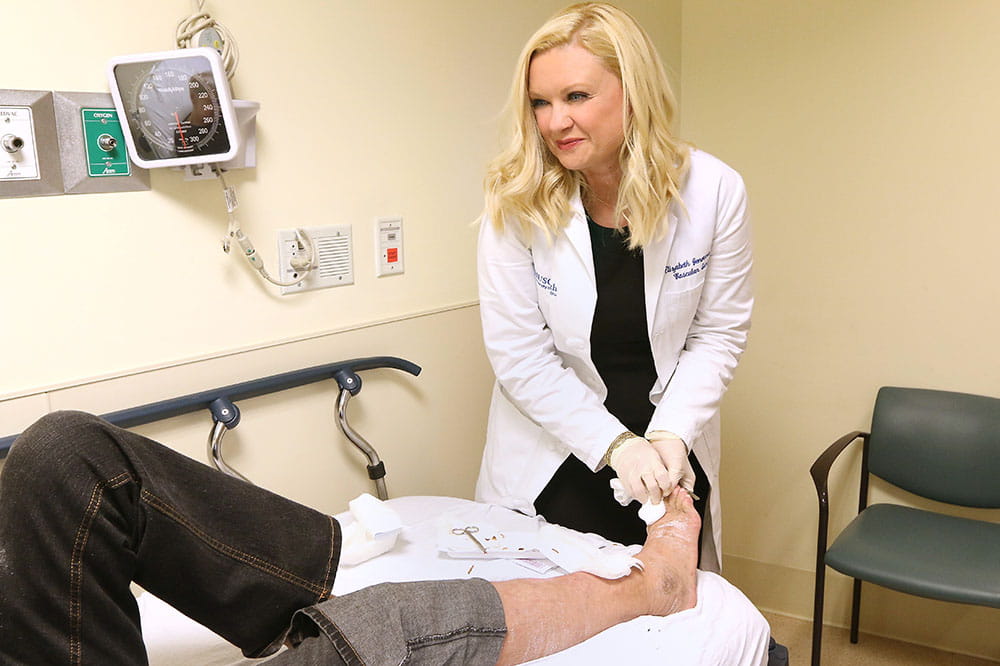 He sees new user-friendly technology as a possibility, too. "I envision an app that a patient has on their phone. After they've received treatment here, they can enter pictures of the wounds on the app and we can look at directly at them here and say, 'Oh, that looks worse than a month ago. Why don't you come in?' Or, 'Hey, that looks great. You don't need to come in for the visit.'"
And when an MUSC Health patient such as Mihalenko who lives two or three hours from Charleston needs follow-up testing, Veeraswamy says that partnering with Medtronic could make that easier. "They can go to a local health care provider and get some tests done that immediately get put into that app or portal, so we can monitor them even though they live two or three hours away. We save them and us time and labor."
Mihalenko is back on her feet these days. She recently came back to MUSC Health for a follow-up visit with Elizabeth Genovese, M.D., who is slowly and carefully helping get her leg and foot back to normal.
And Mihalenko's leg isn't the only thing that's changing for the better. The former waitress has removed smoking from her personal menu. "When I got in the hospital, they asked if I wanted a patch. For some reason in the hospital, I didn't crave it."
Suggest a Story
Have an idea for MUSC Catalyst News? Contact our editorial team and let us know.