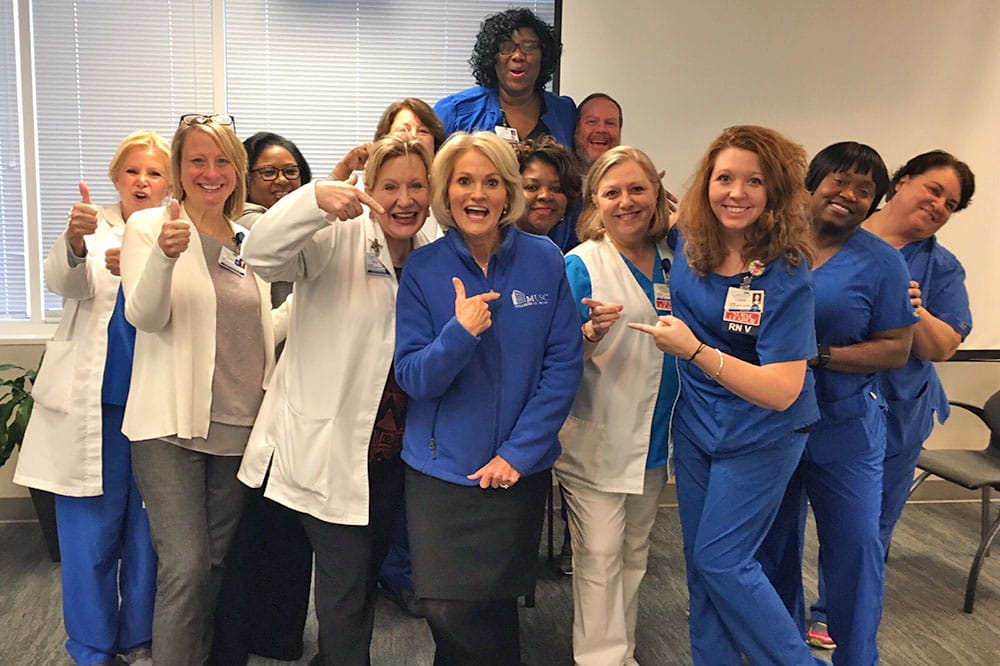 Rehabilitation technician Edna McClinton has worked at Springs Memorial Hospital in Lancaster, South Carolina, for more than 30 years. Today, she's celebrating its sale to the Medical University of South Carolina.
"I've seen a lot of changes over the years. I think this is one of the best ones, because MUSC has such a great name in the Carolinas," McClinton said.
Springs Memorial Hospital, not far from Charlotte, North Carolina, is one of four community hospitals now owned by MUSC. As of today, Springs Memorial Hospital's name changes to MUSC Health Lancaster Medical Center.
The other hospitals are Carolinas Hospital System-Florence (now MUSC Health Florence Medical Center), Carolinas Hospital System-Marion (now MUSC Health Marion Medical Center) and Chester Regional Medical Center (now MUSC Health Chester Medical Center). 
This marks the first time MUSC has acquired other hospitals. It bumps up the number of MUSC employees to more than 16,000 and doubles the number of patient beds in the MUSC Health network.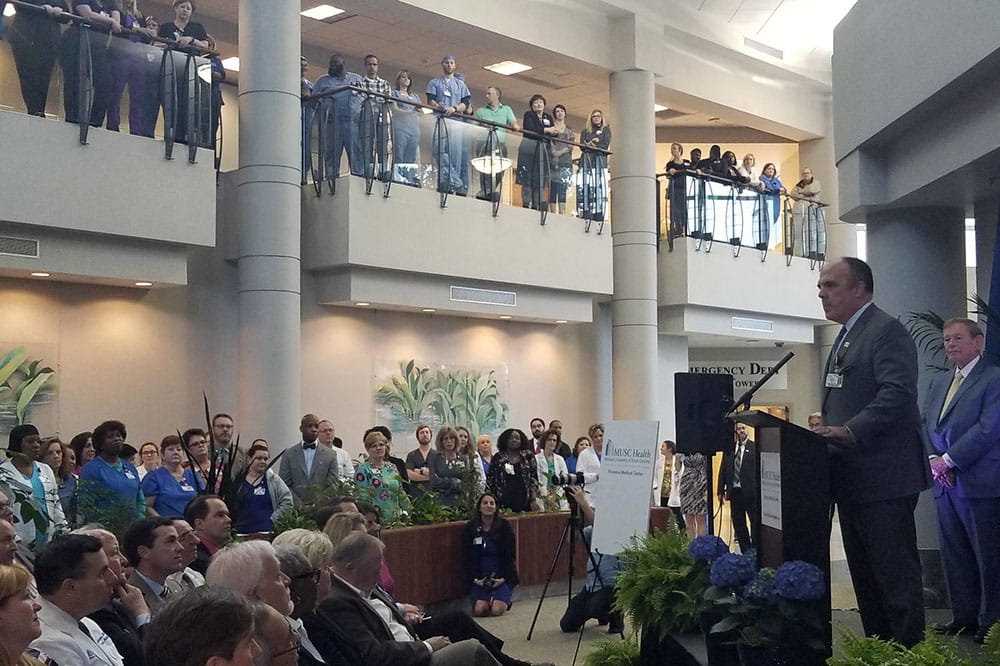 MUSC Health will seek to finance the purchase through the Department of Housing and Urban Development, with up to $137 million of debt and the assumption of certain leases for a total sales price of $176 million. 
MUSC leaders say they have a responsibility to prepare for the future through strategic partnerships that will allow the MUSC Health network to take care of people across South Carolina, including rural areas that desperately need more medical resources. Adding the four hospitals will also mean more potential residency spots for medical students from MUSC and other schools.
"We could not be more excited about what this symbolizes for the future of health care delivery and connectivity for our state," said MUSC President David J. Cole, M.D.
Here's a look at the four hospitals.
MUSC Health Chester Medical Center
MUSC Health Chester Medical Center sits in a city of about 5,400 people about an hour north of Columbia, South Carolina. The only hospital in Chester County has 82 beds for patients and a skilled nursing center. 
Dietitian Allie Mataloni sees multiple advantages to joining MUSC Health. "I think it's a great thing for Chester. I think it's going to allow us to do more things and help more patients," she said.
"MUSC has so much to offer, with more medical information and resources. I think everyone is super excited. It's all positivity from our end."
MUSC Health Florence Medical Center
MUSC Health Florence Medical Center is in northeastern South Carolina in a city of about 37,000 people. The hospital has almost 400 beds for patients.
Nurse educator Ashley Hudson said the hospital has already been working with MUSC Health through its telestroke program, which uses technology to connect stroke patients with specialists in Charleston. "That has really changed some of the quality metrics and patient outcomes for the better."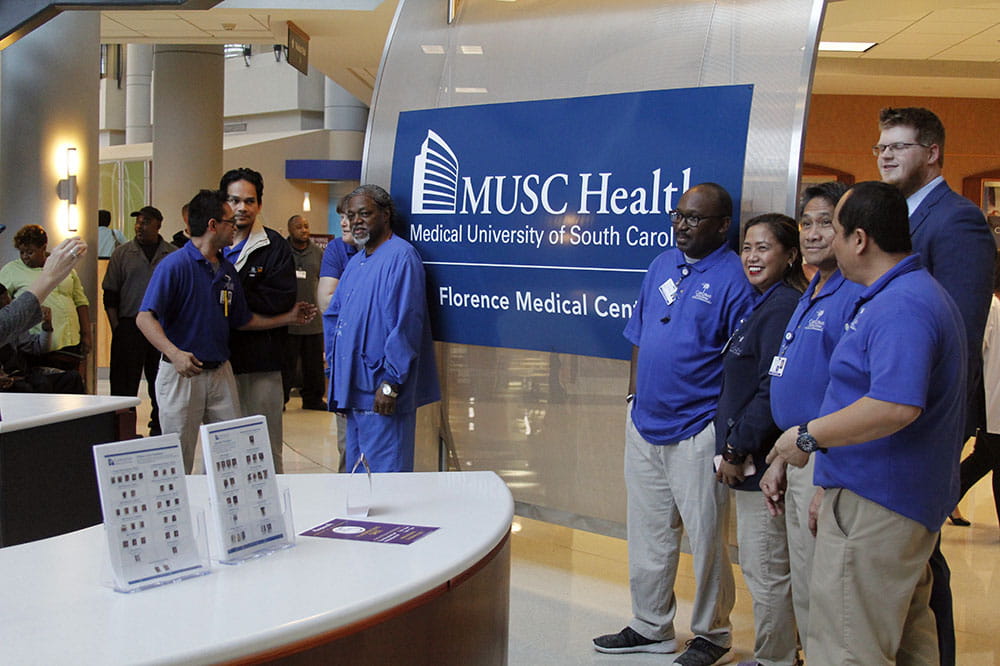 She predicts people in the Florence area will see more improvements now that the hospital has joined the MUSC Health network. "We will continue to be the hospital they are used to and the family-oriented environment we've always had. We're just looking to be able to increase our services to them. We're known for being very welcoming to our community and having a family environment. We'll continue to do that, too." 
MUSC Health Lancaster Medical Center
MUSC Health Lancaster Medical Center is in a city of almost 9,000 people, not far from the North Carolina state line. It has more than 200 beds for patients and experts in dozens of specialties.
McClinton, the rehabilitation tech who's been working there since the mid-1980s, said joining MUSC Health will attract more doctors and nurses to the hospital. They'll find a seasoned group when they get there, she said.
"We are a very, very good team. I've been working in the rehab setting for all those years and the transitional care unit, and we all have a very good attitude about life." 
MUSC Health Marion Medical Center 
MUSC Health Marion Medical Center has about 125 patient beds and is located just off Highway 76 in eastern South Carolina. It sits in Marion County, which has a population of about 32,000 people.
Social worker Kenneth Hicks described it as a small, rural hospital that tends to be efficient. "We get along great with the patients."
He's thrilled to be joining MUSC Health. "I've noticed the community seems to be excited about this transition. Everywhere I go, they're asking me about it. I think MUSC is a name that sort of sells itself."
He believes the patients he works with will benefit. "It'll probably open up an ocean of resources to me. Placement for difficult placements, patients who may just be straight Medicaid or patients who may be overweight and exceeding most weight limits for most nursing homes or patients who have behavior issues. I think it will give me a broader perspective and resources to pull from."
The CEOs of each hospital are now senior leaders in the MUSC Health system. MUSC Health has also hired a chief medical officer to serve as a liaison between doctors and nurses in Charleston and the newly acquired hospitals.
Matt Severance, MUSC Health chief of affiliations and network development, said the hospitals are already well-run and will be a good fit for the network. "Our mission is to improve health across the state, and to do that, we need to be present in areas across the state."
Suggest a Story
Have an idea for MUSC Catalyst News? Contact our editorial team and let us know.