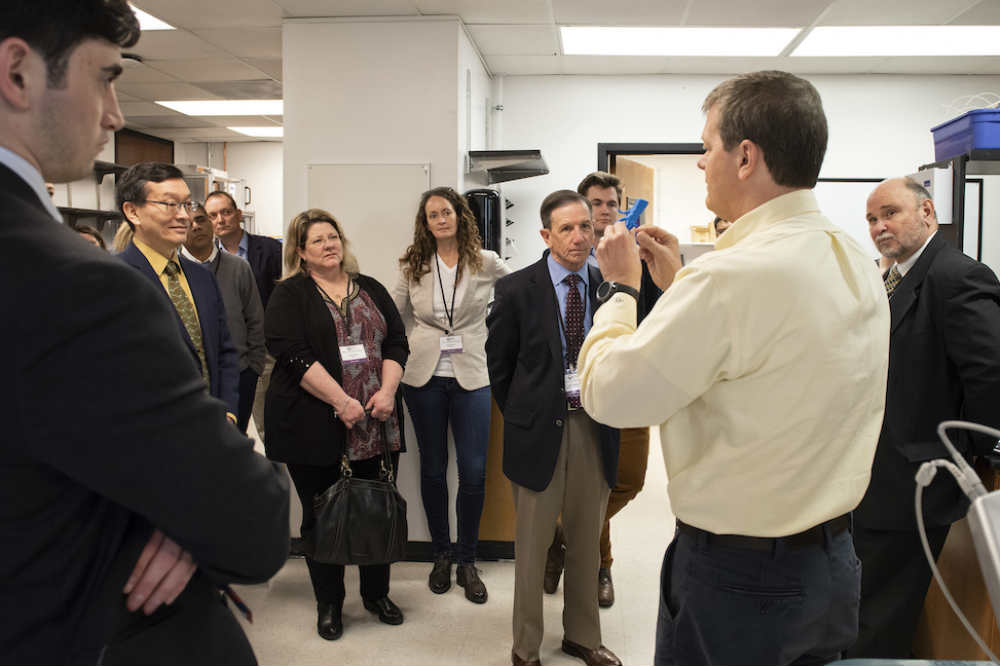 The Medical Technology Enterprise Consortium (MTEC) held its national conference in Charleston March 20 and 21 and invited MUSC researchers to attend. In an effort to expose its members to innovative research projects, MTEC arranged for a campus tour that would feature areas that best aligned with its mission. The feedback was overwhelmingly positive; corporate leaders and top researchers from other universities were impressed with MUSC's pioneering research that aims to translate science and data into medical solutions – solutions that health care providers then can use to support and treat veterans and those serving in the military.
MTEC is a biomedical technology consortium that works in conjunction with the U.S. Army Medical Research and Materiel Command, serving those who protect and serve the nation. Seeking to advance biomedicine and accelerate the development of solutions that prevent and treat injuries, MTEC's overarching goal is to restore America's military and veterans to full health through partnerships with academic health science centers, private industry, government agencies and other research organizations.
The visitors were interested to learn about the research generated from the MUSC Center of Telehealth Medicine's use of innovative technology – combined with a network of top-tier health care specialists – to provide a greater range of services to patients and providers throughout the state. One of only two National Telehealth Centers of Excellence in the entire country, MUSC Health currently operates in hospitals, schools, clinics, skilled nursing and correctional facilities. Because, for instance, VAs use telehealth regularly, MTEC is interested in MUSC's impressive telehealth data collection that potentially could enhance delivery and services to the military.
The group was also able to meet researchers whose work directly benefits America's service men and women. The tour brought them to the laboratory of Michael Yost, Ph.D., professor of surgery and bioengineering and the vice chairman for research in the Department of Surgery. Yost has made significant contributions to the disciplines of engineering and science – most especially in the areas of tissue engineering and inflammation modulation, muscle repair and regeneration and the use of collagen as a biomaterial for regenerative medicine. He is also the inventor of a 3-D bioprinter technology that allows the printer to know exactly where the print surface is at any given time, allowing him to "print" living tissues. This technology and his research on regenerative medicine hold many possible applications for use with the military.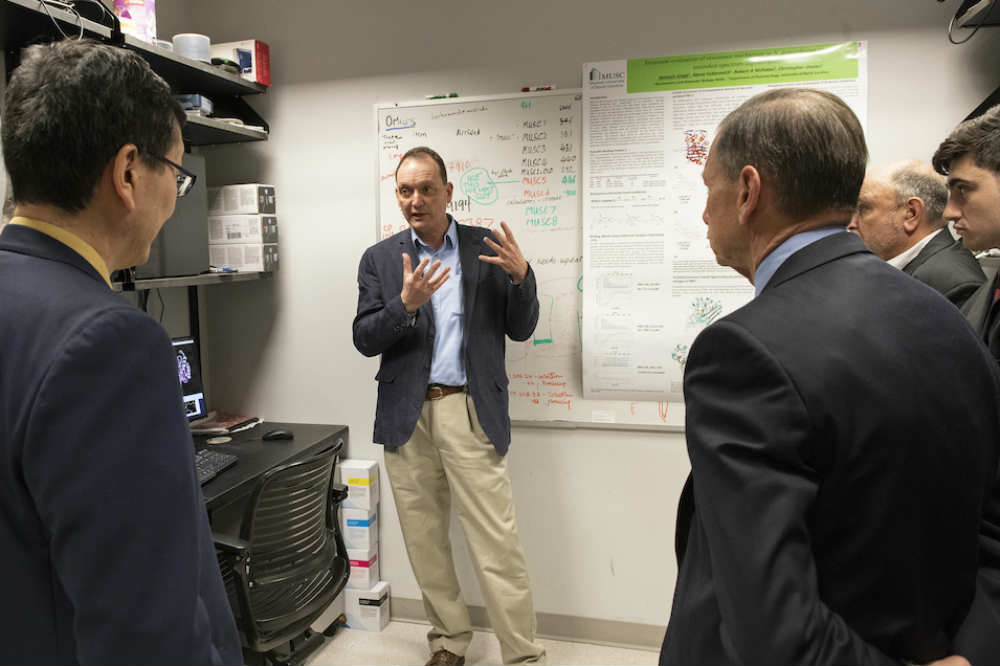 The group also toured the lab of Christopher Davies, Ph.D., a professor in the Department of Biochemistry and Molecular Biology and vice provost for research. In his lab, Davies focuses on macromolecular X-ray crystallography, studying the structural basis for antibiotic resistance in pathogenic bacteria and development of new antimicrobials.
X-ray crystallography plays a critical tool in the continual fight against antibiotic resistance; having a high-resolution structure of a drug target will allow researchers to design new and more powerful drugs to fight disease – the progress of which was of particular interest to MTEC.
"In crystallography research, a picture really is worth a thousand words," Davies said, referring to the high-tech imaging world of computerized molecular graphics.
The day concluded at the lab of Donna Roberts, M.D., a neuroradiologist and associate professor of radiology. Roberts studies the effects on the human brain in astronauts during spaceflight.
"Exposure to the space environment has permanent effects on humans that we simply do not understand. What astronauts experience in space must be mitigated to produce safer space travel for the public," said Roberts.
Recognizing the need for data related to those effects, Roberts conducted a study titled "Effects of Spaceflight on Astronaut Brain Structure as Indicated on MRI," the results of which were featured in the Nov. 2 issue of the New England Journal of Medicine. Roberts' research offers applications that could correlate to similar studies for pilots and submariners.
Protecting and healing those who serve drives the efforts of MTEC. With the conference focused on subjects such as clinical research, clinical and rehabilitative care, military operational medicine, combat casualty care and medical simulation, valuable discussions ensued at each stop on the tour, yielding numerous requests for collaborations. Davies called the tour fruitful, as the breadth of work – from regenerative medicine and the design of powerful new antibiotics to environmental effects on the human brain – offered hope for the future and, in particular, for those who serve. 
About the Author
Wanda Hutto Pierce

Keywords: Research