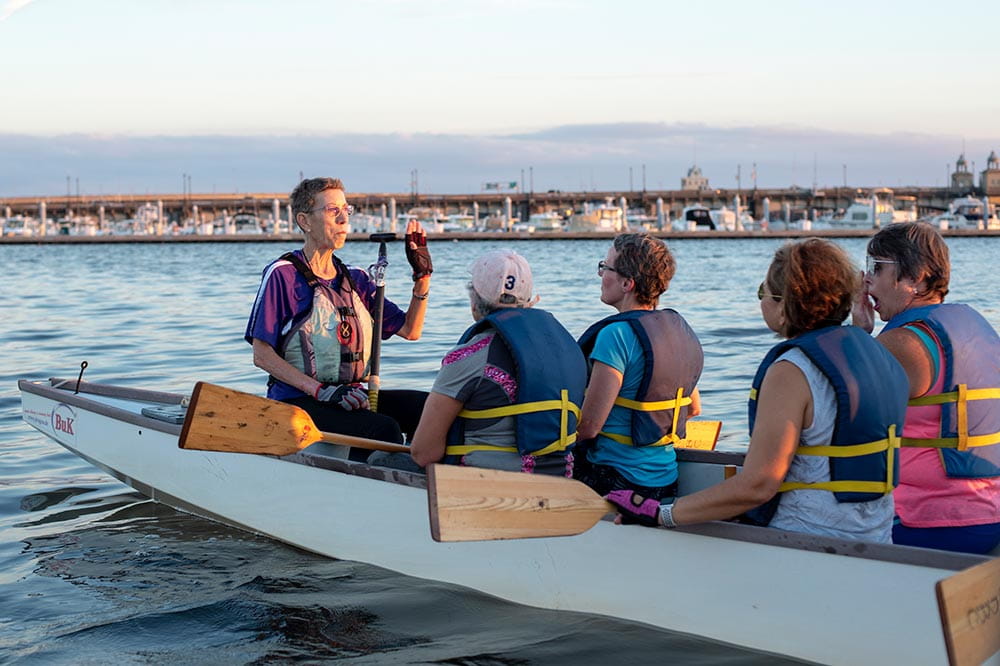 It's 6 p.m. and Sara Dalcher climbs on top of a chair in the lounge on the transplant floor, her IV pole and heart monitor in tow. There are some days she feels she's winning the battle against her illness. Not today. It's probably not a good idea to be climbing onto a chair. And yet, here she is.
Her gaze skims the river that winds its way through the Lowcountry swamps and marshes, past the Ashley River Bridge and past her view from the Ashley River Tower at the Medical University of South Carolina. She looks for the slim sliver of a boat and sees it. She shoots a text to a friend that she's watching, knowing they probably won't be able to answer on the water. They would lose their paddling pace.
But then the boat slows, the drumbeat stops. Dalcher's heart beat picks up. She watches as the paddles lift in the air in unison, water streaming down, a paddle salute.
"I was jumping up and down and yelling and shouting, and the nurses all came running thinking there had been a disaster. I said, 'Those are my people. That's my team.' What an experience that was — just seeing them meant the world to me."
That team spirit is one reason, even though she's looking forward to celebrating her fifth anniversary of being a cancer survivor, that she still participates in the Dragon Boat Charleston Festival each May and coaches, steers and encourages novices. This year, the 12th annual Dragon Boat Festival will be Saturday, May 4, at Brittlebank Park in Charleston starting at 8 a.m., featuring several races during the day, drumming and other entertainment.
Claudia T. Miller, a thoracic oncology nurse navigator at Hollings Cancer Center at MUSC, is captain of a Hollings team, a role she's had for the past seven years. It's one of her favorite events. "It celebrates life and survivorship for patients with any kind of cancer," Miller says. "There are survivors that are able to be there in person to celebrate, and then there are those who are no longer with us, but they are survivors nonetheless, and Charleston Dragon Boat Festival is about the only festival I know that celebrates them both equally."
Miller says she loves that the activity is open to anyone, no matter what limitations they may have from their cancer or cancer treatment. The organization gives newcomers all the tools they need to paddle on race day in just two practices, she says.
"Their volunteers are the most amazing group of motivators, and they want you to succeed. Charleston Dragon Boat Festival is a celebration of life and lives well lived. Plus, it takes place in one of the most picturesque settings in Charleston."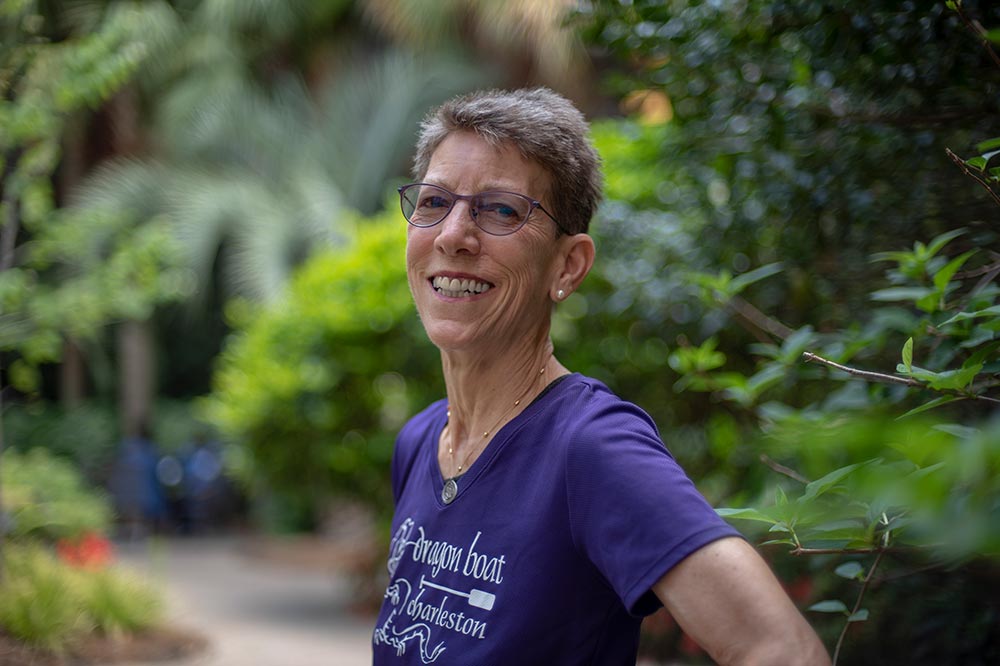 Life well-lived
Dalcher, 64, couldn't agree more.
Born in Vienna, Austria, her parents were diplomats and she was raised mostly overseas, much of her childhood spent in India. A self-described world citizen, Dalcher has done a variety of jobs including teaching, working with convention bureaus and eventually running a coffee shop in Johnson City, Tennessee.
"I love coffee and champagne in equal doses. I drank coffee all my life. I think it was in my mother's milk — that and champagne."
Dalcher, who hadn't called in sick in more than 13 years, found one day, though, that she was feeling queasy. She kept coughing and started running a fever. A yoga teacher who frequented her coffee shop in Tennessee came in and did an intervention, making her go to the doctor. Blood work revealed she had leukemia.
She was so shaken by the diagnosis, she couldn't use the word cancer because just the word tugged her down into a black hole. She called it "measles" instead.  "I know that sounds ridiculous, but cancer is such a black hole of energy and spirit and hope, and I knew that was how I was going to deal with this. To me, my fighting spirit is more important than whatever you're going to do to me. Because I have no control over that, but I do over me and my spirit."
Dalcher was in the hospital from July to Christmas getting chemotherapy. Unfortunately, she also got methicillin-resistant Staphylococcus aureus or MRSA, a serious infection, and couldn't seem to overcome it. Close to the holidays, she overheard one of the doctors say she wasn't going to make it. She started to run a high fever that they couldn't bring down. They put her on an "ice bed" that was like insulated chicken wire plugged in electrically to be freezing.
"By the time I woke up 18 hours later, I was blue. One leg had a hematoma. It was like walking with a Sequoia tree. I couldn't bend my leg."
Dalcher had had enough. She decided it wasn't about the quantity of her life, but the quality, so she asked to go home. When she asked her doctor, he agreed to release her.
Gradually, six to seven weeks later, she started to improve. It surprised her, and that fall, to escape the cold, she decided to visit three of the places she read about in U.S. News and World Report about the top cancer centers in the country. Her first stop was MUSC in Charleston, which reminded her of the climate and beauty of India.
"Dragon boating is very physically unfolding.  Your head has to come up. Your eyes have to come up. Your arms have to go out. You're aware that, 'Oh, my! This is all my space.' And there's the courage you catch from everyone around you."
Sara Dalcher, patient
Seeing an ad for Dragon Boat Charleston, she tried it out and instantly fell in love with it. Unfortunately, her interest was cut short when blood work revealed her leukemia was starting to come back in July 2014. She was referred to Dr. Robert Stuart, medical director of the clinical trials office at Hollings Cancer Center, who told her she'd need a stem cell transplant.
Dalcher took a deep breath and geared up for the procedure. She thought she was ready to take it on until she learned about the list of 100 people she needed — people to take care of her in 12 hour shifts after her transplant. Dalcher was divorced and had no family here. She panicked, but then she got a call. The people at Dragon Boat Charleston had learned of her needs, held a board meeting and decided to adopt her as a project.
They showed up like clockwork after her procedure. She says it felt like she was running a bed and breakfast, of sorts. "There was a stream of DBCers, every 12 hours someone was walking in the door, introducing themselves. It was absolutely unbelievable. I still choke up when I think about it."
Dalcher says it's been a blessing to be part of the group. She encourages the community to come out Saturday to support the event. "It's infectious fun, and you just can't help but smile. The costumes are outrageous. If you ever want to release your inner Auntie Mame and just go berserk, this is the time to do it. You're surrounded by people who are smiling and engaged — whether they feel good about supporting a cause or have been touched by cancer in some way."
There's something about the sport being out on the water, immersed in nature that seems to energize people, she says.
"It's unlike what you see in the wait rooms. In the boat, I'm seeing smiling people, full of energy, full of beans. There's just something elemental and amazingly empowering when you get out on the water. You're at the mercy of the sun and the tide and the wind. You're not worth fretting over for yourself. You're connected to a bigger purpose in so many ways."
Dalcher, who coaches newcomers, says she enjoys encouraging new participants and showing them the power that comes from working in sync with 19 other people — the power of opening up.
In order to paddle, participants have to breathe, she explains. "Dragon boating is very physically unfolding.  Your head has to come up. Your eyes have to come up. Your arms have to go out. You're aware that, 'Oh, my! This is all my space.' And there's the courage you catch from everyone around you."