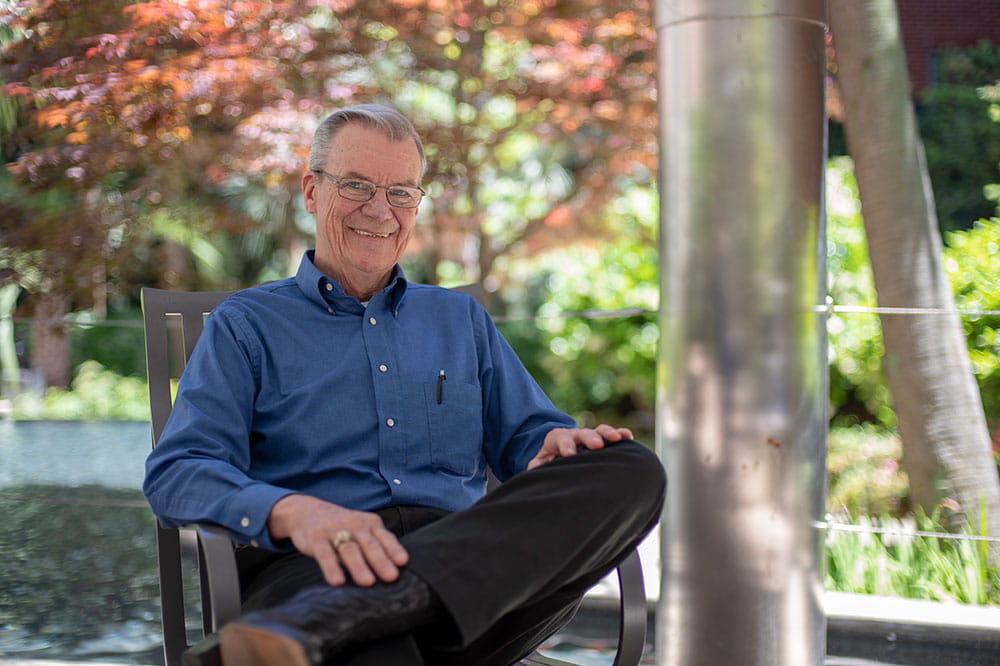 Rick Hunt believes boots aren't just made for walkin', they are made for everything life throws at you. He has worn a pair of Western-style cowboy boots for midnight strolls on the beach with his future wife, early-morning runs with his Omar Shrine Cowboys group, and most recently, while receiving the news that he is cancer-free — for the second time.
 "You just ask Dr. Carol Sherman," Hunt says, laughing. "Wearing boots is normal for me no matter what."
Sherman, a thoracic oncologist at Hollings Cancer Center at the Medical University of South Carolina, would know, as their doctor-patient relationship has been 19 years in the making. She met Hunt in 2000 when he first became a patient at Hollings Cancer Center. After experiencing symptoms such as extreme difficulty swallowing food and abnormally loud swallowing noises, he went to an ear, nose and throat (ENT) doctor and then a gastroenterologist. After running a few tests, the doctor told him he had stage three esophageal cancer.
Even worse, he was told his chance of survival was less than ten percent.
"I'm a poster child for you. I mean, less than a ten percent survival chance from esophageal cancer and then stage three lung cancer, and I'm still here." 
Richard Hunt, patient
"I was shell-shocked — totally floored by the diagnosis," Hunt says. He was referred to Carolyn Reed, a thoracic surgeon and then director of Hollings Cancer Center. While she was selective about the patients she accepted, she agreed to see Hunt right away. When Hunt arrived at Hollings, Reed confirmed his diagnosis and immediately began working on a treatment plan with her team.
His room filled up with doctors, nurses and residents, everyone giving his or her own opinion on his treatment plan. Reed finally put her foot down. "She said, 'We are doing this my way,' and she drew her whole plan out on the board for me," he says.
The plan was an aggressive combination of chemotherapy, radiation and surgery, to be carried out by Sherman. Hunt was overwhelmed with all the information and felt disconnected from reality.
"I was oblivious. I had no idea what was going on. Information went in one ear and out the other," Hunt says.
Luckily, Marie, his wife of 32 years, was there every step of the way. She took notes on his diagnosis and treatment plan, kept him in good spirits and communicated with his doctors and nurses. The word quickly spread about the happy couple on the eighth floor, and pretty soon it became the "hot spot" of the hospital. Nurses made excuses to visit them and volunteered to take Hunt to procedures, just to soak up some of the positivity the couple radiated.
Hunt got so comfortable with his team of nurses that he started joking with them while being wheeled from room to room. He would hit the button to open doors with his foot before they could press it, and yell, "Open Sesame!" The laughs from these performances helped keep everyone's spirits high.
When Hunt beat those terrible odds and was declared in remission the following year, he gave credit to not just his doctors and nurses, but to his wife. He believes that Marie's consistent, sunny outlook made all the difference.
Almost 17 years later, regular, intense back pain drove Hunt to yet another round of doctor visits. He was told it was probably just muscle pain and began regular physical therapy. When he didn't feel any relief after several sessions, he returned for further testing. After an MRI and CT scan, the worst was confirmed. Hunt's second battle with cancer, this time as stage three lung cancer, began in December of 2017. Once again, he went to Hollings Cancer Center to see Sherman.
The first word Sherman uttered: "Again?" she says after seeing him back at Hollings, 17 years after their first meeting. For the second time, she developed a treatment plan for him. At the time, concurrent chemotherapy and radiation was the standard treatment, so that's what Hunt underwent for six weeks. Then, based on a study in the New England Journal of Medicine that showed patients who received the immunotherapy drug Durvalumab after chemoradiation had both a higher rate of progression-free survival and overall survival, Dr. Sherman advised Hunt to complete a year of this promising treatment. 
Once more, Hunt and his wife kept each other's spirits high through a dark time. Hunt attributes the combination of immunotherapy and a positive attitude to his giving cancer the boot the second time around. After completing his year of immunotherapy, Hunt was thrilled to learn from Sherman last month that that he was officially in remission with no signs of recurrence.
"I'm a poster child for you. I mean, less than a ten percent survival chance from esophageal cancer and then stage three lung cancer, and I'm still here," Hunt says.
Grateful to the doctors, nurses and staff members at Hollings Cancer Center, Hunt wants to share his story to encourage others. His advice after beating cancer twice: "Step back and take a deep breath. These people know what they're doing, and they are here to help you."