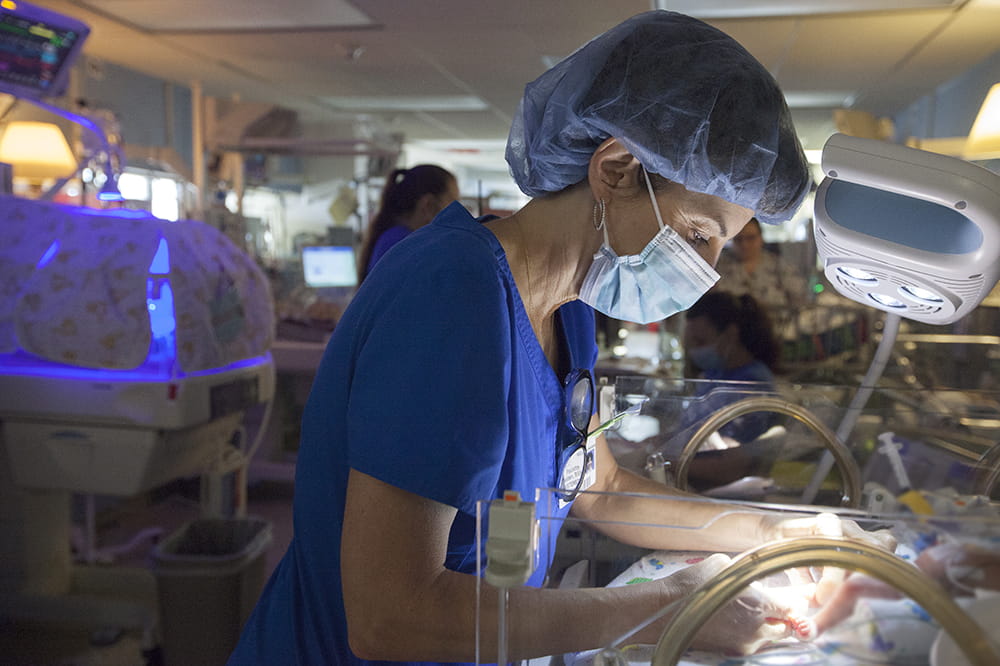 Paulette Headden has spent 32 years in the neonatal intensive care unit and wouldn't work anywhere else. Her colleagues feel the same way about her – she was peer nominated and selected as the MUSC Nurse of the Year.

Headden was surprised May 6 during the annual Nursing Excellence Awards ceremony to learn that she, out of all the unit honorees, had been selected to represent MUSC nurses.

"It's very humbling. I am very much honored," she said. But, she was quick to add, "I'm just one of many."

Headden nearly didn't go to the ceremony. She thought it seemed like bragging about herself to attend the event, which honored more than 70 nurses from MUSC Health and MUSC Children's Health. Her supervisor, MaryLaura Smithwick, and her sister, Traci Ellis, who also works in the NICU, had to conspire to get her to St. Luke's Chapel for the event.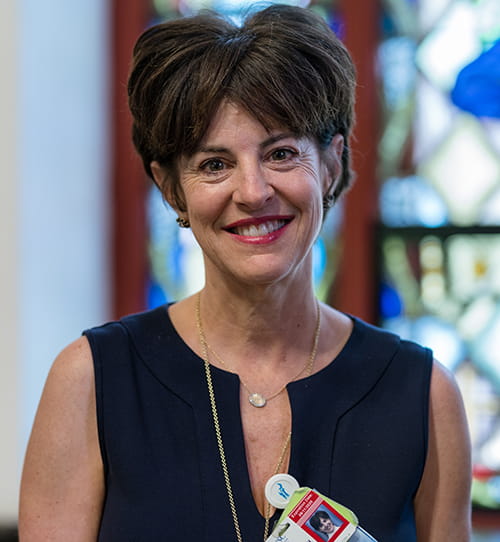 On the nomination form, a colleague said that Headden is "a clinical expert and a diplomat" who is always willing to lend a hand and share her expertise. She is particularly skilled, the nomination read, at inserting PICC lines, tubes that are inserted into a vein to deliver antibiotics, nutrition or medication.

"While Paulette coordinates a team of nurses with this skill, she seems to always be successful and so is called upon frequently for this procedure. Paulette willingly goes to other units and places lines without hesitation. She comes in frequently on days off, holidays included, so that an infant or child will not have to go without proper IV nutrition," the nomination stated.

That level of care and compassion can be seen in nurses across the entire enterprise. Executive Chief Nursing Officer Jerry Mansfield, speaking during the awards ceremony, said that when people ask him why he took this job in Charleston after 30 years in Ohio, they generally assume he'll say it was the sun and the palm trees that lured him here.
In fact, he said, "during my interview process, I saw a level of caring and compassion that I thought was extraordinary."

Headden said much has changed in the NICU since she first began working there. When she started, the fate of a baby born at 28 weeks was doubtful. Now, she said, these babies have very good prognoses. She was in the NICU when medical staff conducted a study giving babies surfactant, a substance that prevents the lungs' airways from collapsing with each breath but that premature babies don't produce adequately. Now surfactant therapy is standard, she said.

The NICU has also changed in its physical environment. It used to have bright lights and music playing, she said, but now they dim the lights. And while people talk in normal voices, the overall noise level is hushed.

Headden's family was at St. Luke's Chapel on Monday to see her accept the award, and though they wouldn't have missed it, they didn't have to go far to get there. Her husband, Gary Headden, is an emergency department doctor, and their three daughters are also at MUSC. Morgan Khawaja is pediatric chief resident, Kendall Headden is a first-year anesthesiology resident and Merritt Headden is a second-year College of Medicine student.

Besides her work in the NICU, Headden walks in the March of Dimes' March for Babies, volunteers on the event planning committee of the Charleston County Medical Society Alliance, is an MUSC NICU safety coach, and serves on the NICU's committees for shared governance, infection prevention, tender lung care, evidence and values, and the stabilization team.
2018-2019 Unit Nurses of the Year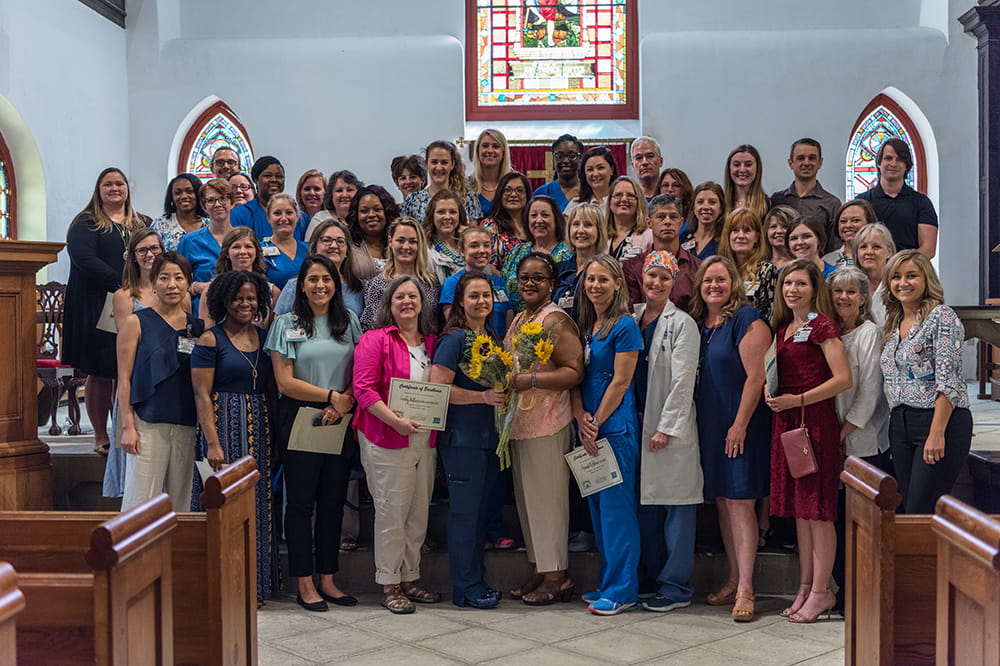 | Alicia Amon  | 8 East Medical Acute Care |
| --- | --- |
| Sheenique Bailey | IOP - Acute Care Unit |
|  Ashley Banks | IOP - Senior Care Unit |
| Laura Barlow | Medical Intensive Care Unit |
|  Mindy Barron | ART - CVICU |
| Sarah Bertram | 7B - Pediatric Hematology, Oncology and Sub-Specialty |
| Emily Biad | ART - 7 East |
| Betts Bishop | ART - Operating Room |
| Melissa Binkowski | PACU |
| Christopher Blake |  6 East Renal Transplant Nephrology |
| Nicki Brobst | Pediatric Cardiac Intensive Care Unit |
| Kristina Brooks | Children's After Hours Clinic |
| Erica Brown | IOP - Addictions Unit |
| Yesica Chavez-Jurey | Mother Baby Unit |
| Virgetta Cromwell | Surgical Holding |
| Crystal Cronizer | ART - 4 East |
| Samantha Diamond | Pediatric Cath Lab |
| JoAnn Drennan | Rutledge Tower - Peri-Anesthesia |
| Jason Ferro | Ambulatory - Transplant Clinics |
| Lauren Fingar | 7 East - Children's Hospital |
| Elise Flow | IOP - Acute Care Unit |
| Ashley Fussner | ART - 5E Cardiac Acute Care |
| Jennifer Giametta | Ambulatory - Rheumatology |
| Karen Gilbert | Pediatric ICU |
| Elizabeth Gilger | Surgical Trauma ICU |
| Tamra Grant | Primary Care |
| Cheryl Groves | Radiation Oncology Hollings Cancer Center |
| Jessica Gulatsi | Adult Emergency Department |
| Laura Gunter | Ambulatory OR |
| Paulette Headden | Neonatal Nurseries |
| Amanda Holseberg | Healthy East Cooper |
| Shawn Jenkins | Transitional Care Unit |
| Sandra Julian | MUSC Health North |
| Elizabeth Karabin | Operating Room |
| Patricia Kearns | Radiology |
| Ashley Ketler | 9 West Neurology / Neurosurgery |
| Chelsea King | ART - 5W Specialty |
| Maria LaFon | Ambulatory - Neurosurgery, ENT and Sinus |
| Carrie Laird | IOP - Youth Psych/Inpatient |
| Al Lopez | Mental Health - Eating Disorder Program |
| Amanda McAdams | 6 West Trauma Surgical Services |
| Traci McClellan | ART - Endoscopy |
| Lindsey McGarr | Pediatric Cardiology Intensive Care Unit |
| George Metropolis | Meduflex |
| Tanya Misyuchenko | ART - 7 West |
| Amelia Mullins | MSICU |
| Jaclyn Murphy Arold | 10 West Trauma and Spine |
| Sheryl Naugle | Ambulatory - Heart and Vascular |
| Pam Nobles | Emergency Services - D Pod |
| Sallie O'Brien | Ambulatory - Digestive Health, Endocrine & Metabolism |
| Casey Patton | Ambulatory Resource Pool |
| Kelly Pelletier | ART - 6 East DDC |
| Caryn Phillips | Pediatric Emergency Room |
| Kevin Pinet | ART - 3 West |
| Sarah Radford | 9 East Neuroscience Unit |
| Amy Russell | 7C - Pediatric Intermediate Care |
| Krystal Sams | 8 West Med Surg |
| Sara Sampson | Antepartum Gyn Services |
| Kate Seay | Pediatric Cardiac Same Day |
| Nicole Shelley | 8D Pediatric Cardiac Unit |
| Kinsey Shirer | Specialty Surgery and Spine |
| Kendra Smith | 7 West - Surgical Oncology |
| Krista Stansik | Total Joint Replacement Unit |
| Cindy Steffen | Neuroscience Intensive Care Unit |
| Michelle Tomevi | Labor and Delivery |
| Audrey Wilder | Pre-Op Clinic |
| Karen Wildes | 7A - Infant Care Unit |
| Ashley Wilson | ART - 6 West DDC |
| Lorena Wood | Dialysis |
| Audrey Yera-Paez | ART - Prep and Recovery |