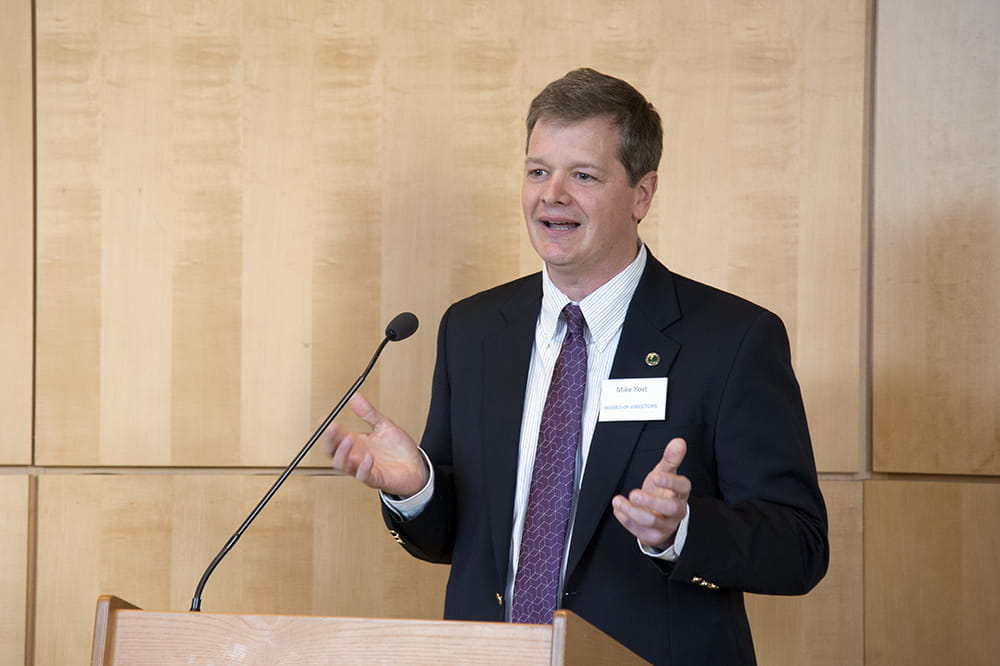 Michael Yost, Ph.D., vice chairman of research in the Department of Surgery at the Medical University of South Carolina, has been formally accepted as a fellow of the National Academy of Inventors. The induction took place at the Astronaut Gallery at Space Center Houston.
"Being inducted was a wonderful experience," Yost said. "Everyone congratulated each other, and the conversations centered on ideas and current projects and things they would like to tackle in the future.  And then you hear how one person flew on six space shuttle missions, another led a team to implement CPAP therapy in Africa and reduced infant mortality from 70% to 30%. The list goes on and on just incredible people doing incredible things with humility and a genuine enthusiasm for the work."
More than 250 institutions worldwide belong to the National Academy of Inventors, which was founded to recognize academics' accomplishments in patents, licensing and commercialization. 

Yost has seven patents to his name. "I am so grateful to be able to create novel solutions to difficult problems. I am grateful for the people I get to work with. I am most proud to be a part of the solution to difficult problems in medicine," he said.
MUSC provost Lisa Saladin, PT, Ph.D., called Yost a pleasure to work with. "He has made substantial contributions to engineering, science, tissue engineering, inflammation modulation, muscle repair and regeneration, 3D bioprinting and the use of collagen as a biomaterial for regenerative medicine."
MUSC colleagues honored Yost, MUSC's fifth NAI fellow, with their own ceremony earlier this year. They also inducted J. Matthew Rhett, Ph.D.,into the MUSC chapter and honored members who received patents this year: Rhett and Yost as a team, Patrick Woster, Ph.D., and Stephen Tomlinson, Ph.D.
Yost spoke in detail at the MUSC ceremony about his gratitude for people who have helped him succeed, beginning with the father who changed the trajectory of his own life and that of his future family by leaving behind the coal mining and farm life he knew to become a submariner. His father then worked his way through undergraduate and graduate school, Yost said, eventually securing a position at the Johns Hopkins University Applied Physics Laboratory and contributing to projects like the specially designed Apollo spacesuits and Pershing IIA and cruise missiles. 
Yost also thanked his graduate school mentor, Lou Terracio Ph.D., who pushed him to begin applying for patents and held his hand through his first federal grant funding application.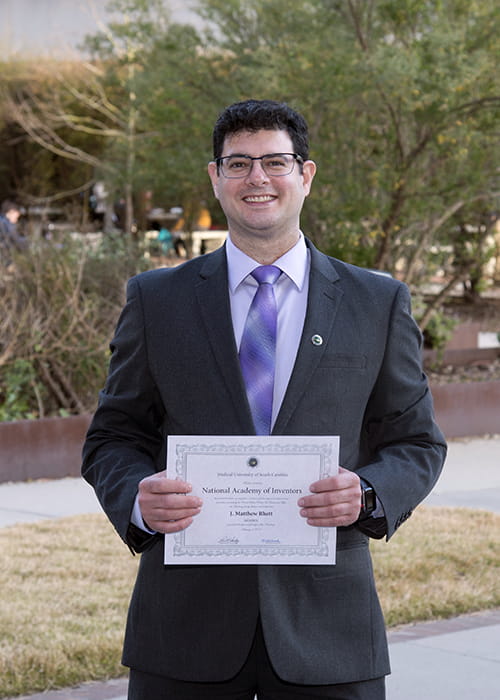 And Yost told his colleagues about a family friend and inventor, Jim Fergason, who gave him good advice when he was struggling with the demands of working, raising children, attending graduate school and pursuing patents. "Jim said to me, 'I want to tell you something else. I want you to learn to quiet your mind. I want you to start trusting your intuition, and I want you to trust your own creative thoughts,'" Yost said.
That wasn't always easy, Yost told his MUSC colleagues. When he was a new faculty member pursuing the next level of federal funding, he got an unwelcome result. His application was returned as "not discussed," meaning none of the reviewers thought it worth debate by the full review committee. 
"I was devastated. I thought my academic career was over," Yost said. He went to talk to Richard Bell, M.D., chairman of the Department of Surgery at the University of South Carolina School of Medicine. 
"I had to sit in the big chair – you know the big chair in the boss's office that nobody wants to sit in? I had to sit in the big chair, and I had to tell Dr. Bell how I failed to get funding for my research," Yost said. 
But Bell, a U.S. Air Force flight surgeon, provided some perspective. No one had died because Yost failed to get funding. No one had lost a limb. He told Yost to get back in the lab and try again – and this time, Bell said, make it better. 
To conclude his remarks, Yost passed along the very wisdom he had collected from the people who helped him throughout his career. 
"I want you to start to learn to trust your intuition, quiet your mind and trust your own creative thoughts," he told the audience. "Get your work out there in the world where it can do some good and get it in the hands of people who can use it. And when you fail, much like I did, I want you to go back, and I want you to try again. And I want you to make it better."
And, he added, "When the opportunity arises – and it will – I want you to bend down, and I want you to extend your hand, and I want you to lift up the next person and be the giant in their life."
The John N. Vournakis NAI reception at MUSC was sponsored by the MUSC Foundation for Research Development (FRD).