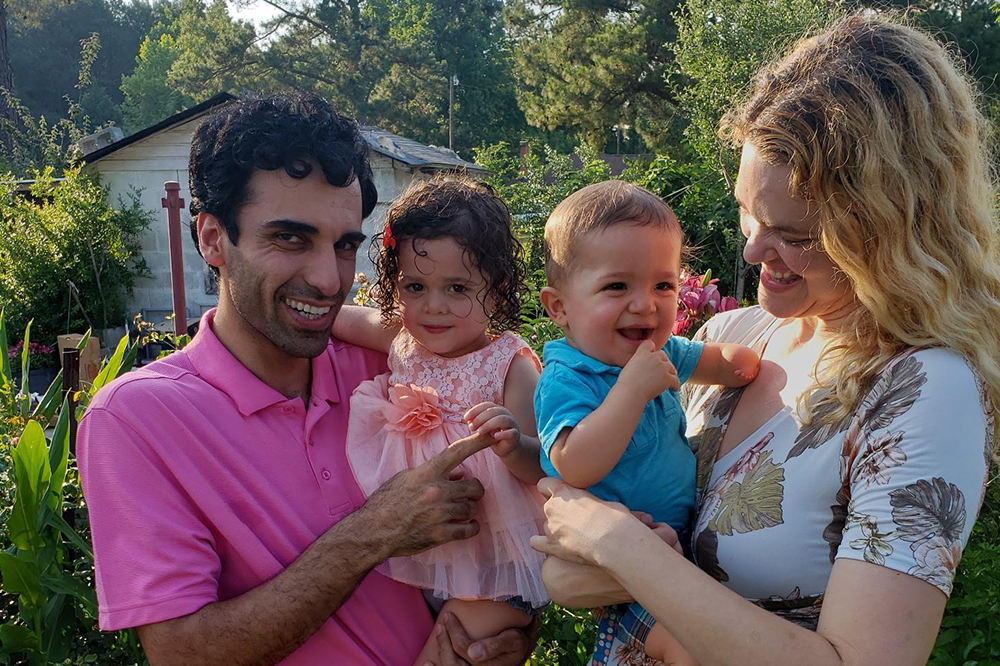 Obstetricians. Obstetric anesthesiologists. Trauma surgeons. Neonatologists. Urologists. Oncologists. 
A small army awaited a terrified Emrys Hamidi as she was wheeled into a trauma operating room at University Hospital for a C-section that would hopefully save her and her baby from a life-threatening condition.

And then she recognized the room.

The last time she'd been in it, she was a student at the MUSC College of Medicine.

And the patient had died.

They say ignorance is bliss, but Emrys and her husband, Amid Hamidi, didn't have that luxury. Both practicing doctors, they graduated from MUSC in 2016 and began working as residents at McLeod Family Medicine Center in Florence. They were well aware of the danger when an ultrasound during Emrys' second pregnancy indicated she might have placenta accreta – a condition in which the placenta has attached too deeply to the uterine wall.

In the worst-case scenario, the placenta can actually grow through the uterus and attach to a nearby organ, like the bladder. It's a condition that's rare but increasing.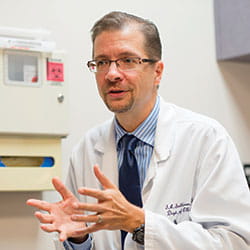 "My first 10 years in OB, I maybe did two accretas. Now we do one per month, so there's a bit of an epidemic of these," said Scott Sullivan, M.D., director of the Division of Maternal Fetal Medicine at MUSC. Doctors think the increase in C-sections may be partly to blame for the rise in placenta accreta cases.

"They're very scary procedures if done in a place without resources or if it's unexpected."

Because the placenta is attached to the uterine wall, it often won't deliver properly during childbirth, causing severe hemorrhaging and even death. For that reason, doctors schedule a C-section and hysterectomy around the 34-week mark of pregnancy, well before the woman would go into labor but far enough along that the baby has a good long-term prognosis, Sullivan said.
"They're very scary procedures if done in a place without resources or if it's unexpected."

 

Dr. Scott Sullivan
The Hamidis had seen placenta accreta during their training. "That's why I was so scared. The last lady I saw with accreta almost died," Emrys said. Besides Emrys' condition, the couple was also emotionally preparing for potential effects on their son from amniotic band syndrome, in which a band entangles around a limb, cutting off blood flow.

The couple spent a day at Johns Hopkins Medicine in Maryland, consulting with specialists there. The Johns Hopkins doctors were magnanimous with their time, Amid said, but in the end, all agreed that the Hamidis should choose a hospital closer to home. The couple felt confident in the medical team at their alma mater.

And as it turned out, their timing was good. MUSC Women's Health had just officially christened its Center for Placenta Accreta Spectrum, though it had been offering services for a few years. And thanks to the trauma team at MUSC Health, the center was instituting a new surgical procedure meant to stop massive hemorrhaging to give surgeons time to track down and repair the source of the bleeding.
Battlefield care for birth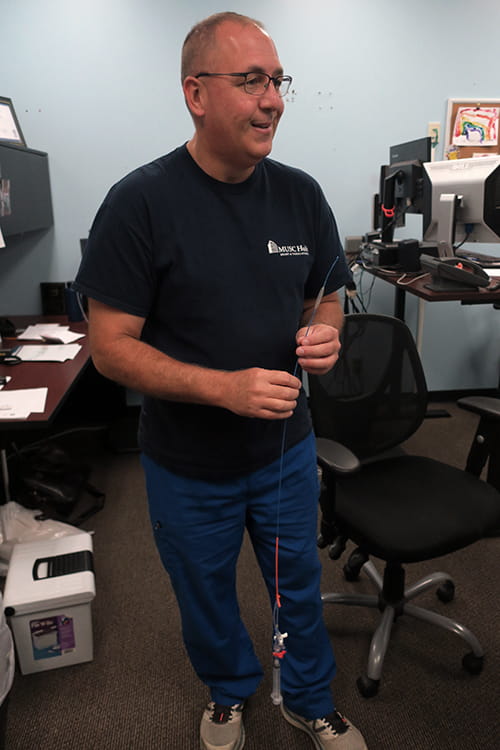 On the other side of the MUSC campus in downtown Charleston, the trauma program had started using a special catheter with the long-winded name of resuscitative endovascular balloon occlusion of the aorta – the doctors just call it REBOA.

The basic idea has been around since the Korean War, said trauma surgeon Evert Eriksson, M.D. A doctor threads a thin tube carrying a deflated balloon into the artery in the thigh and up to the aorta, the body's main artery. When it's in place, the doctor inflates the balloon, which blocks blood flow from the aorta into the lower portion of the body.

At that point, the clock is ticking. Cut off the blood flow for too long and serious damage can occur. But blocking the bleeding should bring the patient's blood pressure back up to a normal reading and give surgeons time to make repairs. The alternative, Eriksson said, is cracking open the patient's chest to physically clamp the aorta.

Although the idea itself isn't new, an updated version developed by military doctors proved easier to use in the field and also led to a significant drop in complication rates, Eriksson said. The device came on the civilian market in 2016 and increasingly, hospitals have been adopting its use.

Trauma program manager Shawn Crowley, R.N., and Eriksson introduced REBOA at MUSC Health to use in the Emergency Department for patients bleeding in the belly. Then they began hearing about doctors using it in cases of placenta accreta.

They decided to call their colleagues in OB-GYN to see if they might be interested in using the new device.
Evolving care
"What started as a phone call has turned into national research, which is exciting," Sullivan said.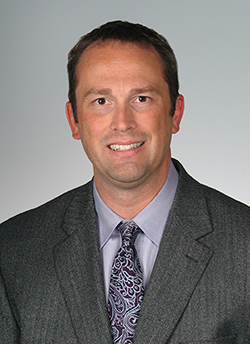 When Eriksson called, Sullivan and his team began to research the use of REBOA during C-sections to deliver patients with placenta accreta. There wasn't a lot of information out there, but using REBOA seemed to make sense. Like trauma cases, placenta accreta patients can suffer massive bleeding. The alternative for pregnant patients, though, isn't to crack open the chest but to pack the pelvis with large gauze pads to staunch the bleeding.

But there's no guarantee that maneuver will work, Sullivan said. "It's kind of a desperate move at that point."

After doing their homework for several months, the obstetric team decided to move forward with using REBOA. Since implementation, the team has been collecting data on outcomes and pooling it with other researchers, particularly Texas Children's Pavilion for Women in Houston, Texas.

"Any time you innovate, you want to double-check yourself. Is it really adding value? And you want to let other people know about it to increase the knowledge," Sullivan said.

Sullivan saluted trauma team members for their willingness to collaborate on obstetric cases. "They've been very gracious," he said.
"It's impressive when you see it. You always know that MUSC has all this talent, all these resources. But when you see it right in front of you, in action, it never fails to impress."

 

Dr. Scott Sullivan
Oncologists are also part of the team because the placenta accreta acts very much like a tumor – invading other tissues and bleeding a lot. The oncologists' experience operating on very sick patients and minimizing injury to other tissues adds another layer of expertise for the patient.

On the day of delivery, the trauma team preps each placenta accreta patient before the C-section begins so the REBOA technique can be used if needed. Sullivan said he thinks that they end up needing it about half the time, but with only one to two cases per month, there's not enough data yet to definitively say how often it's used.

Sullivan said he always warns patients ahead of time that the operating room will be full. Most patients have had prior C-sections and might expect to see eight to 10 medical personnel, but in these cases, there will be 45 to 50 people, Sullivan said.

"It's impressive when you see it. You always know that MUSC has all this talent, all these resources. But when you see it right in front of you, in action, it never fails to impress," he said.
All that preparation and teamwork paid off for the Hamidis.
Birth day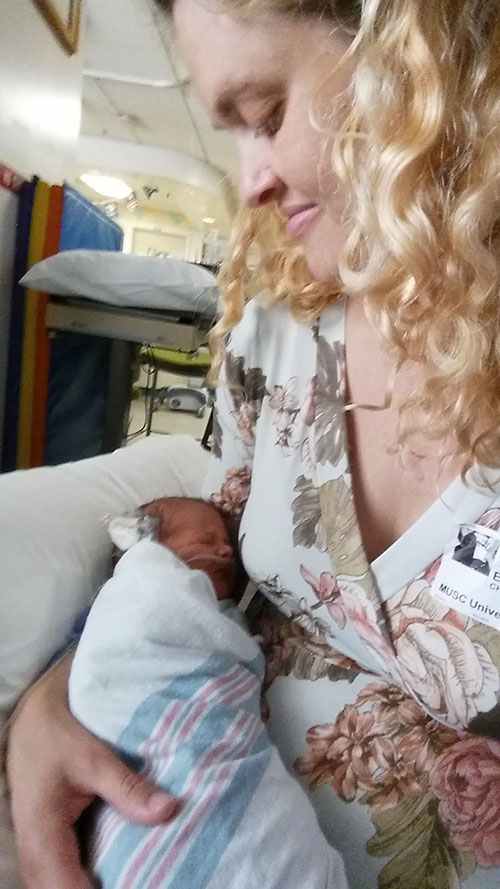 When Emrys was rolled into the operating room, she was terrified but also felt like she was surrounded by the right people.

The trauma team prepped her for REBOA, and then the obstetric team began the C-section.

"Despite this being a complicated case, Dr. Latha Hebbar, Dr. Mary Sterrett, Dr. Sullivan and the rest of them in the room really helped us feel like this is still a delivery. This is not trauma," Amid said.

The delivery was calm, Amid said. But as he was doting on their son, he glanced over and saw that Emrys' blood pressure was dropping. She was hemorrhaging. Quickly, the trauma team stepped in and inflated the balloon to block blood flow and allow surgeons to continue the hysterectomy and make repairs.

"I think if it wasn't done in the fashion it was, my wife wouldn't have made it past that dropping of the blood pressure," Amid said.

"All of that was forethought as much as it was medical prowess," he said. "Had they tried to place it emergently, once things were going sideways, it would have been too late. She would have probably bled out in two minutes. It wouldn't have been enough time to place it."

As for Emrys, she remembers seeing their son and then nothing until she woke up in the intensive care unit.

Her experience strengthened her empathy for patients, she said. She knows the feeling of life crashing down around you and having no control over the situation, and it has emphasized for her how important the human aspect of medicine is.

She's also passionate about addressing the high maternal mortality rate in the U.S., particularly for black women. South Carolina ranks among the 10 states with the worst rates of maternal deaths, with a state committee determining that 54 percent of the deaths between 2016 and 2018 were preventable. As she completes residency and begins work as a family medicine doctor in underserved communities, Emrys is committed to providing culturally competent care for those who most need it.

Sullivan said prenatal care is critical to catching issues, like placenta accreta, that contribute to the state's maternal death rate. The good news is he's seen an increase in referrals when obstetricians see something suspicious on an ultrasound. Just as important as the diagnosis is planning for the delivery and ensuring the patient is cared for at a tertiary care center, he said.

"It's no knock on the smaller centers. They're great surgeons. It's that they don't have the oncologists and the trauma surgeons and REBOAs – all of the resources that we're blessed to have here," he said.
"All of that was forethought as much as it was medical prowess. Had they tried to place it emergently, once things were going sideways, it would have been too late. She would have probably bled out in two minutes. It wouldn't have been enough time to place it."

 

Amid Hamidi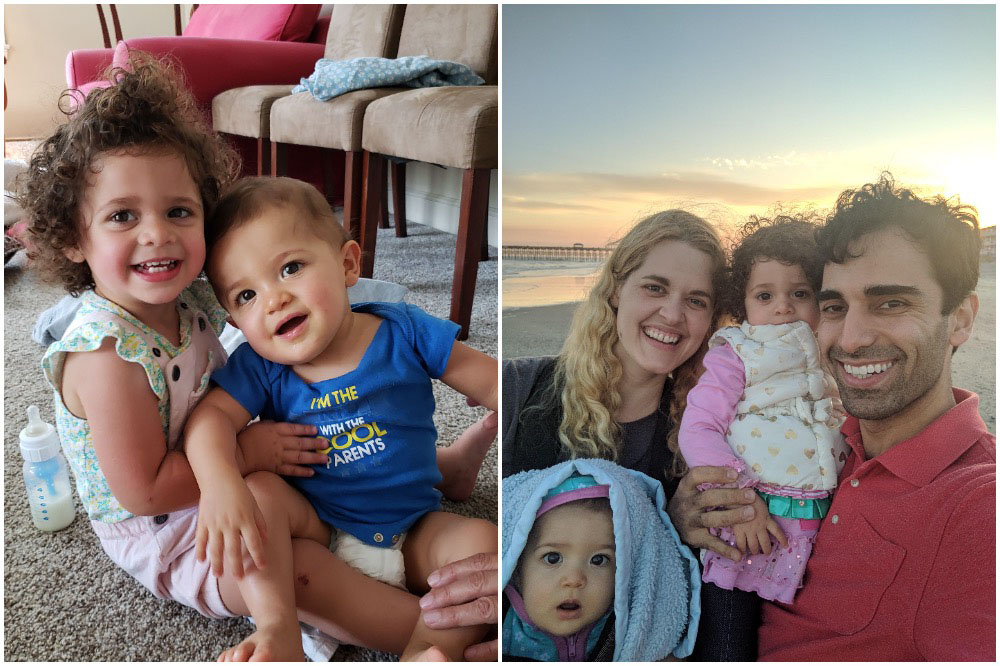 Amid and Emrys are thankful for all the doctors at MUSC Health. Maternal fetal medicine fellow Mary Sterrett, M.D., was their primary point of contact, and Amid said she went above and beyond to make sure everything was addressed.

"She's the type of doctor I hope I will be one day," he said, adding that Latha Hebbar, M.D., director of Obstetric Anesthesia, was "an angel from on high."

Amid also got the chance to say "thank you" to the men who made REBOA at MUSC possible. In June, Amid, who intends to go into emergency medicine, attended an advanced trauma life support course at MUSC organized by Crowley.

Crowley was stunned when at the start of the day, Amid walked up to the team and said, "You saved my wife's life."

The stars aligned for the Hamidis – they had access to an academic medical center where doctors stay on top of the latest research; where a doctor in one department was willing to pick up the phone and suggest a new procedure to a colleague in a different department; and where that colleague was open to new ideas.

Because of all this, the Hamidis are now a family of four – Amid, Emrys, daughter Nayyerah and son Abbas.

And on July 10, they celebrated Abbas' first birthday.

"This past July 10 was a very happy day – because last July 10, I wasn't sure I'd make it out," Emrys said.
Suggest a Story
Have an idea for MUSC Catalyst News? Contact our editorial team and let us know.