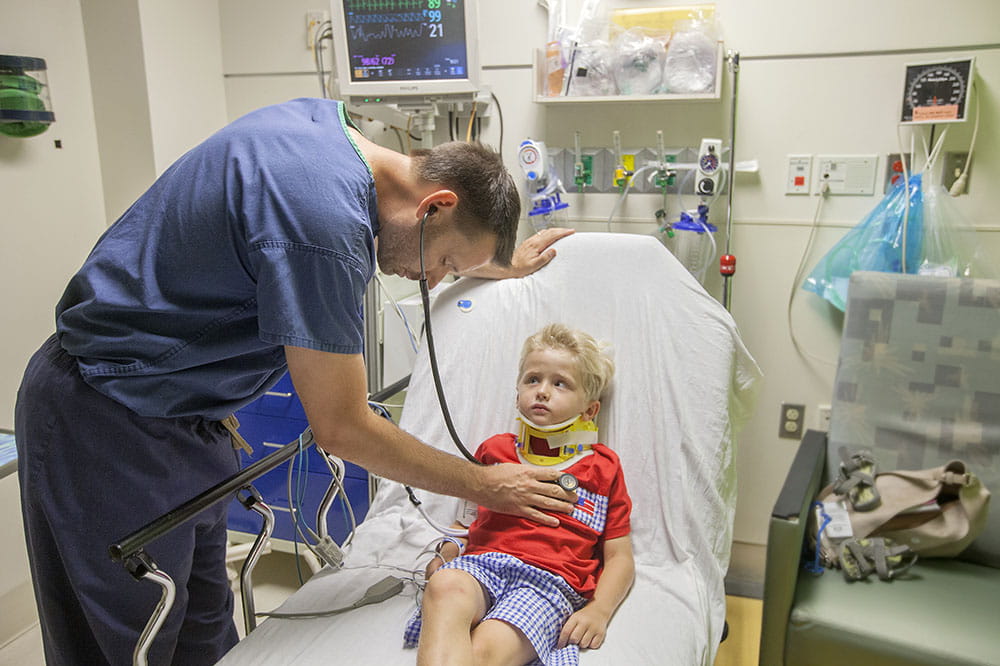 Five-year-old Jude Lilly looks up at pediatrician Chris Pruitt as the emergency medicine specialist listens to the boy's heart. A big yellow collar encircles Jude's small neck to stabilize it. He took a tumble at school, and his mom isn't taking any chances. She brought him to the Emergency Department at MUSC Children's Health.
"Were you able to walk after you fell?" Pruitt asks.
"Yes," Jude answers.
"Oh, that's good. Where do you go to school?"
There's a pause. Then: "Kindergarten."
Jude's mother and the doctor chuckle.
"Kindergarten, I love that one," Pruitt says gently, as he continues to examine Jude. "It's my favorite school of all."
Jude is in Charleston's only pediatric emergency department. A new study in the journal Pediatrics suggests that this distinction is important. Going to a hospital with a high "pediatric readiness" score for emergency care can mean a better outcome for the child.
Researchers studied more than 20,000 critically ill children in Florida, Iowa, Massachusetts, Nebraska and New York to see if kids who got emergency care in hospitals with a high rating in pediatric readiness did better than children who went to other hospitals. Pruitt says the answer was a resounding yes.
"To me, the crux of it is, if you're in the lowest quartile — so the lowest 25% of readiness scores within their cohort, you have four times greater odds of that child dying than if the child goes to a hospital in the highest quartile for readiness."
"Readiness" takes into account a hospital's administration and coordination; its doctors, nurses and other Emergency Department staff; quality improvement practices; patient safety; policies, procedures and protocols; and equipment, supplies and medications.
While it may seem like a no-brainer — hospitals specializing in kids' care are better at it than hospitals that don't — the research is important because it provides hard data showing the importance of specialty kids' care. It can save lives.
Previous studies showed pediatric trauma centers and pediatric intensive care units also got better outcomes for children.
The researchers in the latest study say more hospitals need to get up to speed when it comes to children's emergency care, with pediatric care coordinators, policies focused on kids and quality improvement efforts.
What else do kids get in a pediatric emergency department that they might not get in a general ED? A lot, Pruitt says. "Most of us are board certified in pediatrics and pediatric emergency medicine. We did a residency in pediatrics and then we did an additional three years of training with board certification in pediatric emergency medicine. Our nurses are specially trained, too, in pediatric advanced life support. Most of them have emergency nursing certification in pediatrics."
There are also Child Life specialists to help the child during the Emergency Department visit, Pruitt says. They know how to distract kids when they need to and play with them in a therapeutic way.
And because the Emergency Department is in a children's hospital, the doctors have access to pediatric specialists in everything from cardiology to neurosurgery.
Luckily, Jude doesn't need a specialist. Everything looks good Pruitt says. Jude can head back to kindergarten. "I feel quite confident that he's OK."
Suggest a Story
Have an idea for MUSC Catalyst News? Contact our editorial team and let us know.