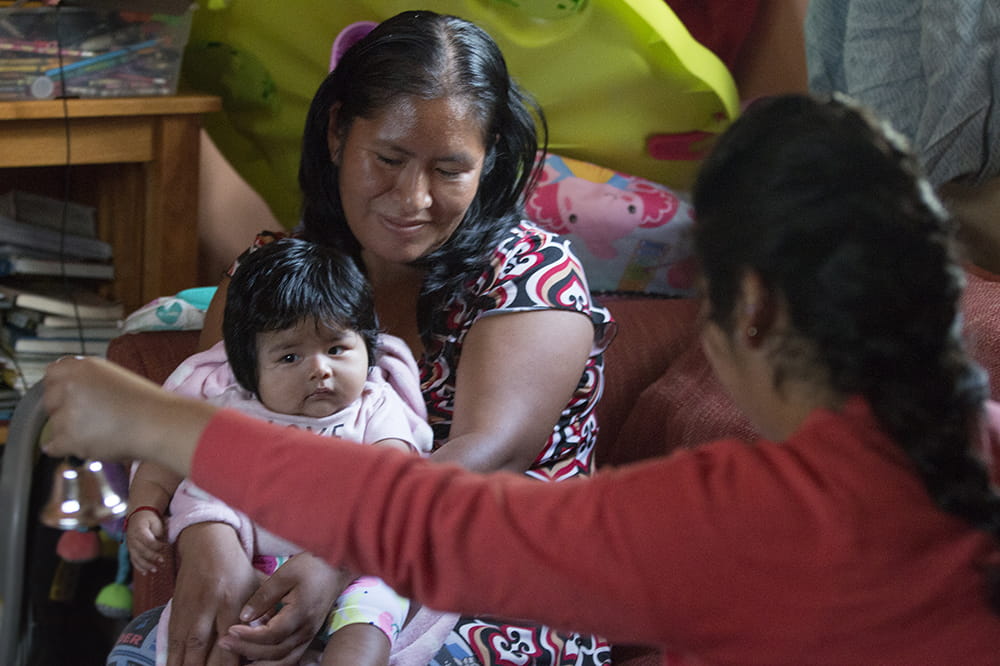 Kelssy Ambrosio was almost 5 years old when her immigrant parents moved from a Spanish-speaking enclave in New York City to Greenville, South Carolina, in search of better opportunities. 
It was complete culture shock.

Today, Ambrosio is a family support specialist in the Healthy Families Charleston, Berkeley & Dorchester Counties program run by MUSC Children's Health. She sees herself in the children she works with. When she talks to her mom about her work, her mom recognizes all too well the challenges facing this new generation of mothers. But Ambrosio hopes to help these mothers give their children a better start, by connecting them with resources in the community and working alongside them to learn parenting strategies.

"Everything I do with these families is tailored to what they need," she said.

Ambrosio is one of three home visitors in the program, which is funded by a grant from the Children's Trust of South Carolina. Pediatrician Luke Edmondson, M.D., oversees the grant.

"This is something I would love to see in the future as something that every child gets," Edmondson said. "No matter who you are, people benefit from having someone with experience giving them support and telling them they're doing a good job."

But Edmondson has limited funds to work with, so the MUSC program focuses on infants considered most at-risk, whether due to the young age of the mother, low education levels, poverty, drug or alcohol abuse, lack of social support or past Department of Social Services involvement. Due to the pediatric clinic's location in the North area, many of the families in the program are Spanish-speaking immigrants, though the program is open to all.

Children must be enrolled in the free program before they're 3 months old, and they can remain in the program until they're enrolled in school, whether that's Head Start at age 3 or kindergarten at age 5. Home visitors meet with the child and main caregiver – usually the mom – on a regular basis to talk about child development milestones, health and family needs.

"Here in the U.S., we meet a lot of resistance because people, when they think of home visiting, they think of DSS, and 'You're here to see if they're doing a bad job, and if you're doing a bad job, you're going to take their child,' which is not the point of our program," Edmondson said. 
"The idea is we aren't going to be judgmental. We have to understand each family has an individual struggle, and we're going to meet them where they are."

Kelssy Ambrosio
Instead, the home visitors talk with the moms about milestones their babies are reaching, show them fun activities they can do with their babies, encourage them to read and sing with their little ones, educate the moms about safe sleep practices and the benefits of breastfeeding, and screen for postpartum depression and domestic violence. The program tracks 19 performance measures that it reports to Children's Trust.

Some of the mothers have had trauma in their lives and are referred to counseling at the National Crime Victims Research and Treatment Center at MUSC, Edmondson said. Many haven't had the means to see a doctor regularly and aren't familiar with check-up recommendations. For instance, most of the mothers Ambrosio works with didn't know they were supposed to have a postpartum check, Ambrosio said.

Being connected to a medical center means the home visitors can help the mothers to navigate the system better. Hope Singleton has been home visiting for several years, and she finds the moms often ask her medical questions. At a recent visit with Josselyn Nazar and her nearly 1-year-old daughter Amanda, Nazar worried that some red spots on Amanda's arms might be chicken pox.

Singleton is a licensed master of social work and certified lactation counselor, so she doesn't diagnose. But she can pull out her cell phone and call one of the nurses at MUSC University Pediatrics – Northwoods. After a quick conversation with Nazar, the nurse schedules Amanda to be seen the next morning.

Amanda, who's just started taking her first steps, doesn't seem bothered by the red spots. Instead, she's curious about all the goodies in Singleton's bag.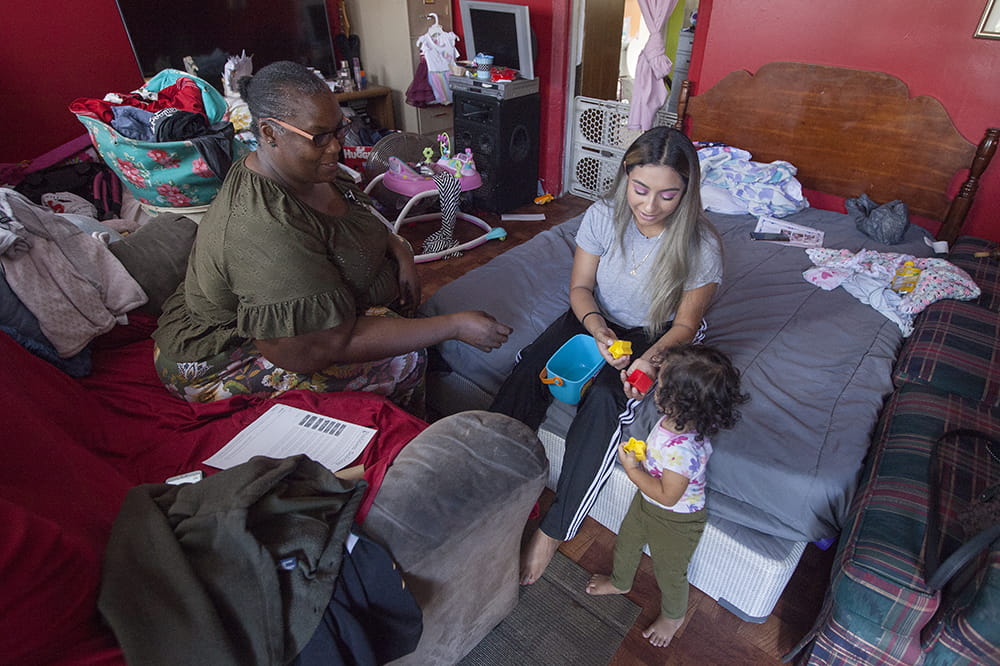 Singleton tells Nazar that Amanda is at an age to start problem-solving and shows her a few toys to challenge the toddler: a simple cardboard tube with a colorful scarf inside and a plastic bucket with three shape blocks. Singleton shows Amanda how to pull the scarf from the tube and tries to get her to do it. She then sees what Amanda will do if she's holding a block in each hand and is offered a third. She also gives Amanda a counting board book and encourages Nazar to count with her during everyday activities like bath- or snack time.

The coaching is helpful to Nazar, who says she doesn't really know how to play with babies since, like many young people, she spends her downtime on her phone.

Singleton fills the role of firm but loving aunt. She was at a conference when Nazar sent a video of Amanda's first wobbly steps, and Singleton immediately showed off the video to everyone there. During the home visit, she gives Nazar a photo book documenting the past year and has Nazar write down something that Amanda is doing that she's proud of or happy about.

But she also checks in on Nazar's family life and encourages her to hold at least a small celebration for Amanda's birthday, even if a big to-do is out of the question because of family drama. She checks on Nazar's job search progress – which was successful – and reminds her of her savings goals.

Singleton said she loves seeing clients learn how to set goals and achieve them.

"To me, that's really rewarding," she said. "When they achieve their goals, it appears to empower them and they realize they can do anything if they put their minds to it with some structure."

Ambrosio, who encouraged reading as part of the PASOs Pediatric Literacy Program before becoming a home visitor in February, has a different relationship with her clients.

"I'm not a mother yet, so that's also been a learning curve. And I'm a lot younger than the moms I work with, so they are like, 'OK, this girl who doesn't have children is going to tell me how to raise my kid?'" she said. "I try to explain to them, 'That's not it at all. I want to learn with you, and we're going to learn together.'"

Ambrosio has worked hard to earn her clients' trust. Because the program is free and voluntary, the moms have to want her to come visit. Her background and Spanish-language skills help, as does her evident regard for what the women have achieved in a new country. She brags about one of her clients who is on her way to being trilingual – she speaks Spanish and an indigenous language of Honduras and is now learning English. She celebrates another client's resilience as that mom struggles to provide for three tweens and a new baby.

"The idea is we aren't going to be judgmental. We have to understand each family has an individual struggle, and we're going to meet them where they are," Ambrosio said.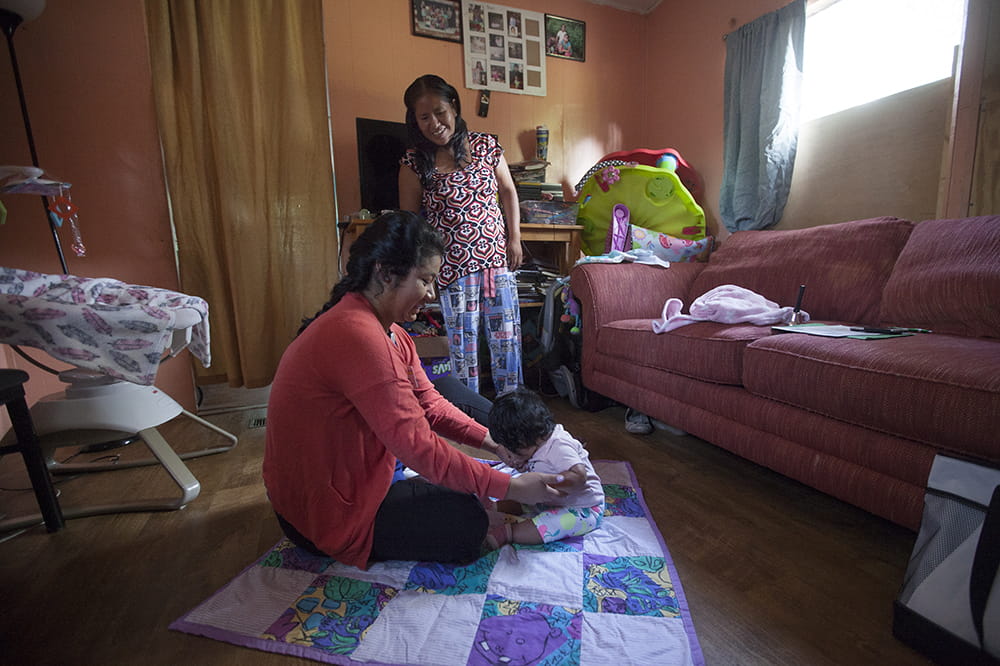 At a mobile home park in North Charleston, Ambrosio meets up with the second mom, Ursula Lazaro Mendoza. With three older kids, Mendoza knows more about babies than most moms in the program. But there's still more to learn. The doctor is concerned about 4-month-old Naomi's hearing, though Mendoza thinks the baby can hear just fine. Ambrosio encourages her to follow up on an audiology appointment and to continue talking to the baby, reminding Mendoza that babies learn to speak according to what they hear. The women also review developmental milestones and talk about Mendoza's needs.

"This hour that we have together, it's for her to be able to talk to me about her week, tell me if anything's bothering her, if she has any concerns about Naomi's growth or development," Ambrosio said.

Ambrosio has helped connect Mendoza to the wider world, too. She showed her that the Hanahan branch of the Berkeley County Library System is closer to home than the Otranto Road branch of the Charleston County Public Library. The $30 out-of-county fee was worth it to Mendoza, whose daughter frequently uses the library computers for schoolwork. Ambrosio is also helping Mendoza with a childcare voucher so she can work full time; right now she's working part time.

All that she's seen on the job so far has inspired Ambrosio to enroll in the Master of Public Health program at MUSC. She wants to focus on maternal and infant health and ultimately implement more programs like Healthy Families.

"I do want to fill the gaps within maternal and infant care," she said.
Happening on Facebook
Latest Tweets
Tweets by MUSCatalystNews