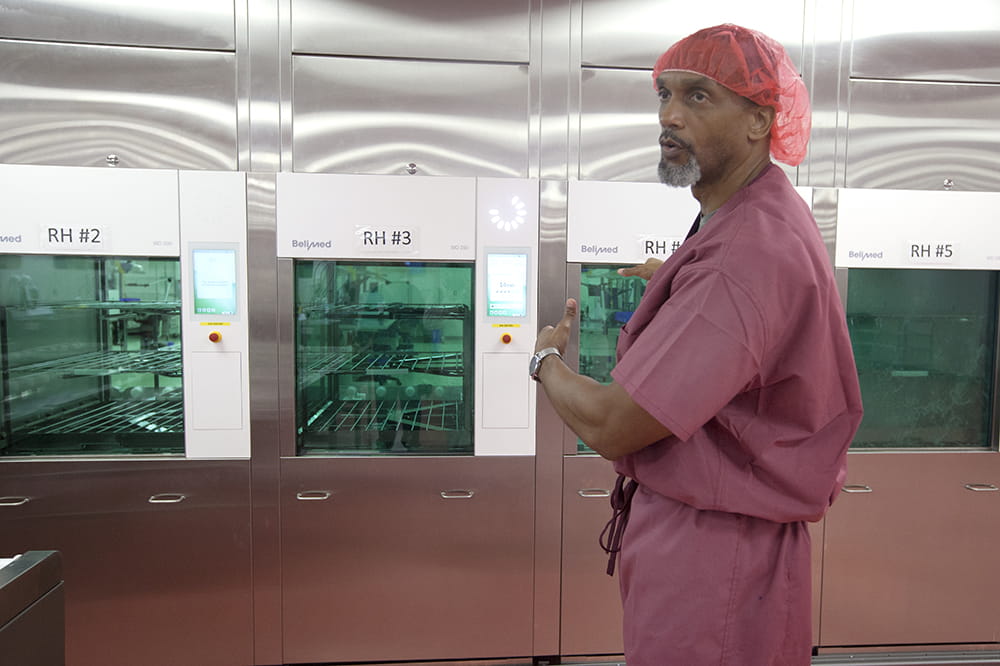 Every trade has its tools, and every tool has a particular "best practice" for keeping it in top condition. Violinists wipe down their instruments after every session to remove oil left by their fingers and hands. Ice skaters wipe down their blades to prevent rust and regularly resharpen the blades. Gardeners clean their pruning shears with rubbing alcohol so they don't transfer fungus or bacteria from an infected plant to a healthy plant. 
Doctors have their tools, too, but the cleaning process is a bit more elaborate than merely wiping down a blade with rubbing alcohol.

Enter the Sterile Processing Department. This team is responsible for cleaning and sterilizing every instrument used in any surgery or procedure at MUSC Health.

It's a responsibility they take pride in. Desmonde Thomas, manager of the Consolidated Service Center, has worked in sterile processing for about 18 years, the last four at MUSC. His career started in North Carolina with a part-time job.

"I knew that I would be helping somebody," he recalled. "Somebody who doesn't know who I am, and I don't know who that somebody is. But you just know you're helping somebody."

Now, Thomas and Tanisha Fielding-Jenkins, R.N., the director of Perioperative Innovation & Outreach and interim director of SPD, are leading the opening of a new, specially designed SPD facility in North Charleston that will serve every MUSC Health clinic, doctor's office and hospital in the Tri-county area, and that should improve sterilization efficiency and increase the longevity of instruments.

Thomas is excited about the new facility.

"I like the whole setup because you can process a whole lot of instrument trays through here within a day's time," he said.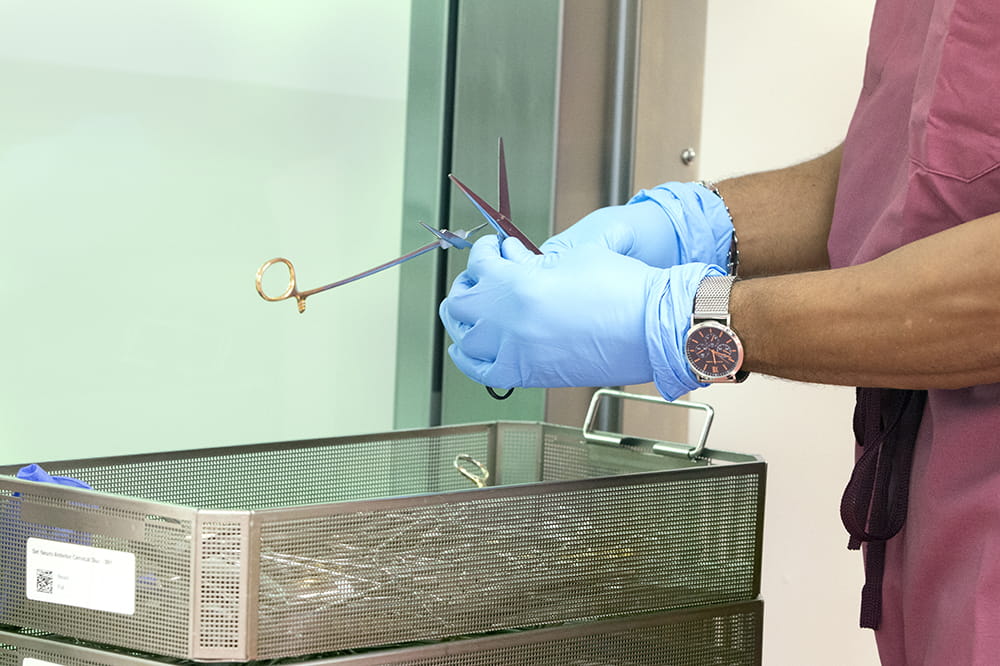 The facility opened in September, serving the R. Keith Summey Medical Pavilion in North Charleston. Currently it's processing about 20% of the load from the downtown Charleston campus, but the workload will eventually transition to 80% of the instruments used downtown as nurses become accustomed to a new routine for ordering supplies for surgeries and procedures.

This will relieve the backlog at the downtown campus's two main sterile processing areas, allowing for improved scheduling of cases, Thomas said.

The downtown campus will, however, retain some sterile processing ability because instruments for certain procedures, like trauma surgeries, need to remain close by. The central SPD will also send extra instruments to the downtown campus ahead of any hurricane or tropical storm expected to shut down the city.

But during normal operating schedules, the new SPD will be humming, cleaning and sterilizing the thousands of instruments used every day.

The new facility also solves a longstanding problem that was ruining instruments. The water available on the peninsula was slowly corroding the instruments, leading to pitting, which meant the instruments had to be thrown out.

"The water was destroying our instruments, and it was costing a fortune," Fielding-Jenkins said. The new facility uses reverse osmosis to create the water that will be used in processing.

Sterile processing consists of three main steps. First, trays of instruments are unloaded from the delivery truck and sent to decontamination for washing. The trays contain a set number of specific instruments, and the trays are scanned at every step of the process, so workers can always say exactly where a particular instrument set is within the building. The washing consists of a hand washing to remove large debris and then a wash in an industrial washer. Some items cannot go through the industrial washers, and they are sent through a separate line for a thorough hand washing.
After washing, the trays are pushed through to the clean room. There, workers use magnifying glasses to carefully inspect the instruments to ensure they're clean. One stubborn bit of blood or bone on a single instrument means the whole tray gets sent through the entire washing process again.

Once verified as clean, the trays are sent through the autoclaves for sterilization. Some instruments get a steam treatment and others get a hydrogen peroxide treatment. The downtown sterile processing facility also uses gas for certain instruments, like endoscopes.

Bar codes on the trays contain information that indicates what type of treatment each tray should get, but the sterile processing technicians are also required to master this information. Technicians must become certified within a year of being hired. Proper handling is critical, Thomas said.

Cutting tools must also be kept sharp, and a vendor is on site Monday through Friday to sharpen blades on a regular rotation.

Centralizing sterile processing facilities for hospital systems with multiple locations seems to be the wave of the future, Fielding-Jenkins said. Already, representatives from two out-of-state academic medical centers have toured MUSC's new facility.

Thomas said he expects the bulk of the work will be transitioned to the new facility no later than March. An attached central supply warehouse will also open early next year to supply all Tri-county MUSC facilities.
Happening on Facebook
Latest Tweets
Tweets by MUSCatalystNews