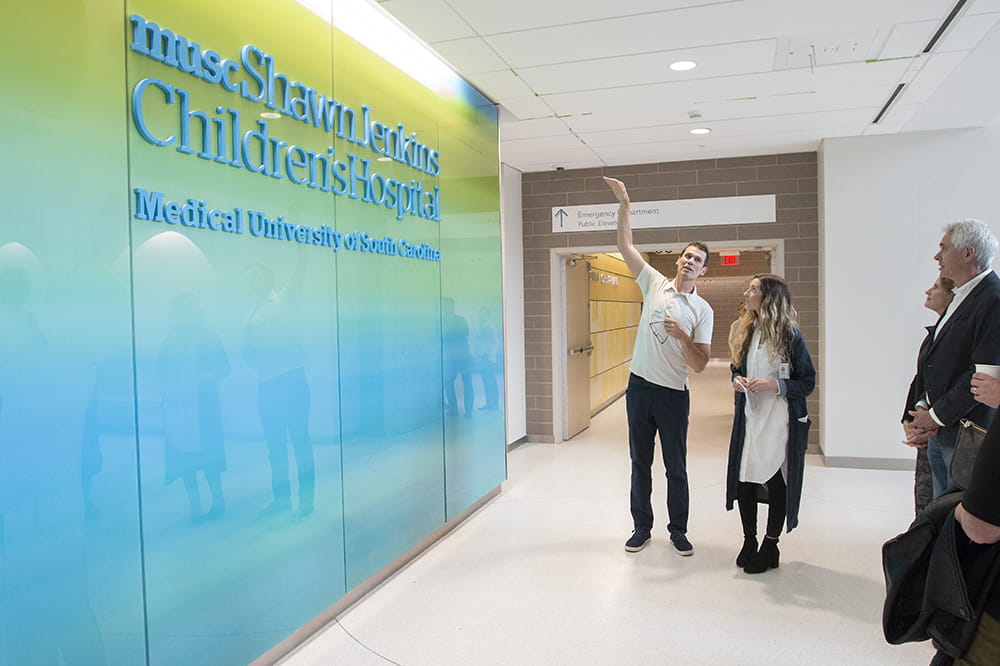 Whimsy and delight. Those were the attributes that a volunteer committee kept in mind as its members selected artwork to decorate the halls of the new MUSC Shawn Jenkins Children's Hospital and Pearl Tourville Women's Pavilion.

"The end result is greater than I would have imagined in my wildest dreams," said Kelly Loyd, a volunteer family advisor with the MUSC Children's Health Patient and Family Advisory Council and member of the art selection committee. Her twins were born almost 12 weeks early and spent their first months in the MUSC neonatal intensive care unit. Today, the 12-year-olds are thriving preteens.

The hospital hosted a small reception and walking tour Friday for local artists whose work is displayed throughout the facility.

People walking into the main lobby will immediately see a wall of hazy green and blue glass. The soothing colors are the marsh, photographed in an abstract style by John Duckworth. Duckworth set the horizon line between floors, so that people on the ground floor see the marsh and people ascending to the first floor see the sky.

"The idea that the work was selected to set the initial tone for the space is humbling," he said, adding that he is "super honored to have the work here."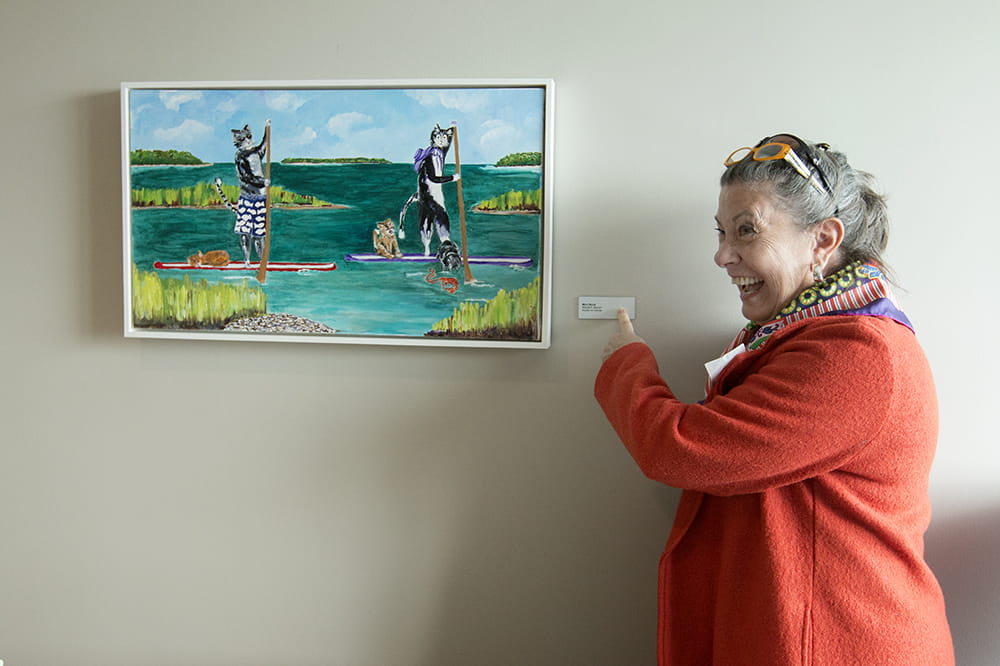 About 30 local artists were selected to have works displayed. Some nonlocal artists were selected as well. In those cases, said Britt Bates, Arts in Healing Collections Coordinator, the committee sought what it termed "discovery prints" – illustrations in which a parent and child will keep discovering new things as they wait for an appointment. 
The artwork is located in hallways, patient rooms and exam rooms and was selected with each unit in mind. The Emergency Department exam rooms, for instance, have local schoolchildren's drawings of themselves as superheroes, often with encouraging messages to the observer.

The artwork in the women's pavilion is more mature. Three Jonathan Green lithographs grace the labor and delivery waiting room. A woven medallion by sweetgrass basket weaver Sue Middleton is displayed in a family respite area on the women's floor.

On the seventh floor, which contains public areas like the cafeteria, chapel, outdoor play area and a large meeting room, visitors will see a rotating display of patient portraits. The chapel includes a wall-sized fused glass representation of the Angel Oak on Johns Island by local artisan Bob Hines.

Altogether, there are more than 300 unique pieces in the new hospital, with room for more, Bates said.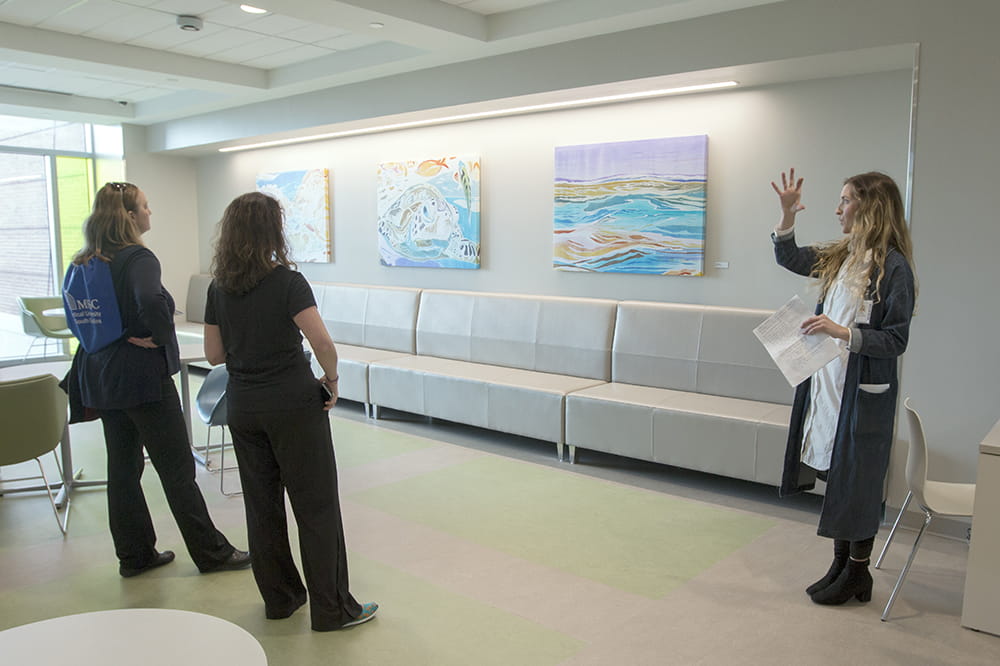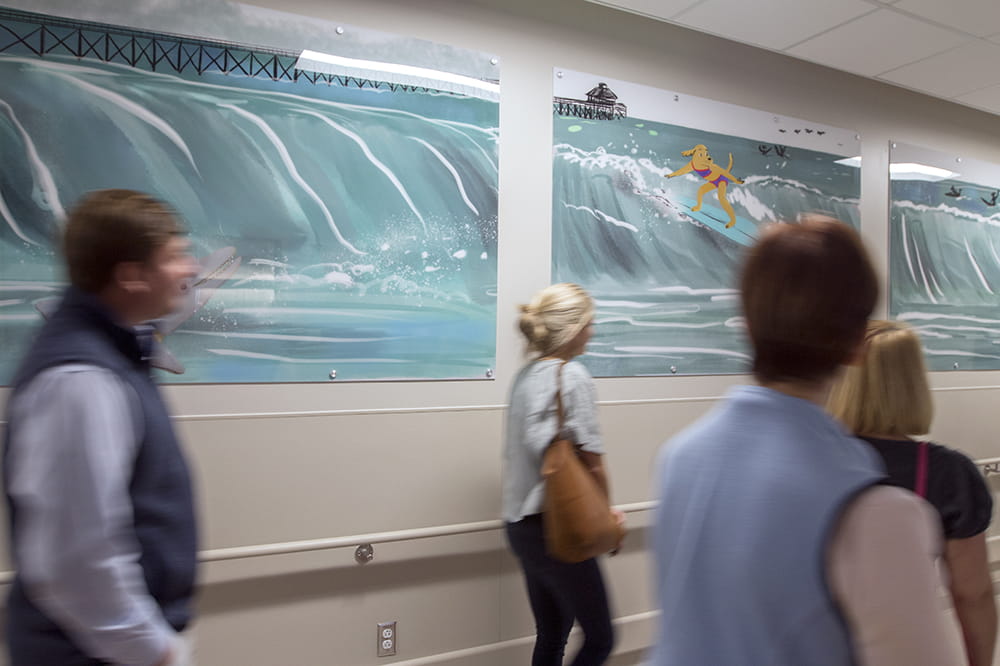 Local artists whose work is displayed: 
Anna Dolan
Asher Robinson
Ashley Percival
Blakely Little
Bob Hines
Britt Bates
Christian Price
Corey Brown
Fallon Peper
Julia Fellers
John Duckworth
Jonathan Green
Karin Olah
Kate Hooray Osmond
Katherine Dunlap
Kristen Solecki
Leigh Morning 
Lulie Wallace
Marius Valdes
Mary Edna Fraser
Mimi Wood
Nancy Lemon
P-Nut
Raven Roxanne
Sisal Creative
Stitch Design Co.
Sue Middleton
Tami Boyce
Tate Nation
Way Way Allen
Happening on Facebook
Latest Tweets
Tweets by MUSCatalystNews