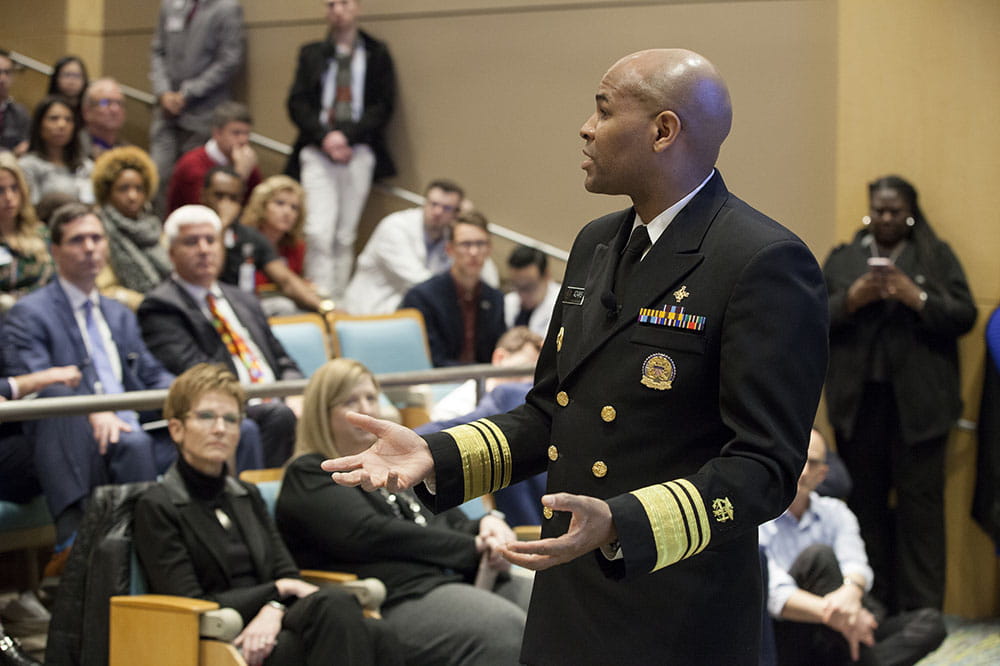 A standing-room-only crowd turned out on Dec. 19 to hear U.S. Surgeon General Jerome M. Adams speak at the Medical University of South Carolina in Charleston. His talk, which blended personal stories with policy concerns, gave students and medical professionals the chance to hear from a man known as the nation's doctor.
Adams, an anesthesiologist who became the nation's 20th surgeon general in 2017, started with a reality check. "Life expectancy is trending down for the third year in a row. And that's the first time that's happened in over half a century. So, to put it another way, I stand before you as the first generation of parents in the last 50 years who, as of right now, can't look their kids in the eye and say, 'You're going to live a longer life than I'm going to live."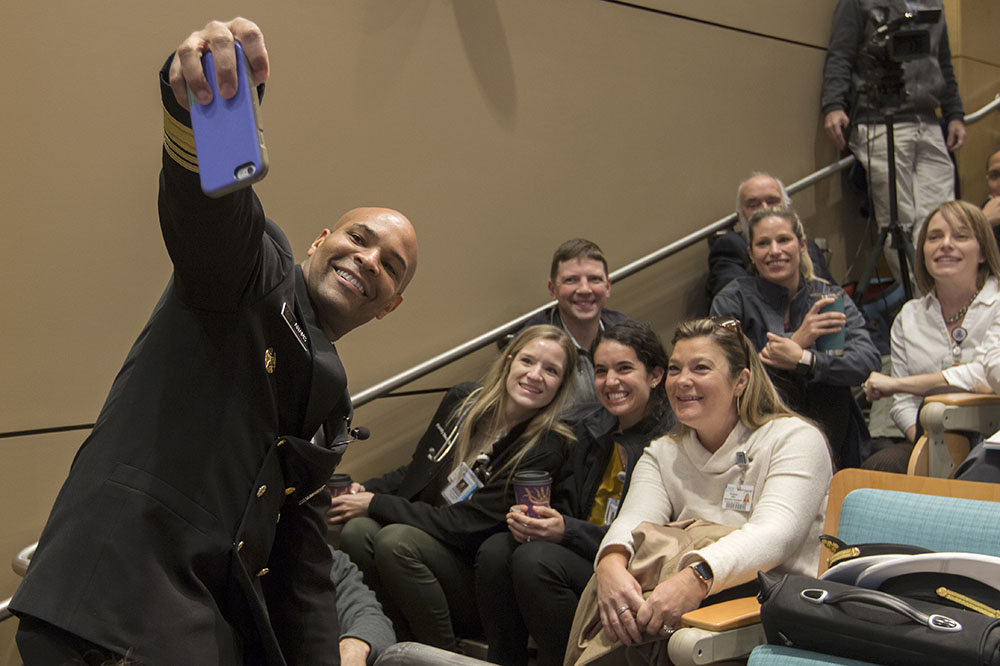 The country needs to take steps now to change that, the surgeon general said. In his view, we shouldn't wait until those kids grow up and some of them get cancer or have heart problems decades from now. We should take steps today that may keep them from getting sick in the future.
Adams gave an example from his own life. Early last year, his wife Lacey was diagnosed with metastatic melanoma, the most serious type of skin cancer. Thanks to immunotherapy, she appears to be cured for now, and he's grateful to the years of research that made that possible.
But Adams added a big "what if" prevention question to the story. "It's easy to get caught up in that and not think about the fact that gosh, how much money and acrimony and heartache would we have saved, if instead of focusing on making immunotherapy available to her, 20 years earlier, we'd passed a policy that said teenagers aren't allowed in tanning beds. And then she would have never gotten that melanoma in the first place."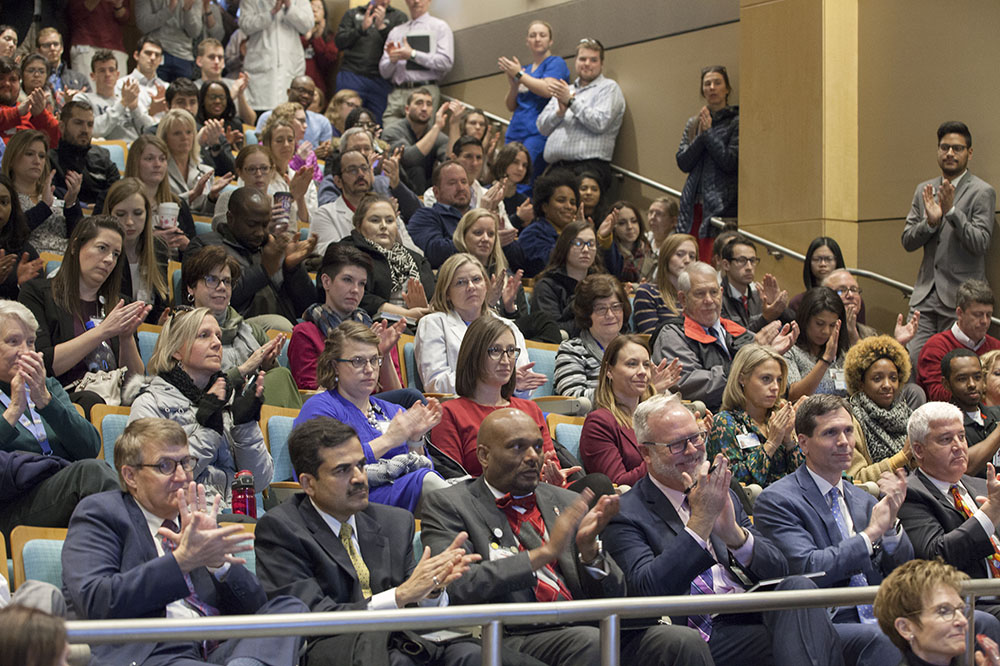 That's the kind of thing that can really make a difference, Adams said – looking for ways to protect people from things that have the potential to harm them. That's part of his job as surgeon general, a role that calls for him to give the public the best scientific information around to help people improve their health and lower their risk of getting sick or hurt. He also oversees the U.S. Public Health Service Commissioned Corps, a group of more than 6,000 public health professionals.
Adams called on audience members at MUSC to become advocates for prevention as well.
"We don't have a health care system. What we have is a sick reimbursement system. We wait till people get cancer or have a heart attack or show up in my operating room needing their foot amputated. We need to help folks understand that we aren't going to change our trajectory from a health care cost point of view unless we really lean into prevention."
So, what does leaning into prevention look like? It starts by viewing health as an opportunity, Adams said.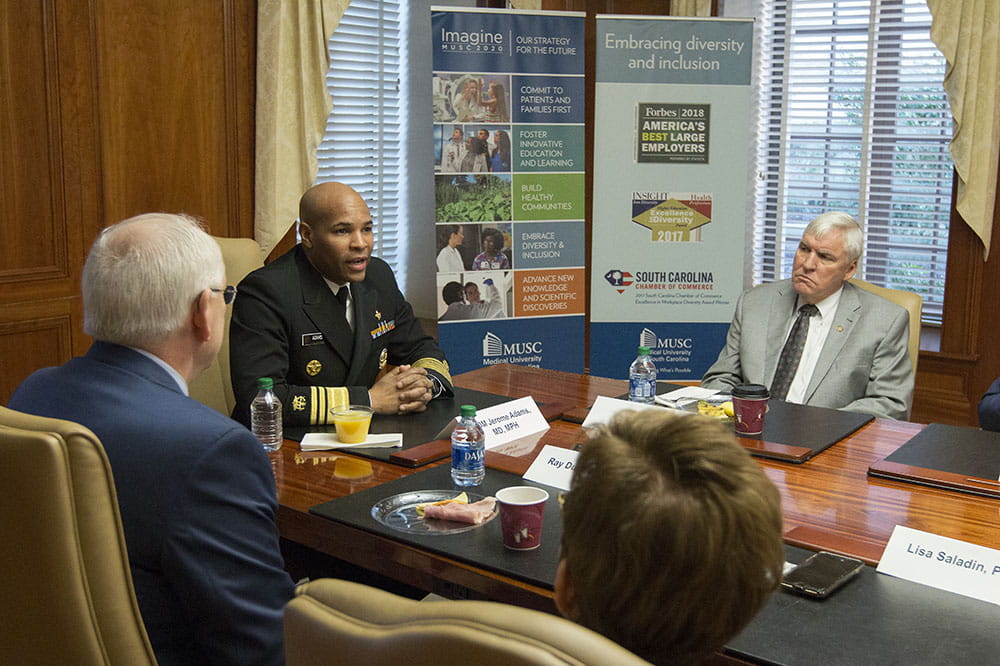 "One of my top priorities is my community health and economic prosperity initiative. Communities that invest in health don't just see health metrics improve. They see economic metrics improve. They see job growth. They see less absenteeism. We need to help them understand that healthy communities draw new businesses to town. And businesses' No. 2 expense is health care. If we really lean into prevention, we will lower their No. 2 expense and make their businesses more profitable."
Adams outlined some of what he views as current threats to public health, including marijuana that's dramatically more potent than in the past, youth e-cigarette use and the opioid crisis. He demonstrated how easy it is to carry and use naloxone, a medication that can quickly reverse an opioid overdose. And he pointed out how societal and health factors impact something Americans place a high value on: national security.
"Seventy percent of our 18- to 24-year-olds are ineligible for military service right now because they can't pass their physical, they can't meet the education requirements or they have a criminal record. Our nation's poor health isn't just a matter of diabetes or hypertension or cancer 30 or 40 years down the road. We're a less safe country right now because we're an unhealthy country."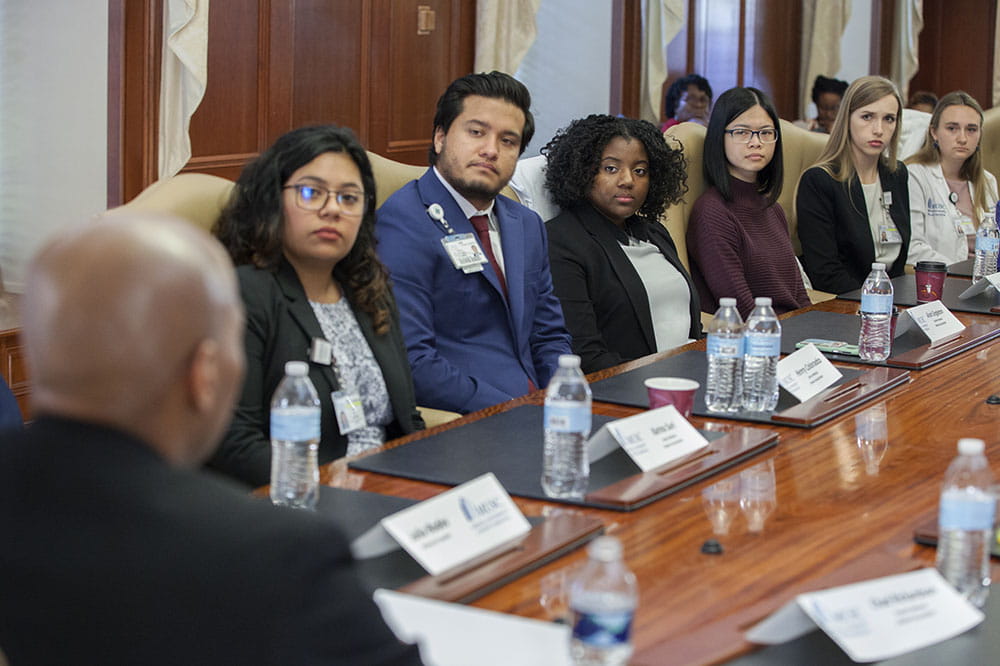 Earlier in the day, Adams sat down with MUSC leaders to talk about maternal mortality, vaccine-preventable diseases, mental health, substance misuse, social determinants of health and the need to better integrate oral health into health care. They also discussed the importance of creating healthy environments, including smoke-free areas, healthy food options and safe and walkable neighborhoods.
The surgeon general also made time to meet with MUSC students, including some from the College of Medicine's Group on Diversity Affairs. They talked about diversity in medicine, the importance of equal access to health care, what motivated the students to go into medicine and how they're trying to make a difference in world. He encouraged them to find good mentors and become good role models.
Back in the auditorium, Adams asked the people in the audience to use their expertise as medical professionals to speak out about the best ways to make people healthier. Political leaders need their input to make more informed decisions.
"I continue to be shocked at the frequency with which decisions are made about the way clinical care is going to be delivered in your community without the input of anyone who's actually touched a patient," Adams said. "I think it's critical that you all get involved and facilitate your colleagues getting involved."
Suggest a Story
Have an idea for MUSC Catalyst News? Contact our editorial team and let us know.