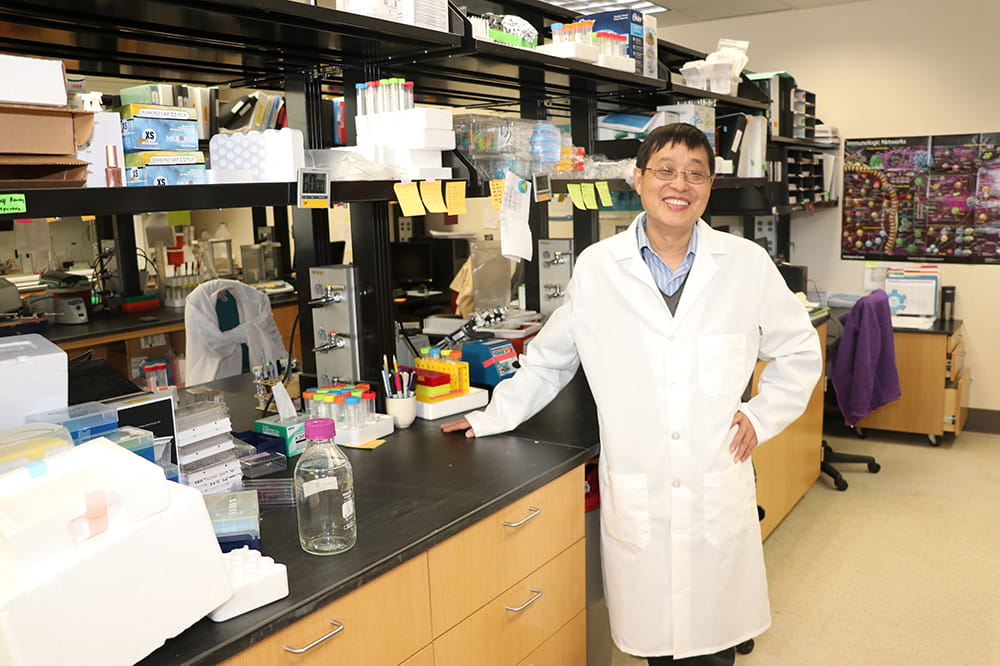 Xue-Zhong Yu, M.D., has been named associate director of Basic Science at Hollings Cancer Center at the Medical University of South Carolina effective Jan. 1, 2020. J. Alan Diehl, Ph.D., formerly served in this position from 2015 to 2019, followed by Michael Ostrowski, Ph.D., who took over as the interim associate director from August to December of last year.  
"We are delighted to have Dr. Yu join the HCC leadership as we move into a new decade," said Hollings Cancer Center Director Gustavo Leone, Ph.D., about the appointment.
Yu is a professor with a primary appointment in Department of Microbiology & Immunology and a secondary in the division of Hematology/Oncology in the Department of Medicine at MUSC, where he holds a SmartState Endowed Chair in Cancer Stem Cell Biology and Therapy. Yu's research expertise focuses on the biology of graft-versus-host disease (GVHD) and graft-versus-leukemia (GVL) after allogeneic hematopoietic stem cell transplantation (HSCT).
Yu's lab currently engages several lines of research including: T-cell differentiation and GVHD development; biology of regulatory T cells and their potential application in the control of GVHD; understanding how micro-RNAs regulate T- and B-cell responses after allogeneic HSCT and evaluation of metabolic pathways or intermediates as biomarkers and therapeutic targets in GVHD and leukemia relapse; and adoptive T-cell therapy for solid tumors aiming at promoting T-cell survival, activity and persistence against cancer.
Yu, who has been with MUSC since 2013, said he looks forward to working in this role to increase research in basic science as well as collaboration among basic and clinical scientists. He brings 25 years of experience to the position, having formerly worked at other cancer centers including Fred Hutchinson Cancer Research Center in Seattle, Washington, and Moffitt Cancer Center in Tampa, Florida. He also holds a master's degree in business administration from The Citadel.
"I'm excited to use my experience to better our cancer center," he said, adding that part of his responsibility will include leading Hollings Cancer Center's Transdisciplinary Cancer Team in hematologic malignancy. The team focuses on facilitating collaboration between basic, translational and physician scientists to accelerate getting research discoveries into clinical settings.
Suggest a Story
Have an idea for MUSC Catalyst News? Contact our editorial team and let us know.