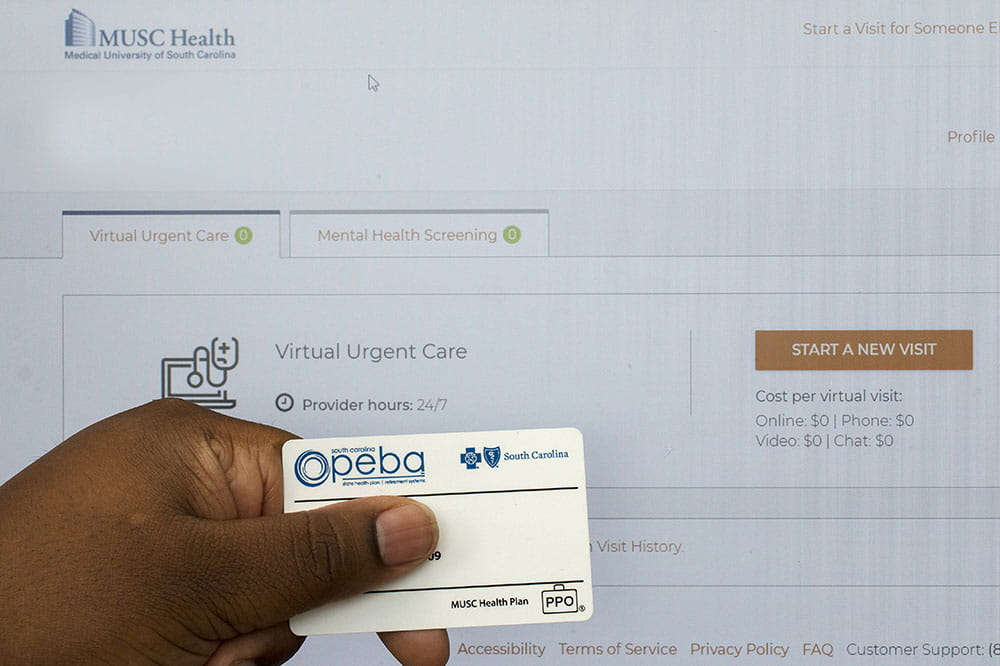 Less than a week after the governor announced that free MUSC Health Virtual Urgent Care is now available to state employees covered by PEBA and their dependents, hundreds of people are giving it a shot.
As of noon Monday, Jan. 13, four days after the announcement, 300 people who qualify through PEBA have used Virtual Urgent Care. Emily Sigmon Sederstrom, the lead telehealth service coordinator at the Medical University of South Carolina, said the response has been enthusiastic. "So far, we have had very positive feedback from our patients."
Edward O'Bryan, M.D., directs MUSC Health Virtual Urgent Care. "We are so excited to be providing this service to a large portion of the hard-working people of South Carolina and can stand by the very high quality, innovation and ease of use you should expect from telemedicine," he said.
Since this is new to a lot of South Carolinians, here's a quick Q&A on who qualifies, what virtual urgent care is and more. 
Q: I work for a public entity. How can I tell if I qualify to get free MUSC Health Virtual Urgent Care visits?
A: Look at your medical insurance card and see if it says PEBA on it. PEBA stands for South Carolina Public Employee Benefit Authority. You don't have to work directly for the state to have this. You may have it if you work for another public entity such as a school district. About 555,000 South Carolinians' insurance comes through PEBA.
Q: What exactly is Virtual Urgent Care?
A: It's an online visit with either a doctor, physician assistant or nurse practitioner. You get four choices:
An online interview, which means you fill out a symptom-based questionnaire and attach a photo if you want to. A provider will review this and send you a treatment plan and a prescription, if needed. Most responses are returned in under 15 minutes. It's the quickest option.
A phone call in which you request a call from a provider. He or she will call you that same day after reviewing your case.
A video call, which means you enter a virtual waiting room. A provider will connect for a video visit when he or she is available.
A live chat lets you send a chat message detailing your symptoms. A provider will respond with questions until he or she is able to give you a diagnosis.
For all visits, if you need a prescription, you get to choose the pharmacy you'd like to use.
Q: Are there certain days or times of day that I should do this? Or is it available any time?
A: Any time. There are always doctors, physician assistants and nurse practitioners available. MUSC Health Virtual Urgent Care operates 24/7.
Q: What qualifications do these doctors, PAs and NPs have? Will I know who I'm talking to?
A: They are all MUSC Health employees, just like you'd see if you came on campus for an appointment. And yes, in virtual care visits, you do know exactly who responds to you — their name and credentials are included in their communication with you.
Q: What exactly does MUSC Health Virtual Urgent Care mean? "Urgent" sounds like I need to see a doctor immediately.
A: In this case, urgent means it's something that needs to be addressed fairly soon but is not an emergency. Your life is not in danger.
Examples of conditions that fall under the urgent care umbrella include respiratory infections, skin problems, stomach issues, drug refills, bug bites, sexually transmitted diseases and eye, ear and mouth problems.
Q: Some of that is sensitive stuff. Is virtual care safe — in other words, will my information stay private, just between me and whoever I'm communicating with?
A: Yes, All the information you provide is encrypted and protected. You can read more about it in our terms of service.
Q: Free is great, but who's really paying for all of this? The doctors don't work for free, right?
A: Right. They are already employed by MUSC Health, which is a part of the Medical University of South Carolina, a state institution. This is one of the many clinical duties they're responsible for with their roles.
Q: Virtual care is not new for MUSC Health, but the number of people who can now use it for free has gone way up, thanks to the PEBA announcement. How do you make sure you have enough doctors, etc., to respond to the increased demand?
A: MUSC Health has dedicated telemedicine shifts, along with back up coverage during high demand hours throughout the day. This helps to ensure that it maintains a quick turnaround time between when a patient needs care to when they receive care.
Suggest a Story
Have an idea for MUSC Catalyst News? Contact our editorial team and let us know.
About the Author