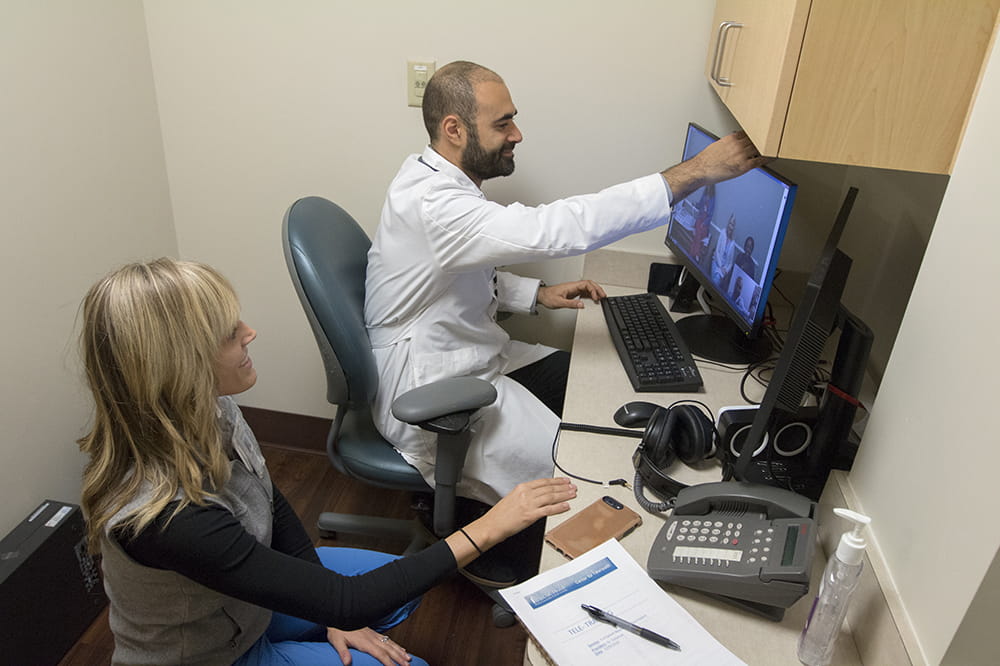 Transplant patients and living donors in South Carolina are getting more options for follow-up care closer to home.
Once a patient undergoes transplant surgery at MUSC Health, the organ recipient needs to visit the doctor every month for the first year. That's a lot of visits for someone who doesn't live in the Charleston area or near an MUSC Health regional hospital. Thus, transplant nephrologist Karim Soliman, M.D., is excited about the expanding telehealth options for kidney and pancreas transplant patients.

MUSC Health is partnering with Columbia Nephrology to allow patients who live in the Midlands to go to their monthly check-ins with their MUSC Health doctors via a telehealth linkup at the practice's office in Columbia. The telehealth option should make life a lot easier for patients who now drive for hours to get to a Charleston appointment, Soliman said.

Carole Ann Norman, Columbia Nephrology practice manager, said many patients struggle financially to travel regularly to Charleston.

"This will help alleviate some of that stress and burden of having to travel back and forth," she said. She hopes the psychological relief will help lead to better physical health.

The partnership follows a launch of the transplant telehealth service at Tidelands Health in Murrells Inlet in 2019. The Murrells Inlet location has been successful in providing telehealth services for several months now, said Daniel Stanton, administrator of the MUSC Transplant Center, and with an even greater number of transplant patients living in the Midlands area of South Carolina he expects to see a good number take advantage of the Columbia Nephrology partnership.

The service is also available to living donors, Stanton said. Donors have follow-up visits at one month, six months, one year and two years after surgery. Even though they don't have as many checkups as the recipients, donors are generally healthy working adults who don't necessarily have time to drive all the way to Charleston for an appointment.

"Telehealth is really a fantastic option for them," Stanton said.

Already, the Transplant Center has seen donors improve their follow-up visit rate from about 60% to almost 100%, an improvement that Stanton attributed partly to increased efforts by staff to stress the importance of follow-up visits and partly to the convenience of telehealth.

And MUSC Health has not forgotten those in the Upstate. The health system is establishing a clinic in Greenville, planned for the first quarter of 2020, that will have a full-time nurse practitioner on site; monthly in-person visits from kidney, lung, heart and liver doctors; and a telehealth option for transplant patients as well.

While the kidney program has been in the vanguard of transplant telehealth, "there has been a lot of enthusiasm and excitement from our other transplant programs," Stanton said.

Once the infrastructure and routines are in place, he can envision other transplant services also offering telehealth follow-up options.