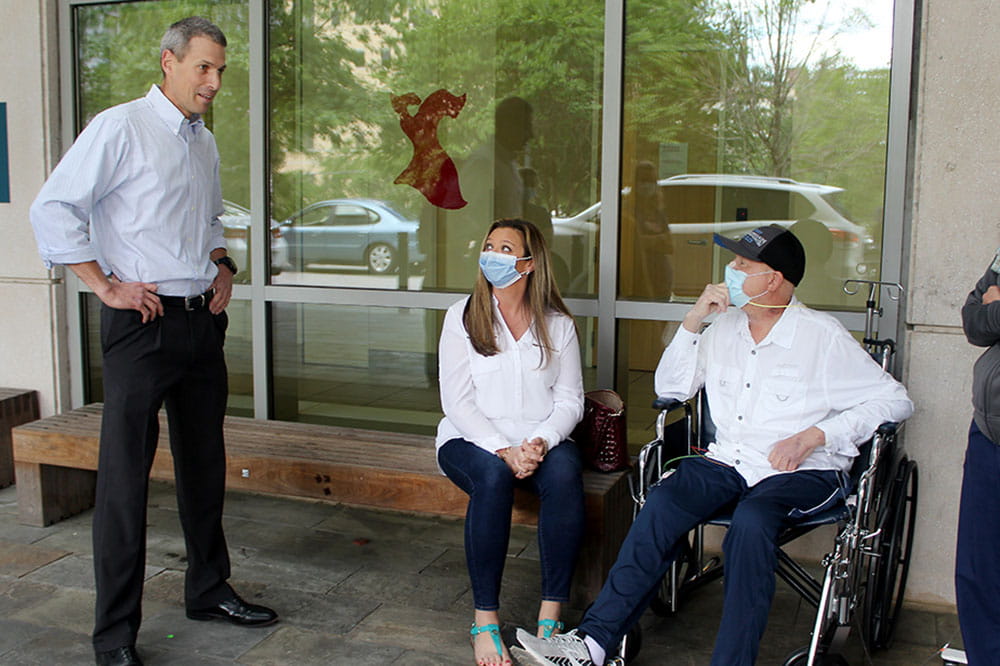 May 1 was the first time John McDonald was able to see his wife Lisa Gabriel since April 13 – 18 days after he was first transferred to MUSC. He was diagnosed with pulmonary fibrosis in January after a CT of his abdomen fortuitously showed something of concern in the lower lobe of his lungs. 
By April, his lungs were failing. Rapidly.
On April 11, McDonald was started at 40% oxygen. Two days later, he required 100% oxygen and was brought to MUSC. 
But with the prevalence of COVID-19, hospitals across the country have had to limit the number of visitors inside their facilities. "When he was transferred, a nurse called me and asked me if I could come to the hospital," said Gabriel. "I was excited to be able to visit him – and kind of surprised, too – since hospitals weren't allowing visitors."
It wasn't until she was driving down to Charleston from their home in Myrtle Beach that she received the second call asking how quickly she could get there. "That's when I realized how serious it was," she said. 
McDonald's clinical team involved the palliative care specialists, who focused their efforts on enhancing his quality of life, while still considering him for a lung transplant. This plan gave the couple hope. "We were really lucky to get here when we did," Gabriel said. "If it had been a day later, it would have been a different scenario."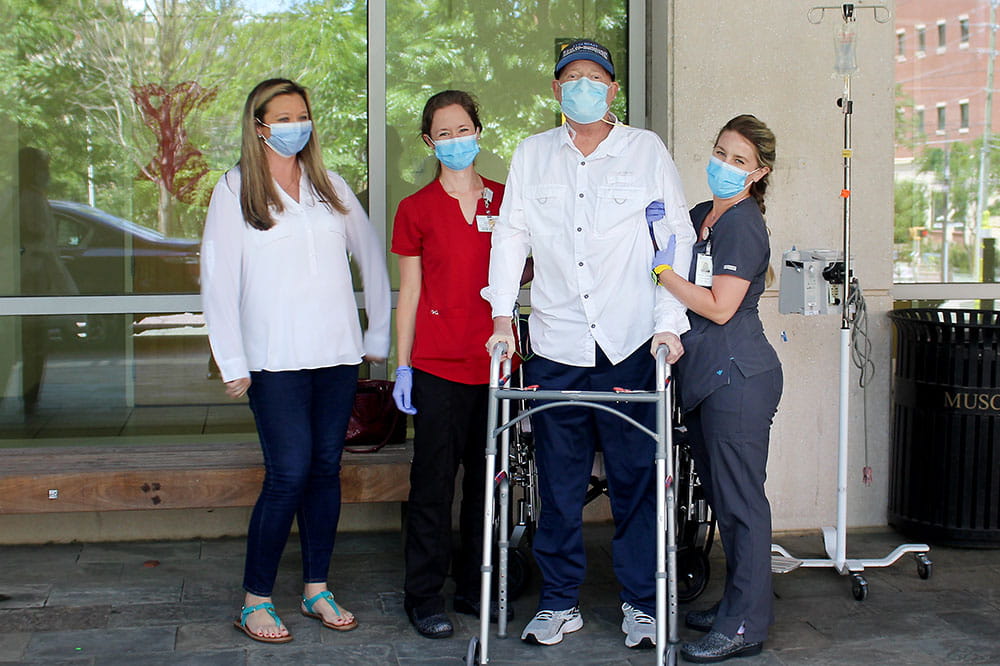 They met with the transplant team to discuss his options just before his breathing became so labored that he was placed on a ventilator.
When lung tissue is damaged, like it is with pulmonary fibrosis, it becomes thick and stiff, making it difficult for the lungs to expand. It affects each patient differently, and in McDonald's case, he felt healthy for months. But in April, his health started to decline, as his disease progressed quickly.  
Chadrick Denlinger, M.D., surgical director of the lung transplant program at MUSC, performed McDonald's transplantation. He said McDonald was a transplant candidate because, even with fibrosis, he was living a relatively normal life until just a few weeks ago. 
"He's very strong, both physically and mentally. And even though he was requiring significant support and 100% supplemental oxygen when I first met him, he was still able to understand the risks and benefits of surgery. We luckily had the opportunity to discuss multiple potential outcomes if he required intubation even before we were able to complete the transplant evaluation," he said.
However, once the couple decided to move forward with the procedure, McDonald was moved to a different unit, and his wife was no longer able to be with him in the hospital. 
Rather quickly, a donor became available, and Denlinger performed the transplant on April 21. One day later, McDonald no longer required the support of ECMO, the machine that circulated his blood through an artificial lung and back into his bloodstream. Three days later, he was breathing on his own – without the help of a ventilator. Throughout the ordeal, he never saw his family.  
The first thing McDonald did after being taken off the ventilator was to ask to FaceTime his wife. "It was so important to me to stay in touch with my family," he said. 
That simple gesture meant the world to his wife, especially during such a stressful time, she said. 
"At 6:30 a.m., he called me via FaceTime, and I heard his voice again. It was a miracle. I was so excited, thankful and overwhelmed with relief," adding that it was the FaceTime sessions that made the situation bearable. "With not being able to visit post-surgery, it made it much easier to manage since the ability to communicate and see each other has really kept his morale up and my anxiety, over not being able to visit him, down."
The next day, he was even standing and taking his first steps post-surgery.
Denlinger said he is thankful that he had the opportunity to meet with the couple together in person. "It was rather surreal to think about all the major events that happened between the last time John and Lisa saw each other and their reunion."
McDonald continues to improve every day, even walking up to 300 feet at a time.  He said he felt his health care team with him every step of the way – as he did his family. "They've just all been terrific," he said. "Helping me get stronger every day and taking care of everything I need."
Gabriel said she won't soon forget the constant support and encouragement they both received. "Over the last two weeks, John has made incredible strides in his recovery, and our family is so grateful for the opportunity that we have been given by the transplant team at MUSC. I cannot tell this story enough and give enough praise and thanks to the team of doctors, nurses and support staff who saved John's life. There are a lot of doctors in the world, but it takes a special team of people to have compassion and show the true love for what they do."
"They saved his life. And we are so grateful."
About the Author
Celia Spell

Keywords: COVID-19