I am an MUSC Innovator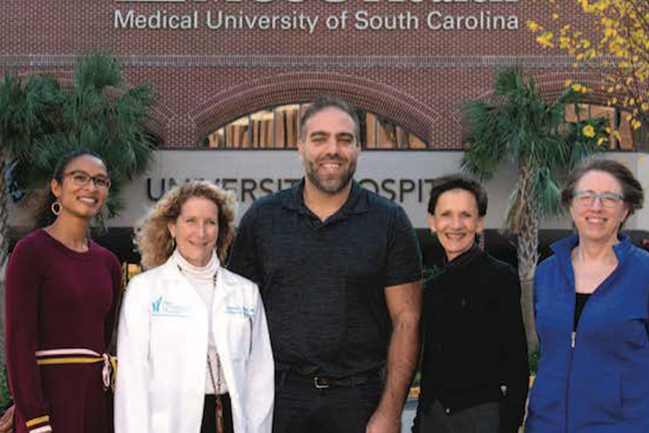 Sponsored by the Office of Innovation, the "I am an MUSC Innovator" campaign is designed to raise awareness of the many forms that innovation can take, to inspire others and to publicly recognize individuals and teams that are making an impact. 
Each quarter, the campaign showcases innovative educators, researchers, care team members, and service team members that have been nominated by a college dean, department chair, administrator, or the innovation support team.
Award Recipients
December 2019
Anita Ramsetty, M.D. for receiving a Macy Foundation grant and work on building an integrated curriculum on underserved care with a focus on food insecurity.
Michelle L. Woodbury, Ph.D. for inventing, and designing, piloting and testing an interactive computer game for stroke rehabilitation called Duck Duck Punch (DDP), which is now FDA approved.
Mary Mauldin, Ed.D. for creation of numerous webinars and programs to support faculty and staff.
Amy Williams, DNP for continued work in re-defining pediatric care to meet social determinant needs.
Bashar Badran, Ph.D. and Dorothea Jenkins, M.D. for development of a neonatal feeding system which boosts the brain's ability to learn movements critical to sucking and swallowing.
September 2019
Jeff Borckardt, Ph.D. for innovative educational programming including Sloppy Mountain.
Sherine Chan, PhD and C. James Chou, PhD, for a discovery of a new class of mitochondrial modulator compounds based on Vitamin K that improve mitochondrial health in multiple animal models of difficult to treat neurological diseases.
Brandon Welch for developing several solutions for patient needs, including the ability to meet providers by video, to gather family health history to assess hereditary cancer risk, an improvement in collecting clinical or research data and finally a solution for them to receive reminders of things to do between appointments.
DaNine Fleming, Ed.D. for creating the Team Skills/Appreciating Diversity and Inclusion experience for first year students and working on innovative ways to relay difficult concepts
Ellen Debenham, BSHA, RN, CCRC for work on developing the state-wide Telestroke program, improving speed and quality of care for stroke patients
June 2019
David Habib, M.D.; Kristine Harper, R.N.; Kelly Howard; Dave Dolan, R.N.; Rhonda Flynn, R.N.; Jenny Nguyen, R.N.; Marilyn James, R.N.; Breezy Bernheisel, R.N.; Kapri Kreps; Eric Smathers; Elizabeth Glover, R.N.; and Charlie Sander for the development of a new technology (combining apps and hardware) to further reduce patient falls in the hospital.
Stephanie K. McGowan, PT; Jodie Rush, PT; Shane Woolf, M.D.; and Harris Slone, M.D. for developing a a sports rehabilitation center to assist athletes with all types of care – prevention, treatment, rehab – so they can return to their sports.
Jessica Giblin, Julie Ham, Sylvia Jang, Kevin Smuniewski and Daniela Harris for proposing the plan to provide dispensers with free menstrual hygiene products in 11 female and gender-neutral bathrooms for a 6-month pilot program.
Meredith Horwatt and Tammy Flovin for work and research on the effects of music therapy on pediatric cardiac patients.
Preston Walker, Christian Finetto, Ph.D., and Jesse Dean, Ph.D. for creation of a novel perturbation device to help improve post-stroke balance.
Kimberly Bailey and Lt. Bryan Wood for the development of a new MUSC mascot (Iggy the Iguana) who would help raise awareness of emergency preparedness.
DaNine J. Fleming, Ed.D.; Willette Burnham-Williams, Ph.D.; Paula Sutton; and Ronnie Chatterjee for creation of an in-person diversity and inclusion training for MUSC Health employees statewide.
March 2019
Marvella Ford, Ph.D., Public Health Sciences, for establishing multi-core and support teams to address disparate mortality rate of African Americans with cancer. 
Amanda Giles, O.T.D., College of Health Professions, for improvements in occupational therapy practices via accessible apps.
Matthew Hebbard, Pharm.D.; Scott Person, Pharm.D.; Beju Shah, Pharm.D., MUSC Health Pharmacy; and Jonathan Yantis, Information Solutions, for creating tools and workflows for the medication supply chain.
Stephen Kalhorn, M.D., Neurosurgery, for developing various devices which make spine surgery less invasive, more efficient and more successful long term.
Michael Miller, RN, Meduflex Critical Care Team, for the coordination of food and snacks for the families of palliative care patients. 
Na Jin Seo, Ph.D., College of Health Professions, for the development of a wearable device to aid in stroke rehabilitation.
December 2018
Jessica Bullington, Marvetta Daniels and Emily Lynn, MUSC Health, for the creation of a social/communication group for patients within the Transitional Care Unit. 
Mitzi Fetner, Brandon Grimes, Audrey Mack, William Meggett, Emily Mills, David Napier and Ranada Rivers, University Surplus and Asset Accounting, for creating an online Asset Management-Surplus model to catalogue warehoused items.
Donna Kern, M.D., College of Medicine, for the development of the three-Year FLEX curriculum.
Amanda Lilienthal, Revenue Cycle Manager, for the creation of a partnership model and additional training for members of the Revenue Cycle organization.
Coleen Martin, MUSC Boeing Center for Children's Wellness, for the development and implementation of the Boeing School Wellness Checklist.
Wally Renne, D.M.D., College of Dental Medicine, for integrating digital and transformative dentistry into study and practice.