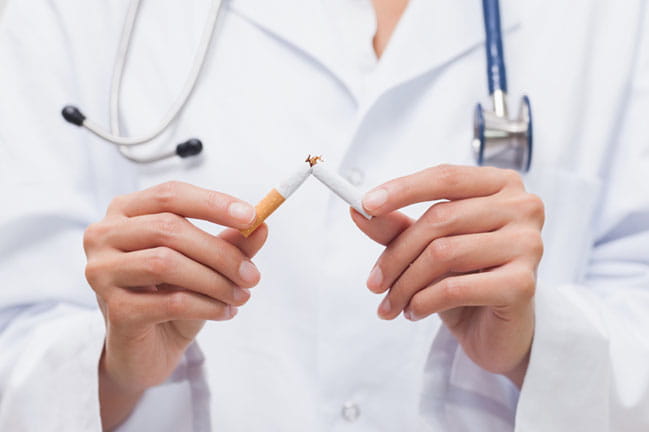 fIt's never too late to quit, and it might just be the time given what researchers now know about addiction and the impact of smoking, both in causing cancer and decreasing the effectiveness of cancer treatment. Here are tips from experts at the Hollings Cancer Center at the Medical University of South Carolina (MUSC), the state's only NCI-designated Cancer Center.
1. Develop a quit plan
Give yourself the best chance to quit and create a quit plan. A quit plan combines strategies to keep you focused and motivated, help you to overcome challenges and can significantly improve your chances of quitting smoking for good. Be sure to set a quit date and write down your reasons for quitting.
2. Embrace that it's an addition and approach quitting holistically
For many tobacco users, smoking can cause long-term brain changes that often result in addiction. Cessation expert and clinical psychologist Benjamin Toll, Ph.D. said smokers sometimes have mental health issues that can be barriers to breaking the smoking habit. "It's not enough just to tell a smoker to quit. People need more. That would be like handing a fitness brochure to someone and saying, 'just lose 50 pounds.' It takes a lot of thought and preparation."
Toll recommends reaching out to smoking cessation counselors who can help guide the process and treat the addiction and mental health issues that may be hindering quit attempts. The advantage of such programs like the MUSC Health Tobacco Treatment Program is that "it's a one-stop shop," he says.
3. Avoid smoking triggers
When you smoke, you often pair it with specific behaviors and certain activities. When you come across these things throughout the day, they may "trigger" an urge to smoke. Identifying your triggers and developing healthy alternatives like exercising or having a glass of water will help you stay in control.
4. Use technology to help you quit
There are more resources than ever to help you quit smoking for good. Smartphone applications are a great way to hold yourself accountable. QuitBuddy, a new app developed by researchers at the Hollings Cancer Center, uses GPS to deliver motivational messages. The messages are based on the smoker's environment and helps to better manage triggers to curb relapses and cravings.
To learn more about this study, please complete the following survey or call 843-792-9910.
Another app, SmokeBrake, is being developed by members of the MUSC Health Tobacco Treatment Program and the MUSC Health Center for Telehealth. The app, which is currently being tested for iPhones, serves as a "pocket counselor" with daily motivation to help users quit, proven health benefits and on-the-go tools to keep you smoke free. The app is expected to be available later this year. To learn more about SmokeBrake, call 843-792-9101.
5. Ask your doctor about cessation programs or smoking alternatives
Support programs and medications can make all the difference. The MUSC Health Tobacco Treatment Program offers tips to get you started, resources for quitting and information on smoking alternatives, like e-cigarettes, which may help reduce smoking.
6. Take advantage of inpatient services
MUSC Health inpatients who smoke can also take advantage of our cessation program. As standard of care, every inpatient smoker receives bedside counseling and follow-up should they choose to participate in the service.
7. Consider joining a research study to help you quit
If you want access to the latest treatments to help smokers, a clinical trial may be for you. MUSC has more than 20 ongoing research studies for smokers, offering the latest approaches, technology and therapies. Research opportunities are also available specifically for cancer patients who smoke.
Many of the studies bring cutting-edge solutions to the issue. For example, one of the studies offers a non-pharmaceutical treatment that uses repetitive transcranial magnetic stimulation. This brain stimulation therapy, a non-invasive method that stimulates specific regions of the brain, has been shown to relieve nicotine cravings. For more information on this study, please contact Xingbao Li at 843-792-5729 or lixi@musc.edu.
8. Get lung cancer screening
If you are between the ages of 55 and 77 with a 30-pack year history of smoking, you may benefit from our Lung Cancer Screening Program. The program uses low-dose computed tomography, or a CT scan to capture a detailed picture of the lungs. Since the program started in 2016, the Lung Cancer Screening Program has seen more than 600 patients, detecting 18 cases of lung cancer.
Toll describes the program as a watershed moment. "Not many places are doing this. It's the first time we're targeting smokers, offering lung cancer screening and giving them the support that as a cancer center, we should be providing." Appointments are available at three MUSC Health Radiology locations, including downtown Charleston, Mount Pleasant and North Charleston.
9. Quitting can be as easy as a call to a pharmacist who specializes in tobacco cessation
The Hollings Cancer Center has specially trained pharmacists who can provide tobacco cessation counseling without having to see a physician. Call the Hollings Cancer Center pharmacy today to learn how pharmacy counselors with specialty training can help and what medications are available.
10. Know it's never too late to quit
By quitting – even for one day – you will be taking an important step toward a healthier life. If you are a cancer patient, smoking can greatly affect treatment outcomes by lowering the effectiveness of some chemotherapies and increasing risk of complications during surgery. It also increases the chances of developing a primary secondary tumor.
Check out our recommended resources to see what programs and services are available to get you started:
MUSC Health Tobacco Treatment Program | 843-792-9101
Project Quit | 843-792-4097
SC Tobacco Quitline | 1-800-QUIT-NOW
SC DHEC Tobacco Cessation
Experts K. Michael Cummings, Ph.D., MPH; Matthew Carpenter, Ph.D.; Benjamin Toll, Ph.D.; and Katherine Hoover, PharmD, contributed to these tips.
About the Author