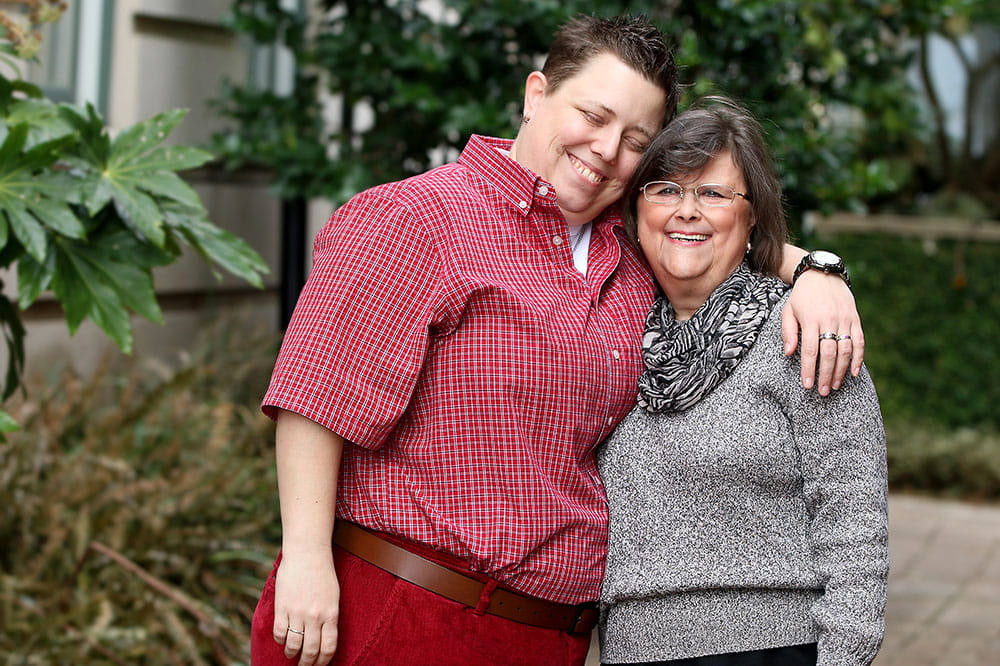 It may seem an odd expertise for a pharmacist, but when it comes to games such as Candy Crush or Bubble Pop, Katherine Hoover knows her stuff.
"You'd be surprised how addicting popping bubbles can be," she says pulling up a colorful screen with floating bubbles on her smartphone. It's an app she uses with some of her patients who come to her for counseling and support in their struggle to stop smoking. Small tricks work, she says. She'd much rather they substitute an addiction for popping bubbles to manage their cravings than to have them grab a pack of cigarettes.
Passionate about what she does, the pharmacist believes in patients even when they've lost the ability to believe in themselves. She teaches them tricks to make quitting stick. "Every quit attempt is a new chance to make it work again. Often you just need someone to coach you through the hard parts, someone who's completely neutral and objective."
Hoover, PharmD, is part of MUSC Health's Tobacco Treatment Program housed at the Hollings Cancer Center. She wants to help all smokers quit, particularly those with cancer. Since 2010, with funds from the state cigarette surtax funding, Hollings Cancer Center has recruited 23 nationally-recognized cancer experts and initiated 15 pilot projects that have led to innovative clinical trials. Research at Hollings and other cancer centers continues to illustrate how essential it is to help smokers be successful in their quit attempts, she says.
One of every three cancer deaths in the nation is linked to smoking. Smoking decreases the success of surgery, chemotherapy and radiotherapy. It increases the chance of cancer recurrence, having side effects from cancer treatment, developing a second cancer and having other health problems. Though most people are familiar with its effect on lung cancer, with smoking causing almost nine out of 10 cases, many aren't aware of its links to other cancers.
According to Surgeon General's Reports, in addition to lung cancer, smoking also affects acute myeloid leukemia and cancers of the trachea and bronchus, oropharynx, esophagus, larynx, stomach, bladder, kidney and ureter, pancreas, uterus and cervix, colon and rectum, and liver.
Hoover says most smokers understand it's doing harm, but understanding the problem and overcoming an addiction are completely separate issues. That was Deborah Giles' dilemma. Smoking three packs a day for decades, she had tried to quit before. She got so irritable and depressed, her family actually begged her to keep smoking. Giles had resigned herself to a life restrained by smoking, until she got a scare that she had a mass that might be cancerous.
It turned out to be a "little emphysema" and while this wasn't a cancer diagnosis, it brought back nightmares she had of an aunt who had to be on oxygen and experienced a poor quality of life at the end. "She had emphysema and just could not give up cigarettes. When I saw how my aunt suffered – it was like she literally was suffocating to death – I knew I didn't want to end up like that. I didn't want to put my family through that. But I didn't know if I could do it," Giles says.
She had seen an ad for the Tobacco Treatment Program, so she decided to see what it offered. As a safeguard, she left her cigarettes in the car so they wouldn't be confiscated. She didn't have much confidence it would help and almost backed out, but then she remembered her aunt. "I believe that God put that clinic in my life, and he put Katie in my life," she says of the relationship she would develop with Hoover, whom she calls 'my Katie person.'
Hoover says the right set of circumstances aligned. Giles, 65, now tobacco free for two years, was willing to come in weekly. She got all the medications on board to lessen the cravings and her recent cancer scare gave her enough motivation to stick to the game plan they made together.
A critical part of the interventions Hoover does with patients is to identify triggers that prompt cravings and to have pleasant activities that can be used as distractions. In addition to app games, she encourages smokers to carry stress balls that can be tossed back and forth between the hands to engage both sides of the brain. There also are meditation apps and classical music playlists that can be used.
Another critical component: medications. It's not just a matter of willpower, Hoover says, but rather an addiction that has to be broken. It takes people generally seven to 10 attempts on average to quit. "If they keep trying, it will work."
Hoover guided Giles through the agony of breaking the addiction, helping her navigate strong smoking cravings and environmental triggers. Giles says it was the first time she felt empowered. Meeting with Hoover once a week for three months, Giles used Wellbutrin, patches and nicotine gum to help lessen urges as well.
Before this program, doctors had urged her to quit, Giles says. "It's easy for a doctor to say cigarettes are going in the trash. You can't just throw them out. It's like a drug, and you're an addict. It doesn't work like that."
Giles learned how to identify her triggers, monitored how many cigarettes she was smoking each day, used her medications and finally did the ultimate. Eleven days after starting the program, Giles felt ready to quit. She trashed her cigarette packs, lighters and ashtrays. When she was able to go four days without smoking and without killing anyone, she was floored, she says. When she was tempted to light up, she remembered the agony of her worst days.
"I told myself, 'You've come through too many tough moments to go back now.'"
Giles hopes to inspire other smokers to quit. The emotional support she received from the program and her family were critical to her success, she says. Giles knew that Hoover would never give up on her, and she reenlisted the help of her family, including her daughter Amanda Giles. "She was pretty much ready to throat punch people," Amanda says, smiling at her mom, describing how she'd pick up on the clues that her mom was suffering from cravings, because she'd start wringing her hands. "I knew I needed to be extra kind and do something to help her get through those moments."
Amanda, who attended many of the counseling sessions, found Hoover was as far from a drill sergeant as could be. She and her mom had imagined some kind of boot camp training, but it turned out to be nothing like that. "Katie is one of a kind. She's the ultimate cheerleader. Every minute step you take becomes the biggest accomplishment. If you drop one little number," Amanda says, referring to her mother's carbon monoxide readings, "it's the biggest thing to her. No accomplishment is too small. She doesn't just tell you that. She shows you that."
Now Giles can't stand the smell of cigarettes. She's proud that she hasn't touched a cigarette for two years, and for the first time in more than 40 years, smoking no longer rules her life. She doesn't have to leave dinners or family events to go out and smoke. She also feels better and knows she's bettering her odds of avoiding many of the conditions smoking is known to cause.
"I'm not as short winded. I have a better outlook. I don't feel I'm as chained to something. It helps my breathing, lungs and heart," she says. "It feels amazing – absolutely amazing."
Giles wants other smokers to know their next quit attempt, no matter what their age or how much they may have smoked, may be the magic one.
"If I can quit, anyone can quit."
Her daughter, a smoker, nods. "If she can quit, Yul Brynner could have quit." Amanda, 36, says seeing her mother quit is inspiring her to try again. This time, she knows she'll have Hoover to help. "It's not like you're quitting alone. It's like you're quitting with your best friend."
For more information, contact the Tobacco Treatment Program at 843-792-9101.
About the Author
Dawn Brazell
Hollings Cancer Center
Keywords: Cancer