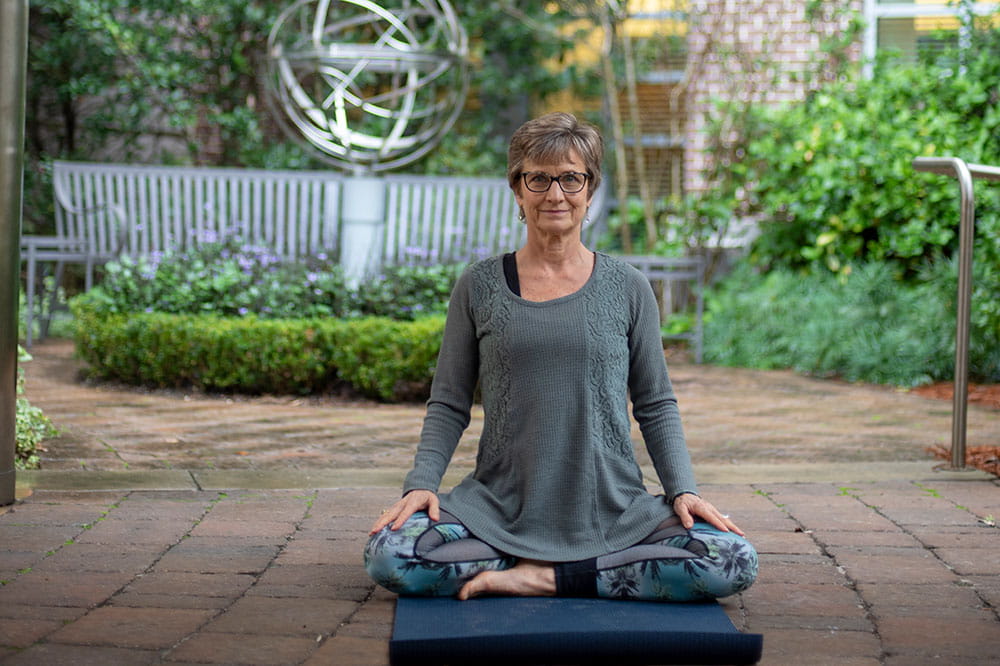 This month Hollings Cancer Center at the Medical University of South Carolina (MUSC) will be rolling out a new mind-body class customized for cancer patients and cancer survivors to enhance their health and wellness.
The first class will be held Monday, Jan. 28 at 4 p.m., and then they will be held the third Monday of the month at Hollings Cancer Center on 86 Jonathan Lucas Street.
Gail Corvette says she was thrilled when she was asked if she would teach the class. A yoga instructor at MUSC Wellness Center, Corvette already offers mind-body classes for Survivors' Fit Club, a wellness program for breast cancer survivors that Hollings Cancer Center offers in partnership with the wellness center.
Corvette says the feedback she gets back from participants is gratifying. Understandably, cancer can generate fear and anxiety for many people. This one-hour class focuses on easy movement patterns and meditative practices to help participants become centered and feel a sense of calm, she says.
"We teach them how to breathe consciously, observe their thoughts and calm their minds. I think mind-body classes can really help in their healing journey. It's one great tool in their tool kit that we can use to heal this disease. It can help them feel more at ease and be better able to accept what is happening. It can help them cultivate hope."
Spearheading this pilot class is Tara Lock, administrator for the Oncology Integrated Center of Clinical Excellence at Hollings Cancer Center, which is one of 70 NCI-designated cancer centers in the nation. The class is the latest addition to other support services already being offered, including pet and art therapy, psychological consults and financial counseling. What drew Lock to offer this class is the need she sees in the community.
Lock says, "It's about quieting the mind and helping patients and survivors lose some of the fear that can surround a cancer diagnosis. We want to bring more of a mind-body element to a patient's treatment."
Corvette says her hope is that participants will take what they learn in class and practice the skills at home at least once a week to reduce the stress they may be feeling. "What we're doing is giving them a taste and giving them the tools. We are also building a community, allowing people to meet others going through the same thing. There's a different energy when you're in a group doing this mindfulness practice."
Part of teaching a mindfulness practice is creating space for participants to more easily tap into what's going on in their bodies. "It's important to get out of the past of why did this happen to me or feeling like a victim. You can feel more empowered and have more hope when you are feeling more centered in your being."
The class also will incorporate gentle strengthening and stretching movements and will be accessible for all fitness levels. "It's important to keep moving in whatever way you can. Motion is lotion as they say in the arthritis field. I will really tailor the class for whomever shows up."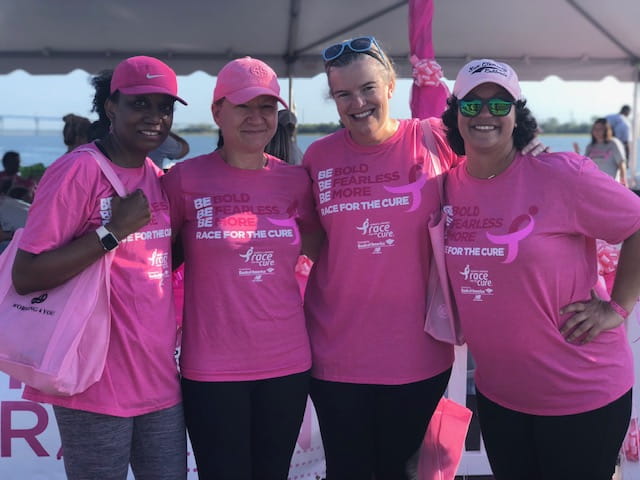 There's a growing body of research that shows that this type of practice can help. Corvette refers to a study on prostate cancer and lifestyle changes by researcher Dean Ornish, known for similar work on reversing heart disease, that found intensive lifestyle changes may affect the progression of early low-grade prostate cancer.
The American Society of Clinical Oncology, a professional organization of cancer doctors, endorsed guidelines last year supporting certain integrative therapies like meditation and yoga as evidence-based ways to manage symptoms and side effects of conventional breast cancer treatment.
Laura Beck, who was diagnosed with breast cancer last spring, is glad to see Hollings Cancer Center offer a mind-body class. She took one of Corvette's mind-body classes as part of Survivors' Fit Club. "The program was great because it surrounded me with like-minded survivors who became friends and because it got me moving again," Beck says.
"Gail's class was positive and uplifting. She understood that we might have individual limitations and helped make sure we were comfortable with the yoga positions. It wasn't too strenuous, so we could all participate. She talked about mindfulness and helped lead us to better understand what that means. She could relate to what we had all been through with the range of emotions that accompanies this kind of illness."
Though she really enjoyed the stretching, Beck says one of her favorite parts was learning the tools to cope with the anxiety. It's hard not to dwell on the what-ifs and the whys with a diagnosis like cancer, she says.
"Being able to learn to live life despite the diagnosis can be a challenge. Not letting it consume you, especially early on, is hard. Learning to relax, to breathe, to control your thoughts, to focus on the now, to move your body healthily is tough under any circumstances. I think being surrounded by other cancer patients and survivors in a class such as Gail's is a great thing because you know everyone there is dealing with something, and no one is judging you."
For more information, email corvette@musc.edu. To register, visit: hollingscancercenter.org/patient-care/patient-resources/mind-body