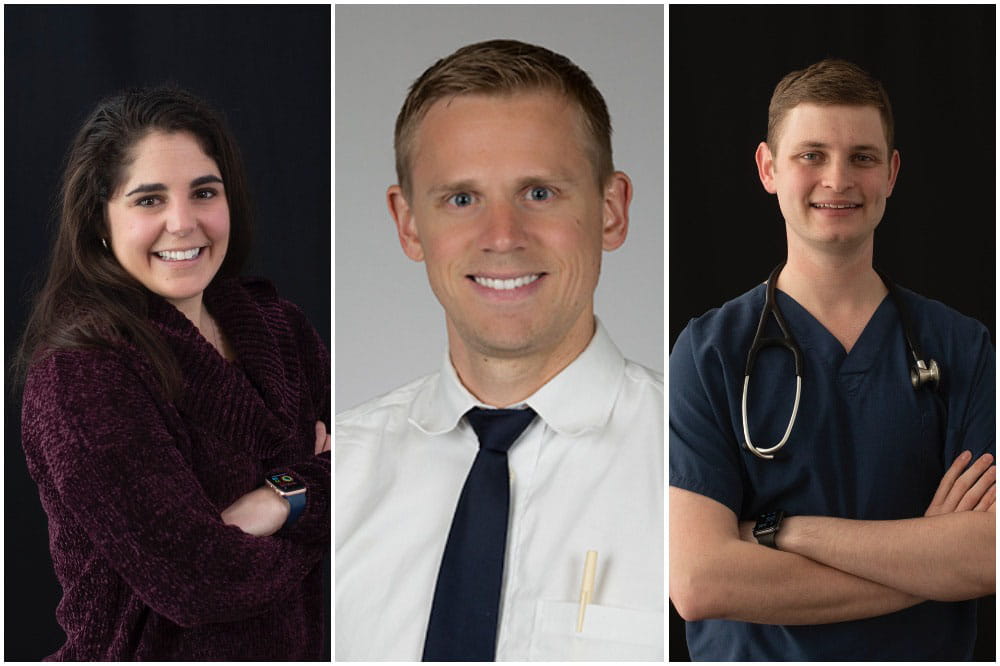 This Friday, three Medical University of South Carolina students begin a journey that will end more than 8,000 miles from Charleston in the East African country of Tanzania. They're headed to Muhimbili National Hospital in Dar es Salaam, which sits on the coast of the Indian Ocean. They'll also spend time in a rural clinic that has a research site run by MUSC and the Muhimbili University of Health and Allied Sciences focused on large-scale community-based prevention and care programs.
Alexandra Serpe, James "Mac" Segars and Cole Buchanan are all fourth-year medical students with an interest in seeing the world and learning from doctors in other countries, but their personal stories are quite different. One is a gymnast, another a former Peace Corps volunteer and the third, a young man who realized early on that he didn't want to stay in a comfortable little bubble for the rest of his life.
The gymnast who loves to stretch her expectations
Alexandra Serpe is a bundle of energy. "I like to think I'm a pretty positive person who takes on challenges with a lean-in approach, ready to take on any adventure."
And she has the credentials to back that up: an outstanding academic record, a series of research assistantships, time as director of a medical service trip to Haiti through the student group MUSC Service Learners International and, last but not least, years spent training as a gymnast and coaching younger athletes in the sport.
"I like to think I'm a team player and somebody who likes to have fun doing what I do," Serpe says in an interview before her Jan. 25 departure for Tanzania.
She and her fellow MUSC students are taking part in the College of Medicine Global Health Elective in Tanzania, sponsored by the MUSC Health Heart and Vascular Center. They'll spend four weeks in a country where, while English is spoken by many, Swahili is more common. They'll also work in a health care system that lacks some of the modern medical equipment they've been trained on and have to rely more heavily on their physical exam skills.
It's a good fit for Serpe, who plans to become a pediatric emergency medicine doctor. "It's thinking on your feet and getting creative. Having to be effective and take care of whatever is in front of you."
The main hospital where they'll work, Muhimbili National Hospital, is a teaching hospital like MUSC. Its leaders say it has a social responsibility to the people it serves, with an emphasis on access, equity and respect.
Those are qualities Serpe values. Her family has been on the receiving end of health care in ways that have stayed with her.
"My dad has suffered from several diseases, some from childhood and some from adulthood that he had no risk factors for. When all of it was happening, he didn't have health insurance and was part of the medically underserved community. It was a volunteer organization that first diagnosed his serious issues. My family is forever grateful and I want to be able to give back to underserved communities. It saved my dad's life and started his road to recovery."
Her road to medicine will continue to wind through the U.S. and beyond. "There are many places we can serve. Going abroad makes me better here in the United States. It makes me more resource efficient, more culturally competent and gives me a more well-rounded approach to medicine."
Former Peace Corps volunteer heads back to Africa
James "Mac" Segars is ready to return to the continent where he found his passion for medicine. "I've been interested in global health for as long as I can remember. I really kind of got into it after graduating from college. I joined the Peace Corps and spent 2 1/2 years in Mozambique, mostly as a math teacher, but I also volunteered in the clinic there. That's how I discovered medicine."
Segars' time in that clinic stayed with him. He's now planning to become a pediatrician, but not before returning to Africa during his final year of medical school. He'll have the chance to learn from and help health care workers in both a bustling city hospital and rural areas of Tanzania.
Segars says it's important to see health from a global perspective. "It makes you aware of things that other health care systems do better than we do and things we do better than they do. The more experiences you have, the more you can take the best of everywhere and try to blend it into one system."
His new experience, which will keep in him Tanzania until late February, is something he's looked forward to since before he even started medical school. As a prospective student, he zeroed in on the Center for Global Health at MUSC, which focuses on improving health across the state and around the world through research, education, training and service.
"I knew I was going to get a good education anywhere I went, but as I was going around shopping at different medical schools, I made a point of seeing what was going on in their centers for global health. It was one of the things I was looking for."
Segars says his interest in global health will be part of his future as well as his present. "I think my dream job would be working in primary care with underserved populations, probably refugee, immigrants and otherwise underserved people within the U.S. I'd also like to work at a place that has a partnership with a university abroad and be able to help train students."
No voluntourism for this global health enthusiast
Cole Buchanan is all about the long run — efforts that last and make a real difference. That's why he loves MUSC's partnership with Muhimbili National Hospital. "It's a sustainable effort that keeps going from year to year. When we leave, we've provided a means for this effort to be sustainable and the physicians and health care workers there continue this effort and manage their patients on their own. A cycle that continues when we're not there."
It's a far cry from an earlier trip he took as an undergraduate student, Buchanan says. "It was a medical mission trip to Nicaragua that fell firmly into the category of voluntourism."
It was an interesting experience, but not one he wanted to repeat. He wanted more substance.
He got more substance during his next venture abroad in Ghana, where he learned about the country's health care system. "It was very valuable for me to see sustainable global health efforts."
Buchanan is thrilled to now be headed to Tanzania for a month. "I'm most looking forward to being in a new place, experiencing health care in a different population. I think I have a lot to learn about global health. I think at some point I'll have the expertise to provide a service in the global arena, but at this point I think my job is to learn as much as I can. This represents an awesome opportunity for me to do that."
Buchanan, like Serpe and Segars, has an academic record full of honors and volunteer work. In his time at MUSC, he has worked at a variety of places including the nonprofit MUSC Cares Clinic and the homeless shelter One80 Place in Charleston. But working at Muhimbili National Hospital will be a whole other level.
"I think the clinical experience is fantastic, being able to work in one of the bigger hospitals in the area. Kind of a correlate for what we see here in Charleston and see how that works in a lower income setting," Buchanan says. "And seeing more rural outreach in some of the smaller clinical sites I think will expose me to broad range of clinical practice and research that's being done there."
He looks back on the voluntourism trip to Nicaragua as the beginning of a new direction for his life. "When I started, it was kind of an interest that developed. I wanted to travel and see something new. It grew into something a lot bigger. Once you go somewhere and see how different it is, it's hard to be comfortable staying in your own little bubble."
Follow Serpe, Segars and Buchanan during their time in Tanzania
All three MUSC students plan to post updates on social media about their time in Tanzania. You can follow them through the Center for Global Health's Facebook page.
About the Author