It was odd to be one of the first patients to receive a new treatment for prostate cancer, but if it meant the side effects would not last as long, Henry Ham was grateful to receive it. 
Ham, who was treated by radiation oncologist David Marshall, M.D., at Hollings Cancer Center at the Medical University of South Carolina says it's been almost two months since his procedure, and he's halfway through the side effects.
"I give rave reviews about the team and Dr. Marshall. Everything's worked well," he says. "We've had our one-on-one consults, and Dr. Marshall's been very accommodating. He takes the time to answer all my questions. It's been a good experience, if you can call what I'm doing a good experience."
Dr. Marshall was the first in the world to use Blu Build real-time Cesium-131 brachytherapy (internal radiation therapy) delivery system October 26, 2018, and he has since treated 12 patients.
"Brachytherapy is putting a radioactive source in or right around the target, in this case, the prostate," Marshall explains. The type of brachytherapy used at MUSC Hollings Cancer Center is seed implantation. "We use little radioactive pellets and place them in and around the prostate. The new technology allows us to combine two beneficial approaches that we haven't been able to combine before."
Previously, radioactive pellets were placed individually in and around the prostate. Since they were not connected to each other there was a tendency for them to move around. About a decade ago, Marshall and his team were instrumental in developing a technique to help resolve this issue. This technique enabled them to build custom links of seeds in the operating rooms. "We could put in a strand of radioactive seeds. We could put them outside the prostate, and they wouldn't float away," Marshall says.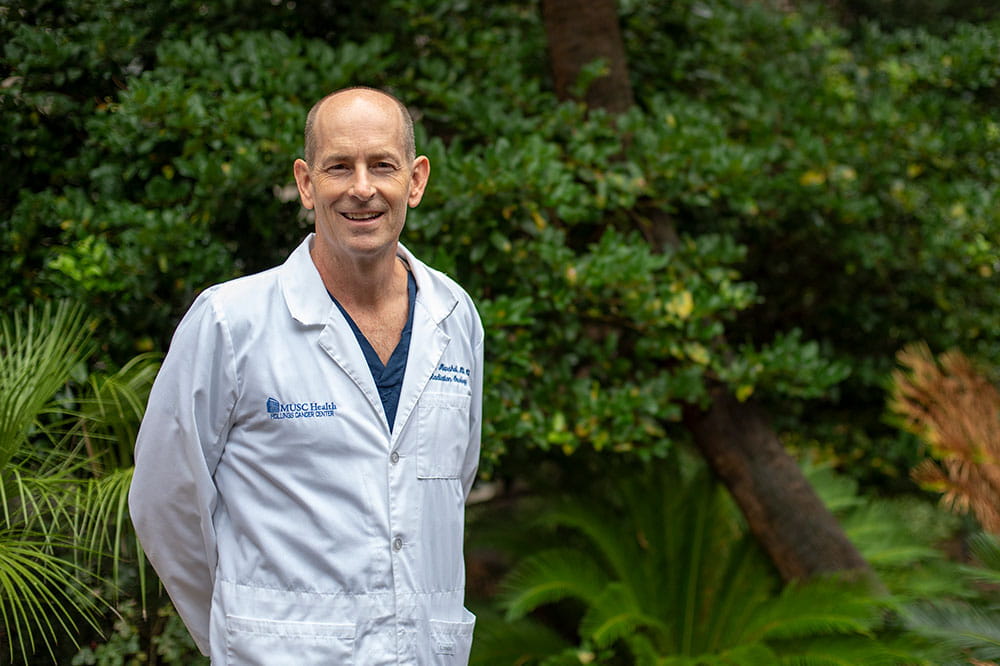 The challenge was the technology wasn't compatible with Cesium seeds, unlike the new Blu Build technology. The benefit of Cesium seeds versus other types of radioactive seeds is that the side effects tend to go away faster. On average, those treated with cesium seeds tend to see side effects, such as bladder dysfunction, lasting within three to six months as opposed to one to two years. The cesium seed has been around for a while and has been used in the treatment of over 10,000 prostate patients, but previously seeds had to be placed individually. The benefit of this new technology is the ability to create custom links of the Cesium seeds.
"No two patients are exactly alike," says Marshall. "What this brachytherapy system provides physicians is a real-time means to individually customize and deliver a precise placement of Cesium-131 brachytherapy seeds tailored to the patient's anatomy and cancer as the physician is seeing it in the operating room at the time of surgery," Marshall says. "And we are the first place in the world to use these technologies together."
The delivery system conveys additional benefits beyond shortening duration of side effects as brachytherapy enables doctors to deliver a high radiation dose to the targeted prostate cancer and limits the impact on the surrounding areas compared to other treatment options.
This system, designed specifically to treat prostate cancer, uses a disposable, single use, next-generation device and is unique in that it is the first to be handheld offering a new level of maneuverability.
Marshall says, "Randomized clinical trials have shown that seed implant brachytherapy is as effective, and sometimes more effective than other treatments for prostate cancer, and it's not always widely available. The idea is that if we can bring these two technologies together, the cesium seed with the custom-built links, we may be able to make it easy for people to implement this at other institutions, so that more people can benefit from having seed implants in treating prostate cancer."
It is estimated 165,000 people per year in the U.S. get prostate cancer and 29,000 deaths are predicted for 2018. In South Carolina alone, over 3,000 men a year will be diagnosed with prostate cancer. "Anything we can do to continue to improve the process, the treatments, the technology and bring that forward to our patients, that's what we are all about here at Hollings," Marshall says.
"Here at Hollings Cancer Center, we are proud to continue our legacy as innovators dedicated to bringing the very best in medical advancements and care to our patients."
About the Author
Emma Vought

Keywords: Cancer