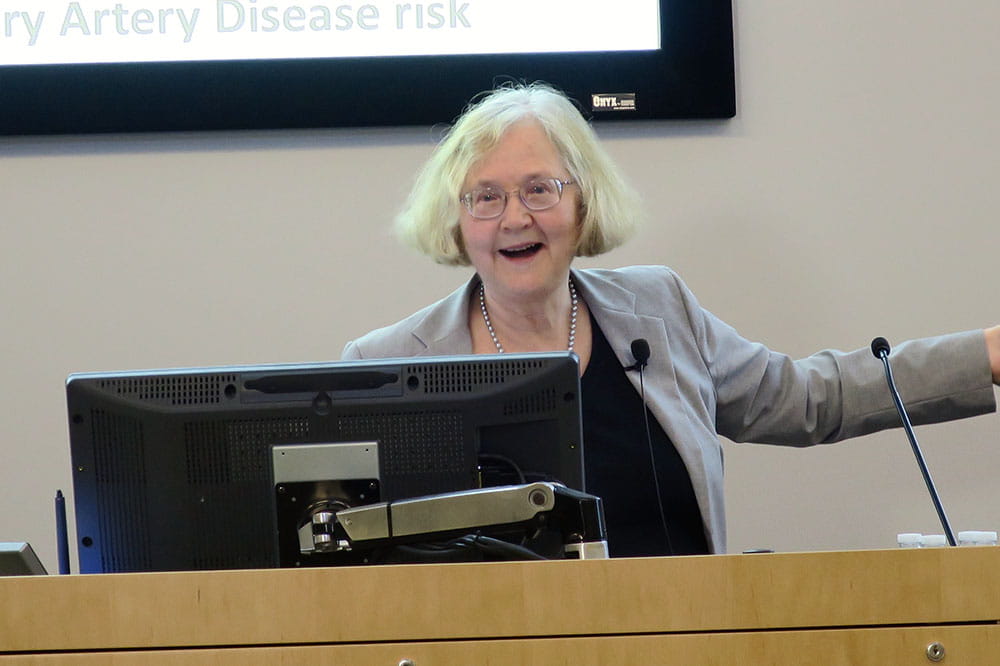 It's not often you see an auditorium full of scientists so excited about hearing someone speak that they're willing to sit on the floor in front of the podium and in the aisles once the seats fill up. But that's exactly what happened at the Medical University of South Carolina when Nobel prize winner Elizabeth Blackburn, Ph.D., arrived to accept the Women Scholars Initiative's Eminent Scholar Award.
It was easy to see why. The Australian-born molecular biologist is a research rock star.
"Dr. Blackburn is one of only 20 women to have received the Nobel prize in one of the science fields, physiology or medicine, chemistry or physics, out of more than 600 Nobel laureates," said Carol Feghali-Bostwick, Ph.D. She directs the campus-wide Women Scholars Initiative and the MUSC College of Medicine's Center for ARROWS, a group focusing on the Advancement, Recruitment and Retention of Women in Science. WSI and ARROWS gave the award to Blackburn.
Blackburn is former president of the Salk Institute, current professor emeritus at the University of California-San Francisco and, most famously, a winner of the 2009 Nobel Prize in Physiology or Medicine. She's known for her discoveries involving chromosome caps called telomeres.
MUSC leaders said they were thrilled to have Blackburn on campus. Melissa Cunningham, M.D., Ph.D., said the Womens Scholars Initiative's award goes to prominent, internationally known female scholars from outside of MUSC. "We ask the scholar to visit campus to receive their award, to give a seminar and to meet with junior and senior faculty to both expose MUSC women faculty to outstanding role models and increase the exposure of exceptional women scholars in their accomplishments to the entire MUSC faculty."
While the focus is on female scholars, the crowd that turned out to see Blackburn appeared to include as many men as women. College of Medicine Dean Ray DuBois, M.D., Ph.D., was among them. He and Blackburn are friends. "Liz Blackburn, welcome to MUSC and Charleston," he said.
Blackburn, 70 and charming, gave a talk about her research on telomeres. While she's a scientist with a long list of credentials, she wants to make her work relevant to the general public. She co-authored a 2017 anti-aging book for the general public, "The Telomere Effect: A Revolutionary Approach to Living Younger, Healthier, Longer."
So what are telomeres? Basically, they're protective caps on the ends of our chromosomes. Blackburn compared them to the plastic tips on shoelaces that keep them from fraying. She believes protecting telomeres can slow aging.
"We start off life with about 10,000 base pairs of [telomeres]. Throughout our lives, for a variety of reasons, there is attrition of telomeres, and we end up in late life with something on the order of about half of that."
Choices you make along the way, such as smoking and drinking too much alcohol, affect the health of your telomeres, Blackburn said. It's a mind-body connection that she sees as essential for slowing the aging process and possibly preventing cancer.
It may also have an impact that goes beyond a person's own life, Blackburn said. "Shorter and shorter telomeres are directly transmitted to the offspring through the generations."
Blackburn's work will also affect people for years to come, DuBois said. "These discoveries have had a huge global impact on many medical disciplines, including my own research, which is in the area of cancer prevention and interception. And luckily, Liz has become interested in supporting that area."
Suggest a Story
Have an idea for MUSC Catalyst News? Contact our editorial team and let us know.