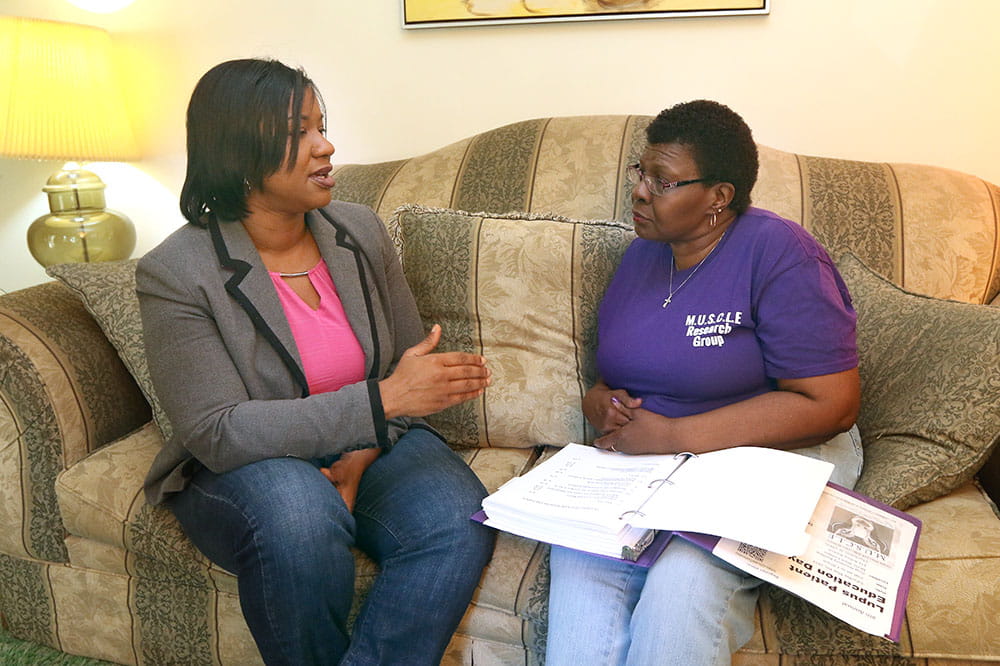 Glenda Davis-Allen was a 32-year-old nursing assistant with a mysterious rash on her arm and an unexplained wound on her leg. Her supervisor insisted she see a doctor. She tried skin treatment after skin treatment, but nothing worked.
Then, the doctor ran a test. It gave her a result that was both bewildering and explained a lot of things. Davis-Allen's rash and the sore spot on her leg, plus the fatigue that had plagued her for years, were connected. She had the autoimmune disease lupus.
"Nobody in my family had it," she said during a visit in her Charleston, South Carolina, home. "That made it hard. I'm alone. You question yourself."
More than two decades after that diagnosis, Davis-Allen wants to help other women suffering from the same condition. That's why she's happy to take part in a study at the Medical University of South Carolina pairing women who have had lupus for years with younger women who were recently diagnosed. "I want to be able to help some young lady, to let her know she's not alone."
Edith Williams, an assistant professor in the College of Medicine's Department of Public Health Sciences at MUSC, is leading the five-year study. "We just trained our mentors last weekend," she said.
The National Institutes of Health is providing more than $2 million in funding for the project, called "Peer approaches to lupus self-management." Williams is focusing on African-American women.
"They develop it more often and have more serious complications, higher mortality and they're dying younger than other populations with lupus. This is an important population to intervene with and try to mitigate a lot of the worst complications," she said.
"The consensus is that there is a genetic link, but then there is some environmental trigger. Not everyone who has the genetic disposition is going to develop the disease. I believe as a group, African-Americans are exposed to social determinants of health that might contribute to lupus, including housing quality, air quality and occupations where they're exposed to chemicals."
Davis-Allen and her fellow mentors will each have three mentees, younger women with lupus who might need help understanding the disease and dealing with everything from medication to doctors' appointments. They'll communicate on smartphones provided by the researchers.
Davis-Allen has plenty of experience to draw on, including just how terrible lupus made her feel before she was diagnosed. "I couldn't get out of bed. I was in so much pain I was crying."
After her diagnosis, she was told she could never have children. What neither she nor her doctor knew at the time was that Davis-Allen was already pregnant and would go on to have a healthy baby girl, who is now 21 years old.
 But setbacks continued. One of Davis-Allen's medications caused her weight to balloon to 200 pounds and she developed diabetes. She's a healthy weight now, but lupus has caused joint damage in her hands that keeps her from playing the piano. Preventing lupus flares, times when her symptoms get worse, is a lifelong effort.
"I get real good support from my daughter and husband and other family members. My daughter and I go walking. It's not too far because I can't walk the whole neighborhood, but I try. I try to eat the right foods and I try to read up on different things about lupus and different things I can eat. Certain foods trigger lupus like sweets, juices and stuff."
Williams said the project will include three waves, each lasting a year and a half, with a goal of recruiting 300 African-American women with lupus over the course of the study. The mentors will have 12 phone sessions with each mentee, offering support and advice.
An earlier, smaller-scale study found the peer mentoring reduced depression, anxiety and lupus symptoms, Williams said. "They felt better about themselves because they knew other people were experiencing the same things they were. As far as quality of life, we're hoping with these new strategies they'll have more functionality. They'll be able to get around more. They'll be able to do more than they were before. They'll be less tired."
Davis-Allen wants her mentees to learn from her life and know she understands what it's like to have a disease whose damage is often hidden from others. "Looks can be deceiving. People look at me every day and say, 'You don't look like you're sick.' When I tell them my story, they ask how I'm doing. I'm not one to complain. I say, 'I'm doing all right I guess.'"
For information about being part of the study, email Edith Williams or call 843-876-1519.
Suggest a Story
Have an idea for MUSC Catalyst News? Contact our editorial team and let us know.
About the Author