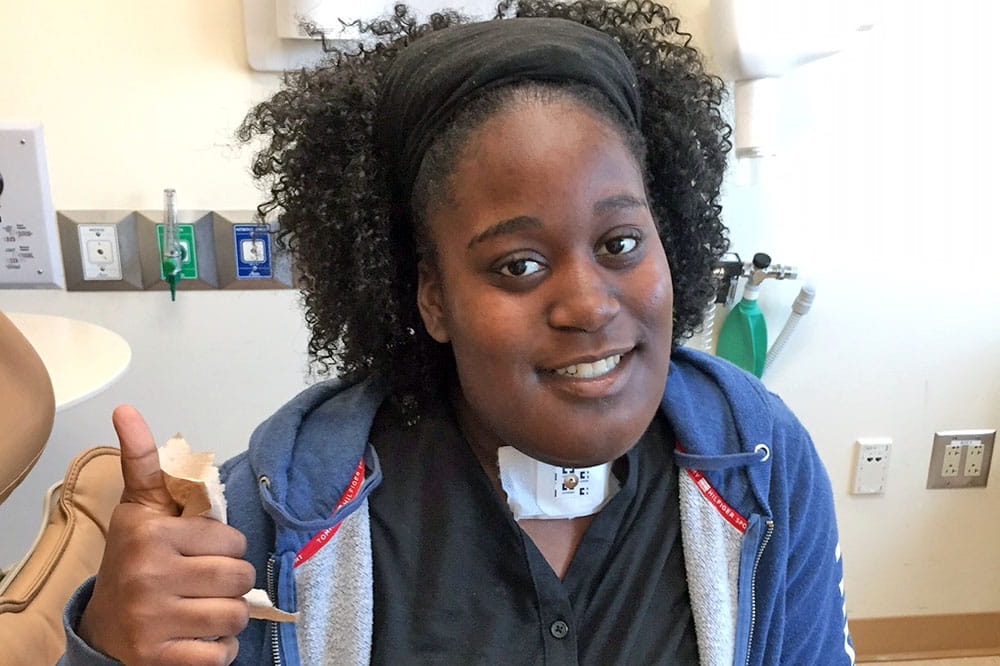 Arionna McKnight, at age 15, already knows she wants to be a CIA agent. Her dream is to travel the world on undercover missions, work with the president and keep the nation safe. But before she's old enough to achieve these lofty aspirations, she needs to be just be a normal kid, attending football games, school dances and college. And dating.
So, imagine being a ninth grader with a tumor growing out of your jaw. It's growing so aggressively that it's changing the shape of your face and making it difficult to eat, talk or have fun with your friends. Let's face it, in today's era of endless selfies, Instagram and Snapchat, putting your best face forward seems more important than ever.
That's what Arionna was dealing with. Diagnosed with an ameloblastoma, she would require an arduous surgical procedure that could leave her without teeth for six to 12 months, undergoing surgery after surgery.
Thankfully, MUSC had something significantly better in store for her.
Baber Khatib, M.D., D.D.S., an oral and maxillofacial surgeon, examined Arionna and determined she was a candidate for a cutting-edge procedure called "Jaw in a Day" that just weeks before, he had introduced in South Carolina. This surgery is the most comprehensive restoration of the jaw and teeth ever been performed in the state, and Khatib is the only surgeon in S.C. trained in head and neck surgery, microvascular reconstructive surgery and dentistry, making him uniquely qualified to plan and execute such a technically challenging operation. In fact, the closest program that has performed the mandibular surgery is the University of Alabama, and only a handful of other centers throughout the United States are even able to offer it.
Khatib explained that for patients, the ability to chew, communicate and maintain social interactions is so critically related to a person's teeth that even missing a front tooth can be a source of great angst. These types of visual changes are a constant and painful reminder of how the person looks to others and can lead to self-esteem and confidence issues.
"Now imagine having been diagnosed with an aggressive tumor of your jaw that necessitates resection of your jaw and most of your teeth," he said. "One quickly asks, 'How will I chew? What will I look like? Will I be disfigured?'"
These were questions Arionna and her family naturally had, and Khatib was able to allay their fears. She would undergo a removal of her jaw thorough a process called a radical mandibulectomy that entails using part of the patient's fibula — or calf bone — to replace the affected jaw. But instead of multiple reconstructive procedures that typically could take a year and a half to complete, Arionna would have her confidence and beautiful smile back in one day.
The procedure
Using the latest innovations and technologies and meticulous computer surgical planning, Khatib outlines how he'll remove the tumor, while allowing for the most aesthetically pleasing reconstruction, shaping the fibula specifically to her face and bite. The digital plan is then custom 3D printed into cutting guides, plates, hardware and finally a prosthesis that replaces the missing teeth and gums. 
At this point, radical mandibulectomy patients are taken to the operating room. That's where Marty Steed, D.D.S., chairman of the Department of Oral and Maxillofacial Surgery, or Michael Lecholop, D.M.D., Oral and Maxillofacial Surgery Program director, removes the jaw tumor, tissue and teeth, using the custom mandible cutting guides.
At the same time, Khatib dissects out part of the fibula and shapes it into a jawbone. He places dental implants into the leg bone while the bone is still inside the leg, receiving blood. Custom prosthetic teeth are then placed by Khatib on the implants after prosthodontist Mark Ludlow, D.M.D., adjusts and polishes them. The entire construct is taken up to the face, vessels are sutured under the microscope, and at the end of the case, the patient wakes up looking very similar to how they looked before the tumor started growing.

While the surgery can take up to 12 hours, a potential 18-month wait is decreased to one day in the all-in-one procedure.
Khatib describes the surgery as revolutionary. "By immediately implanting the dental prosthesis, the need for multiple surgeries is eliminated. It allows for complete dental reconstruction months before traditional treatment options."  
Dean of the James B. Edwards College of Dental Medicine, Sarandeep Huja, D.D.S., Ph.D., is focused on continuing to increase innovation and technological advances in dental education and patient care. He is delighted to have recruited Khatib, adding a highly specialized surgeon to the faculty and enabling the college to offer this groundbreaking surgical technique to patients throughout the state and region.
"Dr. Khatib's 'Jaw in a Day' surgery is a substantial addition to the innovation that occurs at our college. We are proud to be one of the few centers in the country to offer this procedure. The skill set and knowledge Dr. Khatib has brought to the University will help us continue to pave the way in Oral and Maxillofacial Surgery."
Youngest Patient
Khatib operated on Arionna on March 1, and the Charleston freshman is doing well — progressing, he said, right on schedule. It was his second such surgery at MUSC. The first was Feb. 22 on a 17-year-old patient. Both are eating food, although Arionna is still on soft food, and she is already walking.
Arionna has the distinction of being the youngest patient ever to have had this procedure on her mandible. Hers was a significantly larger resection than the first MUSC Health patient since it involved two sections of her jaw. In fact, Khatib built Arionna an entirely new chin in a specialized procedure called double barreling.
Prior to coming to MUSC last August, Khatib had performed five such procedures at the Head and Neck Institute and Providence Cancer Center in Portland, Oregon, where he completed fellowships in craniomaxillofacial trauma and reconstructive surgery and also head and neck oncologic and microvascular reconstructive surgery, working with the pioneers in the field.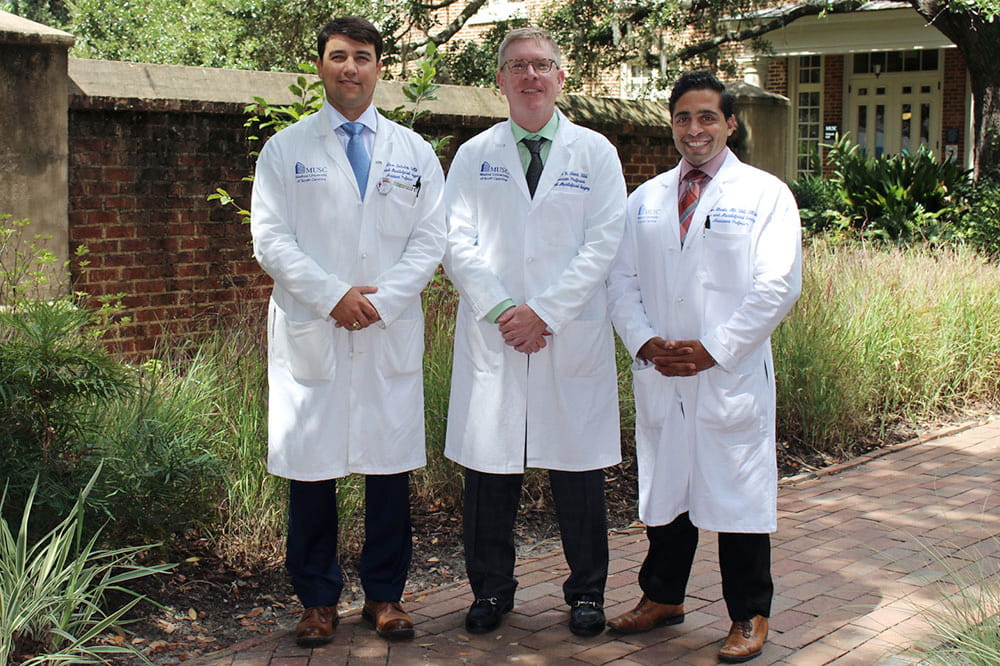 The tumor Arionna had typically occurs between the ages of 10 and 30, and when caught by dentists and oral surgeons can be treated successfully. Tumors of the mandible are usually benign but can be cancerous. Ameloblastomas are extremely aggressive and locally destructive, and even though they are usually not malignant, they have a high recurrence rate if not caught early and managed appropriately, Khatib said.
In addition to patients suffering with ameloblastomas, like the first two MUSC patients, or other tumors of the jaw, the Jaw in a Day procedure is also beneficial for patients of all ages who have suffered trauma, gunshot wounds to the face, medicine-related deterioration or who previously had jaw reconstruction or other benign pathologies.
The Old Approach
Advances in microvascular reconstructive surgery have revolutionized surgeons' ability to correct certain defects of the jaw. The traditional approach to jaw reconstruction delayed dental implant placement by at least six months after the bone was placed. Then patients would still need to go back to the operating room for a debulking surgery, implant uncovering, possible gum lowering surgery and, finally, impressions before fabrication of a prosthesis for the replacement of teeth — a process that could take up to 1.5 years before a patient could have teeth.
Trained in both medicine and dentistry prior to his fellowships, Khatib is among a select few surgeons who possess the unique skill sets and knowledge that allow for such an intricate procedure, because the procedure involves a combined knowledge of head and neck microvascular surgery, dentistry and medicine. Now that MUSC specialists have done two successful Jaw in a Day procedures, the department is receiving referrals from in and out of state for the procedure.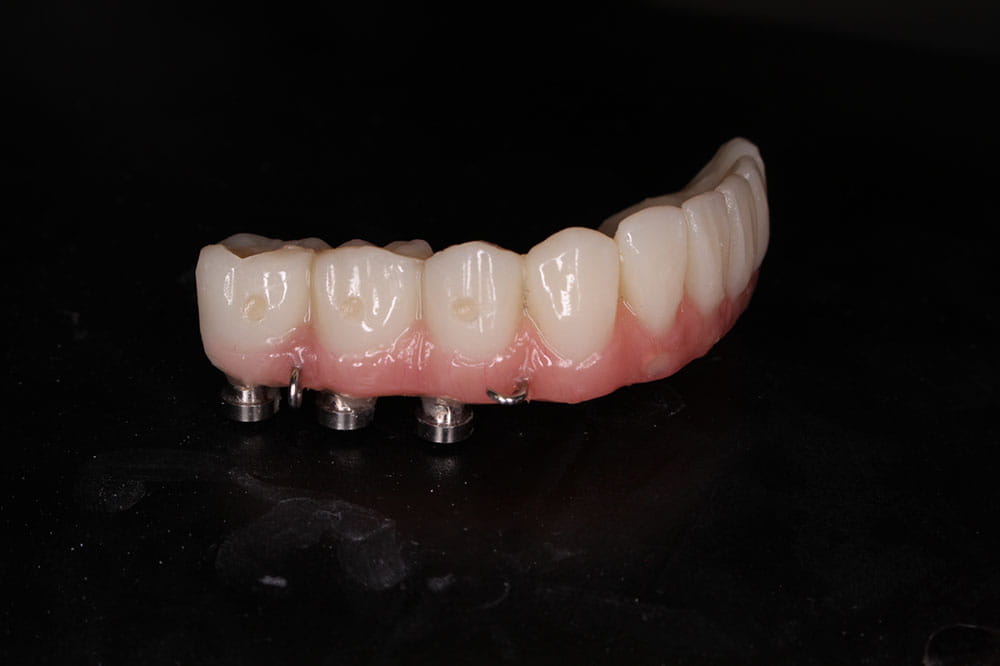 Arionna and her family are thrilled with her outcome. Twelve days out, she returned to MUSC for a visit with Khatib. She's made amazing progress, and he's pleased. She hugged the staff and tears were plentiful all around.
"Arionna is a very special young lady. She's going to make a wonderful CIA agent. She's determined, bright and kind. And now, she looks and feels like herself again."
The two have bonded through this rough ordeal. Khatib promised to take her out for pizza as soon as she heals and can eat normally again. She can't wait. 
She feels like he's given her her life and future back.
"Dr. K. is amazing," she said. I especially love his sense of humor and his patience. I'm so happy he is my doctor."
To refer a person who could benefit from this procedure or for more information, contact Khatib at khatib@musc.edu.
Suggest a Story
Have an idea for MUSC Catalyst News? Contact our editorial team and let us know.
About the Author