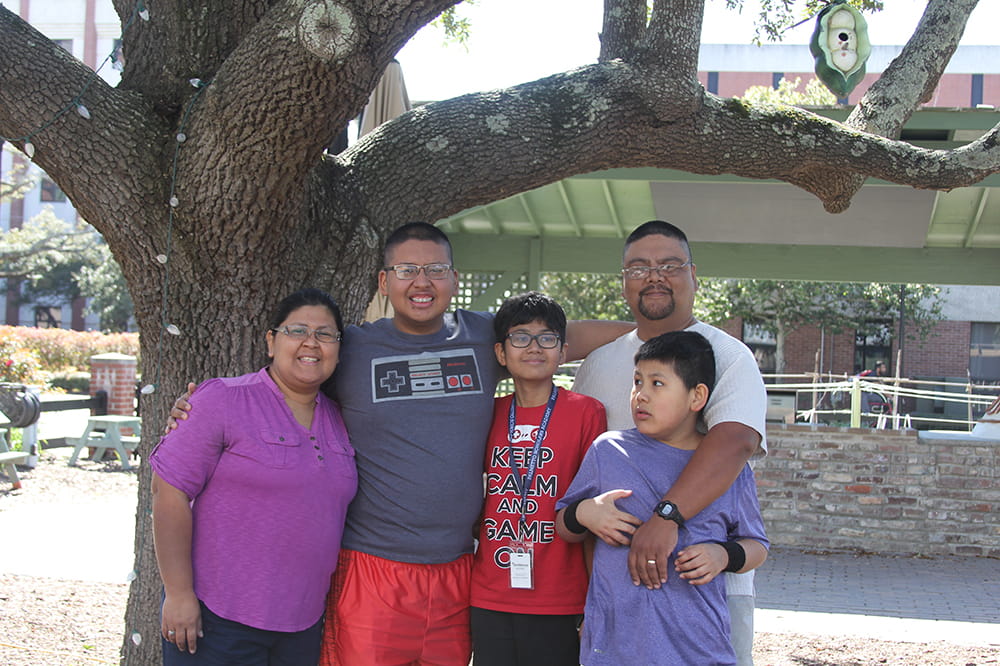 When a child is first diagnosed with autism, parents often wonder what they can expect the future to look like. There's no simple answer, because the umbrella term "autism spectrum disorder" carries such a wide range of potential outcomes. 
"We're coming to see that there's not just one autism. There's probably many autisms," said Laura Carpenter, Ph.D., professor of pediatrics. "I think anyone who's ever met people with autism probably can recognize that – that people with autism are so different from each other."
The Mata family has firsthand experience with this wide range of outcomes. Three of their four children have been diagnosed with autism, yet each of their sons is as different from his brothers as any other group of siblings. 
Seeing how these differences have played out in their sons' autism was part of the motivation for the family to participate in the SPARK study. Miguel Mata said he and his wife, Vanessa, were curious about how the genetics behind autism influenced their sons' development.
Sponsored by the Simons Foundation, SPARK is a nationwide autism study that seeks to enroll 50,000 people with autism and their parents to build a genetic map of the disorder. For many years, researchers have tried to pin down what causes autism, with little success, said Carpenter, who's leading MUSC's participation in the study. 
"We haven't made as much progress as we hoped," she said. "We're coming to find that autism is so diverse and so heterogeneous, and there are so many pathways to autism, you need a very large sample in order to figure out all those pathways."
Thus, the goal to enroll 50,000 people. But that task was quite a bit bigger than researchers initially anticipated, so it will probably take six years, instead of the originally projected three years, to complete enrollment. 
"We're coming to find that autism is so diverse and so heterogeneous, and there are so many pathways to autism, you need a very large sample in order to figure out all those pathways."

 

Dr. Laura Carpenter
Participation is easy enough: Individuals just need to give a one-time saliva sample. In return, they'll receive a $50 Amazon gift card and ongoing updates from the Simons Foundation about their genetics as well as general topics of concern for many with autism like problems with eating, sleeping, the transition to adulthood, post-secondary education and more. 
There are probably more than 150 genes that contribute to autism, Carpenter said. The hope is that gathering information about such a large group of people will help researchers identify which of those genes, in which particular environments, might lead to autism. Once those different paths are mapped out, scientists can then work on personalized treatments specific to each type of autism. 
Although parents Miguel and Vanessa don't have specific answers as to why Marcos, 21; Macario, 14; and Mauricio, 11, have autism, they both have family members who have been diagnosed with autism or who they think would have been diagnosed if they were children today. 
They said parenting children with autism has forced them to grow and adapt. 
"For me personally, I'm not a very patient person. I really never have been. But to work with our boys, I've really got to dig deep to demonstrate some real patience. Without the experience of raising our kids, who knows if that would have even happened," Miguel said. 
Marcos, the eldest, was diagnosed when he was 7 years old. Neither he nor his brother Macario spoke until they were 4 years old, Vanessa said. Today, Macario is the most verbal of the three. Mauricio is nonverbal, but that doesn't mean he's noncommunicative. Vanessa and Miguel have learned to observe him closely and interpret his facial expressions, sounds and gestures. "We're pretty sensitive," Miguel said. "There are tones they use in their voices."
Marcos holds down a job at The Galley, the cafeteria at the Naval Weapons Station, where he cleans and washes dishes. He also enjoys playing video games and reading comic books. 
Macario, like many teens, likes to stay in his room on his iPad. He also recently made his big-screen debut as "Cowboy Kid" who bumps into "Halloween" boogeyman Michael Myers while trick-or-treating.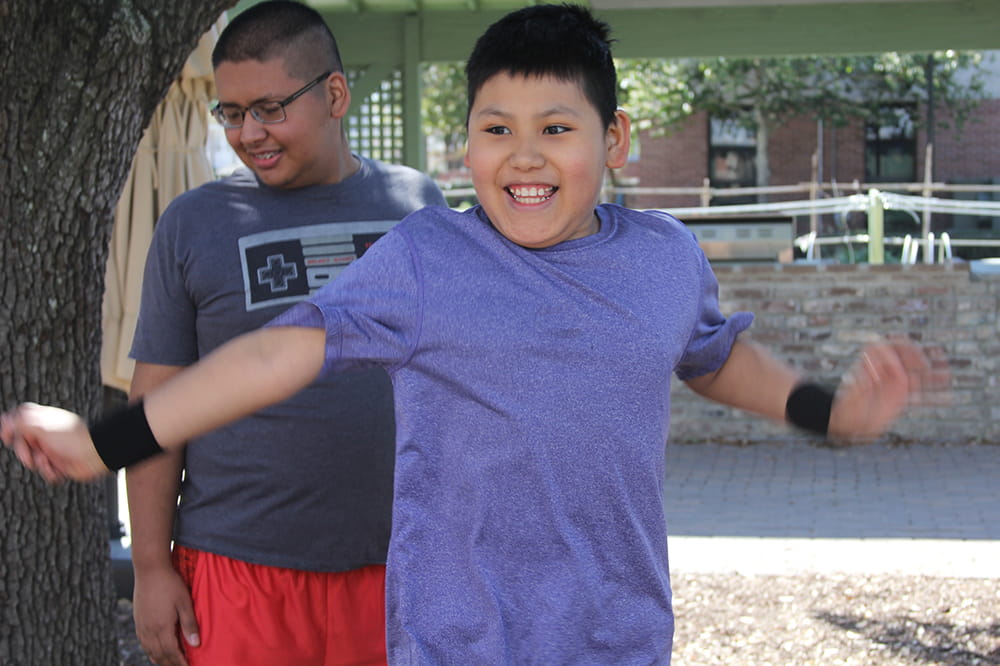 All three boys play baseball with the Charleston Miracle League.
The family lived across the United States and overseas while Miguel served in the U.S. Air Force. He's since retired, but the family decided to stay in Charleston, rather than returning to their home state of Texas, because the younger boys are in good school situations. 
The Matas said they're comfortable with the idea that the boys might always live with them. 
"Macario could be independent. The likelihood of that happening is pretty good. Marcos will probably be staying with us forever, unless he decides he wants to be independent, and we could start working toward that," Miguel said. Mauricio will always have to live with family, Miguel said.
For other parents of children with autism or disabilities, Miguel stressed the importance of keeping good records. It's something that Vanessa excels at, he said, and those records have saved the day more than once. 
One such example came quickly to mind. When the family first moved to South Carolina, Macario had a negative incident at school. The school principal seemed to want to attribute his meltdown to being spoiled rather than to his autism. Vanessa was called to the school, and she showed up with a binder filled with his records, including his Individualized Education Program plan that spelled out how physical contact was to be handled. As school officials described the incident to her, it was clear they hadn't followed the plan, Miguel said. Vanessa pulled out a copy and asked if anyone had read it. "That shut everything down," Miguel said. 
He urged parents to do their homework and be involved. "Parents have to learn how to be advocates for their kids," he said. 
Vanessa said she'd like the general public to be more understanding of people with autism. 
"Don't stare. When they're out with family and they're upset or having a meltdown, it's not because they're spoiled," she said. 
"Don't stare. When they're out with family and they're upset or having a meltdown, it's not because they're spoiled. ...I just want others to know, they're not meant to be secluded from everybody."

 

Vanessa Mata

 
Children with autism are just like any other children – if they're having a bad moment or a bad day, they're going to act out, she said, and their parents are just trying to do their best to deal with the situation. 
"I just want others to know, they're not meant to be secluded from everybody. I was told to my face, I should have left my kids at home," Vanessa said, referring to an incident that occurred at a baseball game in Texas. Vanessa refuses to isolate her boys. They have as much right to enjoy an afternoon at the ballpark as anyone else, she said. 
While the Matas go about their lives, their genetic contributions are helping researchers piece together the mystery of autism. Besides the main genetic study, Carpenter said there are about 20 substudies underway that use the data collected through SPARK. 
To join the study or learn more, contact Candace Van Wade at 843-876-8504 or SPARKautism@musc.edu.
Suggest a Story
Have an idea for MUSC Catalyst News? Contact our editorial team and let us know.