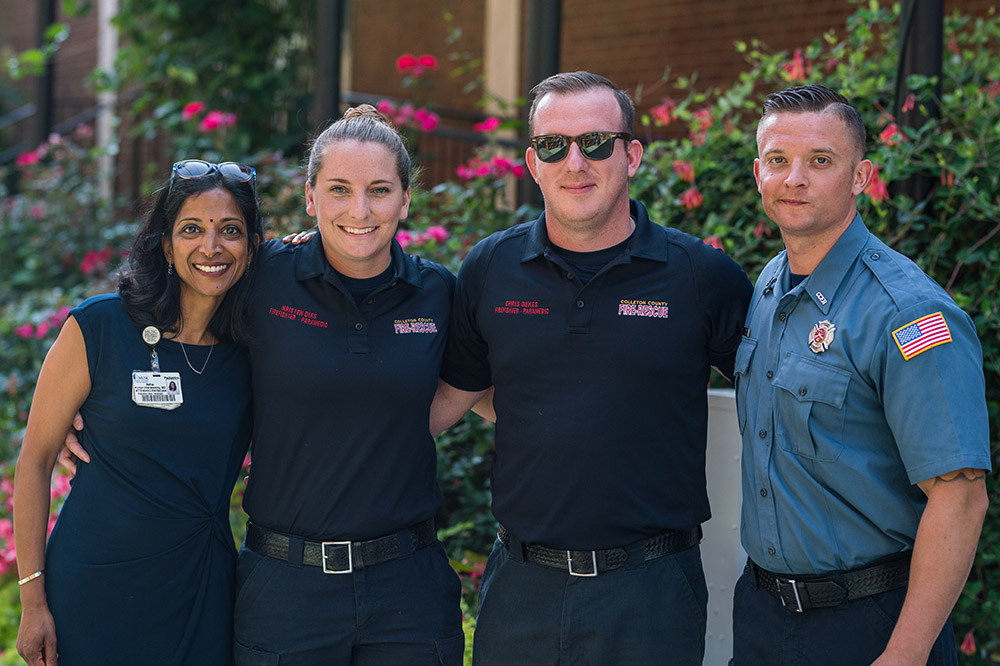 A call goes out to 911. 
Something terrible has happened.

Someone's life is changed forever.

Chaos is on its way to the Emergency Department. By the time it arrives, it will be controlled chaos, but out in the field – in the dark, in the rain, on lonely highways or in frantic homes – first responders must bring a measure of order and calm to the situation. Emergency medical services technicians and paramedics assess and reassure patients and provide the initial medical care to give people the best chance of making it to the hospital alive.
On May 24, MUSC recognized first responders from across the region who have handled exceptionally difficult or unusual cases as well as those who have gone above and beyond to educate the community about injury prevention.
Organizers said they hope the ceremony becomes an annual event to acknowledge everything that EMS providers do.

David French, M.D., works in the University Hospital Emergency Department and also serves as MUSC's director of prehospital medicine and medical director for Charleston County Emergency Medical Services. He began his career as a paramedic, and he said that EMS work becomes part of a person's identity, despite the difficulties of the job.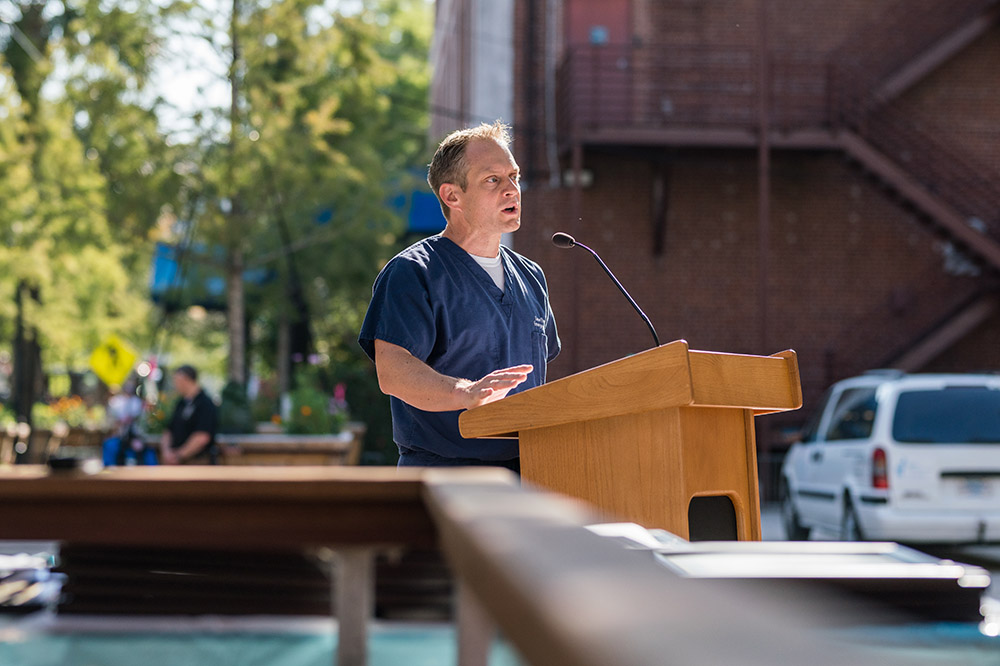 "EMS is a tough job. I know that's not a surprise to a lot of the folks sitting here, but it's long hours, stressful and even dangerous situations, and we don't always hear about how our efforts impact our patients or the community. And," he added, "we may not always get the respect we deserve, even from physicians."

Asha Kumar-Veeraswamy, M.D., who works in the MUSC Children's Hospital Emergency Department, highlighted the work of one particular paramedic who jumped into a tough situation on his night off.

Christopher Dukes of Colleton County Fire-Rescue has been a firefighter for nine years and cross-trained as a paramedic for 18 months. He was returning home from dinner with his mother in Summerville when his phone alerted him that his colleagues were responding to a car wreck on the very road he was traveling on.

When he arrived at the scene, he stopped to see if he could help. His co-workers Kristen Dias and Sam Potts, also firefighter-paramedics, were in the back of an ambulance doing compressions on a child who wasn't breathing and didn't have a pulse. They had already inserted a line into the child's bone marrow, a technique used when it's difficult to access blood vessels for an IV line, such as in a traumatic situation.

Dukes was able to get an airway, and the child had a pulse by the time the ambulance left for the long trip to MUSC.

"We just remained hopeful the entire time," Dias said.

When the crew arrived at the Emergency Department, Kumar-Veeraswamy was taken aback by Dukes' appearance.

"The first thing that struck me was his attire: T-shirt, shorts, slippers. Not the usual uniform of an EMT or paramedic," she said. "He didn't care what he looked like, though. He quickly and efficiently stated the history, physical and what he and his team had done for this child."

When she talked to him again later, she recognized his voice as the one who had radioed in details of the incoming case to the doctors and nurses waiting in the Emergency Department.

"His report was exactly what we look for on our side – and I don't know if you guys realize how much we actually rely on the reports you give us. This report he gave was clear, concise, precise and without any editorial comment," she said.

Kumar-Veeraswamy praised Dukes for his work that night.

"He exemplified the finest qualities of an EMT and quite honestly of humanity – selflessness, loyalty, courage and hope," she said.

Dukes, Dias and Potts each received an MUSC Children's Health challenge coin for their work on that case.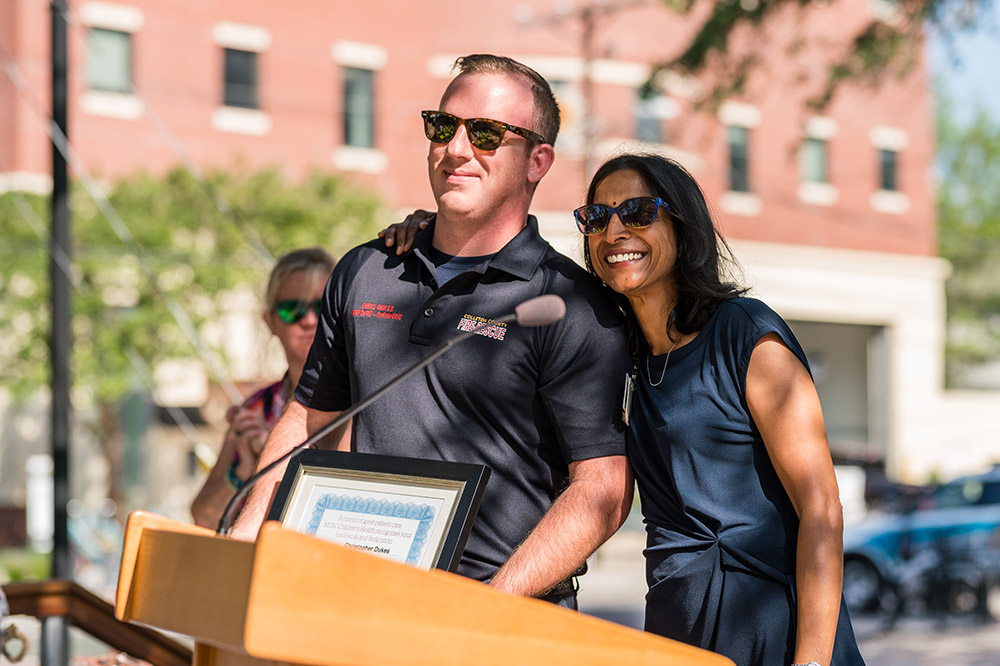 Hope is an important quality for an EMT to maintain, particularly in a state that recorded the highest number of traffic deaths per 100 million vehicle miles in 2017. Traffic deaths in South Carolina are above the national average on a per capita basis, too: In 2017, there were approximately 20 traffic deaths per 100,000 people in South Carolina compared to just over 11 traffic deaths per 100,000 people across the United States.

Already in 2019, more than 390 people have died on South Carolina's roads.

One EMS crew was able to keep one patient from being one of those statistics, and an MUSC Health doctor got to see its work firsthand. Lacey MenkinSmith, M.D., works in the University Hospital Emergency Department but was driving by the scene of a crash and stopped to see if she could help.

"Seth Croutcher had already done an exceptional job," she said of the first responder who placed a tourniquet on the patient's leg. Charleston County EMS Station 4 crew soon arrived, and Liz Rowell and Alexa Ritchie continued the medical care that Croutcher had started and brought the patient to MUSC.

"This patient had multiple critical traumatic injuries and is now alive and recovering in the surgical ICU, which would never have been possible without the work of the EMS crew. I am so impressed with and grateful for the professional competent response of our EMS that I was able to witness firsthand," MenkinSmith wrote in her letter nominating the team for recognition.
Other EMS workers recognized:
Theodore Dusenberry, Berkeley County EMS
Dusenberry was nominated for his work responding to two incidents involving children in rural Berkeley County. Dusenberry was on the first ambulance to arrive at one incident, and he brought calm to the scene, triaged patients and provided care.

"Paramedic Dusenbery provided the absolute best care possible for the best chance possible for the patient to arrive alive at the hospital," the nomination stated.


Charlene Holbird, Charleston County EMS; Jacob Stout, North Charleston Fire Department; Andrew Woodall, North Charleston Fire Department
The group responded to a pregnancy call at a North Charleston home. When they arrived, they found the mother had given birth. Although they faced a language barrier with the patient, they were able to begin resuscitating the newborn and assist the mother, who fainted as she was being led to her bed. Madeline Gehrig, R.N., pediatric trauma program manager at MUSC Children's Health, noted that the baby is doing well in the neonatal intensive care unit.


Aaron Peters, North Charleston Fire Department; David Swindler, North Charleston Fire Department; Derek Drews, Charleston County EMS; James Schwartz, Charleston County EMS
These crews responded to a report of a bicycle accident, but when they arrived, they discovered a young girl entangled in her bike with the brake handle impaled in her leg, according to Dean Hatchell, medical coordinator for the North Charleston Fire Department who nominated the group. They had to work together to figure out how to dismantle the bike before they could bring the girl to the hospital with the brake handle still in her leg.

"Responders were faced with an unusual injury and worked together to keep the child and her family calm and informed of each step in the process," Gehrig read from the nomination.

And, she added, "they did an amazing job, and the patient did very well."


Harold Wilkin, Charleston County EMS; Cade Halle, Charleston County EMS; Eric Shirey, Berkeley County EMS; Charles Hajek, Berkeley County EMS; Richard Kroninger, Charleston County EMS; Jennifer Reed, Charleston County EMS; Larry Hall, Awendaw Fire Department; Kye Allen, Awendaw Fire Department; Jeffery Watson, Awendaw Fire Department; Jeff Reiser, Awendaw Fire Department; Taylor Campbell, Awendaw Fire Department
Three departments from two counties came together to work a crash in rural Charleston County. MUSC Children's Health Emergency Department's Morgan Sims, M.D.; Carolyn Williams, R.N.; and the rest of the pediatric emergency department staff nominated the group.

"Although there were multiple agencies from multiple counties present, they were able to effectively manage a chaotic scene and assess and triage a multitude of patients, determining which patients were more critically injured needing to be transported first," the nomination stated.

"Their communication was great – it helped us to prepare effectively and be ready to take care of all the patients to the best of our abilities," Sims wrote. "It is our honor to recognize the amazing efforts of all the prehospital providers who were involved in the care of these patients that night."


Carl Fehr, division chief, Charleston County EMS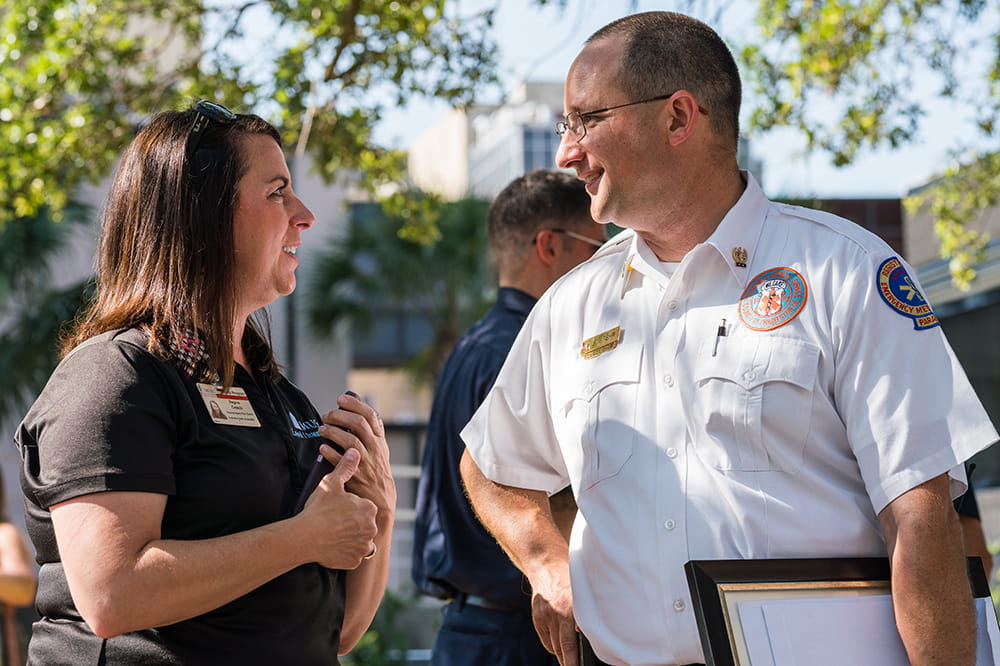 Fehr was recognized for his tireless work to educate the public. He is president of the High School Injury Prevention Coalition and has participated in DUI prevention programs, child safety seat rodeos, community CPR training and Stop the Bleed programs. Last year, he organized 179 public relations and community education events that resulted in 3,398 people getting trained in hands-only CPR and automated external defibrillator use and 2,424 trained in bleeding control. 
Burned Children's Fund nominees
Ryan Howard, R.N., MUSC Children's Health pediatric burn program manager and manager of the Burned Children's Fund, recognized several people who have worked and volunteered on behalf of burn patients.

"It's not very often that you hear 'thank you,' so thank you for your dedication and for your service," she said.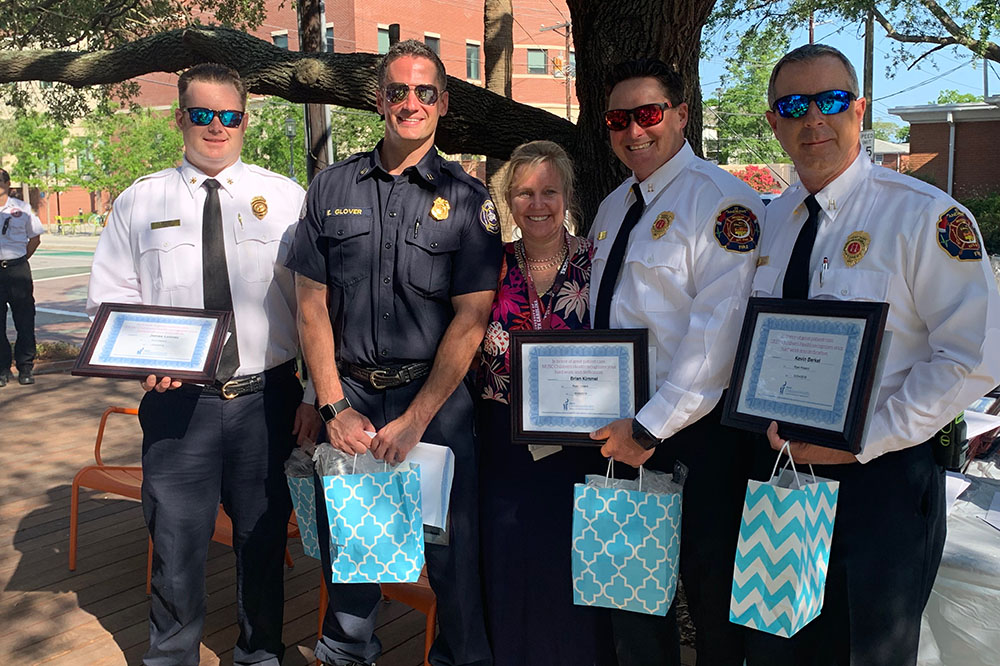 Kevin Berkel, St. Andrews Fire Department
Berkel is the fire marshal for St. Andrews Fire Department. He was nominated for going above and beyond for Safe Kids and the Lowcountry Child Passenger Safety Program. He also teaches children about burn and fire prevention.

"He doesn't back down from a challenge and is very passionate, upbeat, devoted to his career and making a difference in our community," the nomination stated.


Eric Glover, Charleston Fire Department
Glover is a counselor at Camp "Can" Do, a summer camp on Seabrook Island for children with burn injuries. He also volunteers for community events to teach families and children about fire safety and burn prevention. He leads the FAN Club, which pairs a firefighter with a burned child to help the child return to school and educate classmates.

"He does this with dignity and pride – all while having fun and mentoring these patients and families," the nomination stated.


Brian Kimmel, St. Andrews Fire Department
Kimmel works at Camp "Can" Do and is also involved in planning for the camp and the Burned Children's Fund. He volunteers his time at community events to promote burn and fire prevention. He exhibits drive, heart and motivation, Howard said in the nomination.


Jason Looney, St. Andrews Fire Department
Looney is involved with planning Camp "Can" Do and volunteers at the camp. He represented the camp at the International Association of Burn Camps weeklong workshop along with a local camper. He's also performed more mundane tasks, taking it upon himself to reorganize Camp "Can" Do's trailers and replace all the flooring. He is also helping to lead a new partnership between the Burned Children's Fund and JetBlue.


Josh Smith, City of Charleston Fire Department
Deputy fire marshal Smith handles the maintenance and coordination for city trailers that collect aluminum can donations to help fund Camp "Can" Do. By strategically deciding where to place the trailers, he was able to increase donations so that Charleston Fire Department placed second overall in donations in the state. He also volunteers at community events.
Suggest a Story
Have an idea for MUSC Catalyst News? Contact our editorial team and let us know.