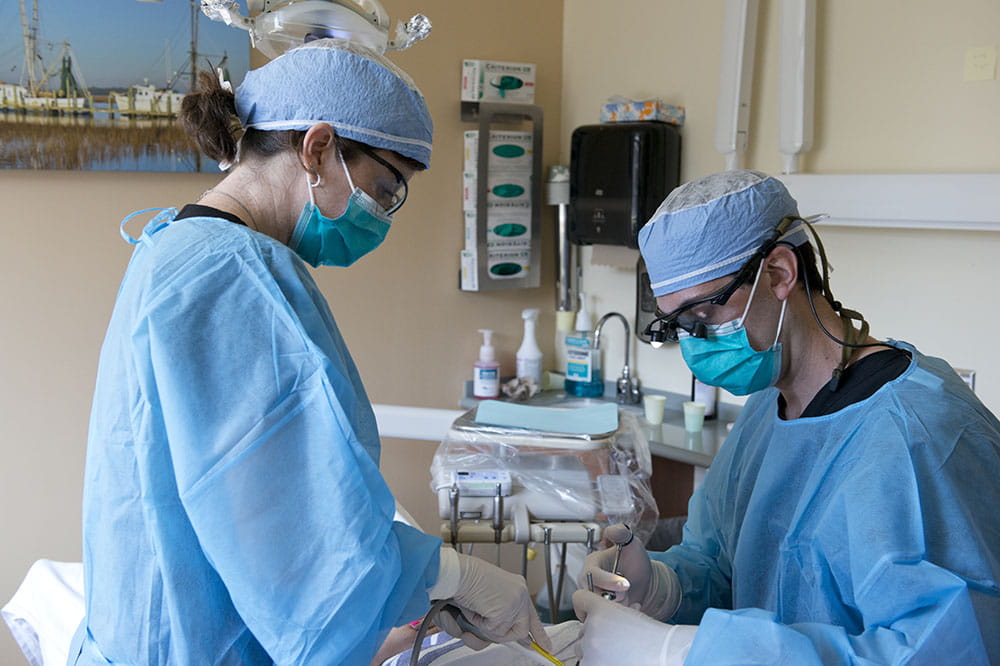 Dentists and leaders at the Medical University of South Carolina are trying to make sure no patient leaves with a prescription for addiction.
"Our prescribing habits here have changed drastically over the last eight or nine years," says dental surgeon and assistant professor M. Kinon Lecholop. "We don't write nearly as many opioids as we used to."
Lecholop, a craniofacial and facial trauma reconstruction surgeon and program director in the Oral and Maxillofacial Surgery Department, is part of a national panel that created dental opioid guidelines for the Center for Opioid Research and Education. They emphasize using over-the-counter pain relievers when possible.
"You have to control pain," Lecholop says. "Opioids can help do that, and they aren't going away. But I think there are smarter ways to help a lot of patients who really don't need them."
For example, if you need a tooth pulled but it's not a complicated situation requiring a surgeon, acetaminophen and/or ibuprofen should do the trick, Lecholop says.
When there's more pain involved, if opioids are prescribed, the number should be limited. He typically doesn't prescribe more than eight to 10 tablets of oxycodone or hydrocodone for any procedure.
"Anybody who needs more than that needs to come back in to me to be evaluated to see what's going on. Eight tablets will get you about two days if you're taking them every four hours, depending on if it's oxycodone or hydrocodone," he says.
"In the past we used to write oxycodone, which is a stronger medication than hydrocodone, but now it seems like we're writing pretty much all hydrocodone now. We're realizing that patients do just fine with hydrocodone rather than oxycodone. I think we're getting good results with that."
The goal is to ease pain without leaving people dependent on the drugs.
Opioid overdoses kill more than 130 people a day in the United States. Dentists are second only to family doctors when it comes to prescribing opioids. And a recent study found American dentists were much more likely than their English counterparts to recommend opioids for their patients. The researchers suggested this is because England has national guidelines for treating dental pain that discourage the use of opioids.
But American dentists are now well aware that despite what drug companies once claimed, opioids are addictive. A teenager whose wisdom teeth are removed doesn't need weeks' worth of painkillers. And even short-term use can lead to addiction if not carefully monitored. It can also become a gateway to illegal opioids such as heroin and fentanyl.
The dean of the MUSC College of Dental Medicine, orthodontist Sarandeep Huja, says he and his colleagues take their responsibility very seriously. "We use data to show our patients the serious side effects of prolonged opioid use and the effectiveness of multiple non-opioid medications in moderate to severe pain management."
That includes long-acting local anesthetics that can ease pain after surgery. "We will continue to be actively involved in understanding the opioid crisis and the management of the fallout from the crisis at every level."
One of those levels involves students and residents at MUSC. Residents are new dentists who want to specialize and need more training. Lecholop says they're all learning how to prescribe painkillers responsibly.
"The most important thing for us to do at MUSC is teach our students smart prescribing habits, how to monitor for abuse and how to counsel your patients on why you're only writing X amount when maybe they've had someone else write a lot more. I think it comes down to educating the prescriber and educating the patient of the risks of opioid use."
Suggest a Story
Have an idea for MUSC Catalyst News? Contact our editorial team and let us know.
About the Author