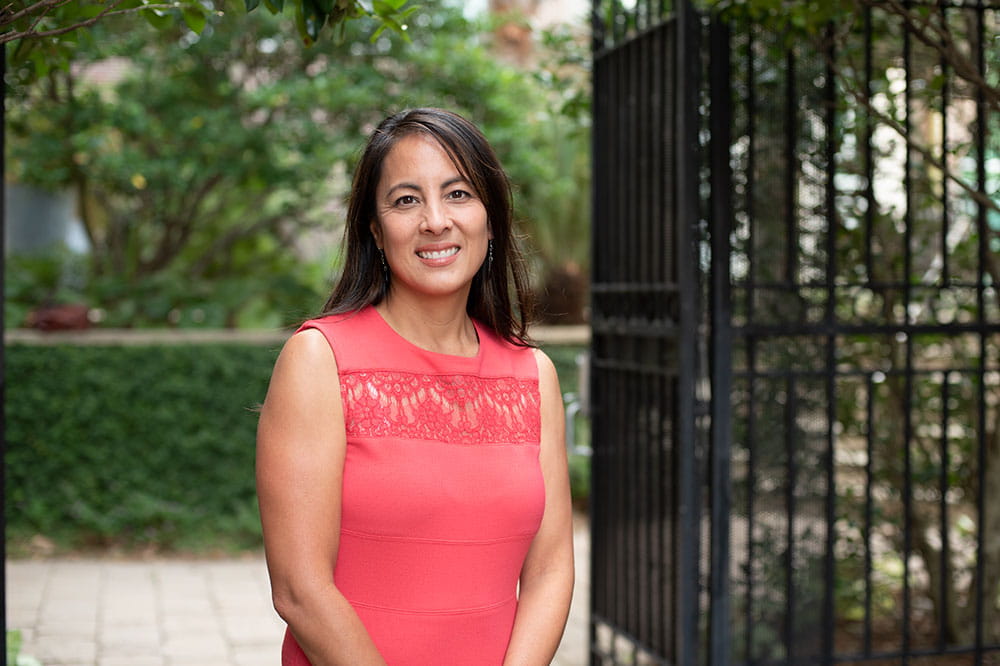 Clinical trials are crucial for the future of cancer care and, ultimately, finding a cure.
To remain National Cancer Institute designated, cancer centers must meet certain clinical trial participant enrollment. The Medical University of South Carolina's Hollings Cancer Center, the only NCI-designated cancer center in the state, saw a decline in accruals. A merit-based recognition program, with data administered by Tricia Bentz, administrative director of Hollings' Clinical Trials Office (CTO), helped boost them.
As a result of the successful program at Hollings Cancer Center, Bentz presented her abstract at the 11th annual Association of American Cancer Institutes Clinical Research Innovation meeting in Chicago July 9 through 11. Out of 66 submissions, the abstract was one of three selected by the AACI CRI steering committee and education committee.
When she began her leadership role at Hollings, Bentz inherited a relatively new pilot program that recognized physicians for their time and efforts participating in clinical research. The physicians' departments were given credits if the doctors achieved specific goals. For example, the departments were given financial support if doctors enrolled people in clinical trials, developed new trials or participated in committees important to the cancer center. This allowed departments to support the doctors' efforts in these important endeavors, without depending solely on funds generated from seeing and treating patients.
Clinical trials are vital in determining if new treatments are safe and effective, according to the National Cancer Institute. They also help to find new ways to detect and treat cancer and improve a patient's quality of life.
Bentz talks about her abstract and how this innovative program has affected Hollings Cancer Center.
Why is the topic of your project important?
Accrual to clinical trials, development and publication of investigator-initiated trials and staffing of important clinical research scientific and safety committees rely on clinical investigator engagement. However, in today's health care environment, the priority of achieving targets related to relative value units (RVUs) adds difficulty for physicians to participate in non-RVU generating clinical research activities.
Each physician at MUSC has RVU targets to hit for Medicare reimbursement purposes so that a department can gain revenue for their services and pay salaries. When the physician is expected to hit high RVU targets, it leaves that physician with less time to do non-RVU generating activities, like clinical research. Departments have to retain and pay their physicians, but we need to figure out how to help departments carve out time to allow our physicians to do other things that support research and education missions.
The recognition program was an innovative and practical way for giving back to the physicians' departments so that they could secure the time needed to do more clinical trial activity.
How does your project affect Hollings Cancer Center?
Over the two years, we saw substantial increases in clinical trials accrual. A 71% increase in treatment trial accrual was seen in the first year alone. By studying the administration of the program and measuring the positive impact on clinical research, we now have metrics and evidence of a successful business model. This information can be very helpful for future decision-making and effective management of our resources.
Time is money – if you need to secure a clinician's time to support the research mission, you must be practical. My hopes are that our physicians who best contribute to the clinical research mission earn the resources and support to continue their progress and sustain ongoing clinical trial growth at Hollings Cancer Center.
What does the selection of your abstract mean to you?
It's an honor to be selected and represent MUSC and Hollings Cancer Center. The project is due to the hard work of many. I collaborated with Hollings doctors Carolyn Britten, M.D., associate director of clinical science, and David Marshall, M.D., Hollings' CTO medical director, and Donna Berrier, associate director of administration at Hollings, to review the metrics of the program. The AACI CRI is an organization that I have been a part of for over 10 years. The group is made up of other NCI-designated Cancer Centers and their clinical trial offices, and I have always enjoyed the networking opportunities and ability to learn what other centers are doing. Having this abstract selected highlights the fact that many cancer centers may be facing similar issues in securing physician time and efforts for clinical research.
Link to abstract: https://www.aaci-cancer.org/Files/Admin/CRI/2019-Abstract-Submission-27.pdf