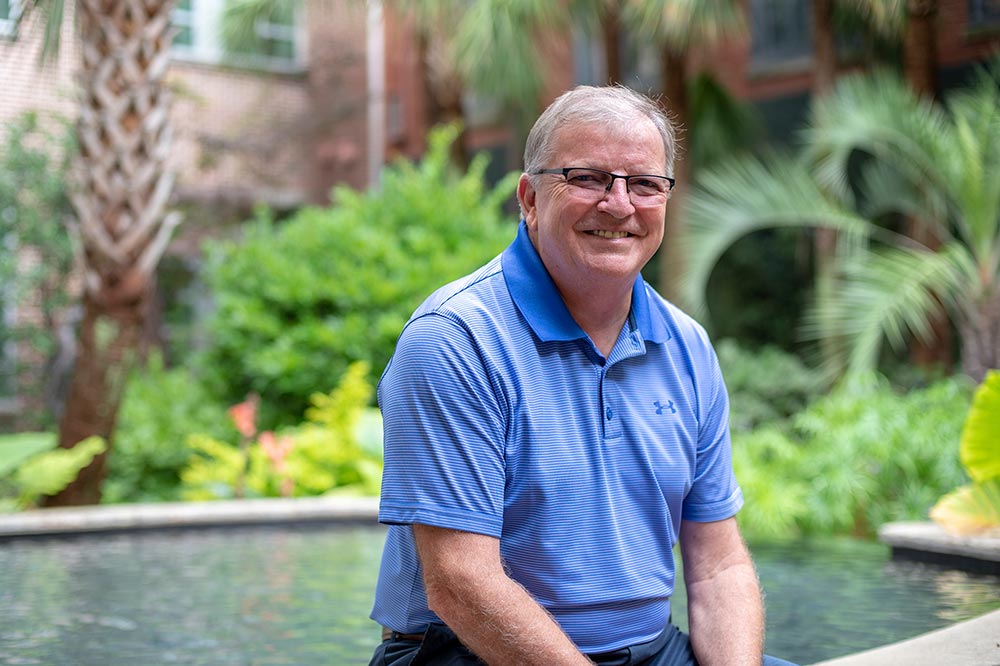 Innovative treatments change lives. Ken Drachman should know – a clinical trial changed his.   
Days before his son's wedding in Antigua Aug. 2016, Drachman didn't feel right. His general practitioner, Walter Brzezinski, M.D., a primary care physician at MUSC Health, discovered Drachman's prostate-specific antigen (PSA) levels had skyrocketed to a 12.
PSA levels over a 4 are considered abnormal and are usually found in men with prostate cancer, according to the National Cancer Institute. Drachman's level was at only 3 the year before.
Concerned about the results, Brzezinski sent Drachman to Stephen Savage, M.D., MUSC Health director of minimally invasive urology and Hollings Cancer Center researcher.
"What was so cool about all this to begin with is how almost seamless it was to go to Brzezinski, and then just be able to go downstairs to Dr. Savage," Drachman says. "That's what was so impressive to me about MUSC, and then Hollings Cancer Center still being a part of this whole network."
Savage recommended that Drachman get a biopsy. He knew Drachman wouldn't want to be thinking about the results at the wedding, so he scheduled it for after.
"Going down to our son's wedding, that was kind of bittersweet," Drachman says. "It was weighing on my mind the whole time."
After returning home from the wedding with his wife Annette, who serves as MUSC's general counsel, Savage did the biopsy. It revealed the answer Drachman had been fearing ­– he had prostate cancer.
The Drachmans researched their options, talked to friends and family who had been through prostate cancer and questioned if they should seek treatment elsewhere. But, after a meeting with Savage, they knew Hollings Cancer Center was where Drachman needed to be.
"It gave us a lot of comfort to be here, at home in an environment that I feel very comfortable in and have confidence in," Annette says.
Drachman and his doctors opted for a robotic prostatectomy, performed by Savage in Nov. 2016. During the surgery, Savage detected something that made Drachman's cancer less routine – it wasn't contained. It extended through the capsule of the prostate, leaving it at a higher risk of reoccurrence.
That's when Savage recommended that Drachman consider enrolling in a clinical study led by Michael Lilly, M.D., a Hollings Cancer Center oncologist and researcher.
"PROSTVAC is a poxvirus-based vaccine which is designed to stimulate the body's immune system to attack cells that make PSA," Lilly says. "The goal of the clinical trial is to see if patients receiving PROSTVAC, starting right after surgery, have a longer period of remission or disease control than matched patients who didn't receive PROSTVAC."
The low-toxicity vaccine currently is used in several ongoing studies, including the trial at the Hollings Cancer Center, and other studies at the National Cancer Institute, where it was developed.  The vaccine is licensed by Bavarian Nordic Immunotherapeutics, a company based in Denmark.
If Drachman could help himself while also helping others, the decision was a no brainer. Having seen medical studies positively affect his family in the past, Drachman said yes without hesitation.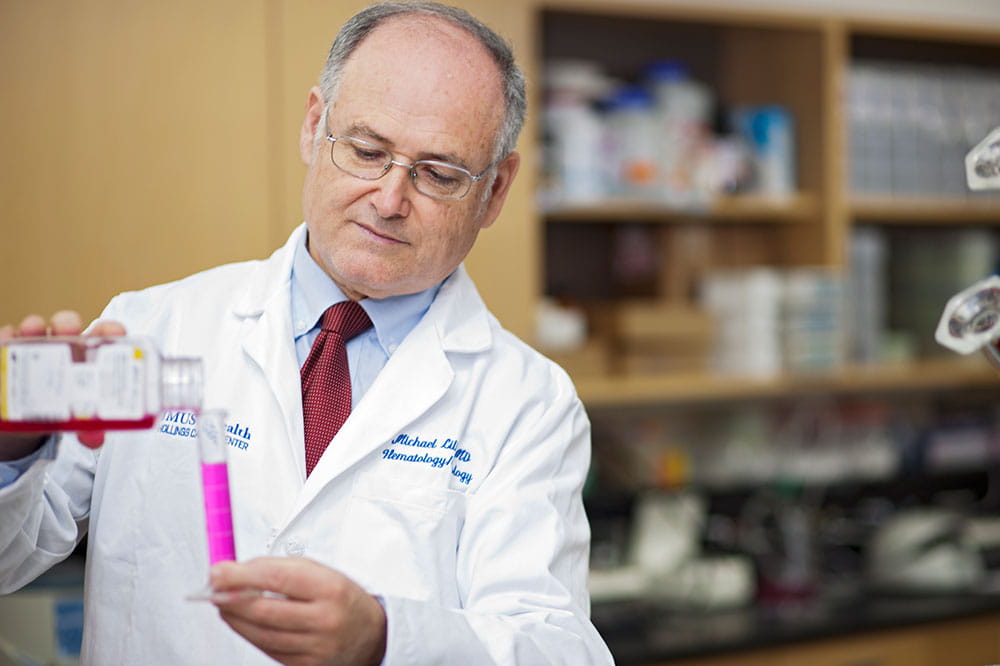 Drachman's mother, Sydney Cook, had rheumatic fever as a young girl and participated in a 1960s study for valve replacement. She became the first person in Utah to receive a mechanical heart valve, Drachman says, a medical advancement that allowed her to live well into 70s before she passed away from uterine cancer. Drachman's mother's legacy came full circle, leaving him to be the next to receive medically innovative treatment.  
"Mr. Drachman takes full advantage of the opportunities provided to him through MUSC and the Hollings Cancer Center," Savage says. "He participates in care, while allowing us to do everything we can to help him."
Required to start the program within 120 days of surgery, Drachman almost missed his window to start when he came down with bronchitis. He received the initial injection, a modified smallpox virus, in Feb. 2017, just making the deadline.
"The nurse that came in, it was like kind of being in a space movie," Drachman says. "She came in with hazmat clothes on and everything."
Only two nurses in the Charleston area are trained on the study's protocol and have the authority to administer injections. Over the course of six months, the nurses injected Drachman with seven shots of different vaccines to train the body to reject PSA.
Since July 2016, PROSTVAC has enrolled 25 patients, each participating for two years. Drachman has completed the program.
"The happy report is my PSA has not gotten over .01," Drachman says. "We're very fortunate to have all of this here in Charleston."
Clinical trials are expensive and time consuming, but without them, treatment would never improve, Lilly says. He is grateful for enthusiastic patients like Drachman who are willing to participate in studies to improve the future of cancer care.
Annette is equally grateful for MUSC and Hollings Cancer Center doctors for their passion to improve cancer treatment and feels fortunate to work for MUSC.
"I think that one of the things that I'm really proud of MUSC for is its willingness to look at new treatments, to look at innovative approaches to patient care," Annette says. "The study for us was a real opportunity for hope and an opportunity for that he wouldn't have to deal with this again in his lifetime."
While the reason patients come to Hollings is undesirable, Hollings Cancer Center is a special place to be, Drachman says. The common denominator of cancer brings everyone together.
"It's just an attitude around here that I really like," Drachman says. "Everybody's friendly and everybody's compassionate, realizing why people are here, and what they're going through."
Drachman's family feels fortunate to have Hollings Cancer Center in their hometown of Charleston and to call MUSC family. During Drachman's battle, he was touched by the support he received from MUSC doctors and employees, family, friends and his employer, South State Bank.
Reflecting on his time at Hollings, Drachman had one final sentiment for his MUSC and Hollings doctors: "Thank you for caring."
Hollings Horizons Magazine
This story appears in the fall 2019 issue of Hollings Horizons, a publication of MUSC Hollings Cancer Center designed to show readers how we are committed to being at the forefront of cancer research.
About the Author
Keywords: Cancer