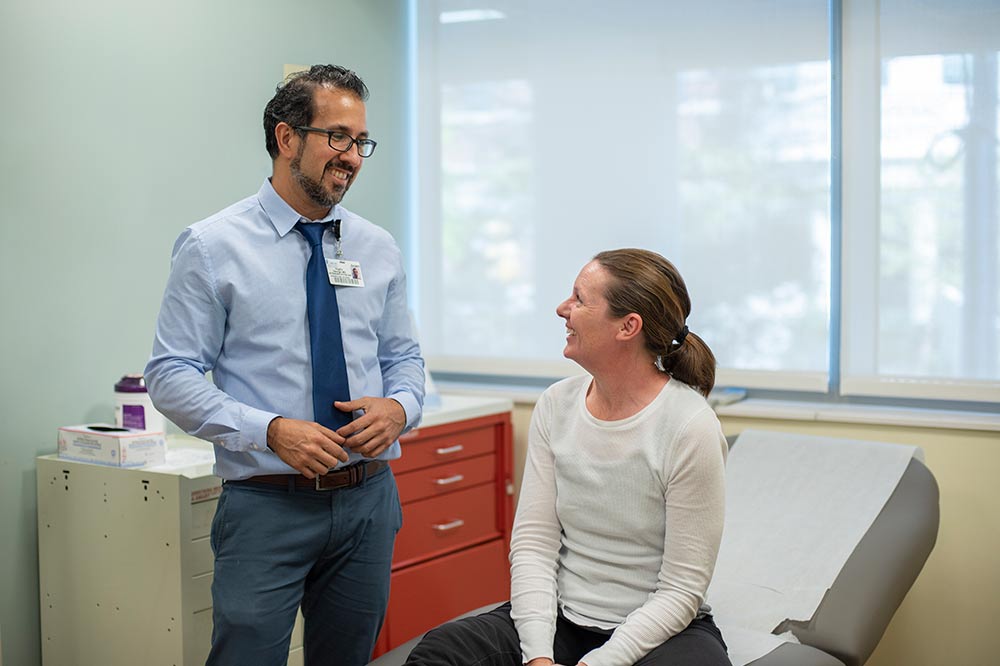 Bernadette Mouzon knows a thing or two about challenge and determination. As a special education teacher at an elementary school on Hilton Head Island, she finds her job demanding and above all, rewarding. This strength came in handy when she was diagnosed with cancer and received a unique chemotherapy treatment.
It all started about a year ago. Mouzon started to feel "kind of off" when she was on a trip visiting family. "I felt that there was something hugely wrong going on inside of me. I had a very full feeling, and my belly had popped out a touch."
Mouzon went to an urgent care center and was referred to MUSC Health. She was diagnosed with pseudomyxoma peritonei, a rare disease characterized by the accumulation of mucus-secreting tumor cells in the abdominal cavity. Mouzon was overwhelmed by the news. "I just think the whole thing was just so shocking and unbelievable. It still is to me. I mean… I was not feeling sick, had no pain or headaches. Nothing."
She found out that her treatment would include surgery and HIPEC, a unique type of chemotherapy. HIPEC, which stands for hypothermic intraperitoneal chemotherapy, is a highly concentrated heated chemotherapy treatment delivered directly to the abdominal cavity during surgery. HIPEC is often used to treat select patients with cancers of the peritoneal cavity or abdomen.
Mouzon learned about HIPEC from colon and rectal surgeon Virgilio George, M.D., at MUSC Hollings Cancer Center. During the procedure, a heated sterile chemotherapy solution is continuously circulated into the abdominal cavity to target cancer cells. George says the combination of the temperature and the chemotherapy allows the tumor cells to break and the chemotherapy to attack the cancerous cells.
George and Ramsay Camp, M.D., a surgical oncologist at Hollings Cancer Center, lead the multidisciplinary team that performs HIPEC for peritoneal surface malignancies at MUSC Health. Offering this procedure locally allows patients who were previously referred out of state to receive complete care close to home.
"Dr. Camp and I agreed," George says, "that to provide complete cancer care for our patients we needed to offer this treatment."
MUSC is one of the few locations in South Carolina to offer HIPEC. It requires highly specialized expertise and equipment; because of this, it is often performed in tertiary centers like MUSC. "It's a very complex procedure that requires a lot of team coordination and a lot of time for the surgeon and patient," he explains.
The process takes several hours. The surgeon first attempts to remove all of the tumors from the affected abdominal area. After all visible signs of the disease are removed, they use HIPEC to target and kill any cancer cells that remain. 
Camp says the treatment targets the microscopic disease that can't be removed surgically or can't be seen. "There are cancers that will not spread outside the abdomen, so it is really selected for those cancers that remain confined to the abdomen but have spread in a way that surgery alone is not effective."
At Hollings Cancer Center, some of the conditions that can be considered for treatment with HIPEC include:
Mesothelioma
Peritoneal carcinomatosis resulting from the following cancers, provided there are no extra-abdominal metastases:

Colon
Rectal
Gastric
Small bowel
Adenocarcinoma of the appendix     

Pseudomyxoma peritonei resulting from a mucus-producing tumor can be effectively treated with tumor removal and HIPEC.
HIPEC has several advantages compared to other chemotherapy modalities. It enables physicians to deliver higher, more concentrated doses of chemotherapy directly to cancer cells in the abdomen as opposed to traditional methods that are administered via the patient's bloodstream.
"So you are delivering right to the tumor, as opposed to an IV, where you rely on the blood to take it to the tumor, which may not have an established blood supply," Camp explains. "Traditional chemo through an IV has a hard time reaching peritoneal tumors. The advantage of treating at the time of surgery is that we use drugs that do not cross the blood barrier, so we can deliver high concentrations of chemotherapy safely."
It also reduces the rest of the body's exposure to chemotherapy and improves chemotherapy absorption. Since this chemotherapy technique is more targeted than traditional intravenous techniques, George says patients often have fewer side effects.
"It's a treatment that directly attacks the cancer cells where they are located, immediately." 
Peritoneal malignant mesothelioma had a very poor prognosis in the past, with median survival of nine to 14 months. "For diseases such as mesothelioma and appendiceal tumors, it is well established that the HIPEC treatment can prolong life from up to 20 to 30% for improving 10-year survival rates," he says.
Mouzon is appreciative of her care team at Hollings Cancer Center. "What would I have done if I wasn't here and if I didn't end up at MUSC, you know? My teams were phenomenal. I have to say I felt from the beginning 100% comfortable and confident that I was in the best hands anywhere."
Camp returns the praise. "I think she did phenomenal. We'll have to follow her long term, but the short term she did great."
According to the National Institutes of Health, a combination of tumor reducing surgery and HIPEC is often the most successful treatment and can achieve overall survival outcomes of up to 84% at five years. George says these types of tumors tend to come back but with this treatment and surgery, the tumors tend to come back less frequently or minimally over time.
For Mouzon, results have been positive. She was able to return home a few days after surgery and has returned to one of her true passions – yoga. Her advice to others is to focus on the good stuff.
"I really think that all the years of yoga really helped me through my whole experience at MUSC – just to keep calm and breathe."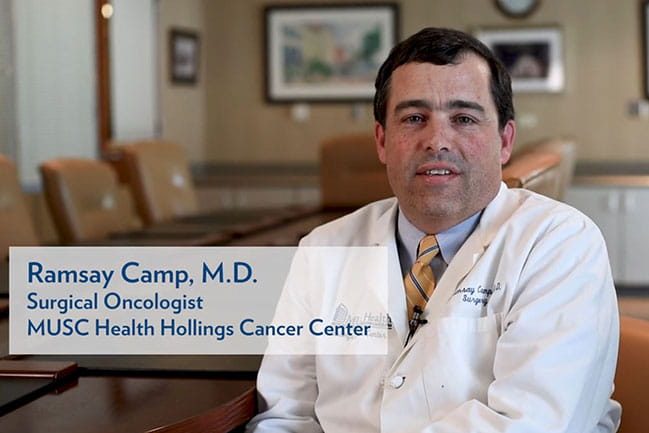 About HIPEC
Dr. Ramsay Camp gives a brief overview of HIPEC at MUSC Hollings Cancer Center.
About HIPEC
Dr. Ramsay Camp gives a brief overview of HIPEC at MUSC Hollings Cancer Center.
About the Author
Emma Vought

Keywords: Cancer