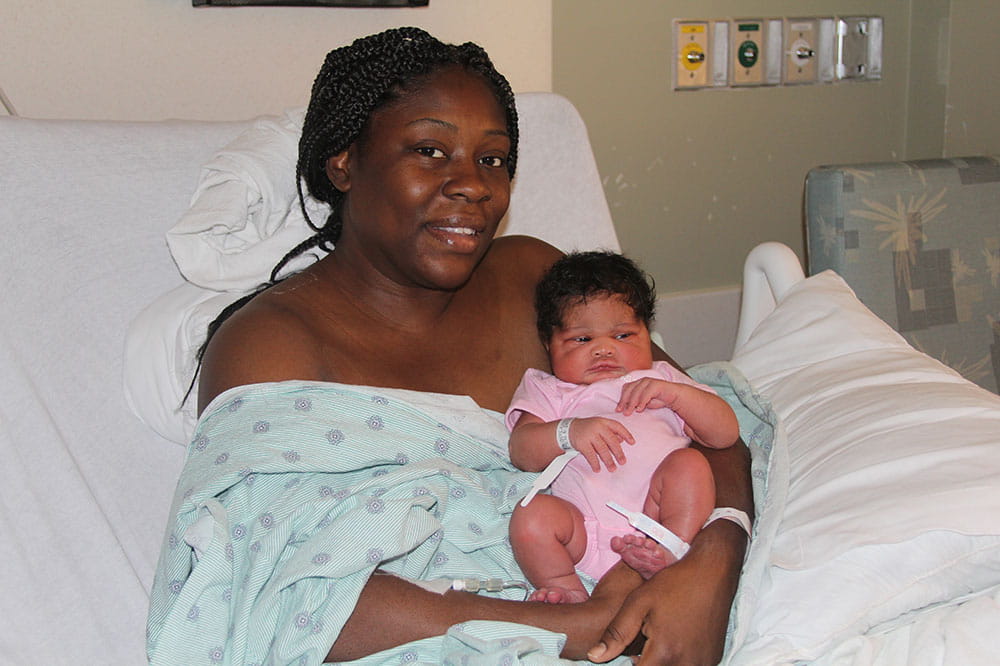 As Hurricane Dorian barreled toward the South Carolina coast — making a dramatic entrance to the Charleston Lowcountry — a young family struggled through high winds and driving rain to get to MUSC Health. The family was as anxious about this arrival as they were Dorian.
On Sept. 3, Kasonya Jones suspected that what she was feeling were contractions as she and her partner, Carlton Simpson, attended their scheduled doctor's appointment at MUSC Children's Health-Northwoods in North Charleston. Jones met certified nurse midwife Faye Leboeuf, who confirmed the couple's plan to preschedule their baby's induced birth on Saturday, Sept. 7. They knew the baby was in a breech position.
Just two days earlier, with projections showing Hurricane Dorian might make landfall in the Lowcountry, Gov. Henry McMaster had ordered a mandatory evacuation of coastal areas for the next day. As the contractions grew closer together, news of the approaching storm caused them great concern. 
At around 10:30 p.m. on Sept. 4, Jones' water broke just as outside conditions grew worse with intensifying wind and rain. Simpson made the decision to take a chance and drive downtown to MUSC Health. 
Their commute to downtown Charleston from their home in North Charleston would seem a long — but memorable —- journey According to the couple, they drove through threatening conditions and many obstacles along their route, all of which made their situation seem just short of miraculous. 
Both Charleston natives, Simpson recalled the devastation left by Hurricane Hugo to the Charleston area in September of 1989. He remembered flooded streets, downed trees and dangerous conditions. "I made the decision to drive Kasonya to MUSC Wednesday night," he explained. "I worried what would happen if she couldn't get the care she needed during the hurricane and afterward." 
Their route guided them down sections of Interstate 26, through West Ashley and downtown Charleston. The drive was stressful. Simpson has to cautiously maneuver the would-be obstacle course complete with road debris, live downed power lines and fallen tree limbs, not to mention driving rain and powerful wind gusts — all characteristic of an approaching category 3 hurricane.
With sections of several downtown Charleston streets already flooded, Simpson was successfully able to avoid certain areas around the Charleston Medical District that were quickly and dangerously rising due to heavy rain and the rising high tide. 
By 1:30 a.m., as the storm was lashing the Lowcountry, they had safely arrived at their destination and were quickly whisked away to Labor and Delivery, where staff attended to them immediately.
Upon examination, Jones was already 7 centimeters dilated, but the baby's head was up and positioned high in the uterus. The doctors and staff also worried about the possibility of shoulder dystocia —a condition in which one of the baby's shoulders can get stuck behind the mother's pelvic bone. 
After almost 12 hours of labor, Jones consented to a cesarean section, and at 12:02 a.m. on Sept. 6, she and Simpson welcomed their newborn daughter, Karlah Simpson. Both were ecstatic to share the news of Karlah's birth with family and friends, especially the couple's children — Karmen, 16, and Carson, 18 months old. 
"She's so beautiful — a perfect blessing," said Jones, looking down at her tiny daughter. "We're so happy that everything went well throughout this entire experience."
Suggest a Story
Have an idea for MUSC Catalyst News? Contact our editorial team and let us know.