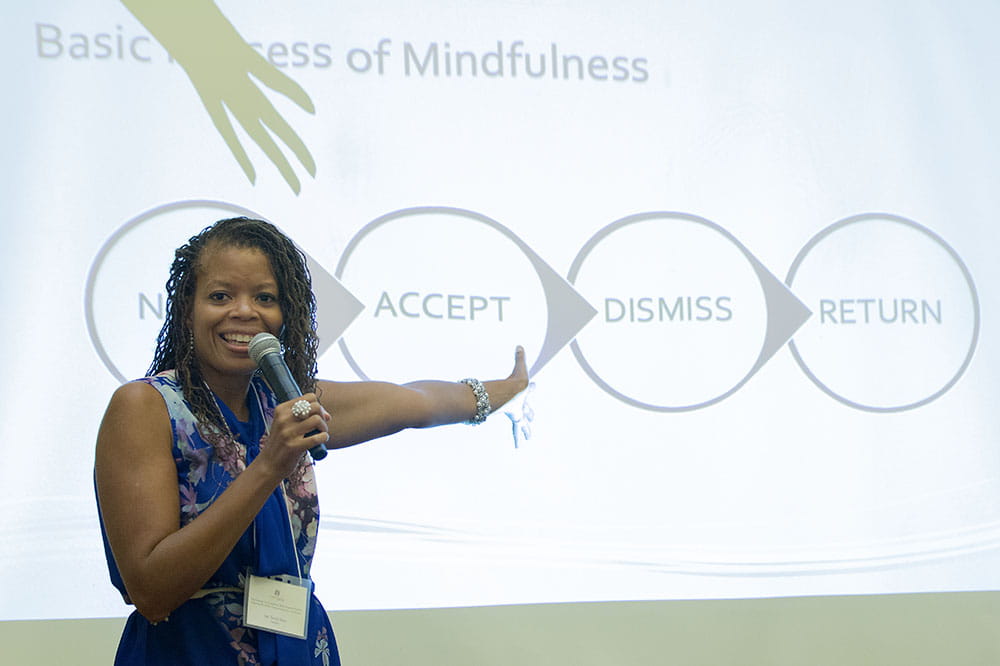 Less than two miles from the scene of the 2015 Emanuel African Methodist Episcopal Church massacre, mental health specialist Tenelle Jones stood before a group that included church members in a small conference room in a Charleston hotel.
"My niche is self-care," she said. "I'm here to highlight mindfulness 101, and there's a lot about it that's really very simple. I hope you're able to walk away with a new understanding of what mindfulness is and are able to do it all the time."
Jones' talk was part of an event called "Hope and healing following the Mother Emanuel Massacre." It was funded by a federal grant awarded after the massacre to help people affected by the murders of nine churchgoers during a Bible study session.
The National Crime Victims Research and Treatment Center (NCVC) within the Department of Psychiatry and Behavioral Sciences at the Medical University of South Carolina was one of the event's sponsors. So were the Mother Emanuel Empowerment Center, the South Carolina Department of Mental Health, the U.S. Department of Justice Office for Victims of Crime (OVC) and the U.S. Attorney's Office in the district of South Carolina.
MUSC has played a role in helping Emanuel survivors from the beginning. In 2016, it was awarded an anti-terrorism emergency assistance program grant to work with nine community agencies to offer ongoing help for victims.
Through that partnership, the Mother Emanuel Empowerment Center was developed at Mother Emanuel AME Church as a resiliency center. In 2017, through a different grant, the NCVC established the National Mass Violence and Victimization Resource Center with the U.S. Department of Justice to give people across the country information and resources to get ready for and deal with incidents of mass violence.
Some speakers at the hope and healing event, including Jones, work at MUSC. She's also a licensed marriage and family therapist at the Lowcountry Pastoral Counseling Center.
Her talk focused on directly helping people still suffering in the massacre's aftermath. "Mindfulness is not focusing on yesterday, not focusing on tomorrow but really learn how to be here in the present moment," she told her audience.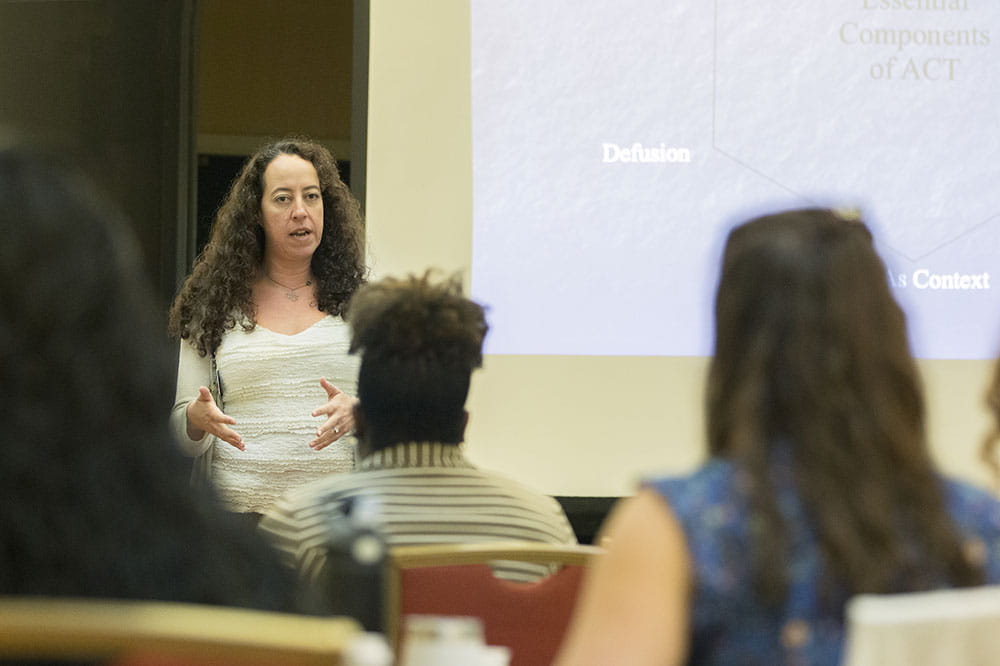 Other speakers from MUSC gave talks designed for mental health professionals. Their goal was to equip them to help not only people traumatized by the Charleston church massacre but also people affected by other violent incidents. Just this year, there have been multiple mass shootings, including murders in a Texas Walmart, a California garlic festival and an Illinois factory.
Alyssa Rheingold, director of clinical operations at the NCVC and a professor in the College of Medicine's Department of Psychiatry and Behavioral Sciences, gave a talk highlighting a type of treatment called acceptance and commitment therapy, or ACT.
"It's sort of a shift beyond cognitive behavioral therapy," Rheingold told an audience made up of mental health professionals. While CBT focuses helping people change their though patterns or behavior to improve the way they feel, ACT takes a different approach.
"lt helps us try to see thoughts for what they are. You don't have to change anything necessarily, but approach them in a different way. Have a different relationship with them."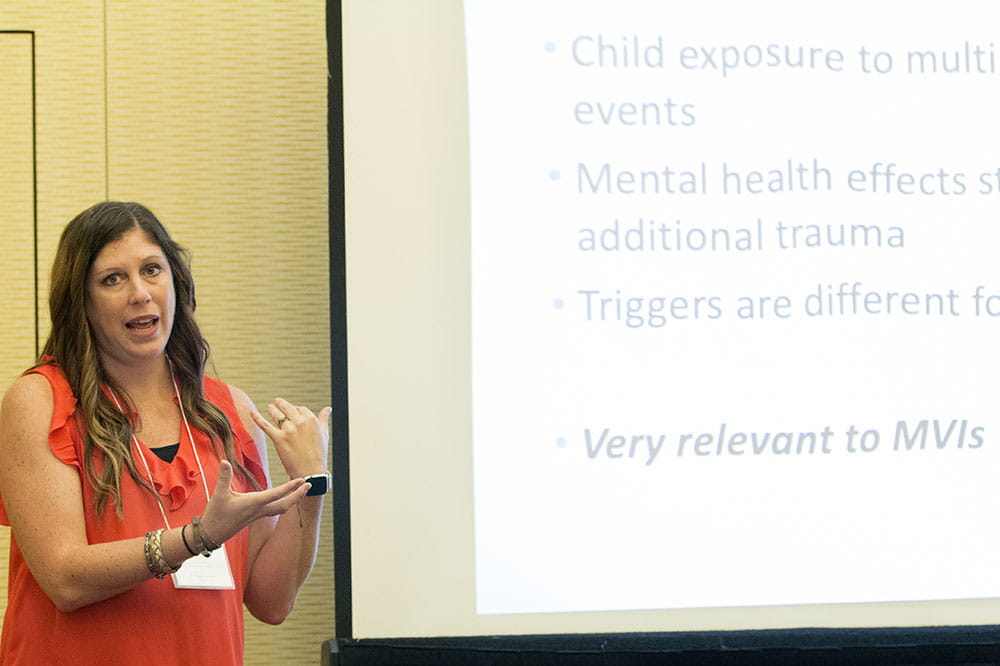 Angela Moreland, an assistant professor in the Department of Psychiatry and Behavioral Sciences and College of Medicine and part of the NCVC team, talked to her group about the impact of mass violence on children.
"A lot of times, we think kids are so different from us and have these different emotions. But in reality, they're feeling the same ways we feel going through this. They're little humans. The hard part is, they aren't able to handle their emotions maybe as well as we are."
There were also discussions about the role faith-based institutions can play in helping people recover from trauma and feel safe.
Dean Kilpatrick, a Distinguished University Professor in the Department of Psychiatry and Behavioral Sciences at MUSC and director of both the National Crime Victims Research and Treatment Center and the National Mass Violence and Victimization Resource Center, said the blend of psychology and religious faith made for an eclectic and effective event.
"It's something that everyone who's been through something like the church massacre or other mass violence events really has to do, which is to make some meaning of it and try to figure out some way to get beyond it. I found it very useful and helpful to see how religious perspectives and mental health perspectives and other perspectives are brought to bear in terms of helping people with that."
Suggest a Story
Have an idea for MUSC Catalyst News? Contact our editorial team and let us know.
About the Author