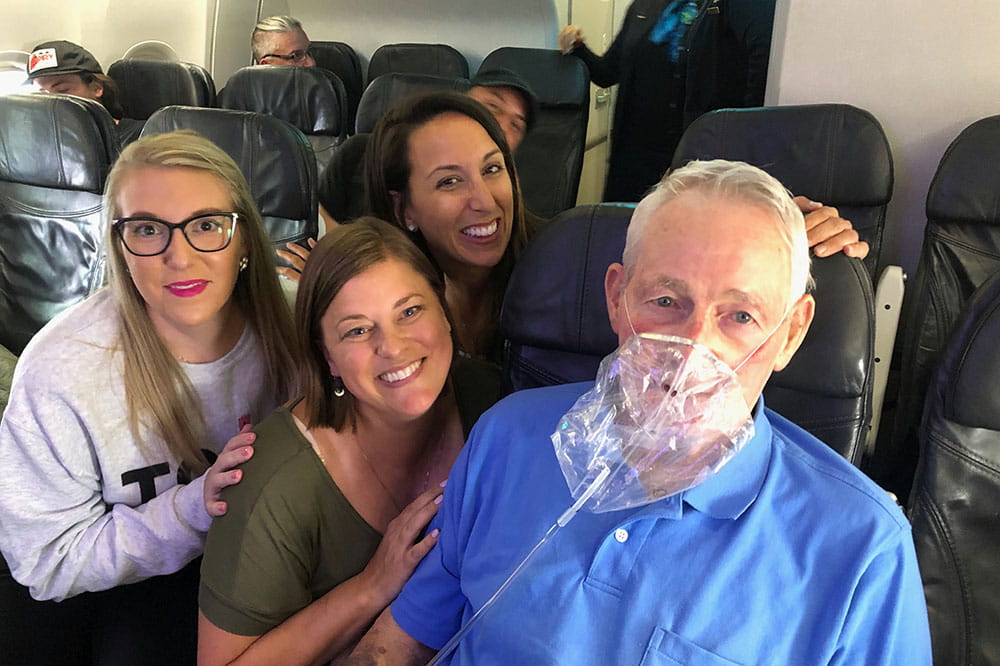 Jim Craft says there's no doubt that three MUSC Children's Health nurses saved his life during a flight from Charleston to Seattle. "They were three angels. They were all great — absolutely wonderful."
Craft, 82, was on the way to a family reunion when he lost consciousness and looked like he might be having a stroke. A call went out over the intercom asking any doctors on board to head to the back of the plane, where he was seated.
Kelly Carbone, Kimberly Hunadi Dickey and Michelle Liechty aren't doctors, but they do have a lot of experience with seriously ill patients. They're critical care nurses at MUSC Children's Health.
When they heard the call for help on the plane, Liechty says they stood up in unison. "We didn't even talk. We just walked back there as fast as we could."
When they got to Craft's row, they could see he was in bad shape. His face was distorted and he wasn't moving.
The nurses asked other passengers to help them get him out of his seat, which was in the middle of the row. "These large gentlemen just like, oomphed him up and out of the thing, and laid him down on the aisle of the airplane," Liechty says. "Everyone was doing everything they could to help. We were shouting orders at people left and right, and they didn't hesitate."
Passengers cleared out of nearby rows to give the nurses space to work. The flight attendants brought the plane's AED, an automated external defibrillator that all U.S. commercial planes are required to have. It can send a shock to get the heart's rhythm back to normal if needed.
Craft's pulse was initially in the 40s, Liechty says. "Ideally, it should be 60 to 110. Technically, he had a pulse, but he wasn't getting enough blood flow to his brain and he was still unconscious."
The nurses started CPR and asked if there was a way to talk to a doctor. Thanks to technology, there was. "The flight attendants handed me the headset to talk to a doctor on the ground. It's someone designated to communicate with in a medical in-flight crisis. I could hear the pilot, too. The doctor was giving me orders and I was repeating them, then telling Kim and Kelly," Liechty says.
"I turned around, and they already had an IV put in his hand and they were giving him fluids. We had a couple of the guys who were helping us hold the fluids up in the air so they'd get into him quicker."
Meanwhile, a nurse practitioner from Seattle joined the nurses' efforts to revive Craft. She had an Apple Watch equipped with a heart rate monitor. "It showed he was in a-fib," Liechty says. Atrial fibrillation is an irregular heartbeat that can lead to blood clots, stroke, heart failure and other serious health problems.
They also talked with Craft's sister, who was on the flight. She told them he has a history of a-fib and might not have taken his medication that morning. He'd also recently had a mini-stroke.
Fortunately, the nurses' efforts to revive Craft worked without needing the AED. They were thrilled to see him open his eyes about 20 minutes after he lost consciousness.
He couldn't speak at first, Liechty says. "I asked him a few questions. I asked him if he was scared, and he nodded yes."
The nurses could see he was looking for someone, and realized it was his sister. Once he saw her, he calmed down. The nurses continued to give him oxygen and IV fluids. About 10 minutes later, he was able to speak.
"He opened his eyes and looked up, and we were right over top of him. He said, 'Oh, three beautiful angels.' He's the sweetest guy," Liechty says.
Thanks to the nurses' quick work, the pilot did not have to divert the flight. They got Craft back into his seat and monitored him for the rest of the trip. When the plane landed, an emergency medical services team picked him up and took him to a hospital. He was cleared to go on to his family reunion.
The nurses got off the plane, too — stunned by what had happened and relieved by the outcome. "It's all a blur — it went so fast," Liechty says.
"After we got off the plane, the pilot caught up to us and said, 'I was just listening in awe.' I told him, 'We all work together. We're like each other's right and left hand. We know how to work together.' He said, 'I could tell that that was a fine-oiled machine.'"
Craft, now back home in Cope, South Carolina, doesn't remember much of what happened on the plane. But he does know one thing about the three nurses. "I owe them my life."
Suggest a Story
Have an idea for MUSC Catalyst News? Contact our editorial team and let us know.
About the Author