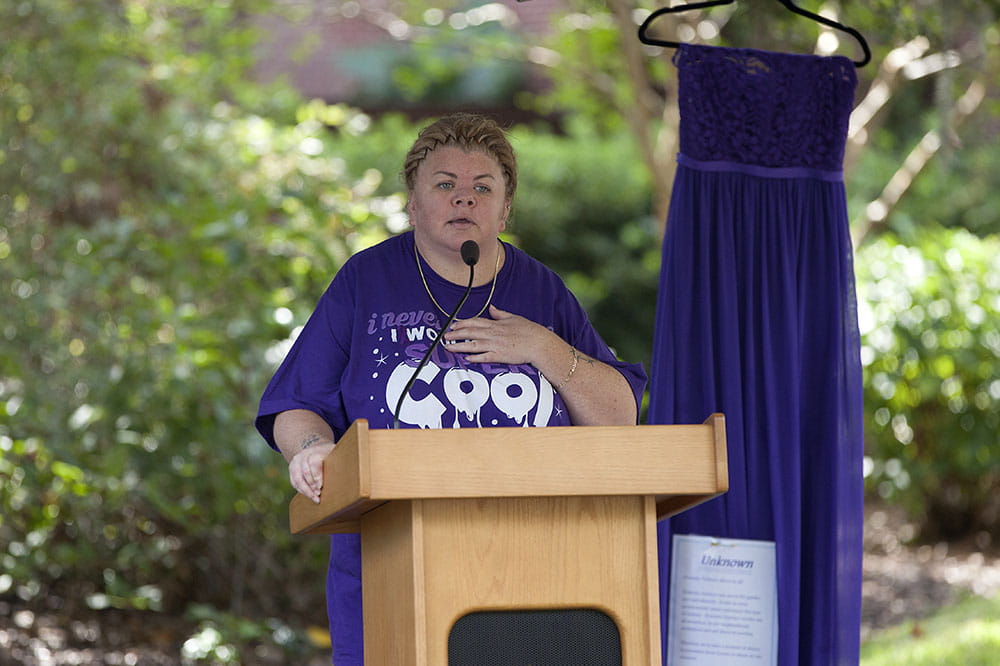 Lynn Reilly stands at a podium at the Medical University of South Carolina, an inexperienced public speaker whose passion for her subject outweighs her nervousness.
"I went to bed last night feeling OK about this," she tells the crowd at the Intimate Partner Violence Rally. "I had a speech, things written out. I woke up this morning and said, 'You know what? Just go with your heart.' It's my truth. And no one can tell it better than me."
Her story begins when she was 14 years old. She'd just moved to New York state and started going to a new school. "With that comes meeting people, making friends. I wanted to fit in, and there he was. We spent that school year just becoming friends. Getting to know each other. I was 14 and didn't really like boys then."
By the time summer came, she decided she liked that boy. They started dating and stayed together until their senior year, Reilly says. "We decided to remain friends, knowing we'd be married one day. We wanted to experience life and get that out of the way."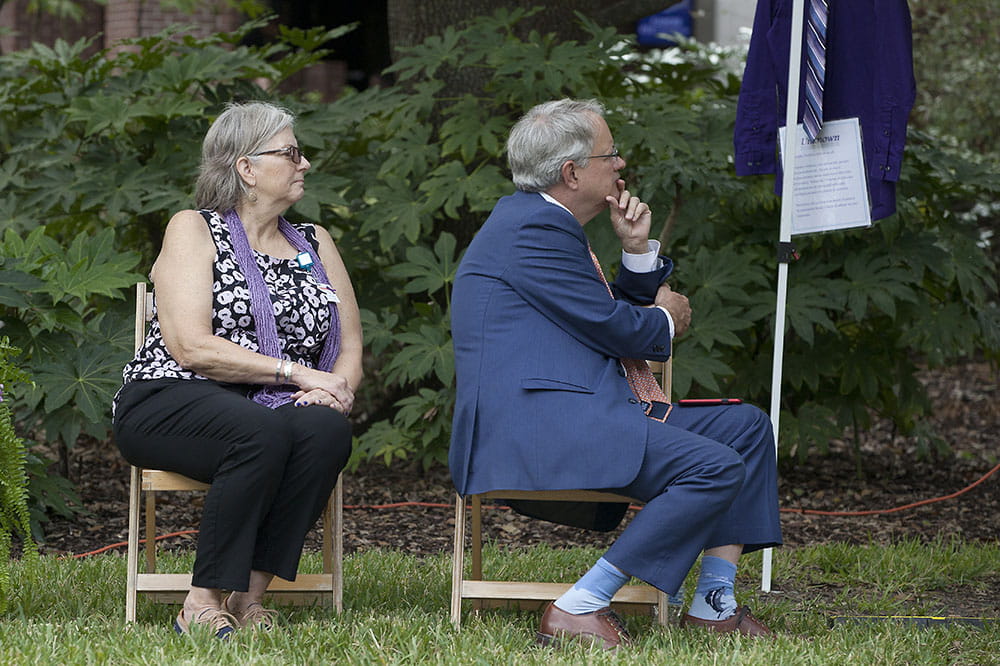 Reilly moved away. About five years later, she was back and ran into her former boyfriend at a party. "We spent the next three days together nonstop. It was like we did not even have any time in between where we were apart. It was right back to the way things were. Back then, there was no abuse. He was my best friend. He's who I grew up with. He's who I knew. He was my home, my protector."
They married. "About a year later, all that changed," Reilly says. "He slapped me in my face. I was raised where if someone puts their hands on you, you hit them back. So that's what I did. I punched him in his face."
He left, and when he came home, Reilly says, he brought flowers and apologies. "I remember him saying to me, 'You know, I want to thank you for yesterday. You taught me something.'"
What came next stunned her. "He told me, 'You taught me the next time I'm going to have to beat you like you are someone out in the streets.' I couldn't wrap my head around it. Who is this person?"
Her first hospitalization came after a fight at a friend's house. "It started with a little push, a shove, fighting, screaming, punching. I don't remember too much of it, but I do remember his hands around my neck. I remember thinking, 'Who's going to tell my dad that I'm dead?'"
She woke up in a hospital room with her jaw wired shut and her eyes so swollen it was hard to see. Reilly panicked. That's when a nurse came in, she says, and spoke to her. "'Ms. Reilly, you've got to calm down. You're in the hospital. And your adoring, loving husband is the one who brought you in. He'll be right back. He's getting something to eat and drink. You're so lucky to have such a loving husband. And junior high sweethearts, that's amazing.'"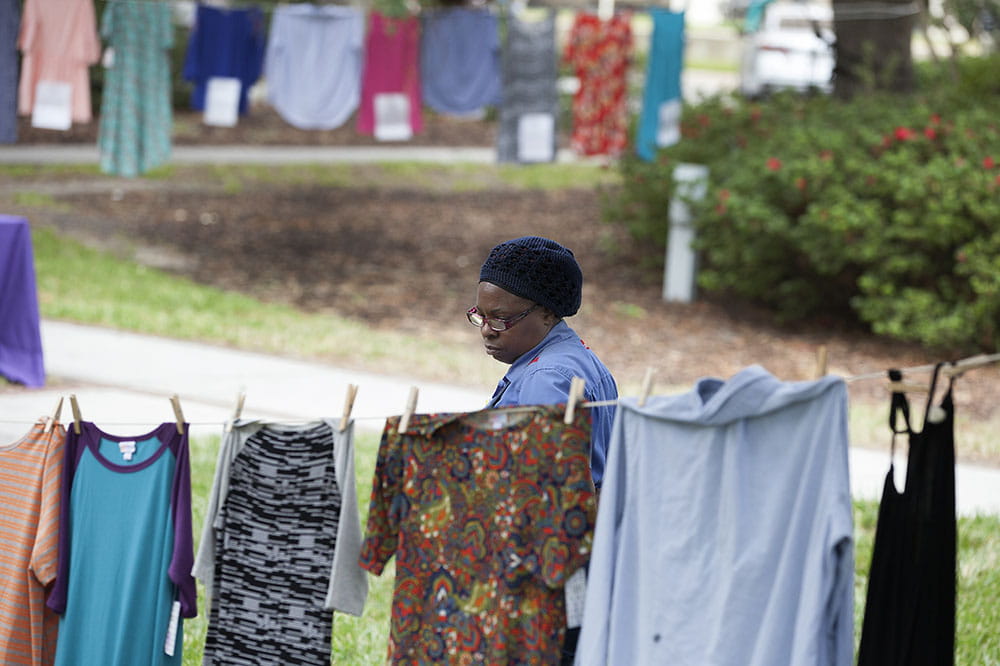 Reilly felt hopeless. "I couldn't ask for help, not just because my jaw was wired shut, but who's going to believe me? She wasn't. Because he just spun his story, right? He told them I got jumped, and he found me."
She says years of abuse followed. "The fights got more intense. Whether it was a gun to my head, a knife to my throat, hit by a car, thrown from a car, I've been through it all. And a lot of people say, 'Why did you stay?'"
It's complicated, she says. "I was married. You know, honor, obey, sickness and in health. Goodness, rich, poor. That's one reason I stayed."
She also feared that no matter what, the husband she now saw as a "monster" could get to her.
But with her father's help, Reilly eventually moved out of state and wound up in South Carolina in 2012. That's where she heard a scary statistic. In 2012, South Carolina ranked No. 2 in the U.S. for the rate of women murdered by men. "I said, 'Oh my God, how am I going to be safe here?'"
She stayed because she'd found a new partner who she describes as adoring, loving and understanding, and South Carolina is where he wanted to be.
Then, about a year ago, something horrifying happened. Reilly's former husband was accused of murder in Connecticut. The victim has been described in news reports as his former partner and housemate.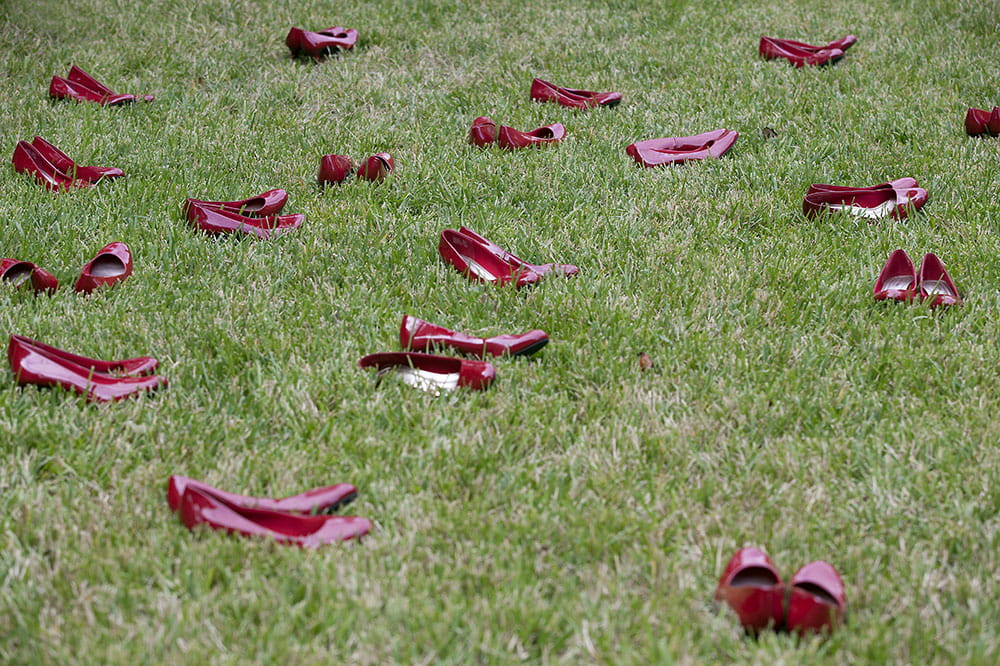 Reilly has survivor's guilt. "That takes a toll on you. It's not just something that affects me. It affects everyone in my life."
She copes by doing volunteer work at My Sister's House, which is a shelter for victims of domestic violence in Berkeley, Charleston and Dorchester counties. She has also resolved to tell her story in hopes of helping other victims.
"I come to things like this where it's important for people to know there are people ready to listen. There is help out there. You're not alone. Even if they don't ask the right questions, say something. Because even if it's not you, they may move on and it may be the next person whose life they take. And that's almost harder to live with."
South Carolina continues to rank among the deadliest states for women.
MUSC has multiple resources for victims of domestic violence, including a Sexual Assault Services program and the National Crime Victims Resources and Treatment Center.
You can reach the crisis line at My Sister's House by calling 843-744-3242. The National Domestic Violence Hotline is 1-800-799-7233.
Suggest a Story
Have an idea for MUSC Catalyst News? Contact our editorial team and let us know.
About the Author