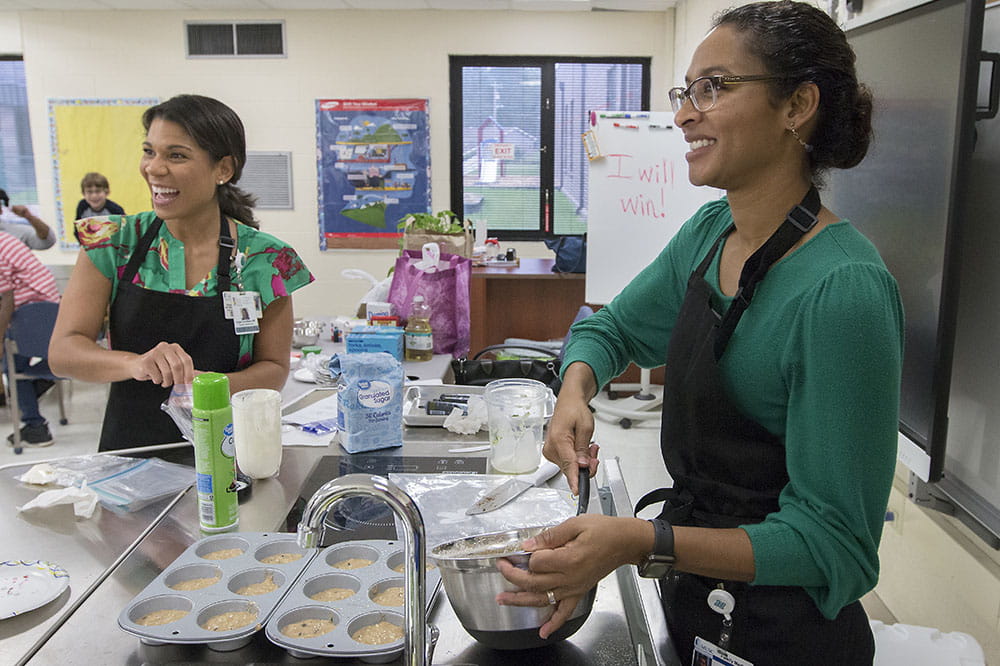 On a recent Tuesday morning, Anita Ramsetty, M.D., and Kristen Hood Watson, M.D., traded their white doctors' coats for black aprons. And instead of working in a clinic, they stood in a classroom at St. Stephen Elementary School in rural Berkeley County.
Fourth graders filled chairs and a sofa as they watched the MUSC Health doctors, who were standing by a portable kitchen. The room smelled like baked goods and the kids were curious. They soon learned that zucchini muffins were on the menu as part of a lesson about healthy cooking.
"A lot of times, people go to the doctor because they're already not feeling well. But really, we like to see you when you feel good, so we can keep you feeling that way," Ramsetty said. "We have a project we're going to work on. It's decorating these very healthy muffins."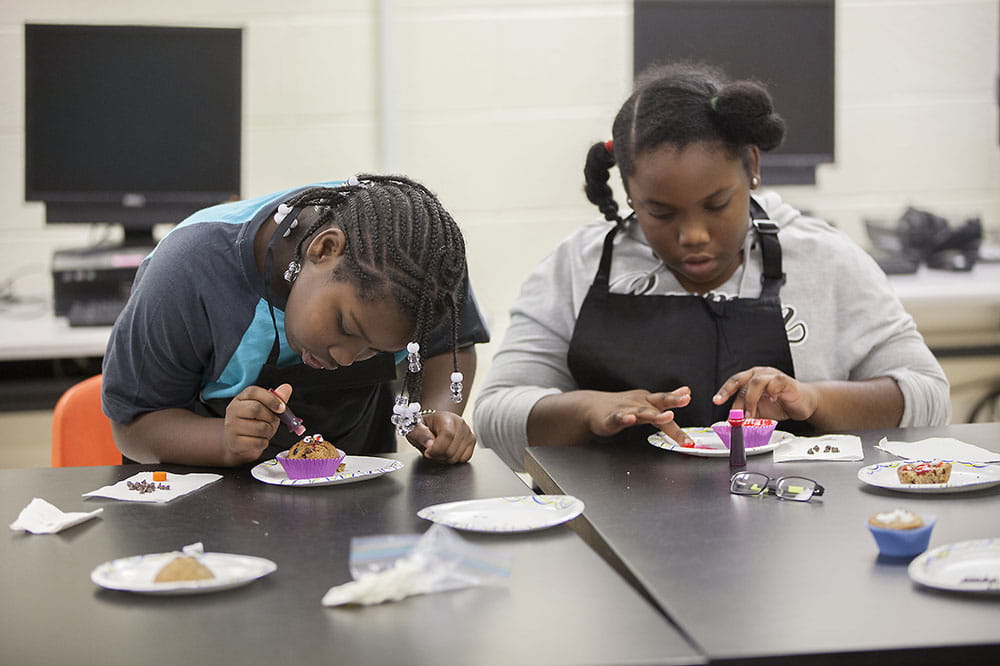 "Can we eat them?" somebody asked.
Watson answered. "Before we eat them, we're going to talk about how to keep them clean. How do we keep from getting germs? Yes?" she asked a boy who raised his hand.
"Umm," he said, trying to think of the answer.
Ramsetty, standing by a sink, piped up. "What am I about to do over here?"
"Wash your hands," the kids answered.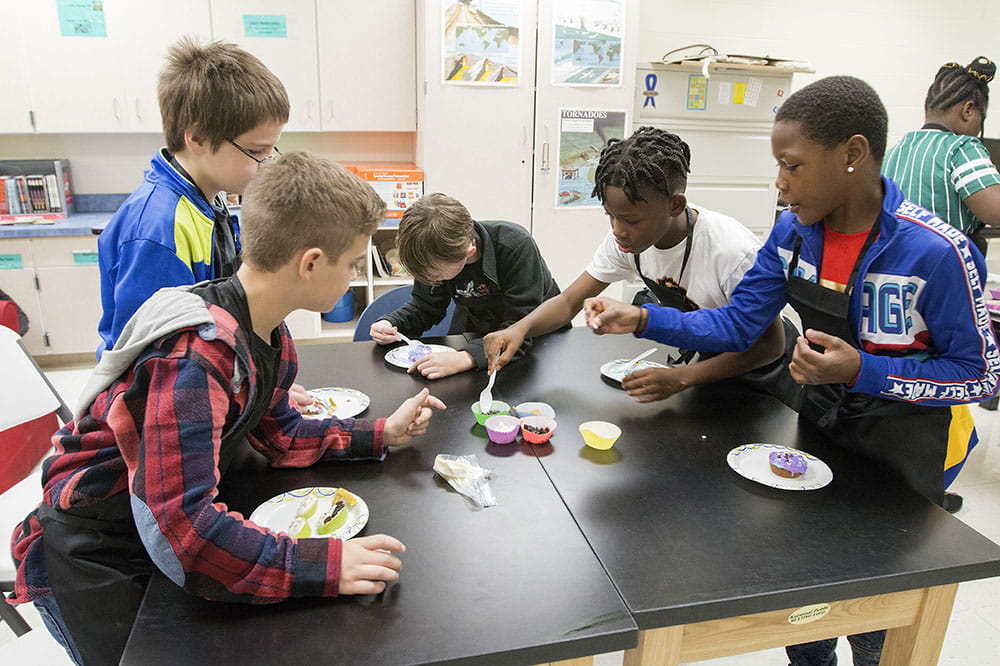 The classroom cooking lesson was part of an 18-month project run by the MUSC Health CARES Clinic, which is dedicated to caring for underserved patients. The project is being funded by a $115,000 grant from Google. The tech giant has a data center in Berkeley County not far from St. Stephen, a town of about 1,800 people with a poverty rate of almost 40%.
But on that Tuesday afternoon, the fourth graders weren't worried about statistics. Some had spotted mini chocolate chips, food coloring and various toppings, and they were ready to decorate and dine on the muffins.
Ramsetty knew they were eager. "After we do a quiz, we're going to give you part of a zucchini muffin."
Watson jumped in with the first question. "How do we make sure our area is clean? Do we do that before we cook or after?"
"Both," the kids said.
"What about washing your hands?" Watson said, "What about pulling your hair back?"
"Both," they shouted.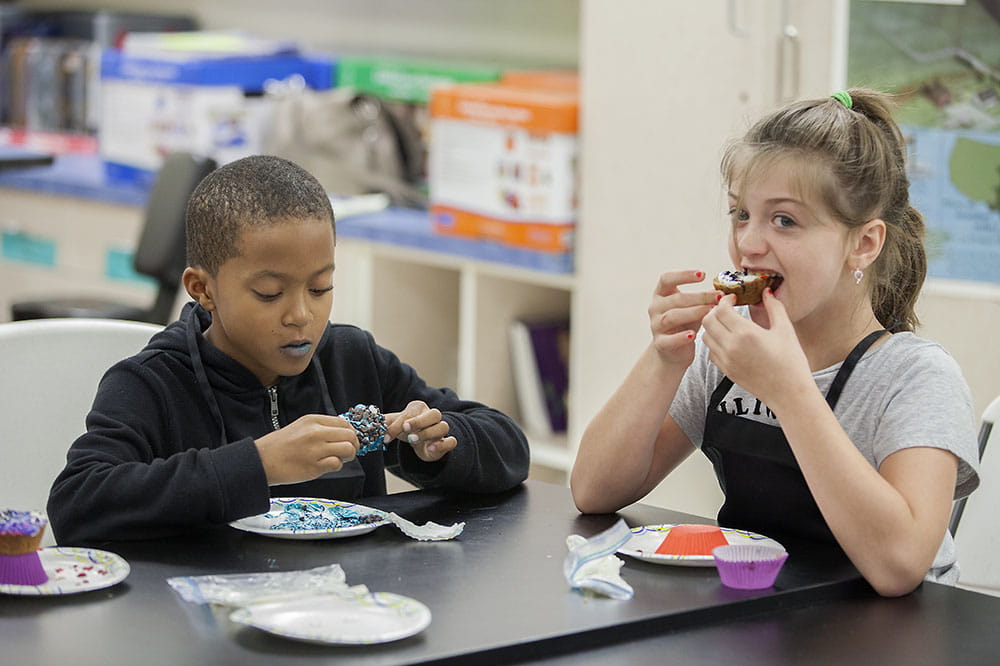 The needs of children and their families were baked into the Google-funded program from its start last year. MUSC Health doctors and students from the Medical University of South Carolina come to Berkeley County every two months. The effort is run entirely by the MUSC Health CARES Clinic.
The efforts in Berkeley County include:
Holding Saturday health clinics in St. Stephen Middle School.
Giving free flu shots.
Testing people's blood pressure and blood sugar at community events, including high school football games.
Teaming up with the Lowcountry Food Bank to give away thousands of pounds of fresh fruit and vegetables.
Partnering with the MUSC College of Dentistry to screen for oral cancer.
Working with MUSC dietitians to offer nutrition counseling.
Launching the teaching kitchen.
That last item, the 400-pound teaching kitchen, is a jackknife of a cooking setup. It seems like everywhere you look, there's another feature. There's a sink that uses a water tank so you don't have to connect it to plumbing. There's a small oven on the side, perfect for whipping up a couple of dozen muffins. And there's counter space for kids, or anyone, to work on.
Once Ramsetty and Watson finished their food safety lesson, the fourth graders got busy decorating their muffins. Anthony Irizarry was ready. "I just want to eat. I am picky about some stuff, but if it's a cupcake, I don't care."
Nearby, Zykaria Walkins squirted red cream cheese frosting on her zucchini treat. "I learned you can make muffins out of anything," she said.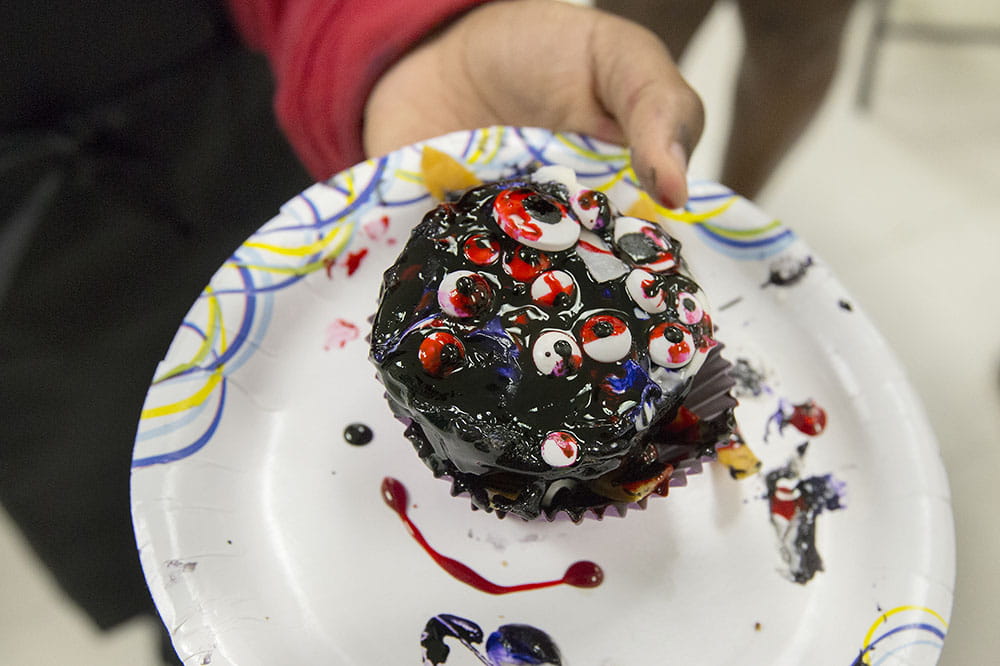 Their teacher, Kimberley Whitaker, loved what she saw. "They are having a great time, so they will learn through this activity. They need to understand things that will affect their body. It's their temple and they must take care of it or they won't have anywhere to live."
For the doctors, it was a chance to do something Ramsetty realized was important only after she finished medical school: talk with people about healthy eating.
"I had one sentinel patient who set this off for me. Since then I've had several patients who are like this," she said. "I asked her about her food, and she said she was eating hot dogs every night. Her grandson lived with her, and that's what he ate and that's what they can afford to buy. All I knew to do then was throw more medicine at her."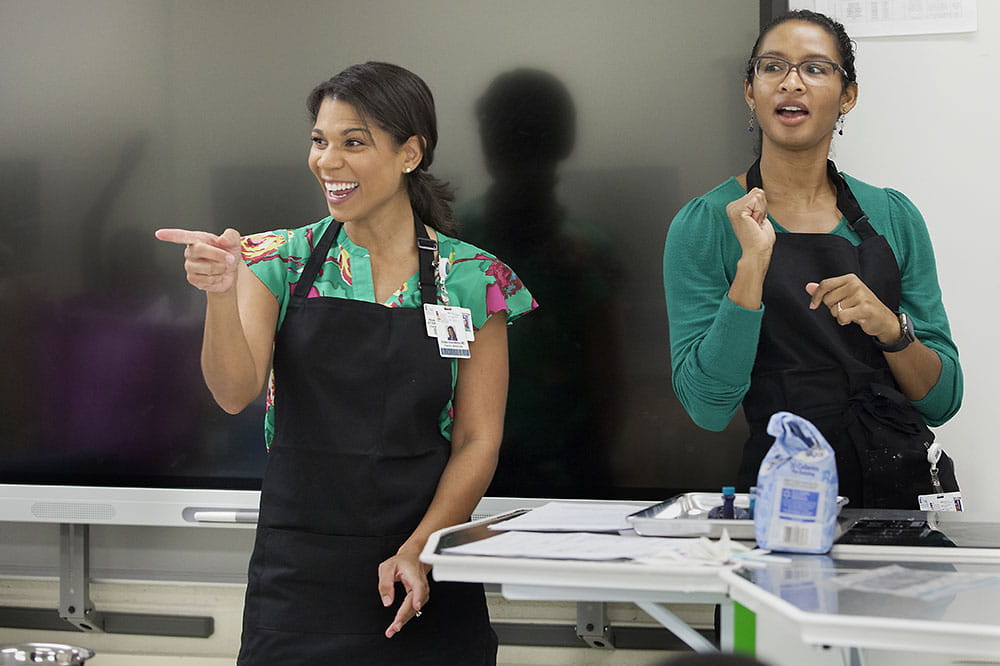 She wanted to do more the next time. So Ramsetty studied how to talk to patients who need advice about healthy eating and help them figure out how to get nutritious food, whether by making better choices, visiting a food bank or another option. Ramsetty is one of just a few doctors across the country certified in Culinary Medicine after finishing a two-year training course based at Tulane University.
She's now not only running the Google-funded health program in Berkeley County; she's also developing a new curriculum for MUSC's medical school that will focus on how to take care of people who don't have a lot of money and don't always have access to healthy food. That's being funded by a grant from the Josiah Macy Jr. Foundation.
The kids at St. Stephen Elementary were thrilled to have her and Watson visit their school, and even happier about something their teacher told them. "They're going to come back next month."
The children cheered.
Ramsetty thanked them. "You guys made some beautiful, beautiful muffins."
Suggest a Story
Have an idea for MUSC Catalyst News? Contact our editorial team and let us know.