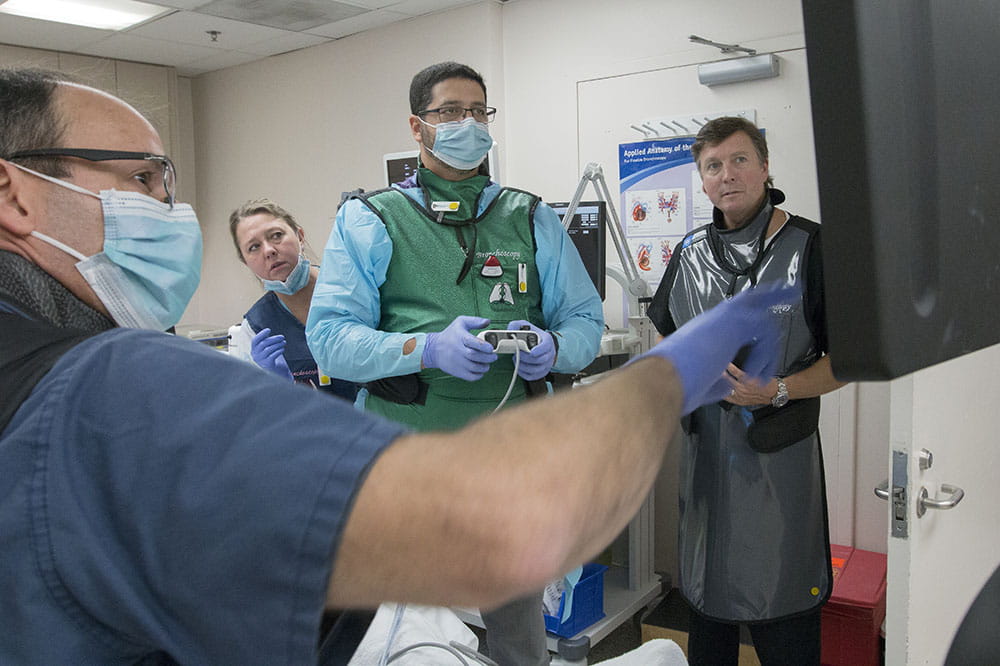 MUSC Health has a new weapon in the war against the No. 1 cancer killer in the country. "It will make a huge difference," says lung specialist Nick Pastis, M.D, comparing the robotic bronchoscopy system that debuted at MUSC Health this month to older methods of testing peripheral lung nodules to see if they're malignant. Purchased by MUSC Health with help from MUSC Hollings Cancer Center earlier this year after a promising feasibility study, the Monarch system is the only one of its kind in South Carolina.
The timing couldn't be better. This year's Lung Cancer Awareness Month comes at a time when doctors are finding lung cancer earlier, which gives patients a better shot at a cure. "Lung cancer screening has really taken off across the U.S.," Pastis says. "We're detecting a large number of nodules across the country. This is a strategy to help deal with them."
Lung nodules are small abnormal tissue growths that can be essentially harmless — or very dangerous. The problem in the past was that not only was lung cancer being detected at an advanced stage about 70% of the time, but also when nodules were spotted in earlier stages — when the cancer might be curable — it was sometimes tough to safely examine them.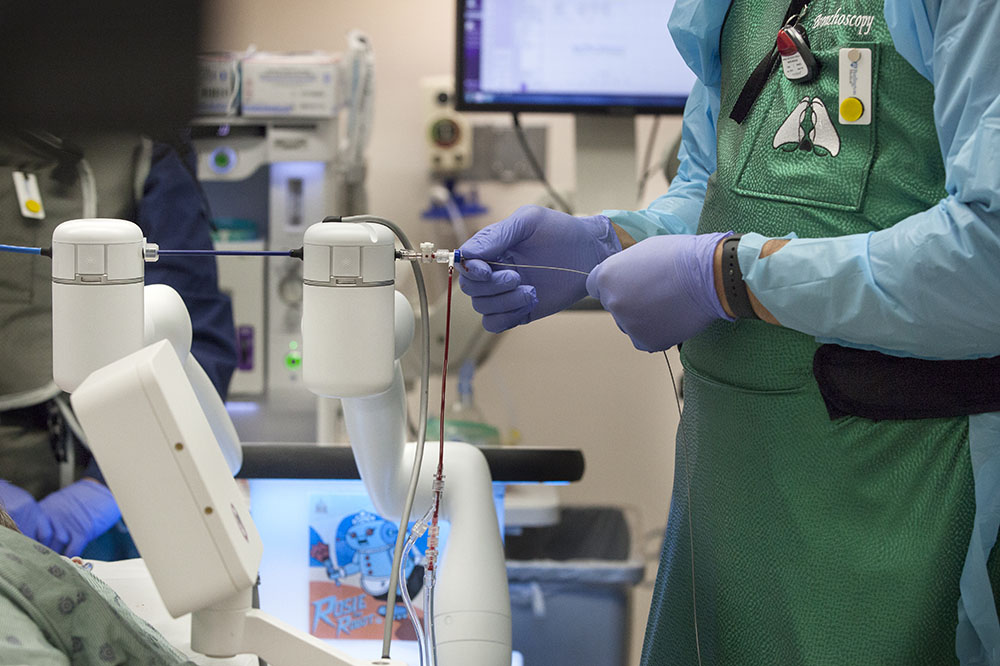 "Traditionally, a CT-guided needle biopsy was used to diagnose these nodules, but it can have a complication rate as high as 15 to 20% where people get collapsed lungs or bleeding," Pastis says. "So this offers a safer method, and also the opportunity to get a little more information. While doing the bronchoscopy, you can actually see if cancer has spread to other lymph nodes with another scope and determine what stage the cancer is."
The Monarch robotic bronchoscopy system was developed by Auris Health and has been tested in a feasibility study at major universities, including the Medical University of South Carolina. It has been approved by the Food and Drug Administration.
Pastis says it's meant to be used in patients who have lung nodules and are at increased risk of having cancer. That includes people over 65, smokers, people who have been exposed to cancer-causing chemicals such as asbestos and people who have the gas radon in their homes.
Here's how the robotic bronchoscopy works. A doctor or nurse puts the patient to sleep with anesthesia, then the lung specialist runs a long tube about the width of a coffee stirrer through the mouth and into the lung. The doctor then uses the robotic system to guide the bronchoscope to the nodule to collect a tissue sample for testing.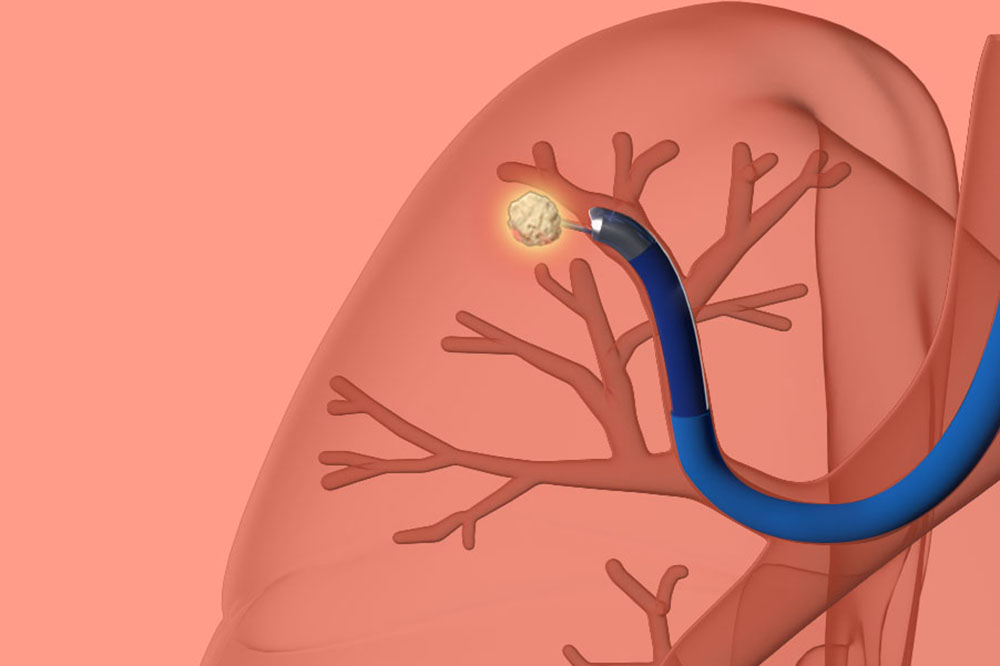 "The robotic scope gets you there and lets you have very fine motor control of the tip of the scope way out in the lung," Pastis says. "It has a mother-daughter scope configuration. The larger scope locks you in position, then you put out a very thin scope that allows you to steer through multiple branches of the lung and angle the needle directly into the nodule."
He says the only caveat he's noted so far is that when biopsied tissue tests negative for malignant cancer, that's not necessarily the final answer. "You're not always definitively able to rule out cancer unless you get a separate diagnosis, like infection. Some of the patients with negative bronchoscopies will need further follow up."
In the future, he says the bronchoscope may be used to not only test for but also treat cancer, using radiofrequency ablation and cryotherapy. Radiofrequency ablation uses an electrical current to heat and destroy cancer cells. Cryotherapy kills cancer by freezing it.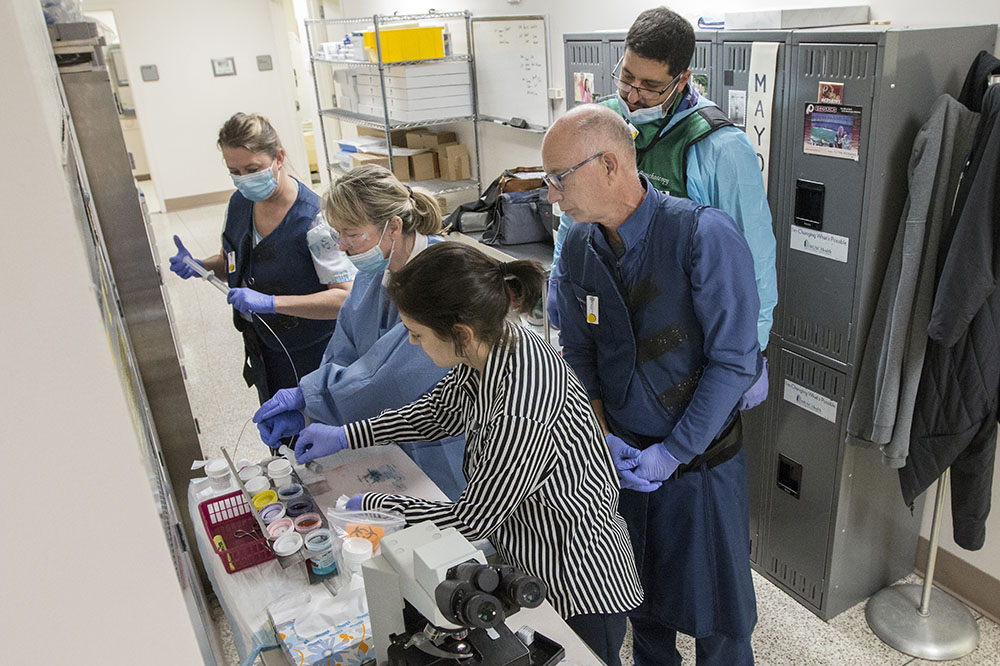 Pastis is part of the Lung and Thoracic Cancers Program team at MUSC Hollings Cancer Center. "We have a very patient-centric shared decision-making program. A lot of times, people get these nodules detected in outside hospitals, but they don't have the infrastructure to deal with them. We have a multidisciplinary tumor board meeting for our patients. We have the opportunity to minimally invasively diagnose them and sometimes prevent surgeries and invasive procedures that are unnecessary."
The Monarch robotic bronchoscopy system is the latest part of that process, Pastis says. It stands to benefit patients not only at MUSC Health but also in other hospitals that are offering the procedure to fight a disease that kills more people than breast, colorectal and pancreatic cancer combined. "This could help hundreds of thousands of people across the United States."
Suggest a Story
Have an idea for MUSC Catalyst News? Contact our editorial team and let us know.
About the Author
Keywords: Cancer