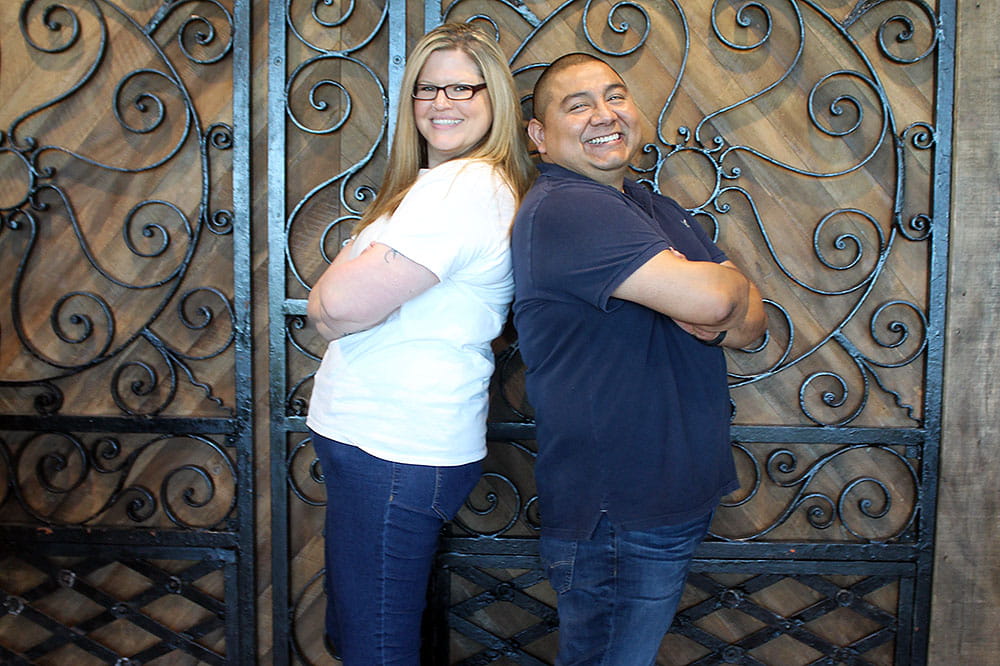 Sometimes a simple conversation can save a life.
That was the lesson learned at the National Kidney Foundation's The Big Ask: The Big Give workshop. The in-person training, co-hosted by MUSC Health, a national leader in solid organ transplantation, educated South Carolinians with end-stage renal disease on the benefits of transplantation. It also provided tools to help them try to find a living kidney donor. 
As part of the MUSC Health Living Donor Program's educational efforts, all patients on the MUSC Health kidney waiting list, along with friends and families, were invited to attend the free event. It was sponsored by Fresenius Medical Care Foundation. More than 60 people attended the Jan. 26 event at The Riley Park Club.
As of 2019, there were more than 1,000 people at MUSC Health and more than 93,000 people on the national kidney transplant waiting list. While the average wait time for a deceased donor kidney can be several years, having a living donor will significantly decrease the wait time for kidney transplant. Often, when faced with disease and illness, people are inclined to keep their illness private and hope for the best. In the case of kidney failure, keeping silent can be tragic.
For a lot of people who need a kidney transplant, talking about it with friends and family can be uncomfortable. But with the right tools, education and a little creativity, the results can be lifesaving.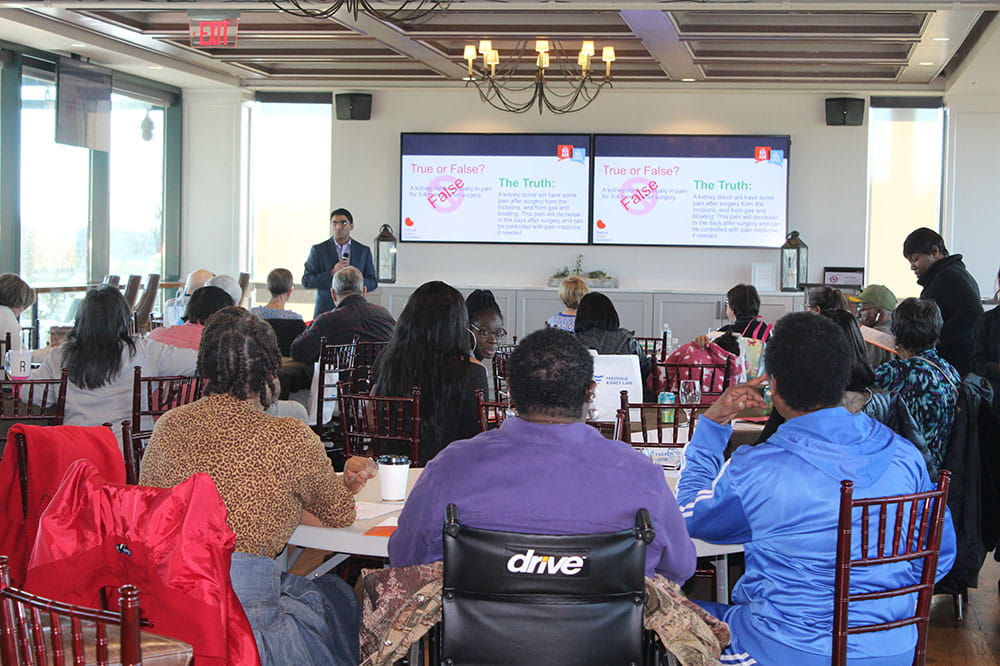 Sessions included information on busting transplant myths, creating your story, spreading the word and building a network of advocates. All of the sessions kept the audience engaged throughout the afternoon. MUSC speakers included transplant surgeons Satish Nadig and Angello Lin, as well as transplant nephrologist Vinaya Rao and Living Donor nurse coordinator Monica Przybylek. The MUSC Living Donor team was there, too, to show its support.
The highlight of the day was the panel of donors and recipients who shared their journeys to transplant and the methods they used to find a donor.
"Panel members generously offered their emotional support, resources, and wisdom," said Brook Sawyer, Living Donor navigator. "The audience was inspired by the panel's stories and left feeling hopeful."
Take Jason Flores' story.
Flores is a husband and father of three young children. After a routine checkup, he was alarmed to learn he had a disease that causes scarring in his kidney, which, in his case, progressed rapidly to end-stage kidney disease. He was in dire need of a kidney transplant.
His wife, Dayna, knew something needed to be done to save her husband. With the help of her best friend, she developed a website and shared Jason's story through Facebook on Valentine's Day of 2018. She frequently updated her page to let people know Jason still needed a donor and asked people to share their story.
Dayna also offered other tactics she used to get the word out, including bumper stickers, T-shirts and chalk writing on her car window.
"It's hard to put your personal life out there for all to see," she said. "But it's so important to get the word out. There are so many people who are willing to help if you just ask."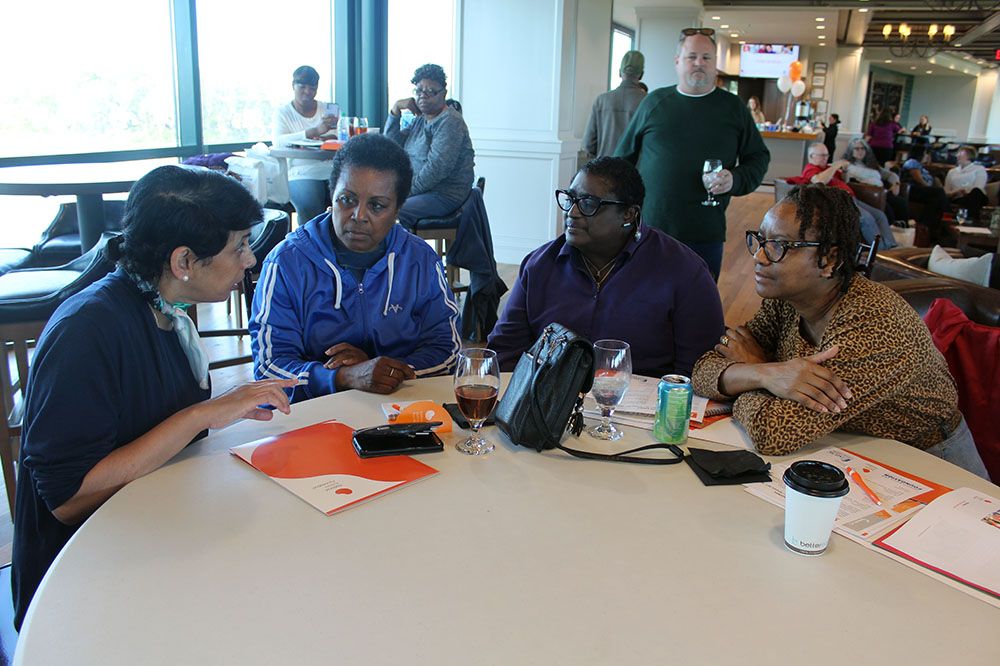 Her Facebook post had more than 600 shares, with one landing on the Live5 News Facebook page. More than 100 people contacted the MUSC Living Donor Transplant Program to offer to go through the testing process because of her efforts. After Jason's transplant, many of these people were so inspired to give that they continued on to become donors for others on the waitlist.
During the panel discussion, Jason's living donor, Kristi Baugh, said she didn't know what it was about the Live5 Facebook post that night that pulled her in.
"All I know is, I couldn't let it go. Was it the family photo? The sweet faces of the children? The thought that one day that might be my kids? I really don't know. I found myself going back to that post over the next few days, just pulled in," she said.
"So I told my husband I wanted to give my kidney to Jason so his family would have him in their lives. He's an easygoing guy with a big heart, so I figured he'd be on board." 
The next step was to contact the MUSC Living Donor Program and start the application process. Each living donor and recipient is assigned a care team that includes a nurse coordinator, program assistant, social worker, navigator and facilitator. This care team offers education, encouragement and support from referral to donation and beyond. 
Baugh soon learned she was a candidate - but there was a catch. She needed to lose some weight before she could become Jason's donor. By October of 2018 with the help of her care team, Baugh reached her weight loss goal and the Flores family learned they had a match. The operation was in December 2018 at MUSC Health, just in time for the holidays.
"Don't look to the big screen to be inspired by superheroes," said Nadig. "Living donors are modern day heroes that are our neighbors, family, and friends. These people walk amongst us and save lives with the gifts they give."
The two families are now connected for life and happy to share their journey to help others reach the same outcome. Both families are participating in the NKF 2020 Columbia Kidney Walk in March 2020 to help continue to raise awareness.
"While it is still too early to know the full impact of the one-day workshop, the initial feedback from all participants was overwhelmingly positive. Based on the results, we intend to hold the workshop in cities outside of Charleston to make this potentially life-saving information available to anyone with end stage renal diseases in possible need of a kidney transplant," said Daniel Stanton, administrator of the Transplant Program at MUSC. 
For more information about living donation, visit us at muschealth.org/livingdonor, call 843-792-5097 or email livedonor@musc.edu.
Suggest a Story
Have an idea for MUSC Catalyst News? Contact our editorial team and let us know.
Get the Latest MUSC News
Get more stories about what's happening at MUSC, delivered straight to your inbox.
About the Author