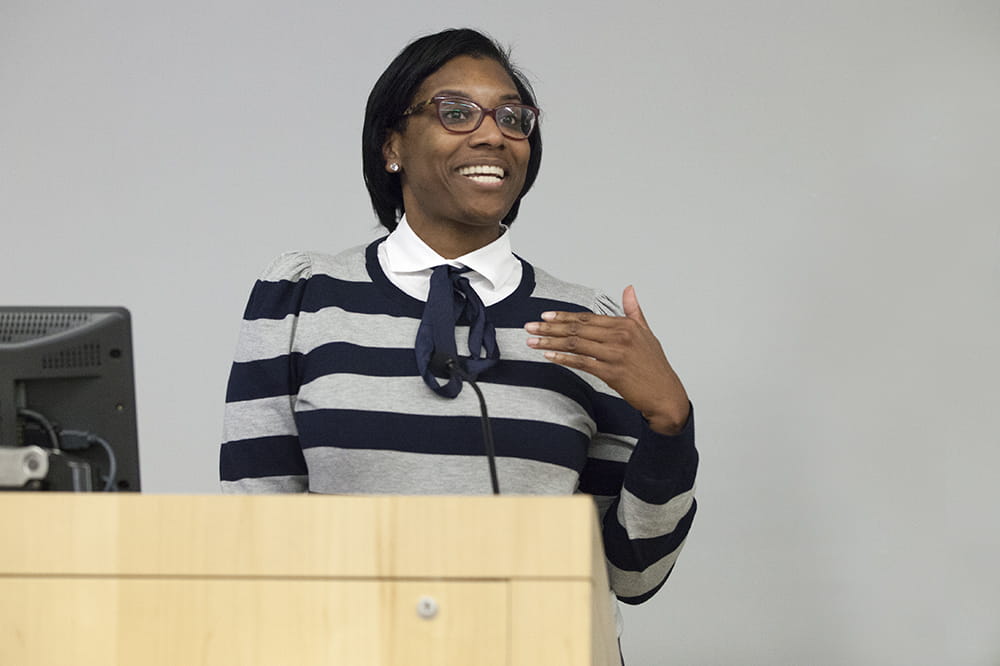 A crime that would help to shape her life happened not long after Angela Stanley was born. "My mom, when I was three months old, was shot in a racially motivated shooting. And so she became a paraplegic."
Stanley grew up watching her mom's courage as she faced the challenges of going through life with legs that were paralyzed, married to a Marine whose job required frequent moves for the family. Stanley had to be brave sometimes, too. "We lived some places where I was the only person who looked like me. There was no one else who resembled me."
Stanley grew up with a strong work ethic, an awareness of the need for black role models for young people and a desire to help others. After serving in the U.S. Navy and earning a doctor of nursing practice degree, she became an instructor in the College of Nursing at the Medical University of South Carolina, where she mentors as many students as she can.
During Black History Month, she's being honored as an example of black excellence in the College of Nursing at MUSC. "I've definitely always wanted to pay it forward. I didn't get here by myself. I appreciate everybody who paved the way before me. Hopefully, here as an instructor, I can do the same for somebody else," she said during a Feb. 7 ceremony honoring six role models –  one from each of MUSC's six colleges.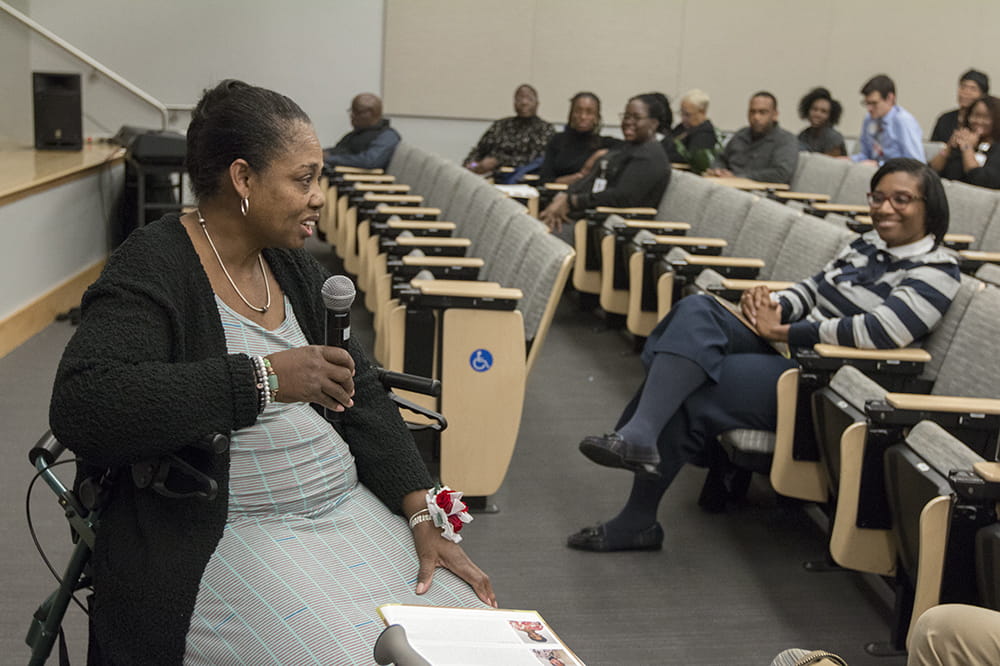 Another honoree, recent College of Health Professions graduate and doctor of physical therapy Spencer Baron, got an early start on paying it forward by co-founding the MUSC COAST program. It brings middle school, high school and college students to MUSC for a taste of what the CHP program is like and what jobs might be open to them one day. 
Baron knows what some of them are going through. "Coming from a family that didn't really have much and being the first one to go to college – let alone to grad school –  and try to get a doctorate. The reality of paving your own path is tough. I'm sure a lot of people here can relate to that."  
Baron graduated cum laude from the undergraduate program at the University of South Carolina, and during his time in graduate school at MUSC, he was involved in multiple efforts to improve diversity on campus.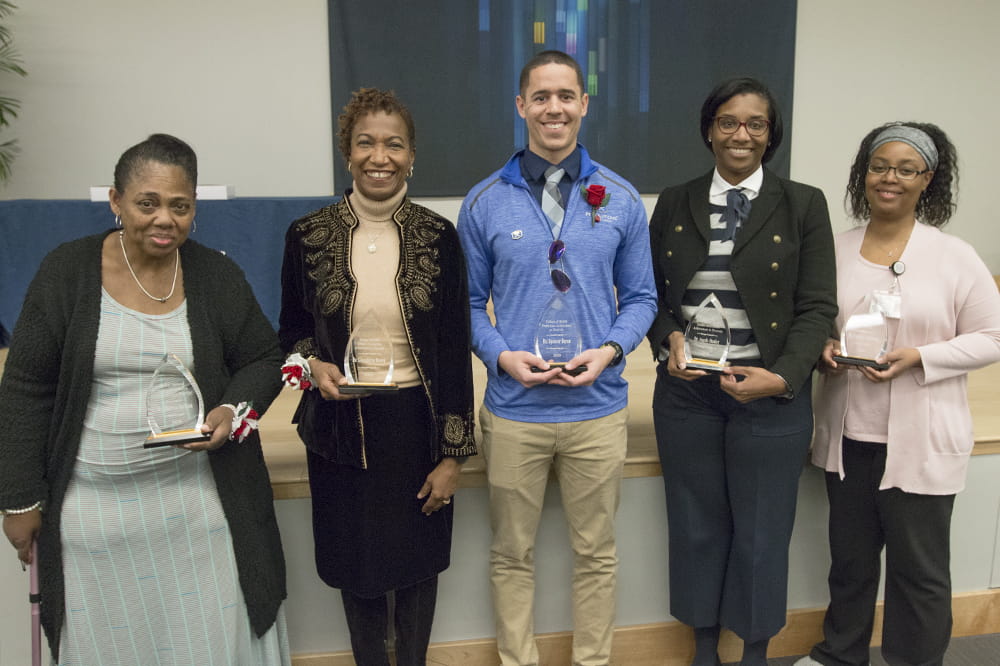 Like Baron, the College of Medicine's Black History Month honoree expressed gratitude for the places life has taken her. Sherron Jackson, M.D., described it as a series of blessings. "It started from age 10 with wanting to be a doctor, dreaming of becoming one. Having the blessing of getting into medical school and surviving medical school."
She became the first African American resident in pediatrics at MUSC and went on to serve as chief resident. She later established a statewide program to screen newborns for sickle cell disease, her area of specialty. 
But Jackson's life also included a difficult period for the family, before her son's first birthday. 
"Unfortunately, in 1987, when Alex was nine months old, we were in an accident –  hit by a drunk driver in a head-on collision. I had a closed-head injury and was in a coma for several weeks. Alex had a spinal cord injury. But guess what? Angels covered us," she said. 
"We were healed as much as possible. I was able to come back to work. I was out for a year. And I've been working ever since. Alex works for the Navy. He drives his van. He's an advocate for people with disabilities. He's an inspiration to all of us, and he's a tremendous blessing in my life."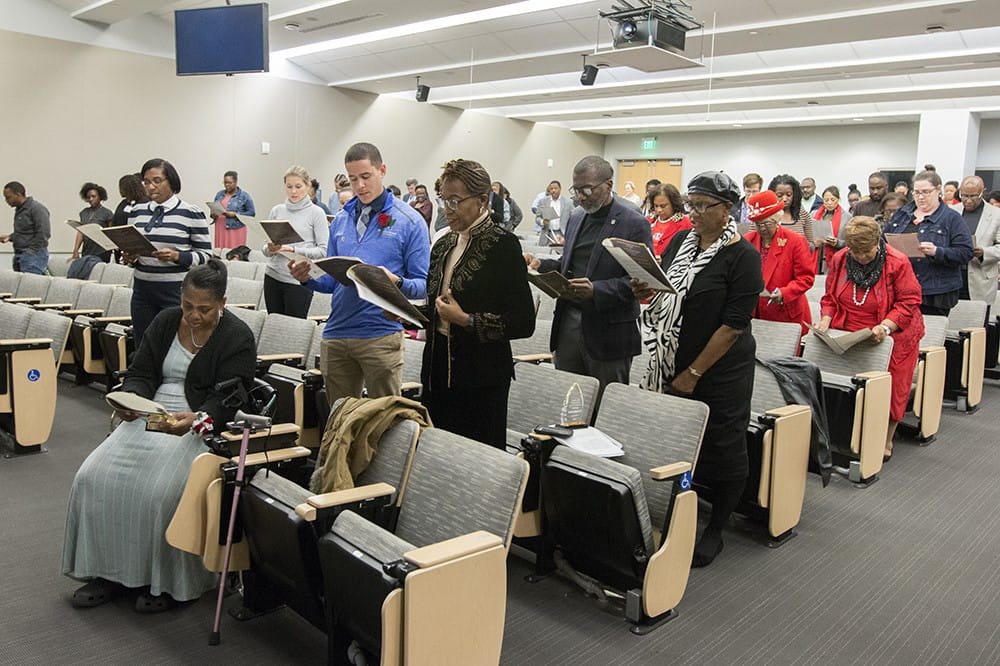 Like Jackson, the College of Dental Medicine's Black History Month honoree, Gwendolyn Brown, D.M.D., cited her religious faith as she accepted her award. "There were many trials and tribulations I endured, but with faith you persevere and achieve excellence."
Brown was the only African American in her class in dental school and one of just seven women –  out of 52 students. Her trials and tribulations included incidents like one that occurred in one of her first courses. 
"The first day of gross anatomy lab, I shared a cadaver with three Caucasian males who were alternates. Back then, alternates were people who were not actually in the class yet but were allowed to take gross anatomy. They accused me of having their spot in the class." 
At one point, she wanted to quit. Her mother talked her out of it. "I realized I had to dig deep and show up and show out."
Brown became the fourth African American woman to graduate from MUSC's dental medicine program. She's now its director of diversity and dental director of a special needs center and works to expose young people to the field of dentistry.
The College of Graduate Studies' honoree, researcher and assistant professor Catrina Robinson, Ph.D., also works to make MUSC more diverse. She has mentored people ranging from high school students to postdoctoral research fellows. She traces her interest in science to something that hit very close to home.
"I was born and raised in Tuskegee, Alabama. My great-grandparents were part of the syphilis study," Robinson said. 
The U.S. Public Health Service Syphilis Study at Tuskegee took place in the 1930s. The Public Health Service worked with the Tuskegee Institute to study what happened when syphilis went untreated in black men. 
The researchers did not tell the men about the real purpose of the study and did not give them adequate treatment. It came to light in the early 1970s after a news report led to public outcry. A class action lawsuit led to a $10 million settlement in 1974.
"It's what inspires me to do great research and train the next generation," Robinson said.
The sixth honoree, Pamela Mazyck, Pharm.D., of the College of Pharmacy, was not able to be at the ceremony. She works in the neurology and pharmacotherapy clinics in the Department of Pharmacy Services at MUSC. Pharmacy professor Marc Lapointe accepted the award on her behalf.
The student-led program was hosted by MUSC's colleges and sponsors. Five of the six deans were on hand and stayed for a reception afterward.
Suggest a Story
Have an idea for MUSC Catalyst News? Contact our editorial team and let us know.