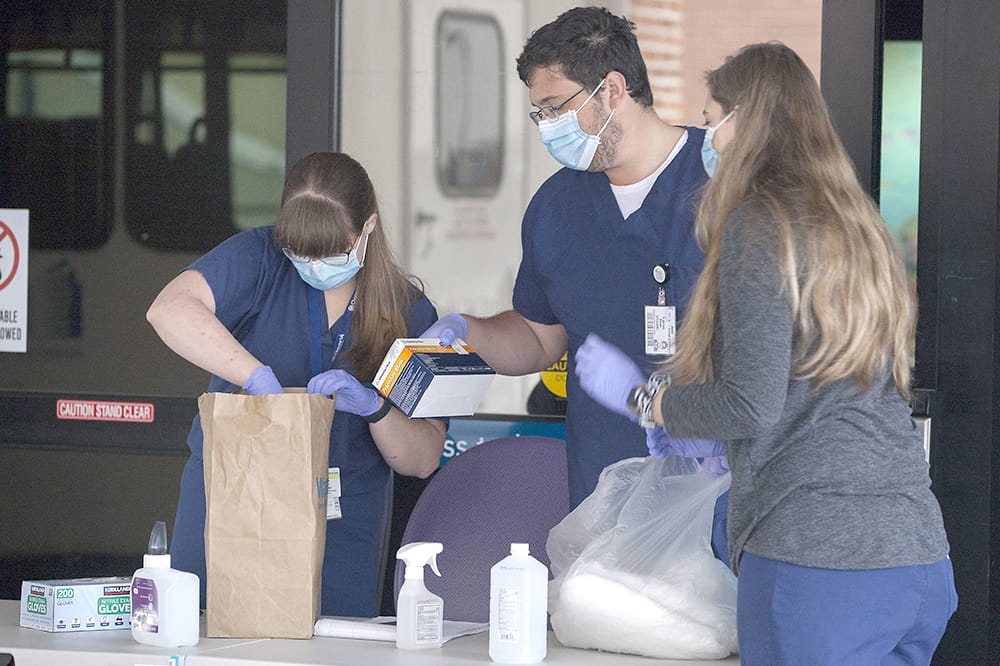 The Lowcountry's generous spirit is on full display as donations to help MUSC Health's continuing fight against the coronavirus crisis pour in. While doctors and nurses have what they need for now, if what's happening in other states, such as New York and Louisiana, is any indication, they may need more — a lot more.
Cardiothoracic surgeon Sanford Zeigler, M.D., called the public interest in helping out fantastic. "I think it's a real testament to how powerful our communities are and how we can lift each other up," he said. 
In early March, just as the mortality rates connected with the novel coronavirus were hitting the news, Zeigler learned from friends about colleagues who died from complications with COVID-19. 
"I couldn't sit back and accept this," he said. 
Zeigler posted some advice to his neighborhood's social networking page about the anticipated supply needs due to the growing pandemic. Within days, neighbors were dropping off N95 mask donations to his home, and that's when Heroes Need Masks was born, a project co-founded with his brother, Townsend Zeigler.
"This viral pandemic is like something we've never seen or expected," said Sanford Zeigler. "Our goal is to protect health care workers, the medical staff who are fighting on the front lines against this COVID-19 pandemic. There are thousands of these pieces of equipment sitting in people's garages and businesses that are not being used that can be used at hospitals and medical facilities today," adding that some equipment is more useful than others. 
"N95 masks are very helpful. Surgical masks are very helpful. Face shields. Clear plastic shields or chemical safety goggles — those are also very helpful. Any sort of scrub hat or hair protection. A hairnet is no good, but anything that covers the hair and protects it from droplets will be good," he said.
"Isopropyl alcohol can be used to decontaminate N95 masks and allow us to reuse them later. We're not at a point where we have to do that, but it's a strategy that we're looking into."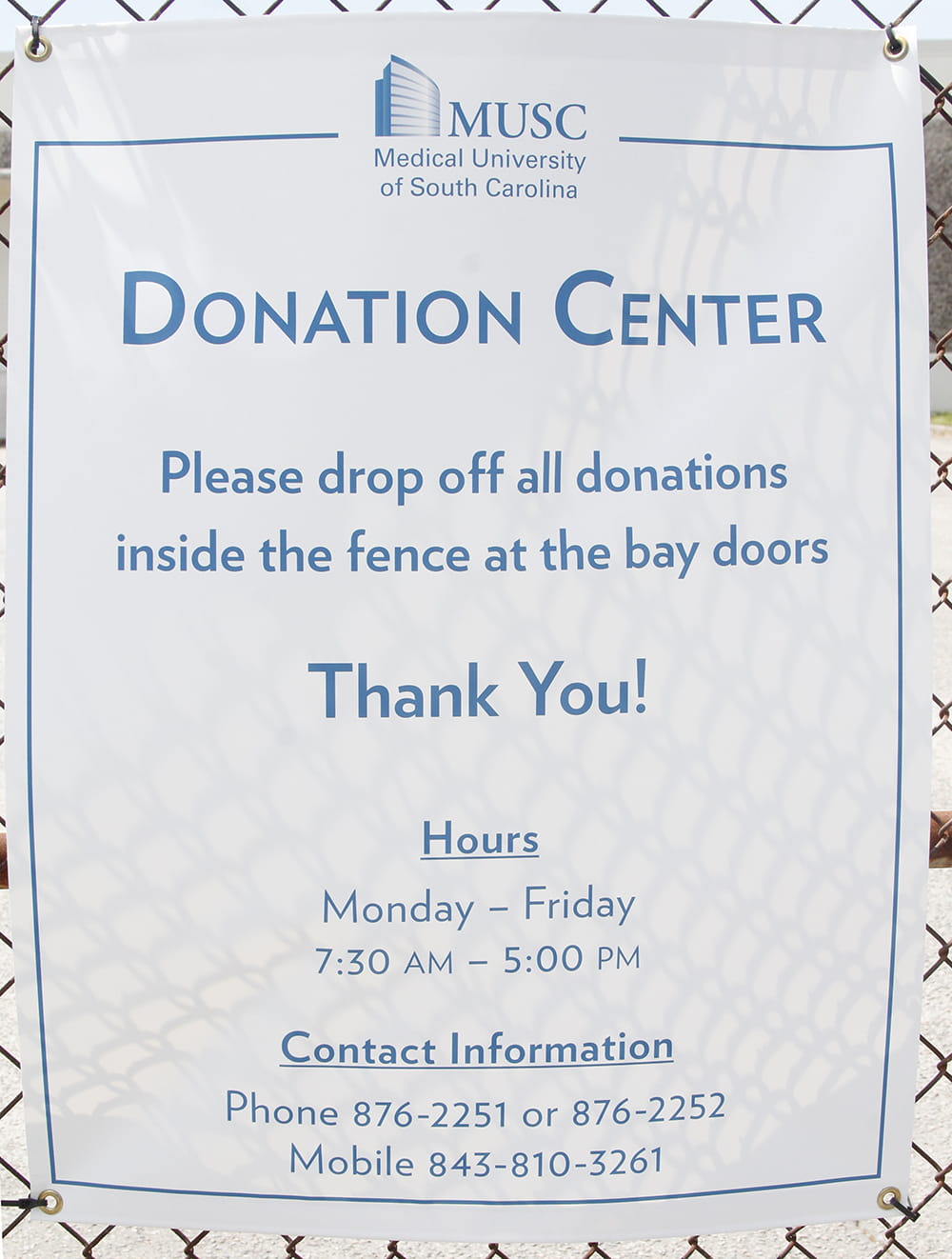 According to Zeigler, Heroes Need Masks was established in mid-March as an initiative to rally people in communities to donate unused items such as face masks and gloves, personal protective equipment (PPE) and other items used by frontline medical staff in the treatment and care of patients suffering from coronavirus. He said the community is helping to crowdsource the supply chain until the federal government and private industry are able to pick up the slack. "We're hearing from all over."
In addition to the Zeiglers, the program is helped by MUSC students and volunteers. 
Ragan Dubose-Morris, Ph.D., an Academic Affairs Faculty associate professor, said students are playing a key role. "They have some time on their hands and volunteered to help coordinate volunteer hours, drop off locations and messaging. It's kind of one of those happy moments in life where people have time on their hands and expertise they put to good use."
Zeigler said as some businesses slow down hours or close during this health crisis, they're able to send unused equipment MUSC Health's way. 
"It's all kinds of places. The easiest ones to think of are dental offices, outpatient clinics that are no longer seeing patients. Nail salons have a lot of surgical procedure masks they use. Contractors, landscapers, construction workers, welders, really any industrial plant will have some of this stuff. We need them to be able to continue working if they can, but if they've really got a slowdown, and aren't going to use things, we can use them today."
So far, the response has been extraordinary. Donations have arrived by car- and truckloads, according to Zeigler. Recently, they have been able to distribute some medical supplies to Charleston County detention facilities, area ambulance companies and volunteer fire stations to support the COVID-19 fight.
Donors have run the gamut from corporate businesses to local groups, organizations and individuals, all of which have generously contributed much-needed supplies. Included are: Coastal Carolina Dentistry-North Charleston, and other dental practices; the Warrior Surf Foundation; local distilleries; Harbor Freight Company; MUSC team members; Tri-county residents, including members of the Chinese and Asian American community; as well as national and international donors. Individuals have also stepped up by creating and donating hand-sewn masks. 
Zeigler and his crew are grateful for the continued support. He's proud that this program is a model that can be reproduced in any community during the pandemic. He recommends that groups collect supplies first and then work with their local hospitals to coordinate where those supplies should go. 
The public can donate at the collection site located at 4295 Arco Lane in North Charleston. It's open weekdays. You can find the complete list of general and pharmaceutical supplies needed on the COVID-19 donation information page. It's important to note that MUSC Health has to verify certain types of supplies as sterile to able to use them. 
Suggest a Story
Have an idea for MUSC Catalyst News? Contact our editorial team and let us know.
Get the Latest MUSC News
Get more stories about what's happening at MUSC, delivered straight to your inbox.
Happening on Facebook
Latest Tweets
Tweets by MUSCatalystNews