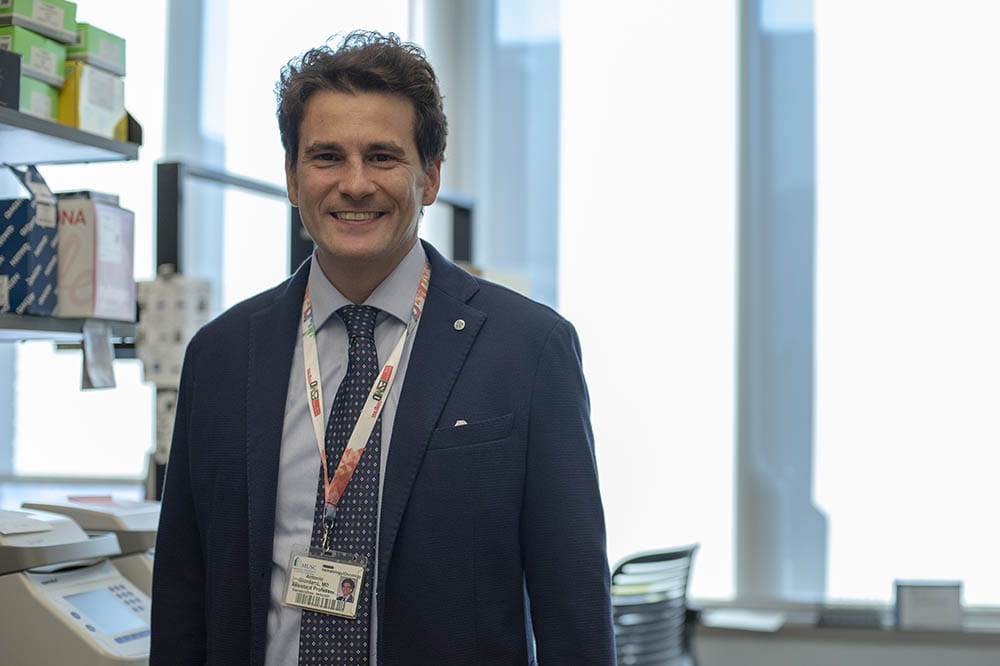 Oncologist Antonio Giordano, M.D., Ph.D., at Hollings Cancer Center at the Medical University of South Carolina, shares these tips for cancer patients and their caregivers during COVID-19. In Italy, a country that is about four weeks ahead of the U.S. in terms of the pandemic, about 16% of COVID-19 deaths occurred in patients who have had active cancer within the past five years, he said. This is a vulnerable population that needs to take special precautions.
When possible, take advantage of telehealth visits.
I have personally changed all my clinic visits to telemedicine. Patients are being evaluated on a video call system that is HIPAA compliant instead of coming into Hollings Cancer Center. There are two systems that are HIPAA protected, one is through a MyChart video, and the other is doxy.me. Both are very easy to access and user-friendly for patients and providers. Patients just need to be connected to internet/data and have a camera. 
Know hospital visitation policies protect you.
Though it can be hard to come in for treatment alone, this best protects the patient. It is estimated that almost 50% of COVID-19 carriers are asymptomatic. We must assume each of us and each of a patient's chaperones may be infected and a virus carrier. Reducing the number of people and patients coming to the cancer center is the key. Wear a mask and practice vigilant hand-washing. The Centers for Disease Control and Prevention has issued a policy on mask use, and I recommend that every patient do both of these. Handwashing must be a routine for each time we touch an object and we don't know if it has been cleaned recently. Examples include elevator buttons, railings and chairs. Wash your hands often with soap and water for at least 20 seconds, especially after you have been in a public place or after blowing your nose, coughing or sneezing.
Work with your oncologist to triage your care.
The main cancer societies have come out with guidelines to help medical oncologists, radiation oncologists and surgeons filter and triage whether a case can be safely deferred or is medically needed. In breast cancer, we have developed internal guidelines to help triage our patients, and we update them weekly because the situation can change as we proceed into the highest peak of the pandemic.  
Know that the pandemic can affect the availability of clinical trials, but this is temporary.
Patients enrolled in clinical trials are continuing with their experimental regimens. However, clinical trial sponsors and investigators may modify the study calendar in order to preserve and guarantee the safety of patients enrolled in the studies. The National Institutes of Health has released guidelines about conducting clinical trials during the COVID-19 pandemic. Unfortunately, new clinical trials are on hold, and some existing ones are temporarily not taking on new patients. Clinical trials often require additional visits, lab work and infusions. In the setting of a pandemic crisis, it would be too risky to expose cancer patients to additional contact with study coordinators and research personnel. Hopefully, this peak will pass soon.
Limit exposure to the best of your ability.
Cancer patients should limit visits outside their houses to acquiring necessary needs only. Be extremely careful when doing grocery shopping and going to the pharmacy. Do frequent hand-washing and cover your face if you have a mask when going out in public. The CDC recently recommended wearing cloth face coverings in public settings where other social distancing measures are difficult to maintain, such as grocery stores and pharmacies.  Remember, the best way to prevent illness is to avoid being exposed to this virus.
About the Author