Cokie Berenyi expected to be battling 30 mile-per-hour wind gusts in 20 degrees below zero temperatures on Mount Everest about now. Instead, she'll be sweating it out in 80-degree heat, May 17, walking the same distance she would have. She is determined COVID-19 won't derail her from her cause of supporting MUSC Hollings Cancer Center. 
If all had gone according to the original plan, Berenyi would be climbing between camps on Mount Everest to acclimatize to those extreme conditions. Instead, she is sheltering in place at her home in Awendaw, South Carolina. She was set to reach the summit on May 19, but COVID-19 canceled the finale of an incredible journey over a year in the making. Instead of throwing in the towel, she's adapting. Her new plan is to complete what she's calling a "Sea level to Summit" walk right here in Charleston.

Shortly after midnight on March 13, Berenyi received an email from her hiking guide telling her the government of Nepal had officially canceled all spring climbing expeditions, including Mount Everest. She was shocked and brought to tears. For several weeks, she'd been trying to ignore the idea that her trip could be canceled due to the pandemic.

"My friends and family were lighting me up about it, like, 'Oh my gosh, are you still going? Can you even get into Nepal?' But I was just very removed from it. I didn't even want to worry about it until it was a fact," she said.

While the news that it would be impossible for her to climb Mount Everest in 2020 initially stunned and upset her, she quickly regeared. She made two decisions. She rescheduled plans with her climbing team and will summit Mount Everest in the spring of 2021. She also decided on doing a smaller sea-level-to-summit campaign in Charleston that will end at Hollings Cancer Center.

"Now, I'm beyond being disappointed. I'm just so grateful that this decision was made for me. And it wasn't long after hearing the news before I decided I was still going to move forward in some capacity," she said.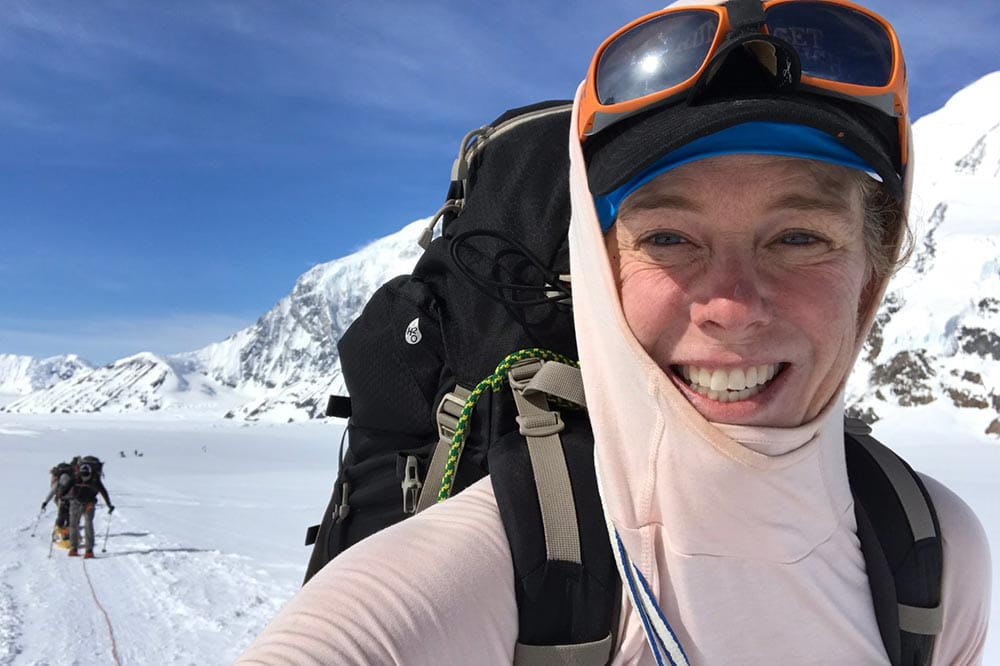 While the pandemic has changed the course of her climb, Berenyi is still focused on her campaign, Everyday Everest, and on spreading the message of the importance of cancer screenings, especially for women.
Berenyi first publicly announced her Everyday Everest campaign in May 2019 at the annual Linda Floyd Forum on Women's Cancers. She shared her goal with a room of 200 women — she would summit Mount Everest in 2020 while raising funds for a new mobile health unit for Hollings Cancer Center at the Medical University of South Carolina. She also wanted to raise awareness about cancer prevention and screenings by having women take a health pledge and then have ever-widening circles of friends and family members share the campaign's goals on social media. Now, she can see how the COVID-19 pandemic has only strengthened the campaign's purpose, she said.

"Now more than ever, you have got to put yourself first. During this pandemic, how many mammograms have been canceled? You must protect yourself and your loved ones from cancer just as much as you've done so for COVID-19," she said.

To reinforce that message, Berenyi will complete her Sea level to Summit challenge May 17 by walking 25 miles — the distance from base case to the summit of Everest and back. She will begin at 6 a.m. on the Ravenel Bridge, where she will complete eight 2.5-mile lengths of the walking path and then will finish by trekking the last five miles to Hollings Cancer Center in downtown Charleston. She considers those final five miles the "legacy piece" of her walk, where she will be joined by her daughters, her mother and her aunt as they remember the women in their family that they've lost to cancer.

"Women prioritizing their health must go on, so the Everyday Everest campaign goes on," Berenyi says. "And that's what this May 17 walk is about. I want people to be very conscious about holding on to this reset the pandemic has allowed us and then leveraging this time for good. I want to make sure that women reprioritize themselves when the gates are back open. Everyone's trying to stave off COVID-19. Let's make sure when life is normal again, that you feel the same way about preventing cancer."
Want to support the cause?
Check out Berenyi's Everyday Everest website and her Facebook page and share her efforts on social media. She's planning to go live on Facebook during the walk and is inviting people to tune in.