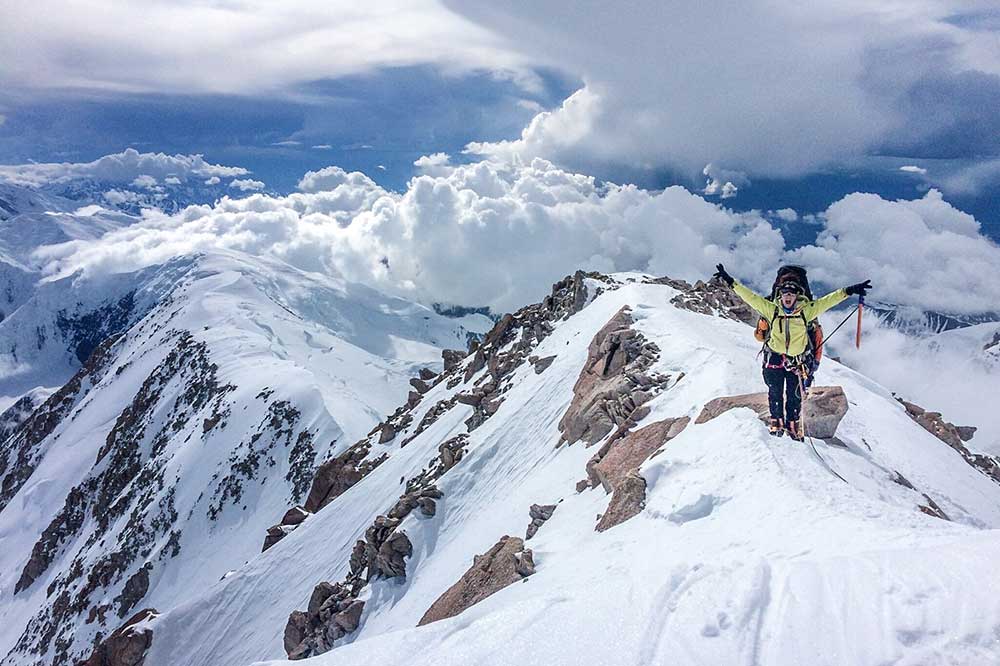 If there's one life lesson Cokie Berenyi has learned, it's that mountains can lie.
"I look up at the summit, and my brain and heart tell me, 'No way!' There's no way I can make it to the top. And then I start to climb, and I remember mountains lie. It's a great life lesson, too," she says, recalling hiking Mount Kilimanjaro with her daughter, who at the time was the youngest American female to make the summit. Her favorite moment happened on day four, one of the hardest days of the six-day ascent – other than summit day.
Her daughter, Helen, swept ahead of her on the path at the end of a tough 10-hour hike. Stepping over a little stream, Berenyi paused and looked at her daughter.
"I just teared up. It was at that moment that I knew she had the strength, physically and mentally, to summit. I was unsure of the power and strength of a 9-year-old. She was just a week shy of her 10th birthday."
It's a story Berenyi, who has two asset management companies and a financial consulting practice, has seen repeated over and over, whether conducting financial consults or summiting alpine peaks. Small, ordinary steps can lead to extraordinary gains. It's why she's calling her campaign to summit Mount Everest in 2020 "Everyday Everest."
Along the way, she'll be raising $1 million to fund a new mobile health unit for Hollings Cancer Center at the Medical University of South Carolina. The goal is to provide increased access to treatment throughout the state and promote outreach, education and screenings.
Berenyi acknowledges the climb is risky.
"With the irresponsible perspective that I may depart this Earth and leave my two children behind, this climb has to be about something bigger than myself. It just has to be. If there's a way that I can impact more, as opposed to me just putting another notch in my 'seven summits' belt, that's what I want to do. I want to have more impact, whether it's raising awareness or getting $1 closer to a cure or $1 closer to supporting more cutting-edge research."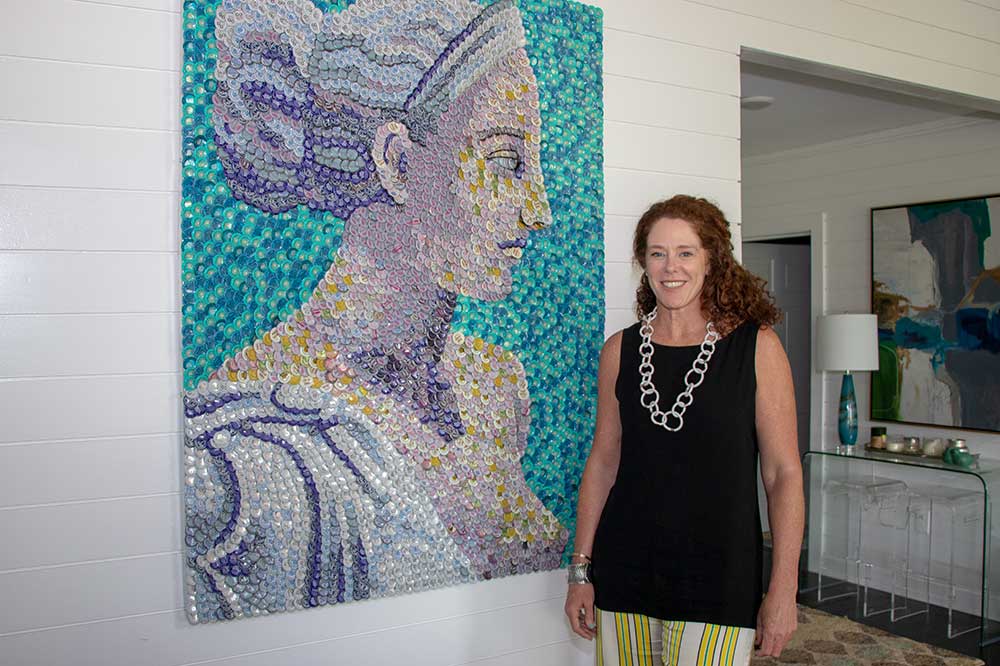 Helen of Troy
Just coming down the dirt road to Berenyi's house, it's obvious the property has its own distinct playful style. The first clues are the goats that have climbed on top of their little barns, curiously eyeing any newcomers coming onto the 40-acre farm in Awendaw. Past the goats is a beautiful Bohemian-style farmhouse framed by two silos.
In the top of one of the silos is her office. Circling down the stairway is her meditation station, piled high with cushions and gobs of meaningful stuff that screams for her time. "I am not your consummate teacher of how to meditate. I do it all wrong," she says, adding that it's not unusual for her to tote a large mug of coffee into the space.
Come down one more level to the ground floor, and there is her gym. The three levels are symbolic of how she tries to balance her life, prioritizing what's important to her spiritually, physically and financially. It's what helps the mother of two, entrepreneur, book author and founder of two nonprofits, including She CLIMBS, remain focused on her goals. She's quick to point out that the silo is a small percentage of her home, her farm. And that family comes first. Berenyi's parents have lived on the farm since 2003.
On the wall in her living room is a depiction of Helen of Troy created by Molly B. Right, a local artist who specializes in oversized mosaic portraits made from vintage bottle caps. Berenyi loves it for both the art and the subject matter. "Helen of Troy is my hero. She, for me, epitomizes what I think is the elusive dichotomy in a woman between strong and beautiful. I think she did both. She nailed it."
She didn't always love her given name –  Helen. She adopted the nickname "Cokie," when in 2000 as Helen Coker, she married and became Helen Berenyi. "Cokie Coker was too bold even for me," she says, laughing. Her oldest daughter, Helen Simons, is seventh in a line of women stretching back to the 1800s who have held the name Helen. Her grandmother, also a Helen, died of colon cancer, and her grandmother's daughter, Berenyi's aunt Helen, died four years ago of ovarian cancer.
Berenyi says it's one reason she serves on the Hollings Cancer Center Advisory Council and why she was drawn to dedicate this Everest summit campaign to fundraise to fight cancer.
"My Aunt (Helen) Rhett and I were very close. I'm Helen number six, and then my oldest daughter, Helen Simmons, is number seven."
Given the amazing advances made in cancer care, she wonders how that might have affected her friends and relatives who have been touched by cancer. She is eager to see how the money she'll raise through her climb will save lives in the future.
"Supporting the HPV vaccine that prevents six cancers is huge," she says about one of Hollings Cancer Center's coummunity outreach initiatives, "So is raising awareness about breast cancer awareness. I mean, I know that my grandmother and my aunt would have lived longer, based on preventive screening alone, and perhaps not died of cancer at all had they lived in a different time. So I'd like to participate in that and not just be a passenger."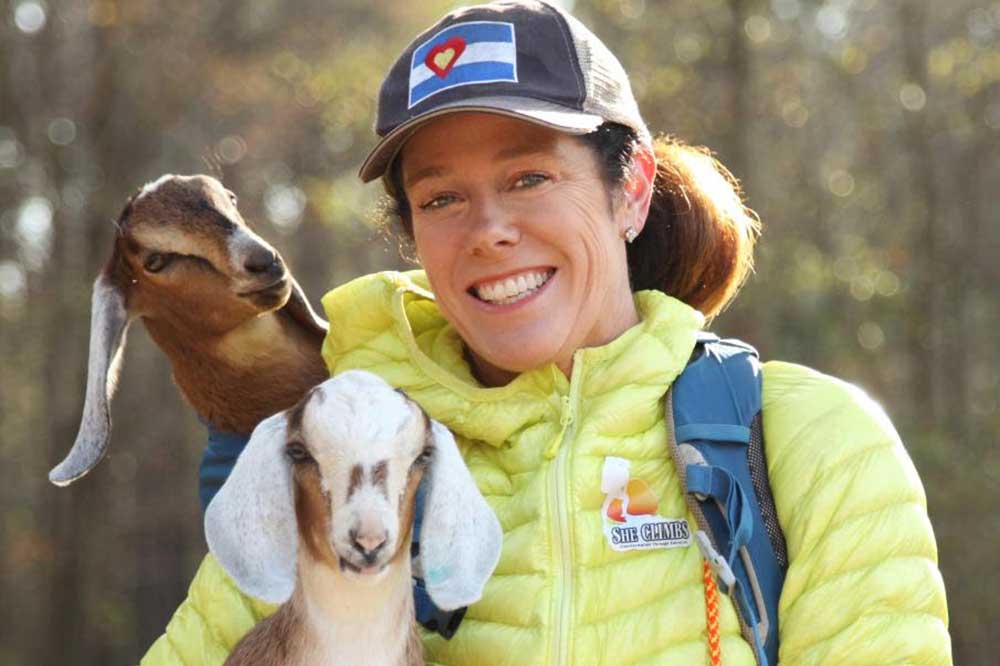 Alpine Summits
Before 2003, the most hiking Berenyi had done was a casual day hike. Alpine climbing wasn't even on her radar.
That changed one eventful day that year as she was racing to Magnolia Plantation where she was late for the "Perfect Day" workshop her life coach had asked her to attend. She worried how she would ever get into the right mindset to do a perfect day writing exercise. "I was like just checking boxes. I showed up, fine. Check. She asked me to do it, and I'm doing it," she recalls.
"I couldn't believe I set an entire day aside, a non-revenue-generating one, and I didn't have two nickels to rub together. But somehow, I got into the space and wrote my perfect day. And it had me climbing the seven summits of the world, with three boys and running a nonprofit called She CLIMBS."
But rather than the three sons she imagined, life chose two daughters and two stepdaughters for her; still, the rest of her perfect day goals came true. And even though she had little experience with the outdoors, except hunting with her dad, she began learning what was involved with alpine climbing and tackling the peaks. The life-coaching writing exercise so changed her life that she wrote a book titled Perfect Day and dedicated it to her mentor, Claire Stuhr, who died in 2006 after a long battle with breast cancer.
Now climbing is in her blood, and she can't imagine it not being part of her life. She has climbed Mount Elbrus in Russia, Aconcagua in Argentina, Kilimanjaro in Tanzania and last summer, her toughest challenge, Denali in Alaska.
"There is nothing in the world like waking up to a sunrise, before the day starts, but I can't do that in everyday life. I really have to have a motivator. But put that on steroids when you're climbing. Waking up to a sunrise, and it's actually below you, and you're on a mountain, it's just the most magical thing ever. And that is why I alpine climb."
The other part for Berenyi, 46, is an existential aspect of getting a feeling of how big the universe is, and that she's just this blip of existence. "I have this Helen of Troy premonition that maybe I'm going to die at 50 –and I'd rather die on a mountain for a cause than of cancer or in my car in some tragic accident. But it's a blessing because it makes me, as egomaniacal as it may sound, just live every day as if it could be my last. I just make it all happen every day. It has been a positive mindset for motherhood –for giving them roots and preparing their wings as if I may not be here tomorrow. We're all mortal after all."
Berenyi pauses and smiles. "Maybe the simple answer is I get bored really easily, and I'm an adrenaline junkie. Maybe it's just in my DNA to live this life as full as I can."
Regardless, she feels compelled to make the climb in May 2020. The big difference for her this time is that she can use her experience, hopefully, to affect others, particularly women, to get them to reset their lenses and value self-care. She hopes her blogs and speaking engagements will inspire others to get that mammogram or adopt a healthier lifestyle or support cancer research.
"My purpose in life is to impact women to elevate themselves in whatever way they can, and if that's in a way in which they take care of themselves physically and preventatively, it all goes together. I don't want another Helen dying from cancer. I don't want another friend, family member or person I don't even know to lose one day on this extraordinary Earth because they didn't take preventive measures against cancer."
She's glad her Everest climb may help elevate the cause, while it keeps her focused on how she becomes her best self.
"It just really fits my life," she says of climbing. "It keeps me active all year long, and I go to amazing locales. I'm every day thinking about health and wellness, and it helps put that lens on it that gives reason and purpose to it for me," she says. "So why do I exercise and eat well and take care of myself? Because I have a mountain to climb."
Find out more about #everydayeverest at everydayeverest.org
Hollings Horizons Magazine
This story appears in the fall 2019 issue of Hollings Horizons, a publication of MUSC Hollings Cancer Center designed to show readers how we are committed to being at the forefront of cancer research.