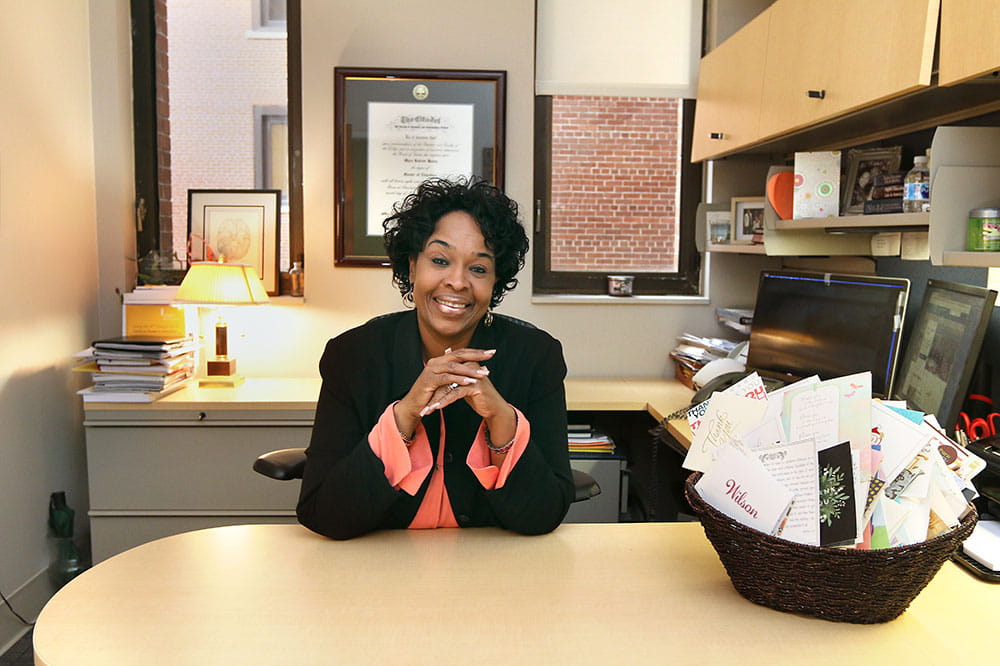 Myra Haney Singleton serves as a kind of connective tissue for the medical student body, mentoring, advising and finding role models for future doctors at the Medical University of South Carolina. "In an effort to foster reflection, I often ask students, 'Where do you see yourself in 10 years'?"  
Singleton, who has a doctorate in education, is the associate dean for Student Affairs and Student Wellness. She started working in the College of Medicine Dean's Office in 1999 as an executive assistant while she earned her master's degree, planning to become a high school guidance counselor. But people quickly noticed she had a knack for knowing how to help the sometimes-troubled medical students who came through the office to see the associate dean Singleton worked for at the time.
"In some of the cases, those were not the most pleasant meetings, so the students were very nervous and quite uneasy. I would just speak to them about their lives and their circumstances. When some of them got into some trouble, they'd ask me how to approach it. I told them to reflect, and if they did something wrong, they should own up to it, take steps to improve, and find ways to grow from it."
Students came to rely on her for advice and encouragement, and College of Medicine leaders noticed the effect she was having. After Singleton finished her master's degree and was getting ready to leave to work as a high school counselor, they asked her to stay and serve in a student support role. She agreed. "I'm not an M.D., but I always felt a call to help students."
Singleton went on to earn her doctorate and grew interested in connecting female students with mentors. "I meet a lot of young ladies who would like to enter into certain fields. A lot of times, they have some apprehension and hesitation. I'll encourage them to find the woman you can emulate, that woman who can serve as your mentor," she said.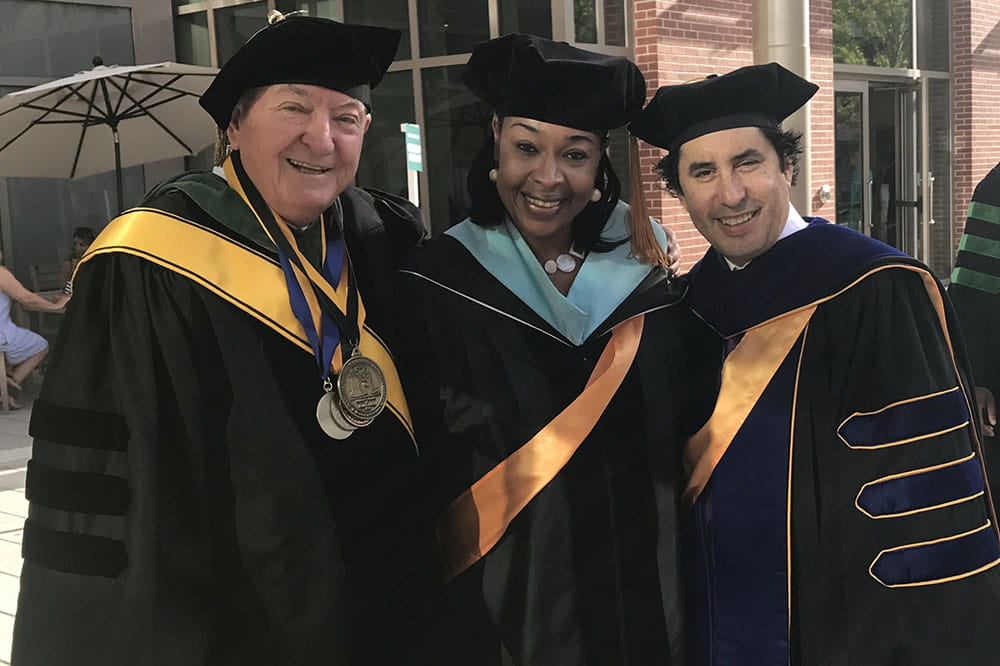 Singleton has served as a mentor as well. Former student and mentee Dr. Aundrea Loftley is now an endocrinologist at MUSC Health. "Myra's investment in my education and career has been a fundamental factor of my success. Her willingness to share her knowledge and insight while leading with integrity and compassion inspire those around her. Her standard is excellence and she exemplify the qualities of an ideal leader and mentor," she.
Current student Sydney Ramsey, who graduates this spring, said Singleton believes in "lifting while you climb."
"She has really exemplified this motto throughout my time in medical school. In the past few years, Myra became Dr. Haney Singleton when she completed her doctoral studies. Even while working on her own education, she spent what must have been much more than 40 hours per week listening to, supporting and advocating for students.  She has truly been a great mentor and I am grateful for her deep commitment to her own growth as well as the development of her students and mentees."
Singleton loves connecting with students such as Ramsey. "Some of the most touching parts of the job is getting an email with a link where a student is being introduced as a chair or doing something wonderful in their division. The email is often very simple. 'Look, Myra, I made it.' Many of the graduates are doing amazing things."
Myra Haney Singleton's advice for anyone who wants to succeed in life
1.       Develop goals and engage in meaningful activities to achieve them.
2.       Build strong relationships. 
3.       Find someone who will teach, coach and inspire you. Mentoring matters.
4.       Embrace all opportunities to learn.
5.       Celebrate differences because we are better together.    
6.       Lift as you climb.  Help others move forward.
7.       Strive to identify lessons amid difficult circumstances. 
8.       Prioritize what is important.  
9.       Take time to reflect and appreciate the seasons of life. 
10.     Create a moment of resiliency every day, because service requires sacrifice.
Suggest a Story
Have an idea for MUSC Catalyst News? Contact our editorial team and let us know.