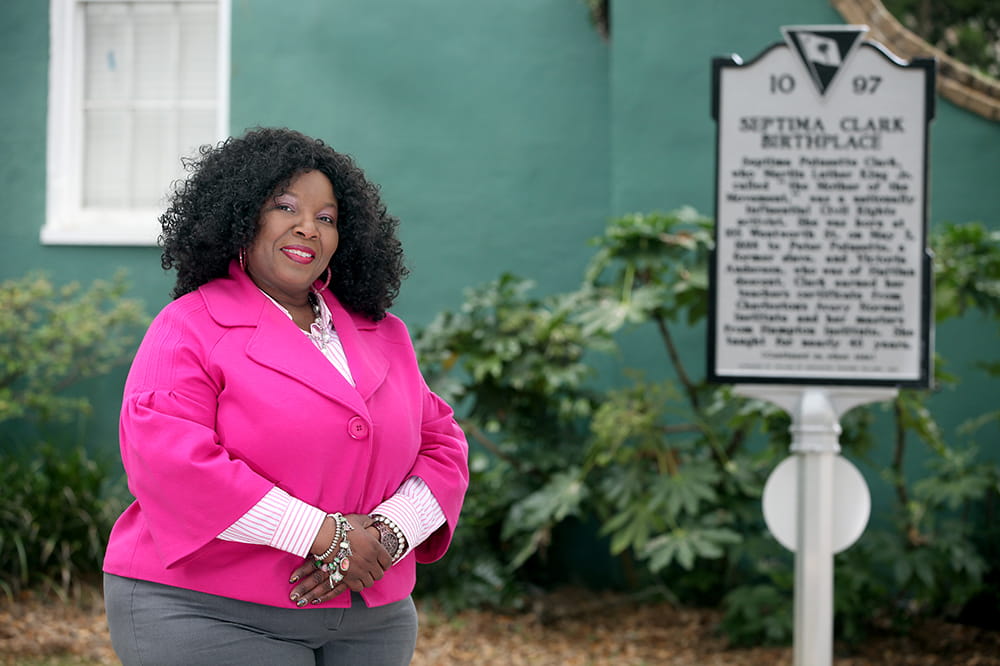 It was the high school graduation programs that got Charmaine Wilder's attention. When she graduated from James Island High School in the '80s, she recalled, the programs had been filled with the names of four-year institutions as the graduates' destinations. But lately, she noticed, more graduates seemed to be going to two-year institutions. 
"Not that anything is wrong with attending Trident, but I was trying to figure out where the focus shifted from getting a four-year education to an associate," she said. "I just saw such a major difference, and my question was, 'What happened?'"
Wilder left Charleston after high school to attend college in North Carolina. She earned an undergraduate degree in business administration and then two master's degrees – one in management and leadership and the other in information technology. She was settled in North Carolina, but she felt driven to advocate for improved educational opportunities in her hometown. 
Wilder returned to Charleston and secured a job in Facilities Management at MUSC. By day, her co-workers know her as the woman in charge of the facilities fleet – keeping track of maintenance, budgeting for new vehicles as MUSC expands its physical presence in the Tri-county, outfitting and training new employees and conducting mandatory defensive driving classes.  
She is part of the inaugural MUSC Center for Transformation and Change Diversity and Inclusion Certificate Master Class Program and sits on the Finance and Administration Diversity Advisory Council and the Facilities Diversity Task Force.   
But when she's not on the job, she's on the ground, working with parents, community groups and school leaders focused on student performance. Wilder emanates a welcoming warmth paired with a passionate determination. Cheryl Cromwell, the director of education programs with Charleston RISE, said she got to know Wilder at their church, where Wilder helped her re-energize a youth ministry by increasing the number of adult leaders to 35 from seven and reaching 125 children. When Cromwell took her position with Charleston RISE, a young nonprofit that seeks to build a network of informed and inspired community advocates for quality public schools, "She was one of the first people that I called," Cromwell said. 
Wilder became an inaugural member of the grassroots organization that trains parents, grandparents and community members about the educational system in general, and Charleston County School District in particular, during a 15-week fellowship. The fellows then set out to implement team projects to improve education. 
"If you're not exposed, then you think that this little box you live in is all there is. And it's not. There's a whole big world out there."

 

Charmaine Wilder
The group has four main campaigns: school board accountability, outreach to faith leaders, data and community awareness and high-quality middle schools in North Charleston. Wilder led the faith leaders campaign.  
Wilder said her fellowship class requested data centered on student performance and then developed rankings for local schools. The results, she said, were shocking. Many schools that parents thought of as "good schools" didn't have the test scores to back that up. When Charleston RISE collated all the data for African-American children in the district, the results were alarming. For example, 80 percent of African-American third-graders were scoring below grade level in English. Third-grade reading is an important milestone, Wilder noted, because it's at that level that teachers no longer focus on how to read and instead expect students to be able to read to support their learning in all other subjects, from math to social studies. And students who are behind in reading can't take advantage of innovative programs. The option to take college courses at Trident while they're still in high school is off the table for these students, she said.  
"It really put a fire in us to want to do more," she said. 
Charleston RISE is especially interested in North Charleston and the options available to students once they hit middle school. "We want to provide high-quality options for all students, no matter where they live," she said. 
The group has also worked to develop relationships between parents and schools, she said, adding that some parents said they didn't feel welcome in their children's schools. "You don't want to just hear from the school when your child's not doing well," she said.  
Cromwell said that Wilder is a visionary and has the uncommon ability to communicate with people of all backgrounds, making her "paramount to our success." Wilder, she explained, has built relationships with pastors, parents and school board members. 
"There's a whole lot to be done. We just need those hands. Those bodies and those people who are committed to getting the things done that need to be done."

 

Charmaine Wilder

 
A passion to help children has long inspired Wilder's efforts. When she lived in North Carolina, she worked in elementary schools to give extra help to students struggling with reading. She saw that children could thrive if their brains and hearts were fed. When she returned to Charleston her focus shifted to her church's youth group, where she noticed that some children hadn't been exposed to much outside of Charleston. She began organizing trips over long Presidents Day weekends to feed their brains and hearts. The trips incorporated a little bit of black history, included a visit to a college campus, personal development and got the kids out of their neighborhood bubble. 
"If you're not exposed, then you think that this little box you live in is all there is. And it's not. There's a whole big world out there," she said.
Wilder also sat on the Constituent District 3 School Board when she first returned to the area. She thought about running for the Board of Trustees for the Charleston County School District in the last election cycle but decided against it. She smiles and laughs but won't comment about whether she'll run in the next election. 
Education has become a big focus in the South Carolina General Assembly this year as people realize that the state cannot continue on the same path. Cromwell said Charleston RISE got this conversation started two years ago, though The Post and Courier's "Minimally Adequate" series has pushed it into the spotlight. She said that volunteers like Wilder are integral to keeping the momentum going. 
Wilder agreed.
"There's a whole lot to be done. We just need those hands. Those bodies and those people who are committed to getting the things done that need to be done," Wilder said. 
Suggest a Story
Have an idea for MUSC Catalyst News? Contact our editorial team and let us know.