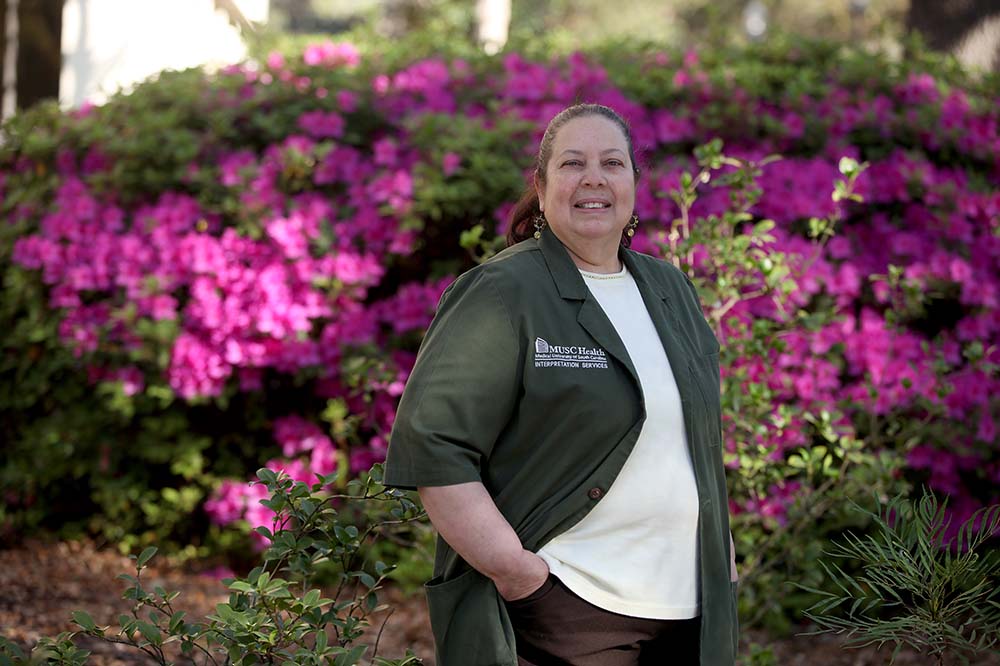 Imagine a couple rushing into the waiting room of MUSC Children's Health Emergency Department with their 7-year-old child doubled over in pain. Her stomach is hurting badly, and the family is trying desperately to communicate with the staff. But the problem is none of them speaks English. While the team prepares to rush the young girl back for examination, the ED team turns to the experts for help. Interpreter Geraldine Torres arrives quickly on the scene to help the family.
It's not unusual to see Torres scurrying between Rutledge Tower clinics, University Hospital and Ashley River Tower. She's quickly trying to get from one area of campus to another to meet up with a patient to do a medical interpretation.
Torres is an interpreter with in the MUSC Health Diversity and Inclusion office. Along with a sign language interpreter, the team consists of 12 Spanish-speaking interpreters. Each is capable of providing on-site medical interpretation for patients 24/7.
It's difficult to miss Torres with her beaming smile, olive green jacket, pleasant and helpful attitude and backpack in tow. She's constantly scanning her iPad, responding to a service hub request or looking up details connected to her next interpreting visit.
For Torres, what she does in her job comes naturally, as she loves being around and helping people — especially children. Her dedication to and professionalism with her patients, their families and medical teams easily translate in the smiles and expressions that say "thank you" in any language.
One could say that this former military wife, mother and grandmother found her calling in life working at MUSC. But, in truth, the journey to her dream job came almost by accident.
Born in the Bronx, New York, this Nuyorican (a portmanteau referring to a New York City Puerto Rican) relocated to the islands with her family and grew up in yet another Carolina — Carolina, Puerto Rico, a suburb just east of San Juan. By age 17, she and her mom moved back to the United States and settled with family in New London, Connecticut, where she met and married her husband, Luis Torres, an electronics technician in the U.S. Navy, in 1983. 
Throughout her life, Torres has loved working with children. While raising her family, she worked daycare jobs, cared for children and served as a volunteer at her children's school. It wasn't until her sons Adam and Matthew were older that friends encouraged her to enroll and complete the certified nurse aide program at Trident Technical College. The program prepared her to provide direct patient care — from taking patients' vital signs and helping them bathe,  dress and use the toilet to assisting with their meals. In 2005, she got a job as a nurse's aide of MUSC Children's Health Emergency Department. She did OK until she was asked to help clean up after a patient's broken toe.
"I almost fainted at the sight of blood and even had my doubts that I could continue in my job," Torres said. "But I found the courage to be stronger with every patient case." A year later, she transferred to a job working second shift in the Level 1 and Level 2 nurseries Labor and Delivery and the Antepartum Unit.
Aside from her duties as a nurse's aide, she began to interpret a bit between nurses and Spanish–speaking mothers who gave birth in the early hours when interpreters were unavailable. "I really loved working there, because it was a chance to work with babies and children again," she said.
Later on, two of the full-time interpreters urged her to apply for an open position in the interpreters' department. Hired as a hospital interpreter, she quickly acclimated to her new job, learning and using best practices and serving as a cultural intermediary between providers and patients. She felt deficient in her knowledge of medical terminology but quickly caught up. She also learned the importance of speaking slowly and using basic words for patients to understand.
"Many of the patients I support are non-English speaking adults who speak primarily Spanish," said Torres.
Before hospital interpreters were available to patients, it was common practice for adults to enlist their bilingual children to interpret for them during medical appointments, tests or procedures. Untrained interpreters, the children were more likely to make mistakes or give incorrect instructions to the adults, which could not only create stress for all involved but lead to negative outcomes as well.
"Medical interpretation is a complex effort, and I don't encourage anyone to do it without going through proper training or learning best practices through a formal program," Torres said. "We're here to help our patients who need us. Patients have a right to receive their medical care in the language they understand through hospital interpretation services so that they can be involved and make good medical decisions about their treatment or care."
Aside from interpreting in her native language, she's learned about subtle but important differences among people of different Hispanic and Latino backgrounds and cultures. According to Torres, certain Spanish words or phrases don't always translate to the same meaning when used by a person from Mexico, Guatemala, Honduras or other Latin American countries.
"For example, the phrase for giving birth in Puerto Rico, 'dar a luz' may not have the same meaning to a native of Mexico, Guatemala or Venzuela," said Torres, who continues to learn from her patients. "'Aliviarse' or 'Ya se alivio' would be the equivalent, but it's meaning is different and translates 'to alleviate or relieve.'"
Another interpreting tool that Torres uses is watching people's facial expressions. Observant of body language, she often refers to the provider or care team member for clarification in relaying the message, "Did you mean this, or is this what you want to say?" Torres said that's critical to avoiding errors and mistakes in these types of communications.
Another challenge is translating for a child. Torres knows children who come to the Emergency Department are already scared and not feeling well. She always starts with a smile and speaks slowly so a child can understand. She introduces herself and her role as an interpreter. She's also careful to choose her words rather than use complicated medical terms. Soon, she added, the child feels more relaxed and begins to open up to me and to staff. "As an interpreter, I must interpret meanings and not only words."
Antwan Walters, manager of Interpretation and Translation Services, explained that since 2016, the interpretation and translation services team has been part of MUSC Health's Office of Diversity and Inclusion, having formerly been under clinical nursing/patient and family education. He spoke highly of Torres' contributions.
"Geraldine is one of our core interpreters in our department," said Walters. "She's well known and respected in the hospital and among the care team members. Staff know her, patients and patient families know and value her. She's a friendly, personable team-player and professional. She's quick to share innovative ideas and approaches to help the interpretation staff as well as patient and their families. She's a great asset to our department."
As the need for language services in the health care setting grows, so does the requests for medical interpreters. The number of Spanish-speaking patients at MUSC has increased substantially over the years.
In 2018, the in-person medical interpretation team responded to more than 42,000 interpretation requests. About 97 percent of these requests were for Spanish interpretation support.
"As MUSC focuses on diversity, language is an example of the biggest needs for diversity. As MUSC grows and expands in the future, we will also be looking to expand our team and services to support our patients and staff within new hospitals, clinics and facilities within the MUSC Health system," said Walters.
Torres appreciates that in addition to providing in-person interpreting, MUSC offers patients and staff interpretation by phone as the service is available 24/7 and offers more than 200 additional languages.
In her 14 years working at MUSC, Torres is proud to have played a role in the continuum of care for many patients. She's been a part of the joy and celebration at the birth of an infant and watched children grow up through their medical care. She's delivered news that a cancer patient is now cancer free. She's also been present during sad times, explaining the death of a patient to his or her family or translating a terminal diagnosis. Working over the years with health care teams, she's watched medical students become physicians, nurses become nurse practitioners and care team members retire or pass on.
"It's an honor and a privilege to share in all these moments, and I feel honored to do the work that I do," Torres said.
Suggest a Story
Have an idea for MUSC Catalyst News? Contact our editorial team and let us know.